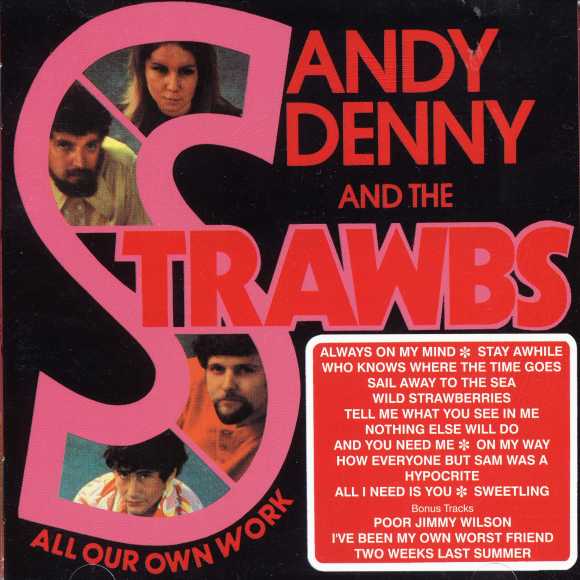 SANDY DENNY AND THE STRAWBS: ALL OUR OWN WORK BOOTLEG
The Sandy Denny & The Strawbs - All Our Own Work: The Complete Sessions is now available legitimately on CD from Witchwood Media, with bonus tracks and unreleased material. Please see Complete Sessions page.
This bootleg draws on the packaging for the original release All Our Own Work and the subsequent re-issue by Joe Boyd's Hannibal label Sandy And The Strawbs, which took a more Sandy-centric selection of tracks.
The bulk of the tracks are from the original Hallmark release; the bonus tracks are those which Boyd included on the re-issue.
Legal Note: if this is in fact a legitimate release, and Estrella Rockeria wish contact me to confirm this I will be happy to set the record straight.. But Dave Cousins is unaware of any licensing contract and though the album purports to be licensed from Hannibal, the tracks which only appear on the original All Our Own Work could not have been licensed that way.
---
---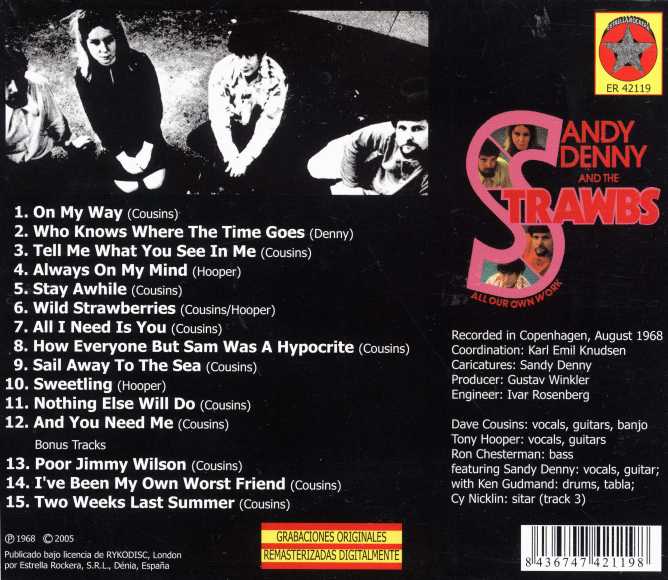 Musicians
Dave Cousins (vcls, gtrs)
Tony Hooper (vcls, gtrs)
Ron Chesterman (dbl bs)
Sandy Denny (vcls, gtr)
Ken Gudmand (drms)
Cy Nicklin (sitar)


Track listing
On My Way (Cousins)
Who Knows Where The Time Goes (Denny)
Tell Me What You See In Me (Cousins)
Always On My Mind (Hooper)
Stay Awhile (Cousins)
Wild Strawberries (Cousins/Hooper)
All I Need Is You (Cousins)
How Everyone But Sam Was A Hypocrite (Cousins)
Sail Away To The Sea (Cousins)
Sweetling (Hooper)
Nothing Else Will Do (Cousins)
And You Need Me (Cousins)


Bonus tracks
Poor Jimmy Wilson (Cousins)
I've Been My Own Worst Friend (Cousins)
Two Weeks Last Summer (Cousins)
Versions
CD (Spain)
---