DEEP CUTS - VERSIONS

Contents
Vinyl
Cassette
CD

VINYL
UK release
Vinyl album (UK): 2391 234 (Oyster, 1976). Single sleeve with striking image wrapped across front and back - a thorn puncturing flesh in the label area of a vinyl record (illustrator Alun Hood). Bright red lyric LP-size insert (there seem to be two versions of the insert, one darker red than the other), credited (p) and (c) Arnakata Music. Label credits (p) Strawbs Ltd. Looks like this early version (this was my original copy which I bought as soon as it was released in 1976) was corrected for later pressings: see UK variant below.
Front and back covers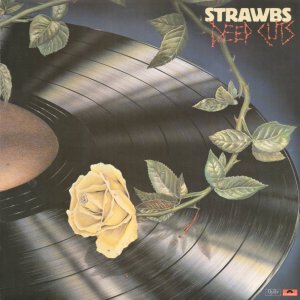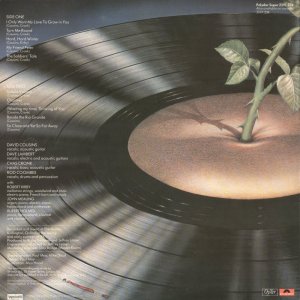 Lyrics inner (front from darker version, back from lighter version)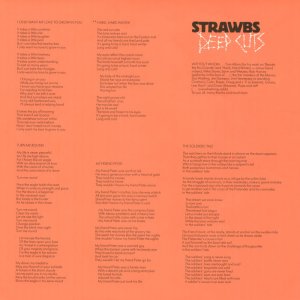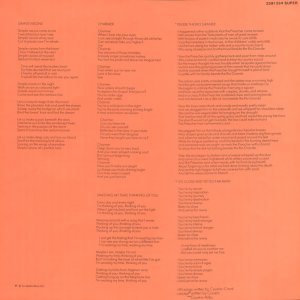 Labels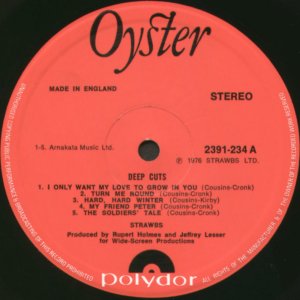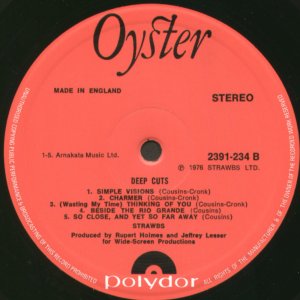 UK variant
Vinyl album (UK): 2391 234 (Oyster, 1976). Same as normal version, but the labels have different publishing credits - Arnakata Music rather than Strawbs Ltd. This is thought to have been a corrected repress.
Labels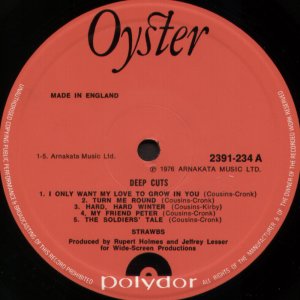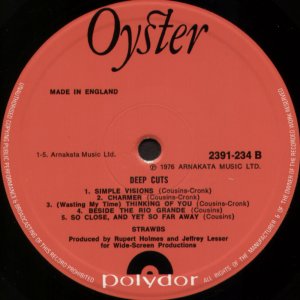 US promo release
Vinyl album (US): OY-1-1603. Same packaging as UK album, except the lyric sheet is transformed into an inner LP bag, and the colour is a much darker red than the UK version. The typography on the label is very suimilar to that on the Burning For You US promo and there was a full release of that album with the same typography - so there may in fact be four variant US releases.
Labels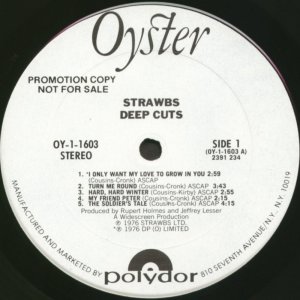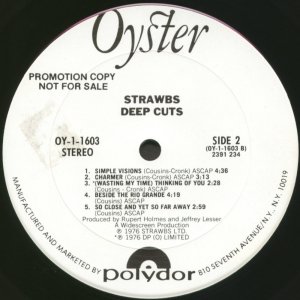 US releases
Vinyl album (US): OY-1-1603. Same packaging as US promo above. Three variant label styles (maybe four if there's a full release to match the promo above as well) Not known which order they came out in.
Variant 1 Labels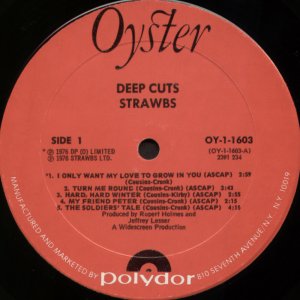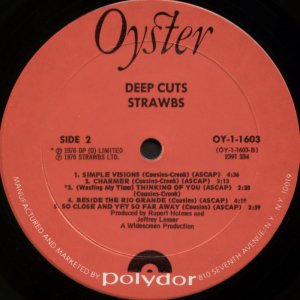 Variant 2 Labels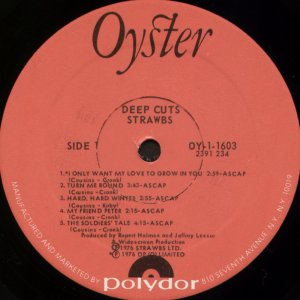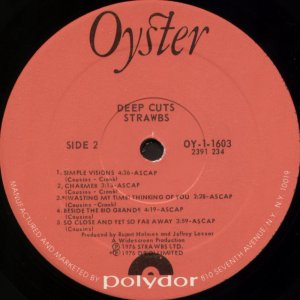 Variant 3 Labels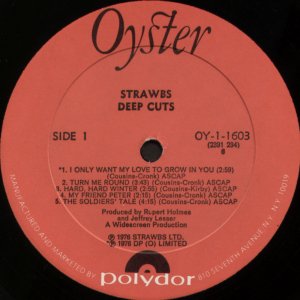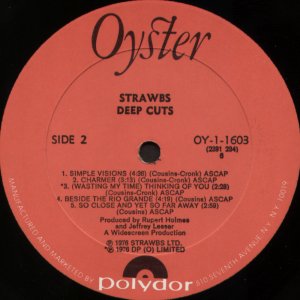 Canadian release
Vinyl album (Can): OY-1-1603 Very similar to US release, with Canadian addresses etc. Lyrics sleeve rather than insert. I expect there's a promo release out there somewhere, anyone got one?
labels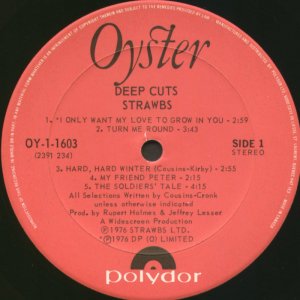 Irish release
Vinyl album (Ireland): 2391 234 (Oyster, 1977). The cover is a UK printing and the lyrics insert seems to be the same. My copy came with a stylish black paper sleeve.
labels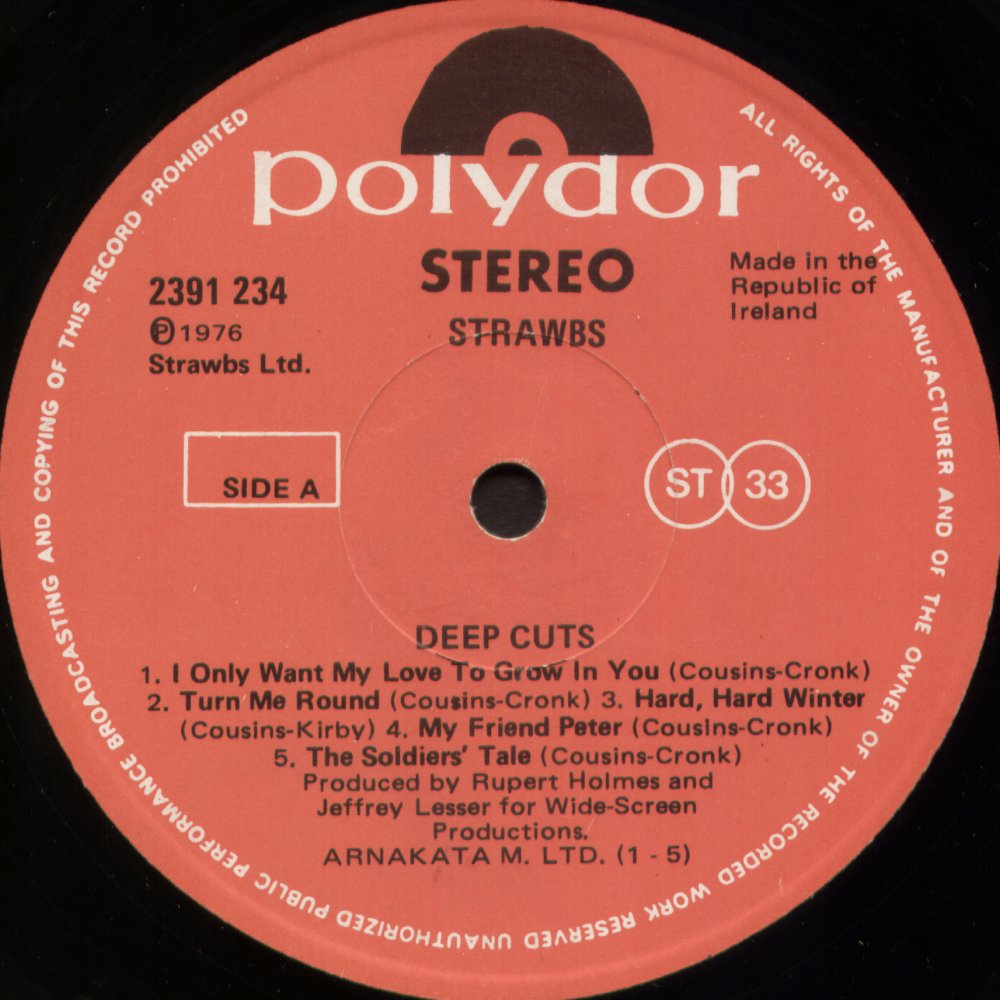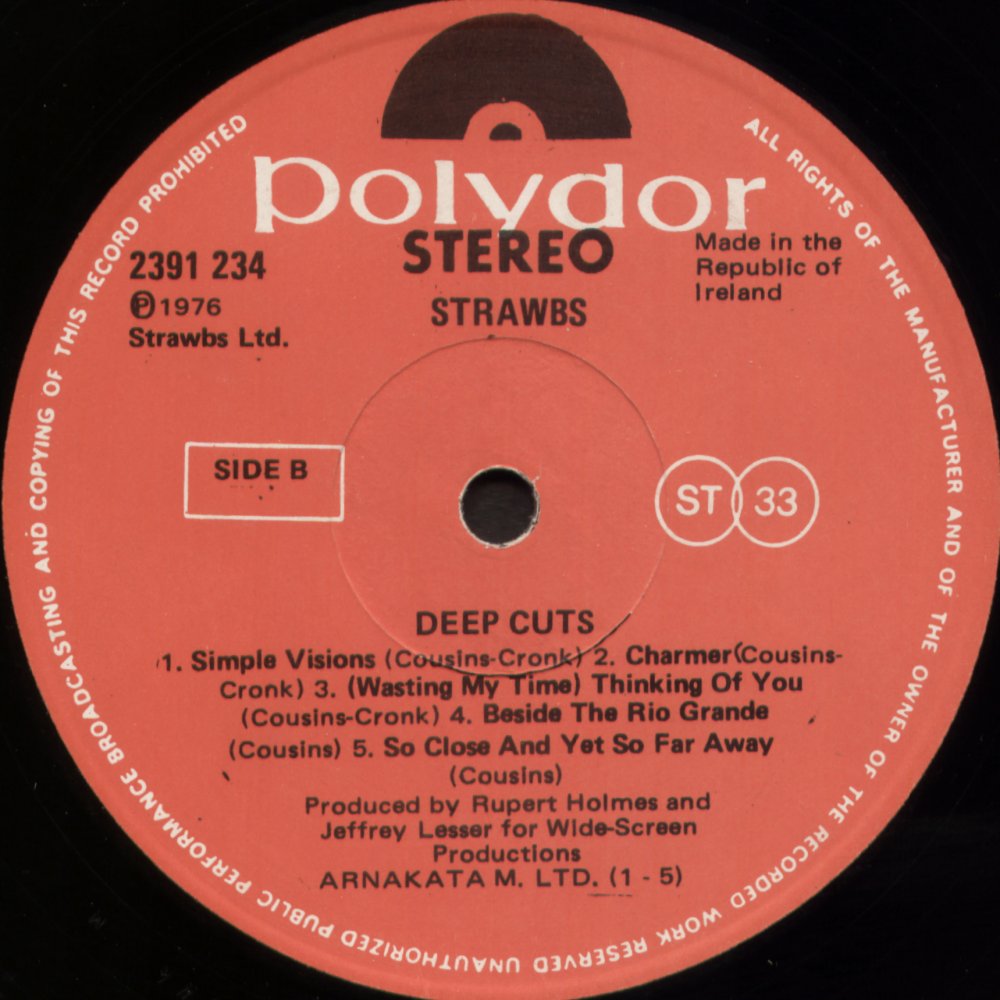 German promo
Vinyl album (Germany): 2391 234 (Oyster, 1976). No cover with my copy. White label, otherwise same as release apart from promo wording in English and German on the label: "Unverkaufliche Musterplatte" and "Sample copy not for sale". Plain white sleeve has "Ungepruftes Muster" stamped or printed, the catalogue number in handwriting and the date 18 Aug 1976.
Labels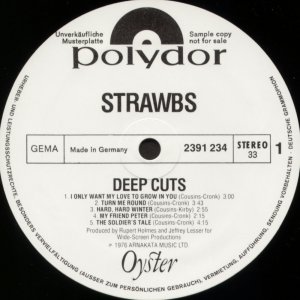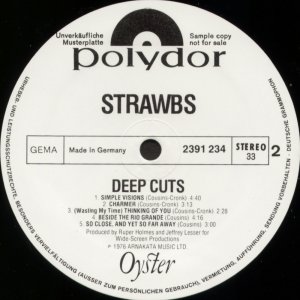 German release
Vinyl album (Germany): 2391 234 (Oyster, 1976). Cover same as UK cover except for the back cover which has German printing details bottom left and German catalogue number top right, which also lists cassette details. No insert in my copy, but there will probably have been one. Though it can't be seen on the scanner, the pressing itself is odd, having a much larger run-off than normal (over an inch deep, pushing all the tracks out towards the rim).
Labels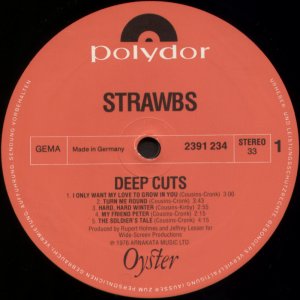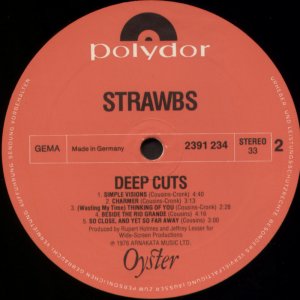 Italian release
Vinyl album (Italy): 2391 234 (Oyster, 1976). Not much to tell you that this is an Italian release on the cover, other than some small print bottom right back cover. The lyrics are on an inner sleeve - rather than the various shades of bright red used in other releases, the Italians have used a slightly off-white heavy paper.
Inner sleeve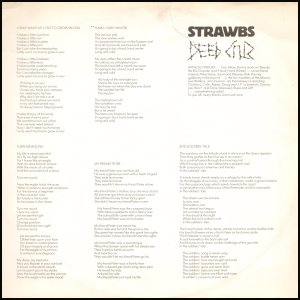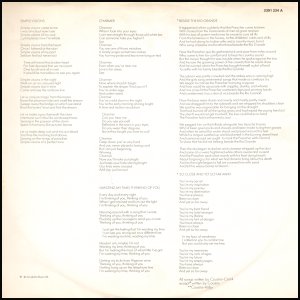 Labels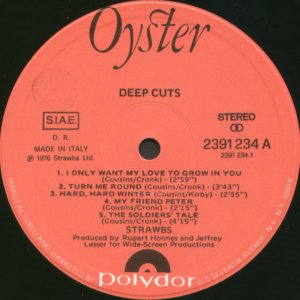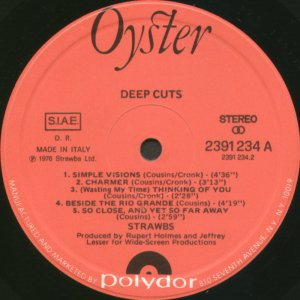 Spanish release
Vinyl album (Spain): 23 91 234 (Oyster, 1976). Front cover in colour, with Spanish catalogue number at top left (same as UK, but with "52" after it in a circle - this doesn't appear on the label) Back cover for some reason is in black and white, even though it will have been printed at the same time. Catalogue repeated there, along with info about cassette version. Manufacturing information appears in very small type running up right hand side of cover on the image's record "label" under the rose leaf. Comes witha lyric inner, but in black and white instead of the usual bright red.
Labels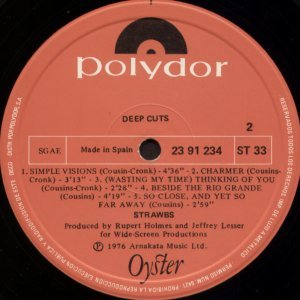 Portuguese release (*)
Vinyl album (Portugal): 2391 234 (Oyster, 1977).. Very similar to UK pressing, with Portuguese info at bottom left of back cover. Publication date on label listed as 1977, so may not have come out same time as other releases. No lyrics insert in my copy, but there may have been one. Unusual poly protective inner sleeve, circular at bottom, with square top and "letter box" slit about 1 inch down to put vinyl into.
Labels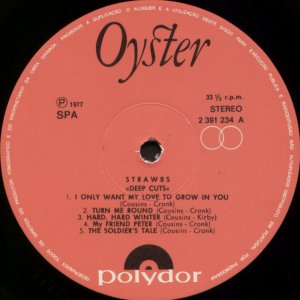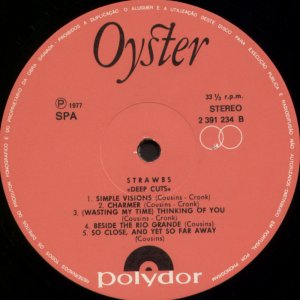 Greek release
Vinyl album (Greek): 2391 234 (Oyster, 1976). Outer sleeve is German printed, no lyrics insert with my copy. The record has a very deep inner rim, with the tracks squashed to the outside of the record.
Labels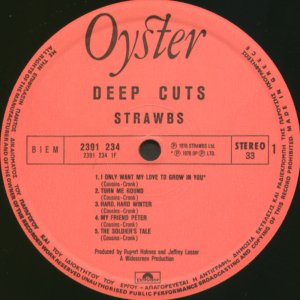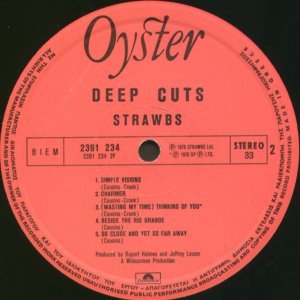 Inner sleeve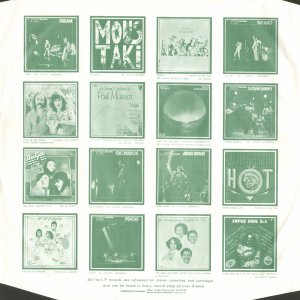 South African release
Vinyl album (South Africa): 2391 234 (Oyster, 1976). Not much on the sleeve or labels to indicate it is a South African release other than a logo back cover, bottom left "Marketed by Polydor Division" and bottom right an Interpak logo. Inside there's a copy of the UK insert except that it is in black and white on moderately stiff white card, rather than bright red.
Insert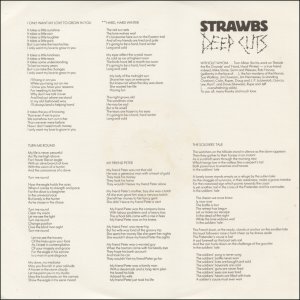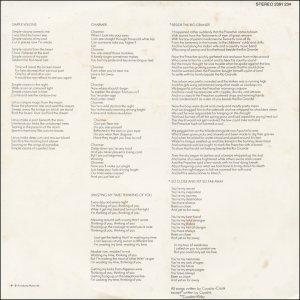 Labels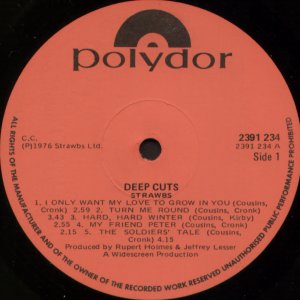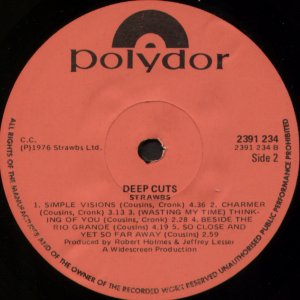 Brazilian release
Vinyl album (Brazil) 2391 234 (Oyster/Brasilia de Discos Phonogram, 1976). Pretty much as per UK release, with info about Brazilian record company on rim of label, bpttom left, top right of back sleeve. No lyric insert/sleve in my copy but there may have been one.
Labels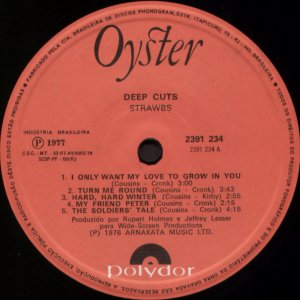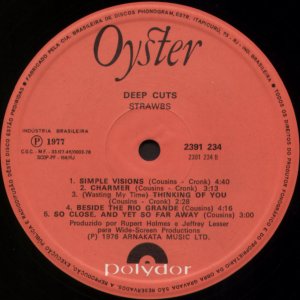 Japanese release
Vinyl album (Japan) MWF 1004 (Oyster, 1976). As ever, superb packaging for this Japanese release. There's an OBI round the facsmile reproduction of the UK sleeve. There's a 4pp insert, the outside nicely decorated, the inside spread has the lyrics in English and Japanese. And I have both release and promo versions.
Front and back cover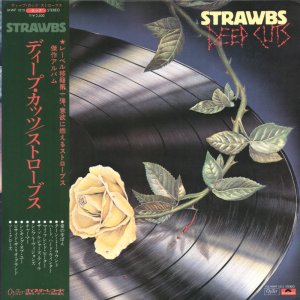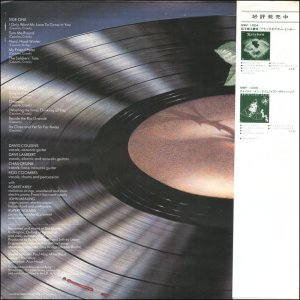 Insert front and back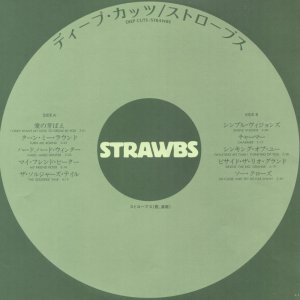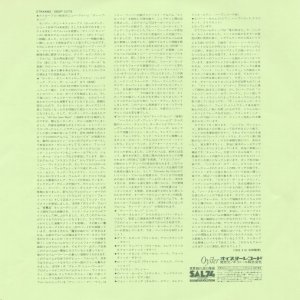 Insert inside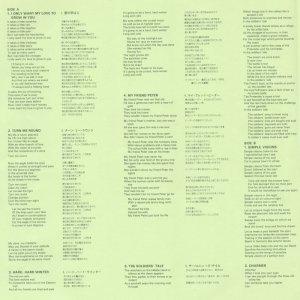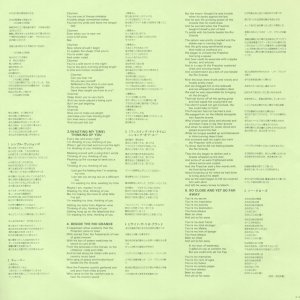 Labels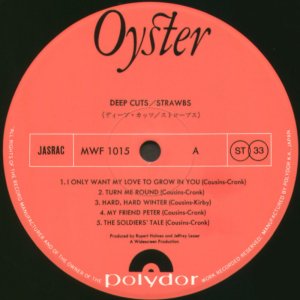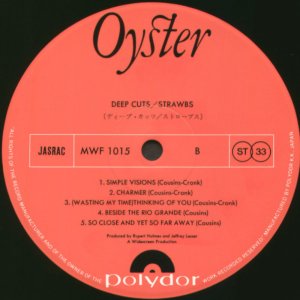 Japanese promo release
Labels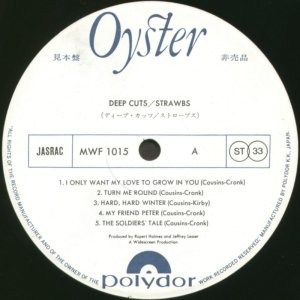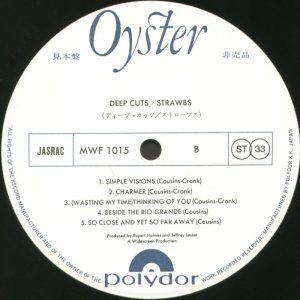 Thai release (bootleg)
Thailand (poor quality bootleg, OX 223, no date).
Front cover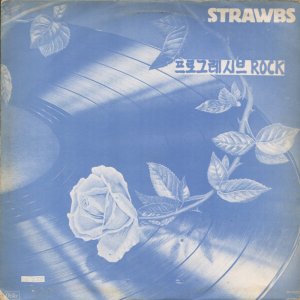 Labels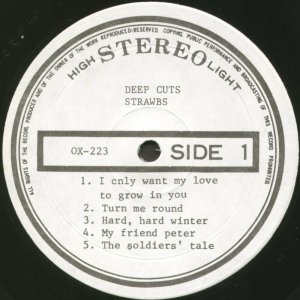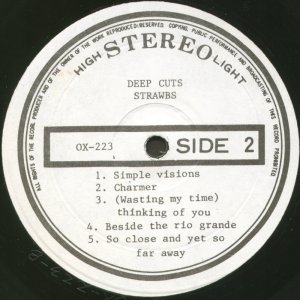 CASSETTE AND 8-TRACK
UK Cassette
Cassette (UK): 3177 234. Detail from album cover painting on front; track listing on inside flap, nothing on reverse. Track running order is different, with two tracks swapping places: "Charmer" is Track 4 of Side 1, "My Friend Peter" moves to Track 2 Side 2.
Outer sleeve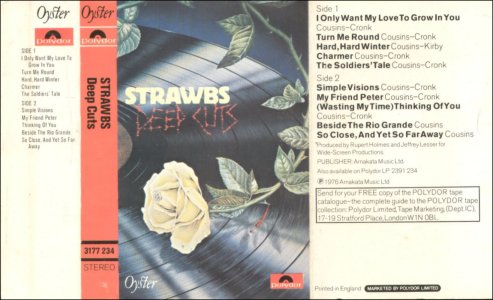 Labels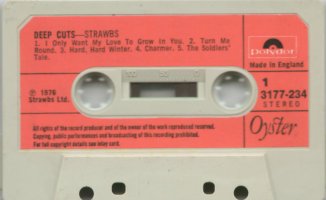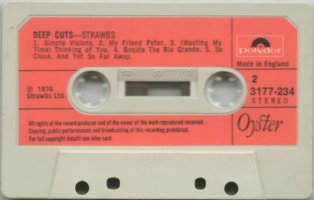 US cassette
cassette US: CT-1-1603. Inner cover is blank, fairly plain white paper labels (my copy has "A" and "B" written on the labels, which I've edited out for the scans below).
Outer sleeve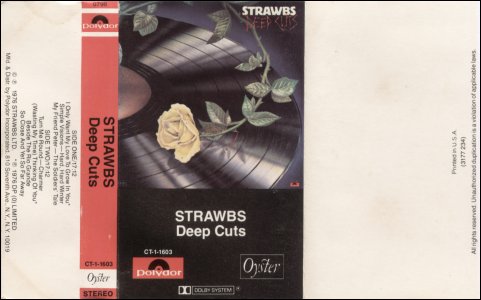 Labels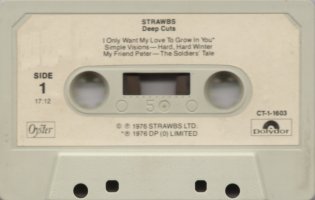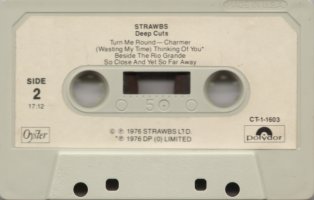 Running order is different with "Simple Visions" and "Turn Me Round" changing places:

Side 1
I Only Want My Love To Grow In You
Simple Visions
Hard, Hard Winter
My Friend Peter
The Soldiers' Tale

Side 2
Turn Me Round
Charmer
(Wasting My Time) Thinking Of You
Beside The Rio Grande
So Close And Yet So Far Away

US 8-track
8-track US: 8T-1-1603. The 8 track comes with a Polydor standard red card "foldover" to protect the exposed recording tape, which fold over the front back and all the way down each side.
Front and head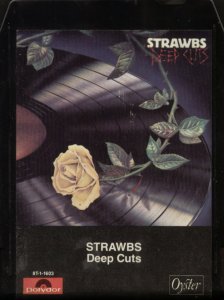 Front and back with Polydor foldover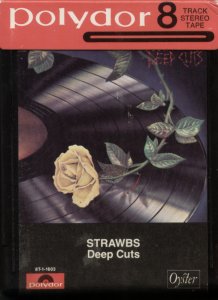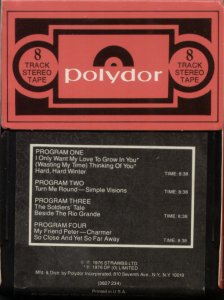 Running order
Program 1
I Only Want My Love To Grow In You
(Wasting My Time) Thinking Of You
Hard, Hard Winter

Program 2
Turn Me Round
Simple Visions

Program 3
The Soldiers' Tale
Beside The Rio Grande

Program 4
My Friend Peter
Charmer
So Close And Yet So Far Away

Canadian cassette (*)
There was an 8-track, so presumably a cassette as well. Anyone have one?

Canadian 8-track (*)
Cassette (Ger): 3177 234. Listed on Discogs.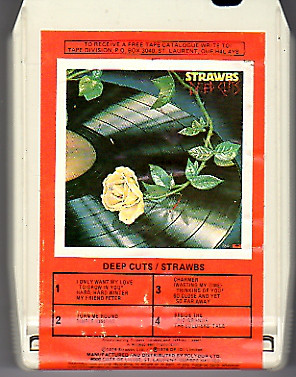 German cassette (*)
Cassette (Ger): 3177 234. Listed on back cover of German LP release.

Spanish cassette (*)
cassette (Spanish): 31 77 234. Listed on back cover of Spanish LP release.

South African cassette (*)
Cassette (SA): 3177 234. Listed on back cover of South African vinyl release.

CD
UK double CD with Burning For You
CD: RGF/WCDCD 027 (Road Goes On Forever UK, 1996, 2CD with Deep Cuts). The cover has been redone to combine graphic elements of both albums. Tray inner (i.e. under the lift-up tray) has portrait shot of 4-piece band (Cousins, Lambert, Cronk, Coombes). 12pp booklet contains lyrics (pp2-10) and track details (p11) for both albums - front and back of booklet (p1 and p12).
Front (p1) and back (p12) of booklet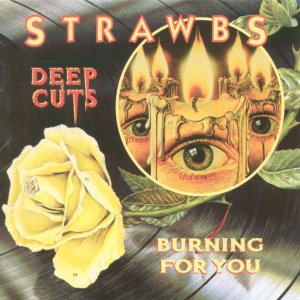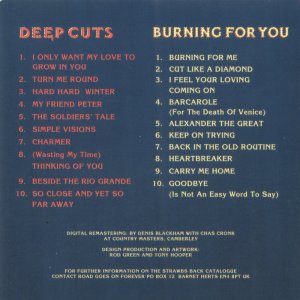 Pages 2 and 3 of booklet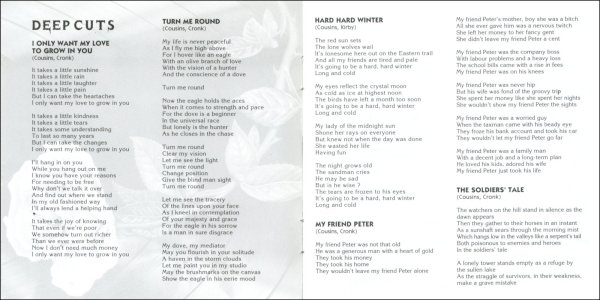 Pages 4 and 5 of booklet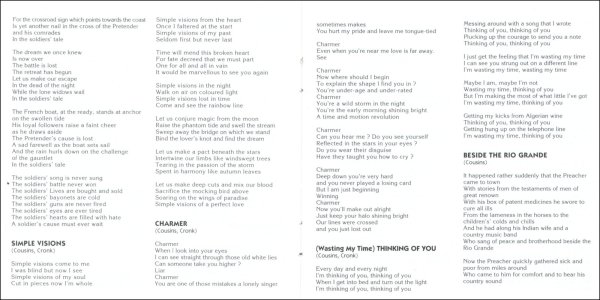 Pages 6 and 7 of booklet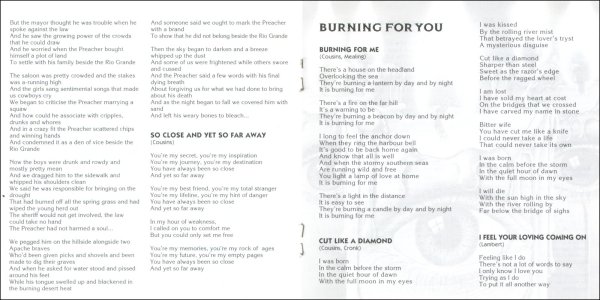 Pages 8 and 9 of booklet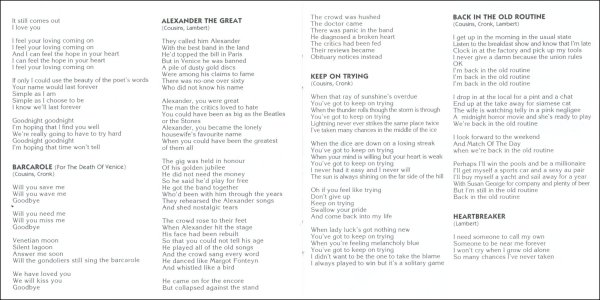 Pages 10 and 11 of booklet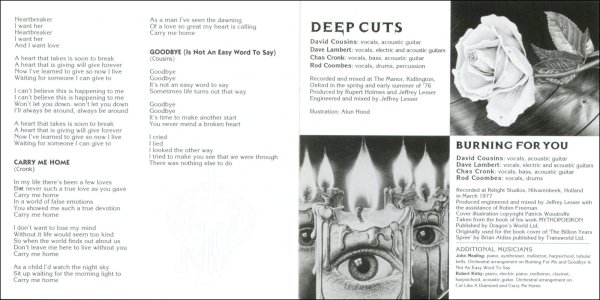 CDs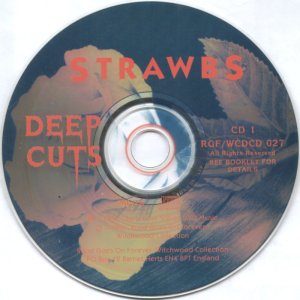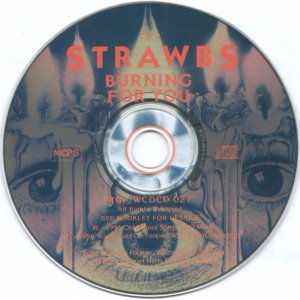 Tray inner and back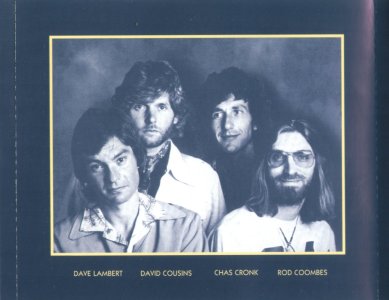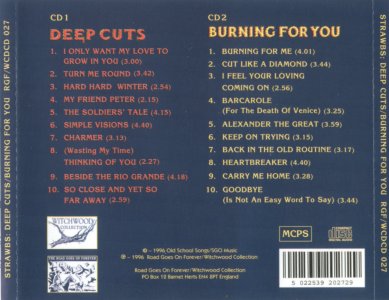 Japanese Muskrat card sleeve facsimile CD release
CD: RATCD 4219 (Muskrat, 2003, Japanese facsimile re-issue). Beautiful limited edition facsimile re-issue in card sleeve, with obi. The card sleev is an exact miniaturised reproduction of the original except that the Muskrat catalogue number appears at the top right of the back cover. The package even has a miniaturised lyric insert to match the original vinyl release (agin with the Muskrat number replacing the Oyster number). It's very tiny print, so not scanned - see original above. There's also a 1 sided 2x2CD black and white Japanese language insert. Though the original packaging doesn't refer to it, there's a bonus track - a Lambert outtake "You Won't See The Light", from the original sessions.
Insert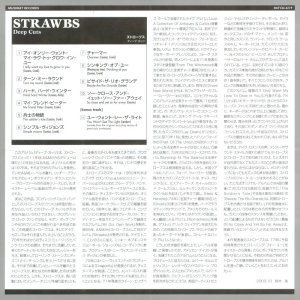 CD and Obi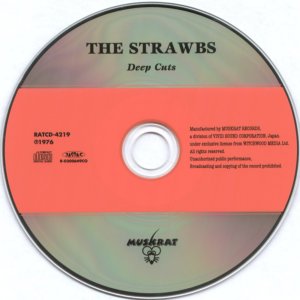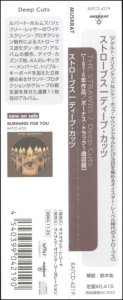 Witchwood Media CD release
CD: WMCD 2031 (Witchwood Media, UK re-issue, 2006) Jewel case packaging. 4pp booklet with lyrics on inner fold. Also includes bonus Lambert track. NB. The jewel case is over-stickered with a bar code (not reproduced here)
Booklet outer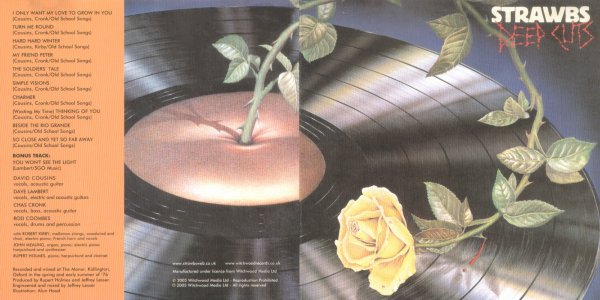 Booklet inner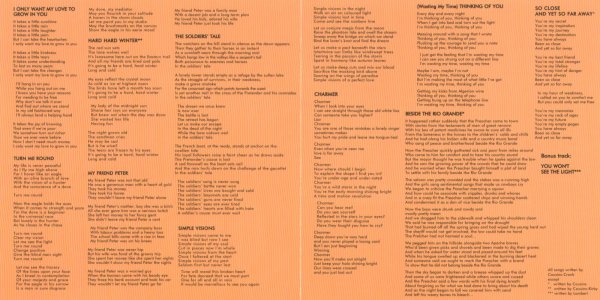 CD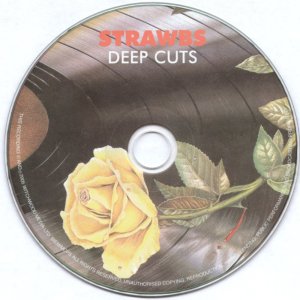 Japanese Airmail card sleeve facsimile CD release
CD: AIRAC 1706 (Airmail Recordings, 2013, Japanese facsimile re-issue). Outer cover is replica of original album. Obi includes ads for Sandy & The Strawbs, Burning For You and Deadlines. There is a lyrcis insert which exactly replicates in miniature the one which came with the UK album (including the UK catalogue number). The back cover also still has the UK catalogue number.
Also included is a 2x2 CD sized b/w insert with Japanese sleeve notes (by Masayoshi Funabiki, dated 7 Jul 2013) and track listing on one side and the lyrics (re-typeset, not a reproduction of the original) on the other. Also noted that this is a 24-bit remaster. The CD comes in a fabric bag, the disc itself got up to represent the original Oyster label album.
This was also included in the Sandy Denny & The Strawbs boxed set of 5 or 8 Airmail Strawbs-related releases. See: the Sandy Denny & Strawbs Complete Recordings page.
Insert front and back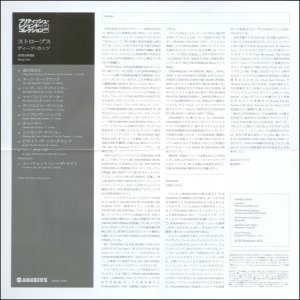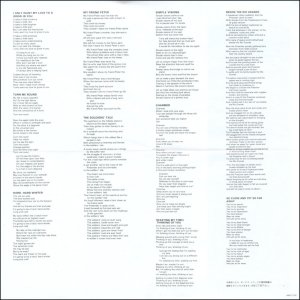 CD and Obi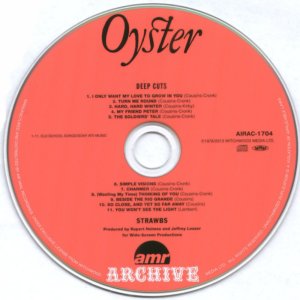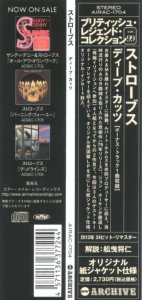 ---