HEARTBREAK HILL - REVIEWS

Contents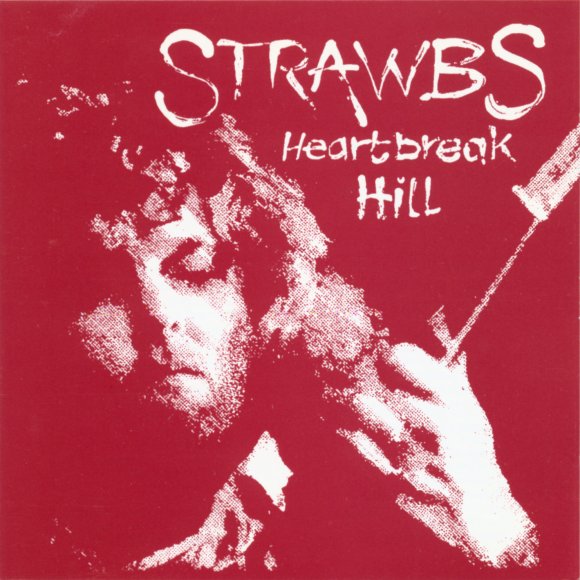 THE MUSIC IS BACK ON THE SURFACE - Reviewer unknown
This album contains more than just music. It contains a representation of a very dramatic time in the history of the Strawbs. It is often easy to forget that music IS art and so often art is most acute when life is most difficult. And this review is a very personal opinion of both these aspects of this CD, this piece of art!
Perhaps Cousins suddenly felt an early mid-life crisis. Perhaps it had not gone as he had planned. From way back in the sixties he knew that he had a talent for writing quality music with quality lyrics, and he enjoyed the process from the writing of the music through to its performance and the recognition it would receive. Perhaps he felt like an ambassador to his music and he was happy enough to go along for the ride whilst being its (the music's) manager. There was a severe wobble in the plan around 1972 when he was singing his songs to a theatre full of 15 year old girls who were focusing more on Lambert's cute hair and smile. And when that audience left (probably having looked up the word 'masturbate' in the school dictionary) there was a smaller group of tuned-in and clued-up listeners, but not enough to pay for the music that was being made.
So 1980 was the year when Cousins finally made the decision to cash in his chips and to move forward (Lambert having made a similar decision sometime earlier but successfully burning his bridges with Cousins as he left). Of course, if your focus is the music then Cousins is the all-time Judas, if your focus is the person then you'll give your full support to the man. This very same conflict and struggle was at the heart of Cousins, and its here in this art. This album never reached the shelves at anytime during the 80s because just as the recording finished Cousins left the band, and left the music making process. He'll tell you that he enjoyed working the Radio industry, that it is his way of supporting the new music (he may tell you how Ultravox rooted him to the floor the first time he heard "Vienna"). But we all know that the two talents don't compare and that his proper place in life is behind a guitar, not a desk.
For me, the first thing I hear with any recorded music is the production, the sound of the music. I particularly like this production. It's very clear with a good edge. All through the A&M years the production had character/edge and was well balanced, even the bright production of Hero And Heroine still had a moody edge. The music got lost in the production from Deep Cuts to Deadlines with too many instruments hitting the same notes, but in Heartbreak Hill the music is back on the surface - less is definitely more in this case. In some ways it sounds like a keyboards album, but for me all the parts (vocals, guitar, bass, keyboards, drums) have the same weight. But the keyboards work is very dynamic. It's Andy Richards' first (and only) recording with the band and he has put a lot of effort into the music. This seems to have had a positive effect on all the arrangements. It sounds like a very tight band even if there was a guitar personnel change during the recording process.
"Something For Nothing" represents Cousins' struggle with deciding his future. In some ways the lyrics come across as a personal attack on someone, something deliberately implanted by the writer. But it is probably more a representation of him as the victim, probably a victim of all those who 'conspired' to bring him to this position, that includes us the public. The music is just as uncompromising. Starting with short sharp stabs, inter-cut with funeral organs, backed by a menacing guitar (Lambert) and ending in a very final way, this is a great example of the creative buzz within the Cousins/Cronk writing partnership.
"Another Day Without You" is a beautiful song and makes the most of the new guitar talent (Jo Partridge). I wonder when this song was written, I would guess mid 70s - I could easily be wrong.
"We Can Make It Together" is a good rocker, and makes the most of Tom Allom's production (or should that be Tom making the most of this rocky song?). I wonder if the lyrics were rewritten as Lambert left. Miller Anderson is behind the guitar on this one.
"Heartbreak Hill". I first heard this song at The Haslett Theatre in Maidstone performed live, and I was awe-struck. A true typical Strawbs epic with all the adventure to match the epics of the mid 70s. The recording seems to capture the grandness of the spirit behind the song and brilliantly shows the capacity and potential of the new band.
"Starting Over" is a song I've had some fun with when I tell friends of mine who are Genesis fans "I've got this unreleased Genesis track" and right up to the first vocals they are totally taken in. I would imagine that this is a song that Andy Richards had had lying about for a while to which Cousins added lyrics and a few ideas. And when I listen to this track I can just see Cousins happily prancing around on stage with a broad grin (like an embarrassing dad dancing at Butlins). They probably can't perform it without Richards but it would be a good opening song in concert. And again it is an epic - very, very prog rock. The middle quiet bit is so atmospheric, seems to slow time itself. Again, displaying the dynamic talent of this band.
"Two Separate People" is a band song according to the credits, and perhaps it did just happen in the rehearsal studio. Did Fernandez write the lyrics? Ha, Ha - just joking! A simple but perfect song.
"Desert Song" is one of those songs that I would consider an album filler but would end up being released as a single, and then I'll find out that it's Cousins' favourite song for years. Again, it's a good rocker and is probably fun to perform, but doesn't do too much for me compared to the previous songs on the album.
"Let It Rain" is where it all goes terribly wrong for me. On the face of it, it is a nice tune but it has three big problems. Firstly the lyrics should never have made contact with paper. Particularly the middle verse which compares life to a narrow gauge railway. Secondly there is the instrumental break which uses a vocoder to very bad effect (heads down a toilet after a night out spring to mind). And lastly the song closes with the chorus repeated but with a clearly audible Smurf providing some support vocals. Like, you know there is that embarrassing bit at the end of Bursting At The Seams that prevents you playing the album to friends, that's what the band are doing here. Just like the old days, eh!
Who knows what would have happened with this band had continued with Cousins - that we will never know? But this CD is the band's testament and there is nothing to feel bad about as long as everyone's tongue was firmly placed in his or her cheek for "Let It Rain". And at least we got to hear the album and the band eventually.