NOMADNESS - REVIEWS AND COMMENTS

Contents

NOMADNESS - BONUS TRACKS - Previewed by Dick Greener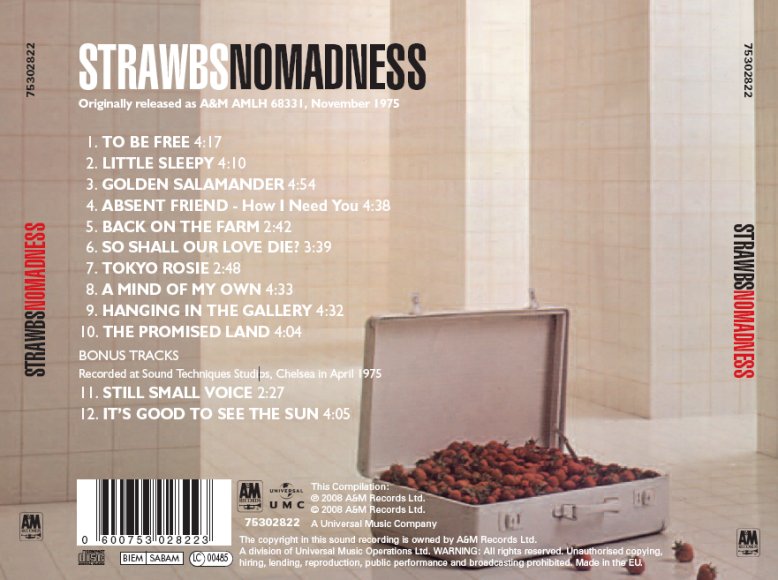 Still Small Voice
Released previously on the Hero And Heroine CD re-issue back in 1998, this actually belongs here, a number recorded at Sound Techniques in Chelsea in April 1975. A taped version was used at the walk-on music for live concerts later in the year. Starting with a delicate nylon-strung guitar figure, drum rolls take it into familiar Strawbs prog territory, with screeching guitars. Cousins short vocal is quite heavily treated. Then back to the guitar figure.
A fragment, I guess, destined to be attached to some others to make up a Cousins epic, but which never found a home. Could have been a classic Strawbs track if it had.
It's Good To See The Sun
Not even known about before - if we had it might well have made it onto Taste. A feelgood Cousins song, with drums, acoustic guitar and bass backing, and some nice backing vocals (I think from Chas). Some interesting lyrics ("my life has been a bitter pill to swallow"). Bass particularly fine.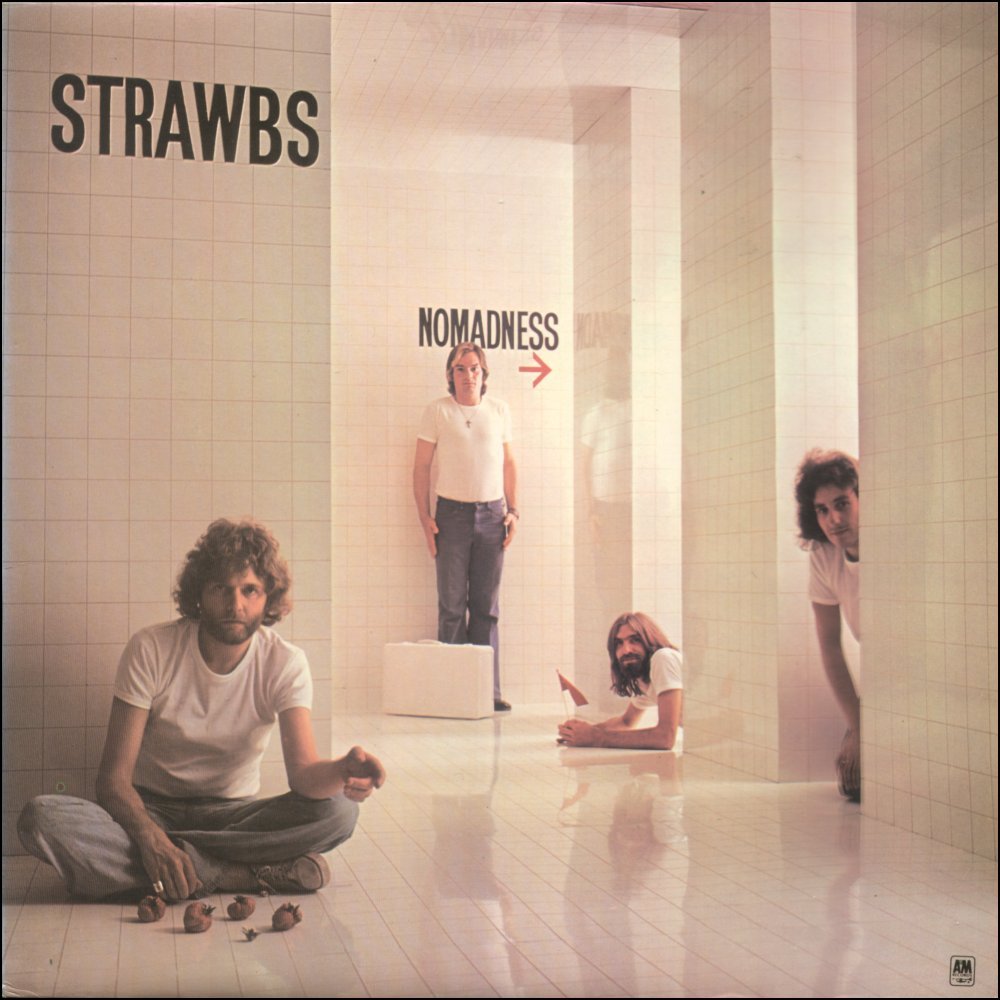 SIMPLY SO DIFFERENT - Review by Brian Cairney
Following hard on the heels of both the Hero And Heroine and Ghosts albums the Strawbs 1975 release Nomadness sent the Strawbs into, what was the beginning of, a gradual decline in commercial album sales. It would not be fair to put the blame on the Nomadness album solely for this decline but it would be fair to state that many Strawbs fans never really took to this album at the time of its release, simply because it was so different, musically, from its predecessors.
I, myself, never really fully appreciated the album at the time, but with hindsight, Nomadness does stand up on its own because of the fact that it is different. Nomadness probably had the most depressing theme of any Strawbs album with songs that touched on the concept of both despair and madness, added to sadness and loss - but no suicidal tendancies as some critics suggested.
Nomadness was the final Strawbs album for the A&M label and this fact alone contributes to the overall depression surrounding its release. No UK tour was undertaken at the time to promote the album and for whatever reason no singles were released from the album (apart from one USA promo radio single of "Little Sleepy" and definitely not the best choice of a single for radio airplay when there were far more commercial songs worthy of release). The album received scant reviews in the music press and poor sales in the North American market, surely contributed towards what was a commercial failure in terms of album sales. The band had just been reduced to four members by this point with the departure of keyboard player John Hawken, apparently we are led to believe, as a cost cutting exercise. Dave Cousins admitted sometime later it was a toss up between John Hawken or drummer Rod Coombes for the chop, but the latter won the day. Nevertheless the remaining band members pulled together with everyone contributing songs for the album, although their musical input does seams somewhat restrained.
There are the usual sprinkling of Cousins love songs "Tokyo Rosie", "So Shall Our Love Die" and the excellent "Golden Salamander". The bulk of Cousins other material touches on the topic of madness and depression with "To Be Free" and "Back On The Farm". Chas Cronks search for the visionary "Promised Land" and Rod Coombes' statement "A Mind Of My Own" offer slightly more contrast. Dave Lambert's own ditty "Little Sleepy" and Dave Cousins' soulful "Absent Friend" make a departure from what was normally associated with the music of the Strawbs (who is this absent friend anyway ?). The gem on this album is undoubtly Cousins' "Hanging In The Gallery" where both Cousins' vocals and acoustic guitar work prevail in the usual Strawbs manner and some fine lyrics to boot: "Or is it but his conscience/Insecurity, and loneliness/When destiny becomes at last/The cause of his demise". I often thought the song would have been good enough as an album title.
There certainly is a good span of material contained on Nomadness and a deliberate attempt to here to try something a little diverse for once. lt does require to be listened to very closely and helps when one is in the right frame of mind. Judge for yourself.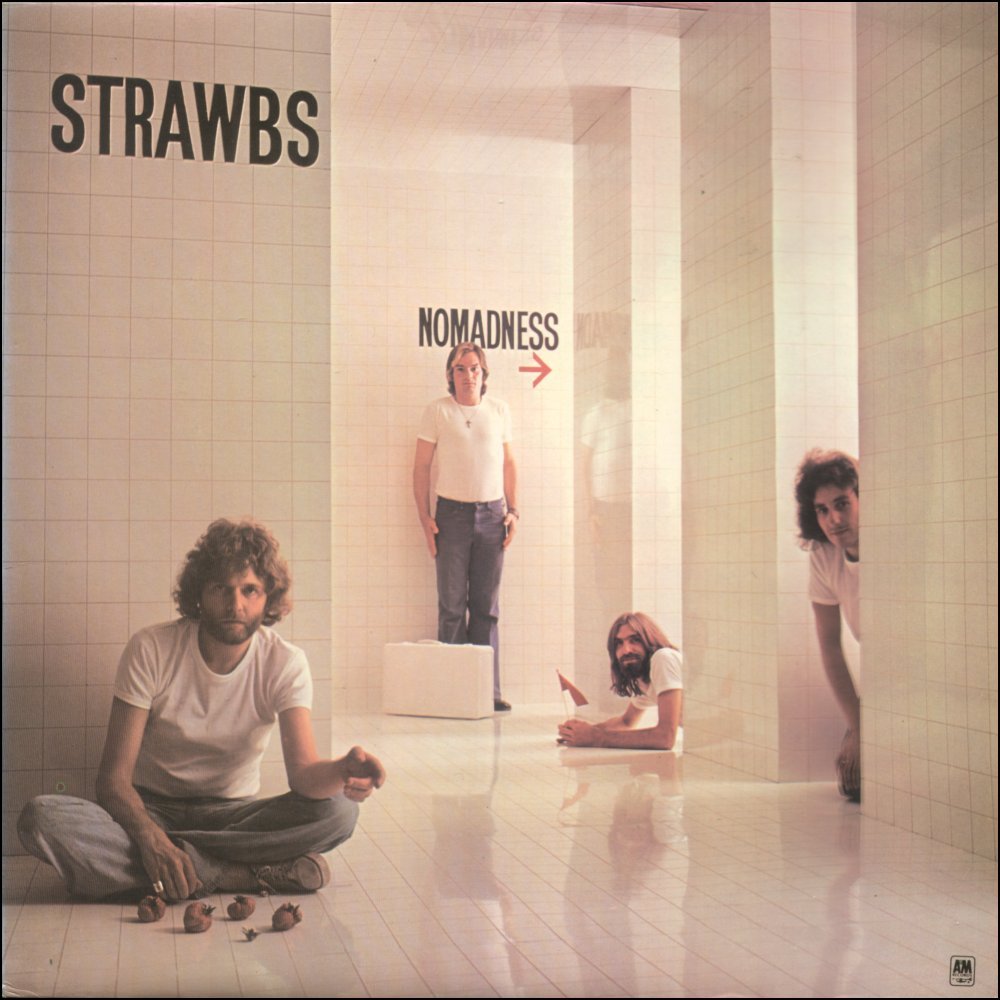 AN ARTIST'S WORK ? - Review by Doug LeBlanc
Well, time for my two cents about Nomadness. I was first attracted by the wonderful title. Nomadness, the state of being a nomad (a wanderer), and no madness; a ban on lunacy. The cover looks like the inside of an asylum, with a bunch of strawberries in a case (a nut case?). Couldn't wait to get this one home and hear it.
Okay, so, we open with "To Be Free", a generally wacky song about everything and nothing. I, of course, loved it. But then, I'm kinda wacky meself. A few of the other songs fit into this vein, as well. "Tokyo Rosie" is a delightful little ditty that pleases my palate, and puts a smile on my mug. "Back on the Farm" is a comical tune with no real meaning behind it, save to drive those who look for meaning behind such things bonkers. Perhaps I err, but I have never found anything other than good, clean, lunacy on this one. "A Mind of My Own" is a serious one on the looney side of things. Excellent tune, but not one of their best efforts, although I've always liked it. It fits in well with the theme. "So Shall Our Love Die" is very pretty, with it's passionate, breathy vocals. I've always like the music, but never much cared for the lyrics to this one. "Promised Land" is another nomad song; not great, perhaps, but I always liked the way Dave and Dave shared the lead vocals. "Absent Friend" is an odd song. Kind of blues type number. For those religious of you, note the song is easily applied to the feeling of the alienation from God that happens to even the most ardent of believers. It could be taken as a love song, but it fits the deprevation of religious desolation to a T. Another form of madness, no matter how you look at it.
Now we come to my two favourite songs on the album. "Golden Salamander" I fell immediately and passionately in love with this upon first hearing, and I have never looked back. The line 'my golden salamander, you must take me as I am. I cannot change my colours, I am but a simple man." echoes like a plea in my own life. I practically have this engraved on my heart. Whenever individual people or society in general get too much for me, I sit down and write this line on a piece of paper. Then I tear it up, and throw it away. I need to reaffirm it in my mind, but not permanently. I have the song for that.
Finally, we come to the masterpiece. I find it odd that so few of you mentioned this song, but to me, it remains one of the greatest songs ever written by the Strawbs. "Hanging in the Gallery". A song so painful, so heart-wrenching, so poignant, that it leaves me breathless. It shouts at me, it crawls off the record and stalks me like a predator. The imagery is beautiful, the analogies perfect. The lines written are some of the best Dave Cousins ever created. 'To discard the unessentials, and reveal the perfect truth.' That still sends shivers down my spine. As a writer, I have loved and HATED this song. In one way, it has inspired me to strive for better. In another way, it asks me over and over again, why the hell don't you end it. No one likes your stories; no one cares. You can't write. Give it up. And then the mirror comes in; is it the artist or his likeness, hanging in the gallery? If my writing is no good, and it is the most important thing in the world to me, why don't I end myself? Because it's not the most important thing in the world to me, that's why. But still, the song haunts me, like Moby Dick haunted Captain Ahab. I love it in so many ways. Only Dave Cousins could have breathed such life into such a song.
So, we have an album of nomadness, where we wander around, looking for a promised land, trying to be free, with a mind of our own. And we have an album of no madness, where roses grow on the lake, and the sailor makes it back to the farm, riding on the little sleepy train. But in the darkened gallery, where the lights have been put out for the night, hangs an artist's work. Or is it the artist?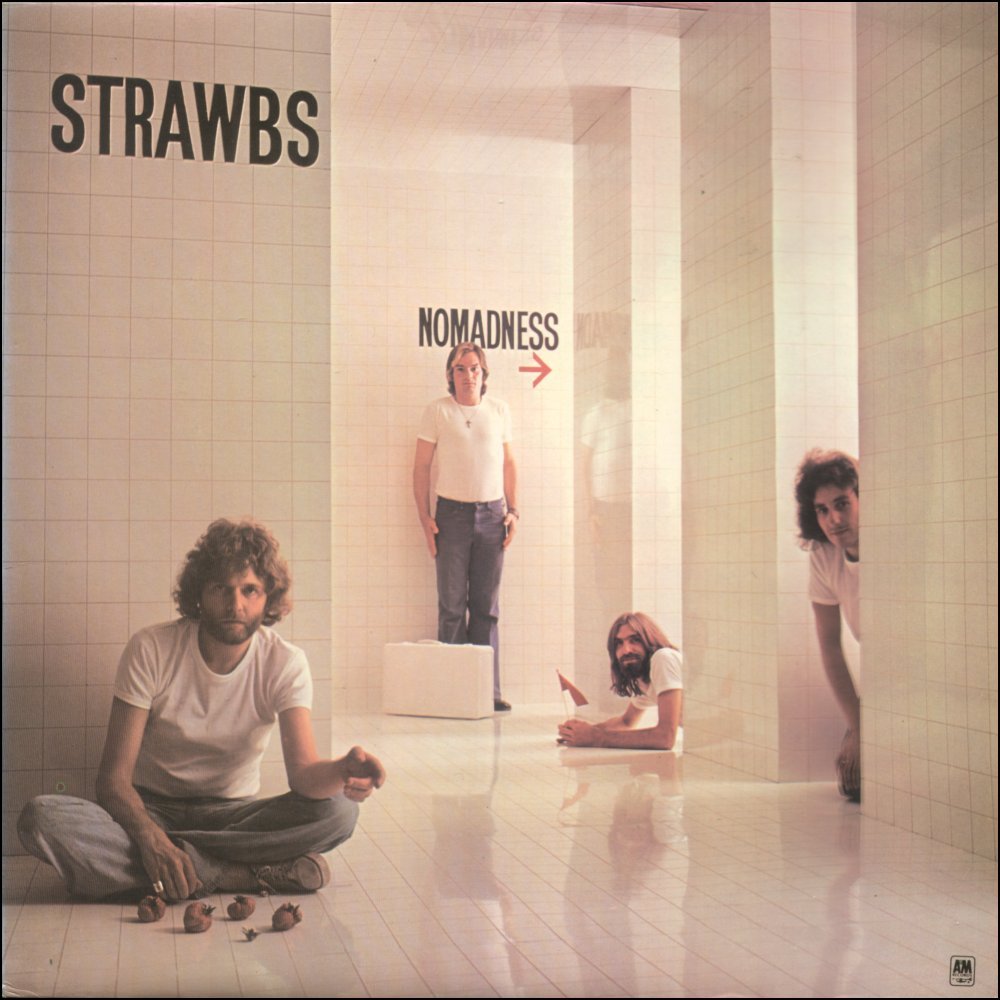 Review of the Progressive Line Bootleg CD by Phil Gregory
I have just finished listening to my Australian Nomadness for about the third time. Now prior to the weekend I had never heard this album at all, except for the few tracks that made it other to CDs ("Golden Salamander", "Tokyo Rosie", "To Be Free" and the alternative version (I think) of "How I Need You") and I can see why some fans would have been surprised at this album.
The first two tracks are not really typical Strawbs (to me anyway), but then there are some classics: I am especially fond of "Hanging In The Gallery" and "So Shall Our Love Die", can't believe I had never heard them before. As a fan at the time I don't think I would have been put off the rest of the album by the first two tracks (OK some of you probably love "Little Sleepy", but it's not really what I think of as Strawbs coming from the folkier end of things).
Anyway, now to the quality of the disk. The artwork is excellent, generally the sound is pretty good, not quite as open as the remastered disks (hell of a lot better than never hearing it at all) but there are a number of funny glitches on my copy, crackles over the vocals on "Little Sleepy", some odd low frequency "bumps" in the background on "Salamander" and a few other minor defects. Some of Dave's vocals seem a bit distorted on the high end but I think this must be the source tape because I seem to recall something similar on Halcyon Days.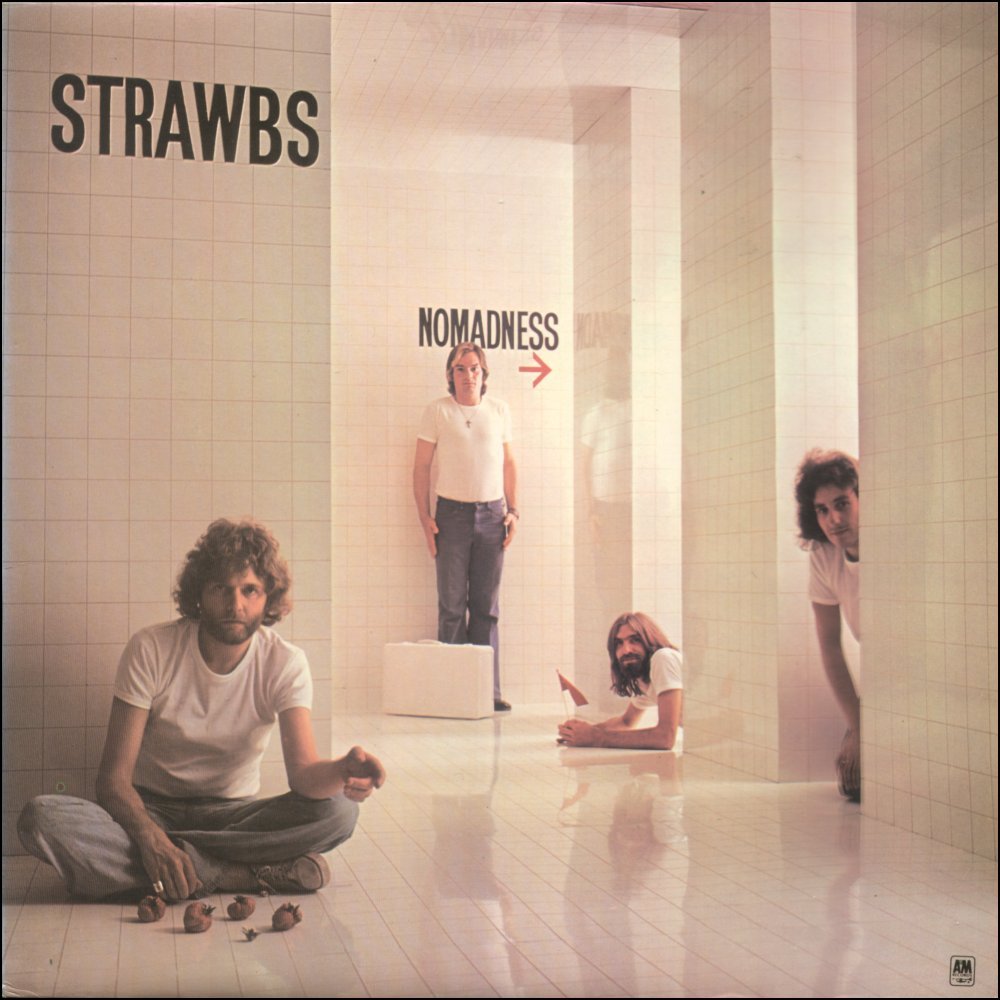 Comments from Witchwood - the Strawbs Discussion Group
Gerard York
Joy in the York household tonight as "Nomadness" CD arrived today from Music Imports 15 days after I ordered it! Until now having only the three cuts on Halcyon Days, I had forgotten what a nice little recording it was -- peppy little tunes like "Tokyo Rosie" and "Little Sleepy" and the bluesy "Absent Friends." When "Nomadness" was released in the fall of 1975, I was a freshman at the University of Florida. Nomadness and Roxy Music's Siren were the only things that kept me sane that fall as I drank my way through parties playing "That's the Way I like It" by K.C. & The Sunshine Band.
So go ahead and buy a copy. No extra tracks, lyrics or John Tobler or Dick Greener liner notes but you'll enjoy it!
Danny L Blake
I've always felt that this may have been the most "American" sounding of all their albums. I think even more so than Deep Cuts or Burning For You . I always attributed this to the fact that they seemed to be more popular in North America than the UK. Thus, I think they may have consciously tried to make the album sound "American". But in turn, I think they were still able to retain very much of the English humor that made them "English". I offer "Tokyo Rosie" as an example. Even though I really love the harpsichord break provided by my favorite Strawb "Uncle Rick" in this song, I really feel that the lack of a permanent keyboard player may well have been a shortcoming of this fine album. I really missed John Hawken. I think he may have been one of the most intelligent keyboard players in rock music. In saying this, I was glad to see that Dave Lambert was still in fine form. I always preferred his vocals and guitar over most everyone else in the band. Very underrated player. Rather than doing a song by song analysis, I will only say that the only album that deserved reissuing more than Nomadness was Ghosts. (My personal favorite).
John Graham Smith
It's a shame that of all the Strawbs albums only Nomadness has yet to see any sort of CD release. I imagine it didn't sell enough copies in its vinyl incarnation to justify inclusion with the A&M Remasterpieces. So what's wrong with it? Let's try it track by track:
"To be Free". I've always liked this one. Superb stream of consciousness lyric with a rythm that chugs away nicely and builds up to an emotional high on the "To be free" line.
"Little Sleepy". Dave Lambert rocker. This has always been one of my wife's favourites.
"The Golden Salamander". Don't ask me to explain the imagery in this one one -" I am but a simple man", but the sound picture is wonderful - that dulcimer and those harmonies.
"Absent Friend". I didn't know this was a song Dave had had for a while until I heard the version on Preserves Uncanned. This version knocks the original into a cocked hat. I listen to it and think of smoke filled blues clubs - something I have no experience of at all.
"Back On The Farm". After the emotional low that is "Absent Friend" this one seems almost hysterical in it's jolliness, an impression enhanced by the " I smashed the glass I drank from, drove it deep into my arm" line, which seems to belong to a different song.
"So Shall Our Love Die". I don't know what to say about this one, but it's not the song I expect from side 2 track one of a Strawbs album. Most Strawbs seem to have songs which kick start the second side - this is very low key in comparison to (say) "Sheep" or "The Life Auction".
"Tokyo Rosie". The band obviously had a lot of fun making this one - the good humour shines through. If "Absent Friend" is the low point then this is the happiest point of the album.
"A Mind Of My Own". After "Tokyo Rosie" this sounds dreary to me. It was always my least favourite song on the album. Listening to it again I feel I may have misjudged it.
"Hanging In The Gallery". Great lyrics well sung.
"The Promised Land". This used to be my favourite song on the album, probably because it comes closest to the feel of the more intense tracks of the previous 4 albums. Again I may have misjudged this one - I prefer at least 2 of the other tracks now.
Perhaps none of the tracks make the very top of the first division of Strawbs songs, but I don't think that's the problem. Pull virtually any track off this and put it on to (say) Ghosts or Deep Cuts they would be better for it. I feel that this album is rather less than the sum of it's parts. A change in running order might help and if we got a CD release I could try it out,
Dick Greener
"To Be Free" - wacky lyrics (according to the Choice Selection sleevenotes, this was a stream of consciousness exercise stimulated by receipt of a printed invitation):
"Sarah was living with a friend at a riding stable, and they had received a gilt-edged invitation to a wedding. I wrote literally a stream of consciousness lyric and I just didn't stop writing. I forced myself to write just the first thing that came into my head that rhymed, which is why you get these bizarre images in the song ... It took about five minutes to write the words ... it just went on and on, and I had this long rambling lyric and then put the words 'to be free' on the end of it."
Lots of bounce, was used as a closer on tour, with Dave bouncing around in his white suit.
"Little Sleepy" - one of Lambert's best rockers, shame it didn't get more airplay - they tried it as a single in the States, but it didn't move, which I think it deserved to (that alone may demonstrate the falseness of the conviction held by subsequent producers that Lambert's voice would sell the Strawbs much better than Cousins').
"Golden Salamander" - great track, nice to hear the dulcimer back again. Probably more stream of consciousness lyrics, but the people mentioned may be coded characters in Cousins's lyrical world (like the magic mountain music man, who's really rather shy .... A lovely contrast to what goes before and afterwards.
"Absent Friend" - almost jazzy, unusual for Strawbs, a reworking of a very early song (the acoustic version appears on Preserves as "How I Need You". Nice touches like Coombes on cymbals as "my wristwatch, as it's ticking fills the room".
"Back On The Farm" - lightweight filler, what on earth DOES it all mean (I think this would be a good one for lyrics dissection, though I think we'd end up agreeing that it didn't mean much at all!). Nice to hear banjo and accordian on Strawbs tunes, but that doesn't save this from Strawbs division 3 (or possibly lower)
"So Shall Our Love Die" - for me, one of the top three on this LP. Lush twelve string riff, dreamy lyrics talking about rosebuds, hard and firm (we're probably on the "Fingertips" nipple trail here ;-) Lovely production overall.
"Tokyo Rosie" - Whilst the words are nothing deep and meaningful, Cousins' laughter in the middle is infectious: Strawbs proving that they can have fun too. Built round a catchy little hapsichord riff from Rick, nice guitar from Lambert here too. The story here is that apparently Wakeman who guested on this track, asked that the studio be put into darkness for his overdub on this track. When the studio lights came up there he was sitting completely in the buff. I believe then that when it came to to the time for the vocals to be recorded, the rest of the band returned the compliment, hence Cousins' giggle. A strange day over the hill, if ever there was one. Favourite line: "I wear my silk kimono black, get your monkey off my back".
"A Mind Of My Own" - Like the words, a perfectly OK track (bit like Coombes' others "Sad Young Man" and "Changes Arrange Us" but never going to hit my top 10. Like the instrumental coda too.
"Hanging In The Gallery" - top track, if only for the ludicruously over the top Lambert guitar break (reminds me of those things Mike Oldfield used to do around Christmas time, layering guitar solo on top of guitar solo: each time you'd think he couldn't get any more ornate ... then he would!)
"The Promised Land" - I know many regard this as a classic, but can't quite bring myself to - dunno quite why (maybe I don't like the arythmic drumming at the end and the odd ending generally). Good from the point of view of having both vocalists in play - nice duetting there. Otherwise, not my fave.
Nomadness has always seemed to me a disjointed album (a bit like Witchwood), where the various pieces were pulling in very diffierent directions, with no overall feel to the album. It certainly failed to capitalise on the momentum generated by and the "big gothic" sound of Hero And Heroine and Ghosts, which had proved really popular in the US, and it didn'r sell nearly as well as its predecessors.
Cousins later commented in the press:
"We had not taken into account that whereas we had made four 'Gothic' albums on the trot, i.e. 'Grave New World' to 'Ghosts', our American and Canadian audiences had only picked up on the last four of the series. They were ready for another, we weren't. Hence Nomadness.... the songs were in a far simpler vein. We were beginning to realise we could not go much further unless we had a hit single and much of the album reflects that. Songs such as 'Little Sleepy' and 'Tokyo Rosie' were meant to be singles, though they failed in this respect. The other songs were treated simply as a nice change for us, though not for the audience. I think that songs like 'The Golden Salamander' are among the best Strawbs tracks ever. The one major problem with the record was that we were pulling in several directions at the same time, hence the wide divergence of material."
"By then we'd had four big selling albums on the trot in America ... which all had the big sound that Americans love, then we decided to change it. Nomadness was made after I'd been ill and I just didn't have the mental sharpness.".
Peter Madeley
Nomadness was the first Strawbs album I bought as it was released. A couple of mates had introduced me to Strawbs music about 6 months before, and I'd bought several of their albums. We used to have "music evenings" where we congregated 4 or 5 strong and played each other a few tracks off our latest LP purchases ( sort of primitive version of napster???). I humbly regret to say I can't remember the first Strawbs track I heard, nor indeed the first LP I bought.
I remember rushing home with it and was initially very pleased with it. I then had a period where I thought it was not so good, and it's interesting to revisit it now (you can probably hear it in the background). I hadn't played Nomadness for some time, until I bought Halcyon Days from the merchandising stall during the tour, mainly to get Blue Angel on CD. I was surprised at how much I enjoyed the Nomadness tracks. "Golden Salamander" creates an honeyed atmosphere with a haunting bleakness.
My choice of the best track, and one of the Strawbs top three is "Absent Friend". The lyric and music meld perfectly. There is an emotional performance vocally from DC, which is somehow understated. I remember seeing the Strawbs on "The Old Grey Whistle Test" performing this, and it was a blistering version. If I'm feeling down, I tend to use music to get rid of my low mood in a cathartic process. "Absent Friend" is one good track for this ("Sometimes I Feel So Uninspired" by Traffic is another good one).
Overall Nomadness is a bit of a mixture. The highs: "Absent Friend"; "Golden Salamander"; "So Shall Our Love Die"; "Promised Land".
The Low: "Back On The Farm" (Strawbs meet Captain Pugwash)
The OKs: The rest
Ken Levine
I first heard "Little Sleepy" on radio and was not impressed; it just doesn't fit into any of the styles that I like - I only go for rock n roll when it is a bit more harmonious. I did have friends who were fans of rawer rock who thought this was a pretty good song, and they are better judges than I. But it does nothing for me. The DJ came on and said, in French I remember (on Montreal's bilingual station), that he received a number of calls about the song wanting to know who it was. He said it was a group we know well. Then he played "To Be Free" to make it obvious. These two openers were clearly an attempt to show how the Strawbs sound had become leaner and meaner, but I guess what ended up happening was that the old fans drove away in droves and the new ones did not materialize.
In retrospect, it's not hard to make a hypothesis as to what happened. The album really wasn't a rock n roll affair as the radio promos suggested, it did not have a serious contender for a pop single(a la "Lay Down" or "Lemon Pie"), it was not a prog outing like the most recent fans had expected, nor was it particularly folky for those old fans who still remembered the group from their college days. Well, it was sort of all of these and none at the same time. Whereas everything since at least Witchwood had seemed like a blend of related tunes, Nomadness was nothing if not disjointed, a tendency that became even more pronounced on the two Oyster albums which followed. And the loss of John Hawken along with Cousins' perhaps legitimate concern that the group might never get bigger with the Ghosts style (remember that Ghosts actually did not sell as well as Hero) may have contributed to the product.
That being said, please see the all music guide for their glittering review of this underrated piece of work, claiming it sounds like a compilation of the 10 best cuts from 10 different bands! Cousins songwriting inspiration was still intact, Lambert's leads had never soared quite so high, and the simple freshness of many of the songs stand out thanks to the sparser production which was only brought into focus by the total exclusion of mellotron. Note that "Golden Salamander" has no drums and "So Shall Our Love Die", "Mind Of My Own", and "Hanging in the Gallery" are at least half drumless and, other than Dick's well noted over the top Lambert solo in "Hanging" (Oldfield is one of my favorites - Lambert's solo almost makes the guitar weep like a violin - gorgeous!), are almost without electric guitar. These are probably my four favorites of the album because they are so simple yet lush, crisp, well produced and thoughtful musically and lyrically. Even the filler - "Tokyo Rosie" and "Back On The Farm" - is at least entertaining. And "The Promised Land" serves as a fine farewell to the A&M label.
Although Cousins laments this album according to various liner notes, at the time of release he said it was the best collection of songs the group had ever done for an album and he would stand by that come what may. While I may not agree with his original statement, I get the sense that I like Nomadness a whole lot more than he does now. While it cannot be denied that Nomadness expedited the decline in the popularity of Strawbs in North America, but 26 years later I can only see this recording as a work of considerable artistic merit.
Omaha Steve
Nomadness, I wondered about this title off and on over the last 25 years.Friends seem to think it means the "men's room" in a foreign language, and my thesaurus gives no help. I recall the concern over the number of strawberry's and stalks on the cover and if Dave C. actually ate it. That was really funny to read.
Anyway, the album has been a favorite of mine all along.I suppose it was because of the stream-lined approach to the songs themselves, that was the determining factor.After Ghosts. I had pretty much had my fill of longer epic-style songs.So the 'new' approach was quite welcome.
Generally, I like most of the songs as they appear on the LP. I'm not all that enamoured with "Mind Of My Own", it doesn't do anything for me, other than serve as a filler tune. Not that it's a bad song, it just hangs there. If I recall the sleeve notes, I believe that Dave C. didn't play on this track.
What it did bring to mind was some of the earlier tracks Strawbs played on Preserves Uncanned and the first 2 albums. These shorter pieces were concise and to the point. Like Nomadness, I tried not to delve too deep into the meanings of the songs and decided to let them stand as a collection of varied styles that Strawbs have been renowned for.
It's ironic that the release of Ghosts CD includes the bonus track "Changes Arrange Us". Nice little tune that Coombes did. It should probably serve as a prelude to what Nomadness is going to sound like. If it even happens to appear on CD. Diverse.
---