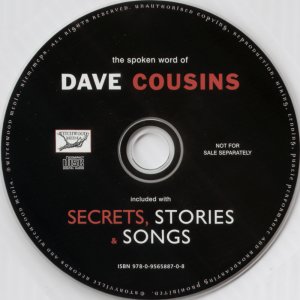 THE SPOKEN WORD OF DAVE COUSINS, 2010
included at the back of "Secrets, Stories and Songs", Dave Cousins' lyrics book, published Aug 2010
Dave's lyrics book had a CD included, featuring Dave's spoken word versions of various of his recordings. "Beside The Rio Grande" has recently been included on Esoteric's Deep Cuts - Extended Edition, but other tracks are as yet otherwise unavailable.
"Secrets, Stories and Songs" is currently out of print. Copies of this and "Exorcising Ghosts" do pop up on Ebay from time to time. Best of luck ....
---
---
Musicians
David Cousins (voice)
Track listing
Hanging In The Gallery
Tears
Fingertips
Antiques And Curios
Joey And Me
So Shall Our Love Die
Face Down In The Well
The Plain
Haiku
Grace Darling
Sealed With A Traitor's Kiss
The Soldier's Take
Beside The Rio Grande
The Vision Of The Lady Of The Lake
Evergreen
Stone Cold Is The Woman's Heart
Copenhagen
CD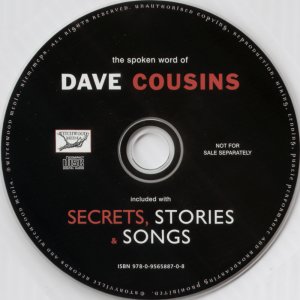 ---
---