JAYMES FENDA AND THE VULCANS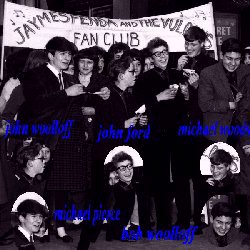 John Ford's first venture onto vinyl as guitarist, lead singer and songwriter for this one-release outfit, managed by Michael Pierce's father. After this, John joined South London-based R&B/soul band the Five Proud Walkers - before too long Richard Hudson joined the band on drums and the outfit, soon known for its wild performances, metamorphosed into Elmer Gantry's Velvet Opera.
See also Hudson Ford; John Ford; The Monks; High Society; Velvet Opera; The GBs
---
---
Sheet music
Thanks to Clive Pierce for letting me have scans of the cover, the disc and the sheet music. Thanks to Bob Wooloff for the promo photo.
---