HUDSON FORD - FREE SPIRIT
For large scans of the images, click on the images: you may need to use the zoom feature in your browser to see the full image

Tracks
Take A Little Word (Hudson/Ford)
Free Spirit (Hudson/Ford)
Mothermild (Hudson/Ford)
I Don't Want To Be A Star (Hudson/Ford)


Silent Star (Hudson/Ford)
Such A Day (Hudson/Ford)
How Many Times (Hudson/Ford)
Floating In The Wind (Hudson/Ford)
Back to main Hudson Ford albums page
Back to main Hudson Ford page

Versions
Vinyl
Cassette and 8-track
CD

VINYL
UK release
Vinyl album: AMLH 68274 (A&ampM, UK, 1974). Stylish (and expensive!) single sleeve, Designed by John Kosh. with rounded corners (apart from the top right) to simulate a petrol can ("gas can" for US readers!) - this would have been quite expensive as the covers, once folded, would need to be cut to get everything in line. Most other releases didn't bother with this refinement - only one I'm aware of is the German release below.
On the UK release only, the Hudson Ford logo and the album title are embossed text (ie the text stands out from the sleeve). The handle of the petrol can has been impressed so that it looks sunk into the card, increasing the impression of a handle. Back cover has band pic, also sunk, with Hud and John at the front. Mickey, Ken and Chris behind, standing round a suitably impressive Ford car,. No embossing/impressing on other releases so far as I am aware.
Silver labels and, sadly, no lyrics inner sleeve or insert.
Front and back of sleeve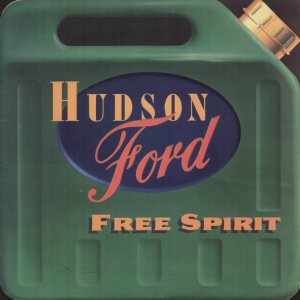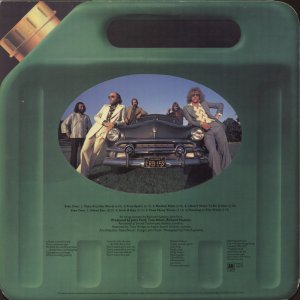 Labels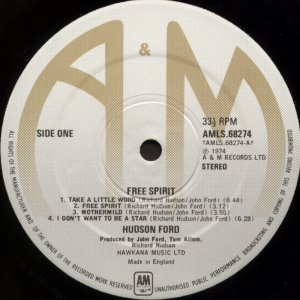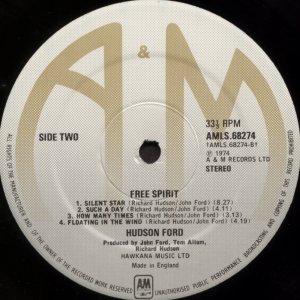 US promo releases (3 variants)
Vinyl album: SP 3652 (A&ampM, US, 1974). White label promo release. Cover does not have rounded corners though the design is the same. US address back cover bottom right. Front cover has a promo sticker, bottom right (on the variant 3 copy this has been put on the back at top right), and there's an A&M logo in the middle of the petrol can under the album title with the US catalogue number below it. Variant 2 has a different promo sticker on the covers - no idea which was earlier.
There are three known variant promo releases, two with promo wording - different typography - around the rim of the label and one with promo wording above the title at the top of the label as with both the Nickelodeon US promo and Worlds Collide US promo releases.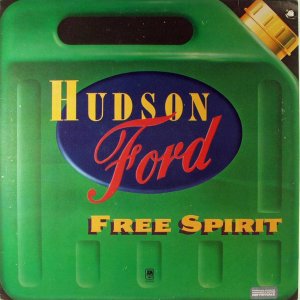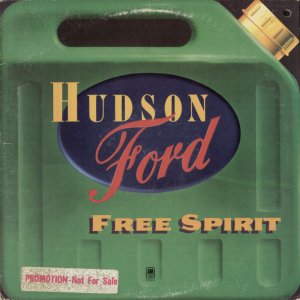 Labels - variant 1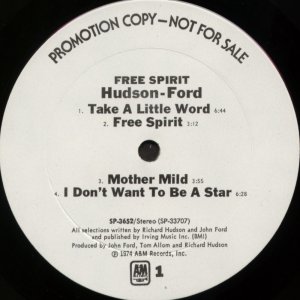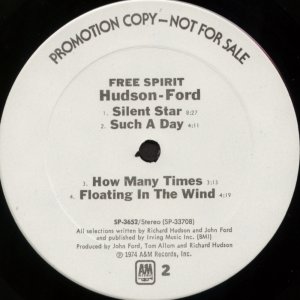 Labels - variant 2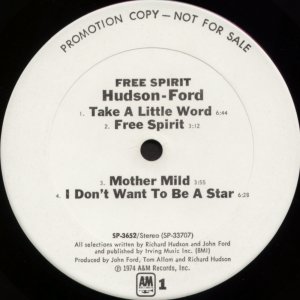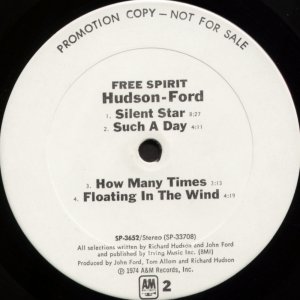 Labels - variant 3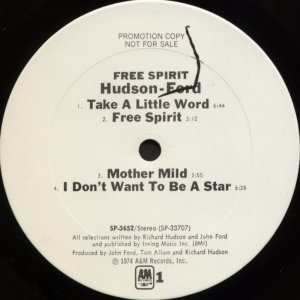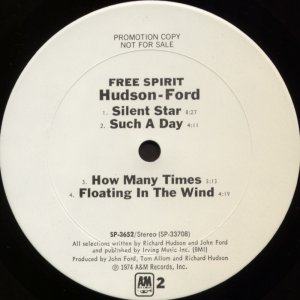 US release
Vinyl album: SP 3652 (A&ampM, US, 1974). Sleeve identical to promo (without promo sticker). No rounding on the sleeve. Silver labels.
Label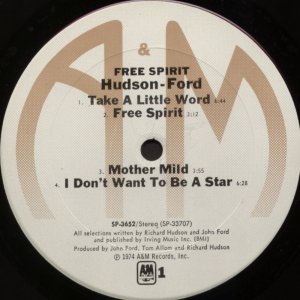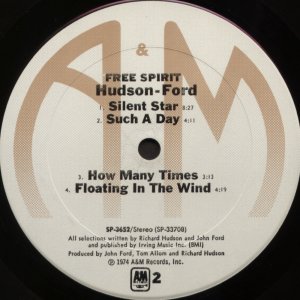 Canada promo (*)
Vinyl album: SP 3652 (A&ampM, Canada, 1973). There was a Canadian promo - anyone have one?

Canada release
Vinyl album: SP 3652 (A&ampM, Canada). Same unrounded sleeve as US except Canada manufacturing at bottom of back cover and the words "Super Jac" at bottom left (no idea ....). Came with light blue A&M Canada inner sleeve, with Milner Avenue address. The sleeve itself though was made in England.
Labels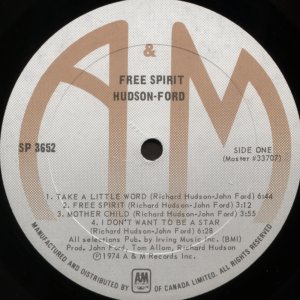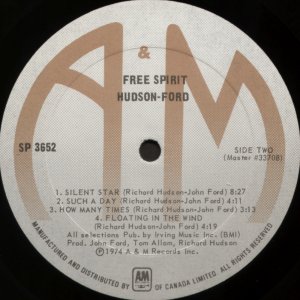 German release
Vinyl album: A&ampM 88 332 IT (A&ampM Germany, 1974).. Back cover same as UK - including three rounded corners) except for German catalogue number, bottom right and "Printed in Western Germany etc." at the bottom. No embossing/impressing (see UK release above). Silver labels.
Labels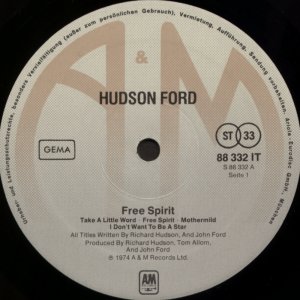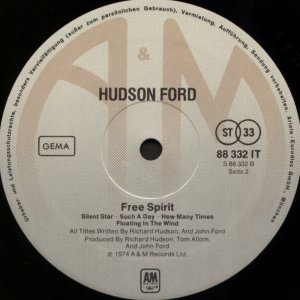 Spanish release
Vinyl album: A&ampM 88332-I (A&ampM Spain, 1974).. Cover has rounded corners (except top right) but is not embossed like UK release. Spanish details at bottom centre of back cover, with Spanish cat no top right. Otherwise same as UK. Silver labels, no translated song titles on this one.
Labels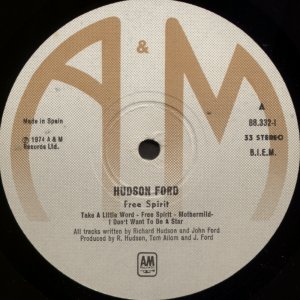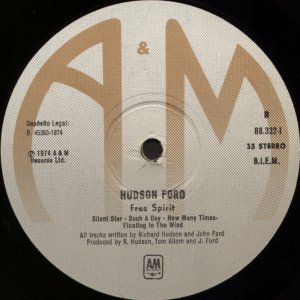 Venezuelan release (Espiritu Libre)
Vinyl album: LPS 88409 (cover), LPS-88.409 (labels) (El Palacio De La Música S.A. Venezuela, 1975). Sleeve modelled on US sleeve (no rounded corners, embossing etc.) On the front above the A&M logo is the catalogue number, overprinted off-centre. On the back, a little El Palacio de la Musica logo on the left, and the catalogue number to the right under the US address. Came with a transparent plastic "half moon" protective sleeve.
The song titles have not been translated for the cover, but they have for the silver labels:

Toma Una Pequera Palabra (Take A Little Word)
Espiritu Libre (Free Spirit)
Dulce Madres (Mothermild)
No Quiero Ser Una Estrella (I Don't Want To Be A Star)


Estrella Silenciosa (Silent Star)
Ique Diai (Such A Day)
Cuantas Veces (How Many Times)
Flotando En El Viente (Floating In The Wind)
Labels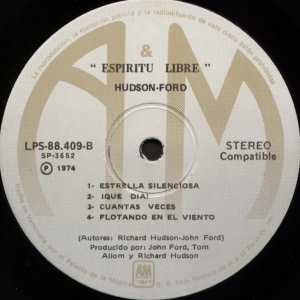 CASSETTE & 8-TRACK
UK release
Cassette: CAM 68274 (A&ampM, UK, 1973). By this time Precision Tapes had stopped naufacturing A&M cassettes, so this would have been the first cassette release (there would have been no "ZCAM" release). Inner has printed copyright warning and "A&M Records Ltd."
Running order is same as UK LP.
Cover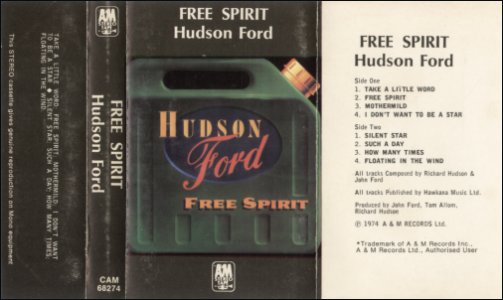 Cassette labels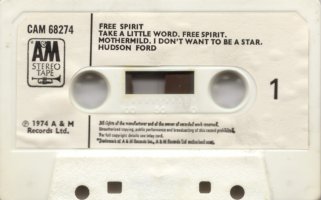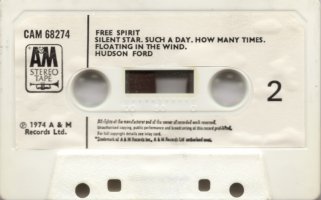 UK 8-track release
8-track: Y8AM 68274 (A&ampM, UK, 1974). Label pasted round both cartridge itself and outer box. Running order as for LP side 1 on Programmes A & B, then some adjustment of side 2 running order.
Cartridge labels and heads of cartridge and box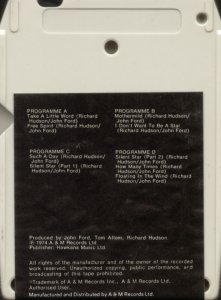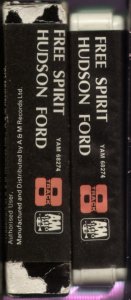 Box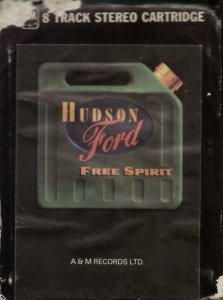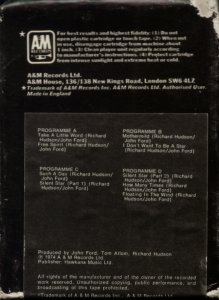 Running order
Program A
Take A Little Word
Free Spirit

Programme B
Mothermild
I Don't Want To Be A Star
Programme C
Such A Day
Silent Star (part 1)

Programme D
Silent Star (part 2)
How Many Time
Floating In The Wind

CD
UK release
Free Spirit is now available on CD as a legitimate release as part of Hudson Ford - The A&M Years boxed set, released May 2017, wth bonus tracks and excellent packaging..
Box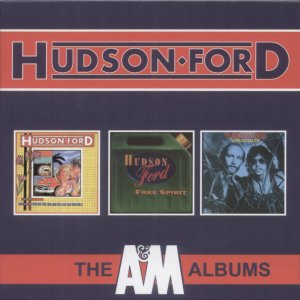 Back of card sleeve and CD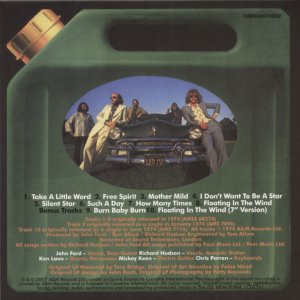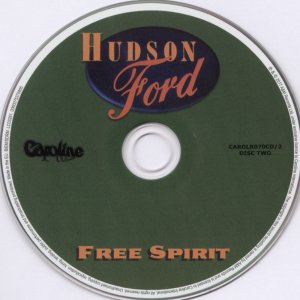 Spanish bootleg CD release
CD bootleg: RDI 33053 (RDI, Spain, 2009).. Bootleg release, no bonus tracks. All four Hudson Ford releases came out as unauthorised bootleg CDs, produced in Spain by Retrodisk International. Packaging designed to match closely the original releases, insert is minimal, the outer modelled on front and back covers of original UK LP releases, with a standard biography in the centre. The CDs themselves are ugly and metallic.
Please do not buy these bootleg releases - the A&M albums are now available as a legitimate release as part of Hudson Ford - The A&M Years boxed set, released May 2017, wth bonus tracks and superior packaging.
Insert, inner and outer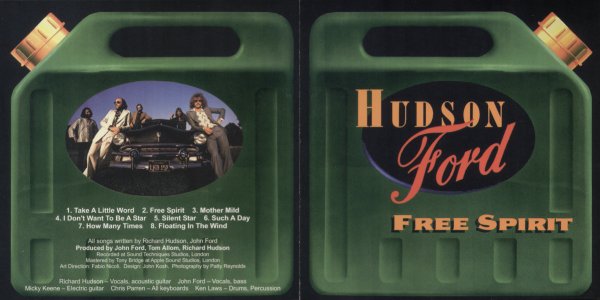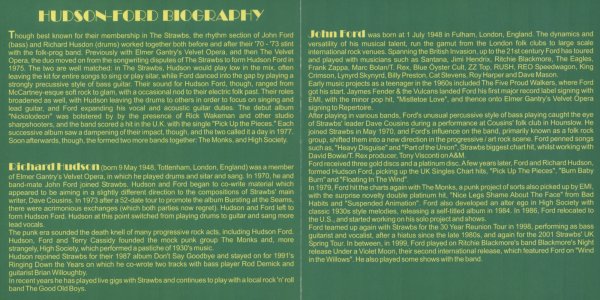 Tray outer and inner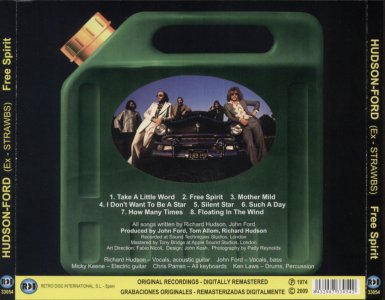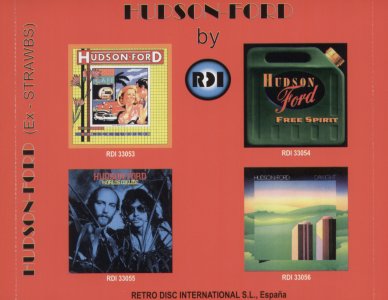 CD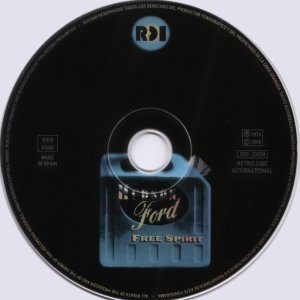 Big Pink (query bootleg) CD release
CD: Big Link 411 (Big Pink, Korea, 2015)..
Facsimile release from Korea. Outer sleeve matches UK release, comes with an Obi, which is got up to look transparent over the gas can sleeve (the "H" of "Hudson Ford" is picked out at the edge of the Obi). Inside, the very plainly designed CD has a paper inner sleeve like an old fashioned 33 rpm LP (nice touch: it quotes playing speed as 200-500 rpm). Also included is a 2-sided lyric sheet and a 1-sided set of Korean sleeve notes.
It is not clear whether this release is authorised.
Obi, CD and inner sleeve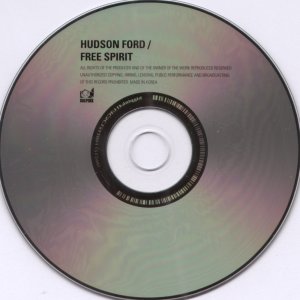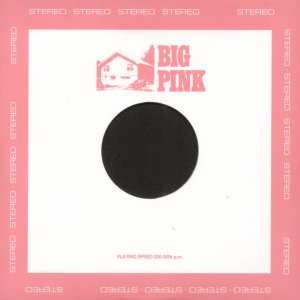 Insert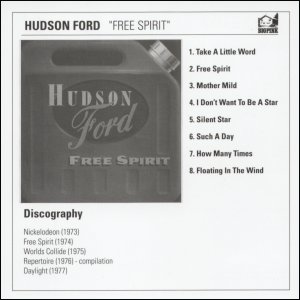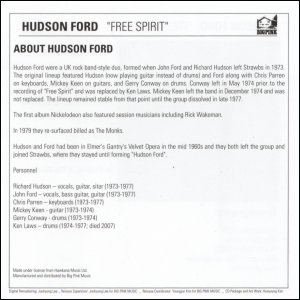 Big Pink (query bootleg) Japanese CD release
CD: VSCD 5660 Big Pink 411 (Vivid/Big Pink, Japan, 2016).. All three A&M albums were released on CD by Big Pink in Japan with the same packaging (CD, inner sleeve and sleeve are identical) but different obis and an additional Japanese language insert (2xCD size, b/w, reverse blank) with sleeve notes by Masaru Konishi (dated March 2016 - I think).
Obi and insert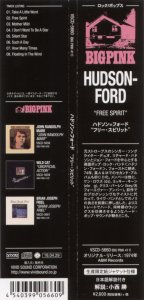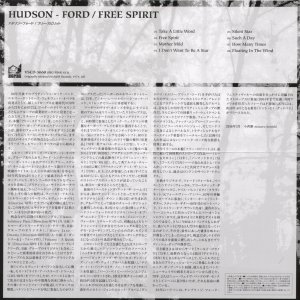 Back to main Hudson Ford albums page
Back to main Hudson Ford page
---