HUDSON FORD
---
---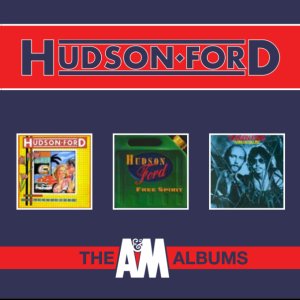 After the Strawbs split in 1973, Hudson-Ford had initial chart success with "Pick Up The Pieces", but sadly failed to consolidate this with later singles. Originally intending to call themselves Johnny And The Acoustic Kid, their first album Nickelodeon was recorded with various sessions men, including Rick Wakeman. Micky Keen (gtrs), Ken Laws (drums) and Chris Parren (keyboards) also played, later to join the Hudson Ford band which recorded the next three albums. Tom Allom, Strawbs' producer, carried on in the producer's chair for Hudson Ford for the A&M albums, being replaced by Robin Geoffrey Cable for the CBS album, though one track on that was produced by Jeffrey Lesser and Rupert Holmes, who were also producing the Strawbs at the same time. The next Hudson-Ford project was The Monks.
Repertoire is a Hudson Ford sampler, of which only 100 copies were ever produced. Apart from one track, "When The Lights Go Out", all the tracks are taken from the three A&M albums, plus "Burn Baby Burn" (which was only on the US version of the first album) and "Part Of The Union" (sadly this is the widely available Strawbs version, rather than the ultra rare original recorded by Hudson, Ford, Lambert and Weaver whilst Dave Cousins was away in Devon). As with the Strawbs' Strawberry Music Sampler, it was intended to be sent round to encourage other artists to record Hudson/Ford compositions.
In March 2007, drummer Ken Laws sadly died after being diagnosed with an inoperable brain tumour. See obituary/feature on Ken.
November 2008, guitarist Mickey Keen died. See obituary/feature on Mickey.
2017 sees - at last! - the release of a boxed set of the three A&M albums with bonus tracks, release expected in April 2017. Track listing on boxed set page.
See also John Ford; The Monks, High Society, Velvet Opera, Jaymes Fenda and the Vulcanes, The GBs, The Good Old Boys, Hud - The Actor, Hud's First Band!
Back to main Related Bands page page
---