ROY HILL
---
---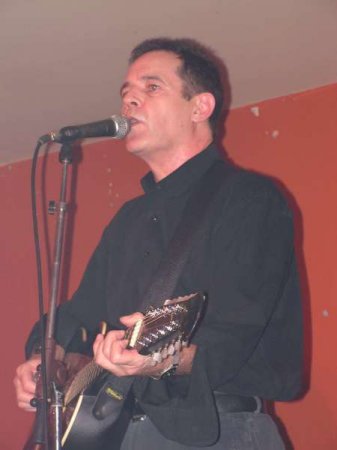 Hill won a Melody Maker rock context and gave up his day job on the strength of it. The demos he sent to Arista were recorded on a rented mono tape deck. His album for Arista, released in 1978, was produced by Gus Dudgeon. Dave Cousins and Chas Cronk spotted Hill playing on childrens' TV and phoned him up to invite him to play as support on the Strawbs' Deadlines tour. Shortly after that, Hill had his own tour, and as there were no Strawbs commitments at that point, Cronk and Fernandez played in the Roy Hill Band on that tour.
Roy's band supported the Strawbs on at least one tour, and when Dave Cousins left the band, he nominated Hill as his successor. The new-look Strawbs line-up was John Knightsbridge (lead guitar), Bimbo Acock (sax, flute), Chas Cronk (bass), Andy Richards (keyboards), Tony Fernandez (drums), Roy Hill (vocals) and Brian Willoughby (rhythm guitar). However, pretty soon audience reaction made it very clear that Strawbs just wasn't Strawbs without Cousins, and this line-up played only 2 gigs before disbanding.
In the 1980s, Hill joined former Strawbs bassist Chas Cronk to form the duo Cry No More.
Latterly Roy has been writing and playing music with his son. In 2008 Roy began a major programme of releasing Roy Hill/Cry No More archive material and previously-released albums. He also played a series of live dates, an experience he describes as his 2008 World Tour, much welcomed by Hill aficionados. He has continued to play gigs sporadically, often with virtuoso (and unflappable) sideman guitarist Steve Whalley, and latterly with Ty Watling. Both are more than capable of facing the challenge of the unknown that a live performance with Roy entails, and a experience that makes strong men quail, but never fails to delight his devoted core audience.
A new album Switzerland has been promised for some time, Roy's first studio album since 1978. With Ty Watling's support and assistance, Roy has finally got to the stage of being happy with the album, and it was released in May 2014.
Buy Switzerland
You can get it from the man himself (payment address deepdene@fsmail.net)
£10 + £1.50 postage and packing UK
£10 + £4.00 postage and packing Europe
£10 + £5.00 postage and packing World Zone 1
£10 + £5.50 postage and packing World Zone 2

See also Cry No More



---
Albums
Roy Hill, (Arista SPART 1034, 1978)
Hello Sailor, Cry No More Records, CNMCD01, 2008
Fun With Dave, Cry No More Records, CNMCD02, 2008
Switzerland (Deepdene, released May 2014)
Full album details and more album cover pictures on Album details page.
---
Singles
Two singles were released from the album (both with non-album B-sides). The third featured tracks presumably destined for the follow-up.
"Marionettes"/"More" (Arista ARIST 167, 1978)
"George's Bar"/"He's Coming Back" (Arista ARIST 186, 1978)
"I Like, I Like, I Like"/"Taller Of The Two" (Arista ARIST 221, 1978)
---
Weblinks
---