SANDY DENNY (WITH ALEX CAMPBELL) - 19 RUPERT STREET, 19 Sep 2011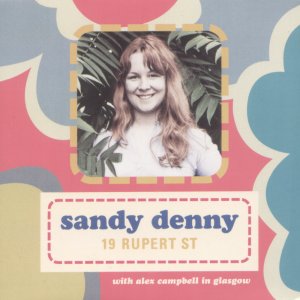 These tapes were given to Dave Cousins, who released them as a CD on the Strawbs own Witchwood Media label. The recordings were made in Alex Campbell's flat at 19 Rupert Street, Glasgow, on 5 Aug 1967, not long after the Strawbs and and Sandy had returned from their Copenhagen recording sessions. So the version of "Who Knows Where The Time Goes", though a very early recording, is not the earliest.
There's also an early version of "She Moves Througnh The Fair" which Sandy recorded on her first album with Fairport Convention. All these recordings were unknown at the time Island compiled its 19CD complete Sandy boxed set, so they do not appear there.
| |
Musician
Sandy Denny
Alex Campbell
Track listing
The Leaves Of Life
Willie Moore
Balulalow
The Sans Day Carol
Trouble In Mind
Jimmy Brown The Newsboy
The Midnight Special
Mik And Honey
Who Knows Where The Time Goes
Fairy Tale Lullaby
She Moves Through The Fair
Chuffa Chuffa Chuff/Clementine/Jesus Loves Me