GRACE DARLING, A&M, 1974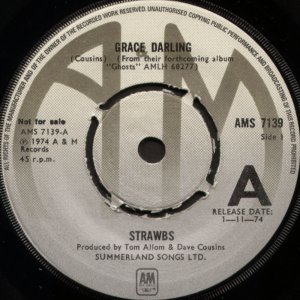 Release date: 1 Nov 1974 (UK)
"Grace Darling" was recorded at Charterhouse School, and features its organ.
To promote the single, Dave tells us in the sleeve notes to the 1998 CD re-issue of Ghosts, they recorded a promotional video on board a lifeboat. Whilst still photos were available, it was thought that video hadn't survived - however it was included as a bonus on Strawbs Live In Tokyo/Grave New World DVD.
The B-side was a Rod Coombes song which didn't make the album. Entitled "Changes Arranges" on the 45, the 1998 CD re-issue of Ghosts restored the song's apparently correct title "Changes Arrange Us".
The song was re-recorded with French lyrics as "Cherie Je T'Aime", principally to please the Strawbs' French Canadian fans and backed with instrumental "Heroine" (aka "Heroine's Theme")(see "Cherie Je T'Aime" page).
Back to main 1973-1975 singles page

UK vinyl
"Grace Darling"/"Changes Arranges" [sic, see note above]
(AMS 7139, A&M, 1974)
UK promo release
The promotional version gave the release date as 1 Nov 1974.
A&M were getting slightly cheaper - instead of a promo sleeve like the old days, this came with a typed insert.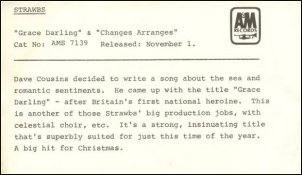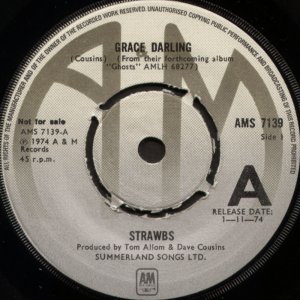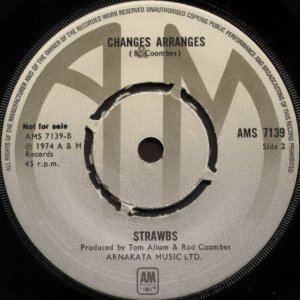 White label test pressing
Also in my collection, a white label test copy.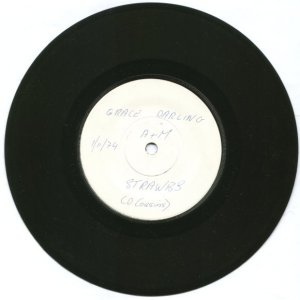 "Grace Darling"/"Changes Arranges"
(AMS 7139, A&M, 1974)
UK release