THE KING
LO, 1979 (?)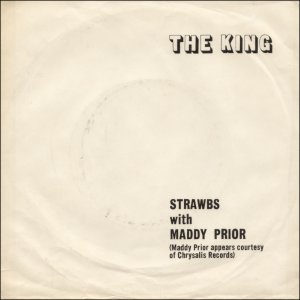 UK vinyl
A really hard to find private pressing single, released on then-Strawbs manager Kevin Wyatt Lown's own "L.O." label (standing for UK football team Leyton Orient, whose ground is less than a mile away from my home!) Date of release is thought to be late 1979 in time for the Christmas market but may just have been in 1980.
The A-side was recorded at Ringo Starr's Tittenhurst Park studios (formerly owned by John and Yoko) with Maddy Prior taking the lead female vocal in the duet. Brian Willoughby is on guitar, having joined the main band after their August 1979 festival appearance in Northern Ireland.
The B-Side "Ringing Down The Years" is a Cousins & Willoughby track, almost certainly recorded live as the title track of the planned second duo album, which was to follow Old School Songs. Despite taking advance orders for the album, it never appeared, leading to a rift between the band and Wyatt-Lown.
"The King" has been included on 2003's release Blue Angel, but though based on this version, it has been heavily re-recorded and re-mixed and (in my view) the single version is the best. This version of "The King" has not yet appeared on CD.
Both "The King" and "Ringing Down The Years" were re-recorded for the 1991 album Ringing Down The Years with Cathy LeSurf taking the female lead on "The King".
This single version of "Ringing Down The Years" has appeared on the limited edition various artists benefit CD for Sandy Denny's daughter "Georgia On My Mind", and more recently on 2011's Acoustic Gold compilation.
Back to main 1976-1980 singles page

UK vinyl
Strawbs: "The King"/Cousins & Willoughby: "Ringing Down The Years"
(LO1, LO Records, no date)
UK private release
Sleeve
A white paper sleeve with various "Letraset" lettering styles (Strawbs' then-manager Kevin Wyatt-Lown loved his Letraset - his communications were peppered with it as well as his own rather pleasant handwriting.) Some copies came with promo stickers.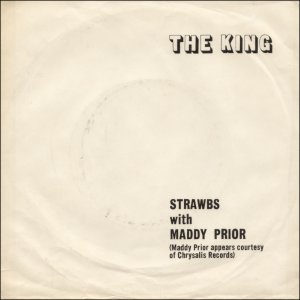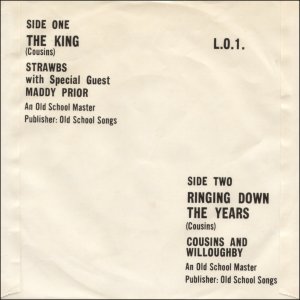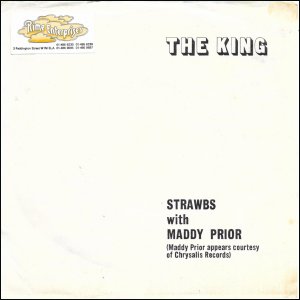 Labels
The label for "Ringing" mistakenly credits Strawbs. Some copies have been over-stickered to hide that.