SANDY DENNY AND THE STRAWBS: ALL OUR OWN WORK - THE COMPLETE SESSIONS - REVIEWS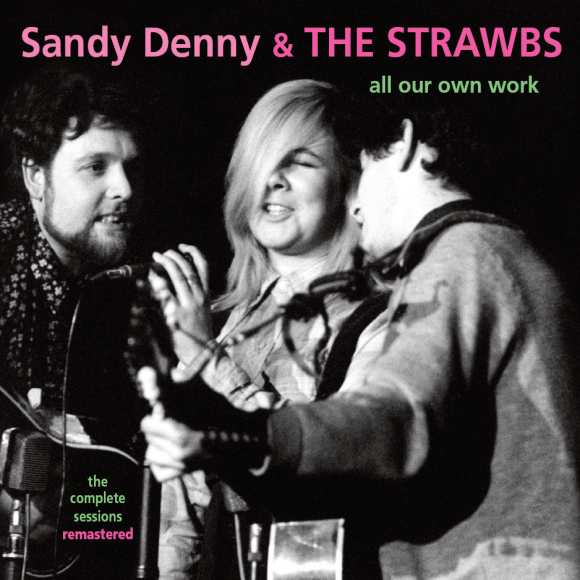 Contrents
Back to main All Our Own Work: The Complete Sessions page

SUPERB SOUND QUALITY AND SOME UNKNOWN GEMS - Preview by Dick Greener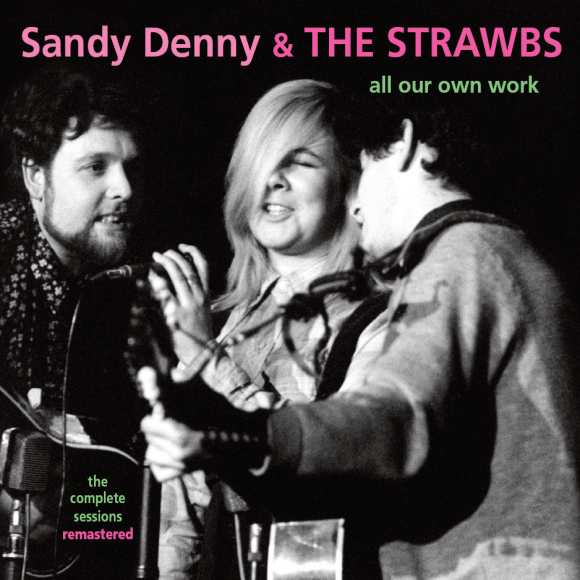 All Our Own Work has always been a favourite of mine - I love the "Mamas And The Papas" style pop harmonies, particularly on "On My Way" and "All I Need Is You". And the version of Sandy's "Who Knows Wherer The Time Goes" (for me, preferably without added strings) is still the best version imaginable IMHO (Fairport fans may differ).
The first thing to say about this re-issue of this first album ever recorded by Sandy & the Strawbs is that the sound quality is superb. Despite having to work only from a two-track master (the original was only three tracks anyway!) Chris Tsangarides has done a brilliant job of remastering the recordings so that they sound totally fresh and vibrant, like you've never heard them before. Dave played me an early version when I was down in Deal in May for the Acoustics show, and I've since had the pleasure of access to an early promo copy of the released album. Parametric EQ has been applied to bring out each of the band's vocals, dealing along the way with some of the harshness of Sandy's voice on the original Pickwick release. And the instruments are much clearer and well defined. It's truly a joy to listen to, making one realise just how good those songs and performances were - what a shame they were not released at the time ....
The set brings together the recordings originally released as All Our Own Work in 1973 as well as versions of those songs with additional strings and instrumentation (Who Knows Where The Time Goes, Stay Awhile With Me, And You Need Me), some (if not all - need to check) of which were released on the Hannibal CD Sandy And The Strawbs. There's both recordings of "Nothing Else Will Do", one with Sandy taking lead vocal instead of Dave, and a take of "Tell Me What You See In Me" with sitar and tablas. And of course there's Sandy's early version of "Two Weeks Last Summer", and Dave singing on "I've Been My Own Worst Friend" and an early "Jimmy Wilson" - all outtakes from those 1967 sessions, rounded off by a frantic banjo instrumental "Strawberry Picking".
The three unreleased demos are of huge interest. Two unreleased Cousins' songs:
"Indian Summer" - a story song with an Eastern feel, relating the story of the family Duval when the daughter falls in love with an Asian guy of different status. Very much of the sixties period in which it was written, showing Cousins dealing early on with challenging themes and situations. Recorded at sessions held at Cecil SHarp House in North London, where Tony Hooper worked for a while (already plundered for the Boxed Set, for which "Not All The Flowers Grow" and "The Happiest Boy In Town" were selected)
"The Falling Leaves" - a very gentle Cousins piece, again from the Cecil Sharp House sessions.
And last but by no means least, a version of "Pieces Of 79 And 15" from those sessions with Dave taking the lead vocal, and an arrangement which also adds an Eastern tinge.
Well worth buying even for those who may have the original vinyl release (bootlegged on CD by a Spanish outfit) or the Hannibal/Joe Boyd CD - the sound quality alone makes this a compulsive purchase for any Strawbs or Sandy fan.

PRESS/MEDIA REVIEWS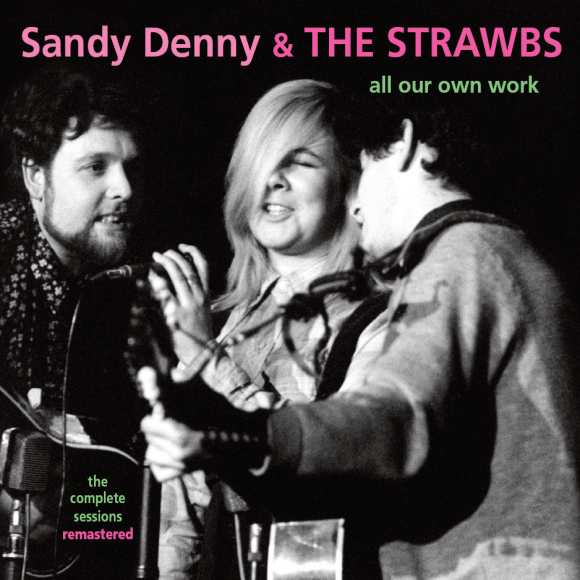 Daily Mirror
This legendary lost album .. a remarkable testament to a true musical princess.
Richard Allen, Shindig
Not only did it confirm the transformation of Sandy's career from trad songstress to stunningly original talent, but it marked the first footsteps of English folk-rock ... Sandy's venture with the Strawbs .. can be regarded as the first true English folk and rock hybrid...
This should be a cornerstone of every English folk-rock record collection.
An essential repackaging of a British folk treasure ... this meticulously compiled reissue will ensure that this part of her output will at last get the proper consideration it deserves.....
There's a real magic in hearing this first recording of Denny's enduring classic, "Who Knows Where the Time Goes?", and an extra frisson knowing that she was just 20-years-old when she stood before the microphone...
...in the rush to hail Denny's undoubted genius, it's important to not forget the work of Dave Cousins.... Cousins has a deftly tuned ear for a winning melody and there's pop and folk-rock gems aplenty...
Producer Chris Tsangarides' careful remastering brings out the warmth of the original album, a record augmented by several outtakes, demos and three previously unreleased items. Considering everything on offer, this is pretty much an essential package.
Terry Staunton, Classic Rock
Long overdue re-issue of a folk classic... It's as important as anything Denny went on to record with Fairport or as a solo artist ...
["Who Knows Where The Time Goes"] - an even more organic and heartfelt reading that the one she later recorded with Fairport Convention ... Elsewhere Denny is equally adept at softly strummed heartbreak on "Stay Awhile With Me" and "Sail Away To The Sea"...
An essential purchase for Denny's still-devoted legion of fans....
Early recordings of folk's finest voice, definitively re-mastered....
Make no mistake, this is a very special record, with the original pressings now changing hands for ever increasing sums of money...
... it captures two great talents working in parallel for a short and magical while. Dave Cousins' blend of folk-pop and traditional melodies were the perfect vehicle for Denny's gorgeous and emotive voice and on such songs as the fast-paced and swinging "On My Way", with its raga guitar break, or the delicate "Tell Me What You See In Me", she really shines....
If, like me, you've literally played your poor-quality vinyl of this album to death, then you're in for a real treat with these re-masters. If you're discovering this record for the first time, sit back and enjoy the ride.
Nick Churchill, Bournemouth Echo
... captures Strawbs at their most musically adventurous backing the raw and simple beauty of Denny's voice ... The best known track, "Who Knows Where the Time Goes", is easily surpassed by mesmeric, raga-tinged gems "Nothing Else Will Do" and "Tell Me What You See in Me". The rolling How Everyone But Sam Was a Hyprocrite and Indian Summer (with its recollections of a Bournemouth holiday) are vignettes of English life recalling Ray Davies at his most acerbic.
Record Collector
An essential purchase for fans of both [Denny and Strawbs]....
Leicester Mercury
.. one of the great lost albums, arguably the first ever British folk-rock album ... an absolute joy
Graeme Thomson, Word
The sense of departure, spritual questing and romantic longing in the songs suits her well.... immense strength in her voice, but it's held in reserve, the power all the more potent for being hinted at but never fully revealed ...
The clincher is the first recorded appearance of "Who Knows Where The Times Goes", a solemn guitar-and-vocal rendition that manages to be at once bold and tentative. It might just be the most affecting of all the numerous versions of this standard, though the run through in the outtakes runs it close.....
Dai Jeffries, R2
Some exceptional vocal performances from Sandy .... This has to be the definitive version of All Our Own Work and most Strawbs fans will regard it as an essential purchase even if they own the previous releases.