SANDY DENNY AND THE STRAWBS: ALL OUR OWN WORK, 1973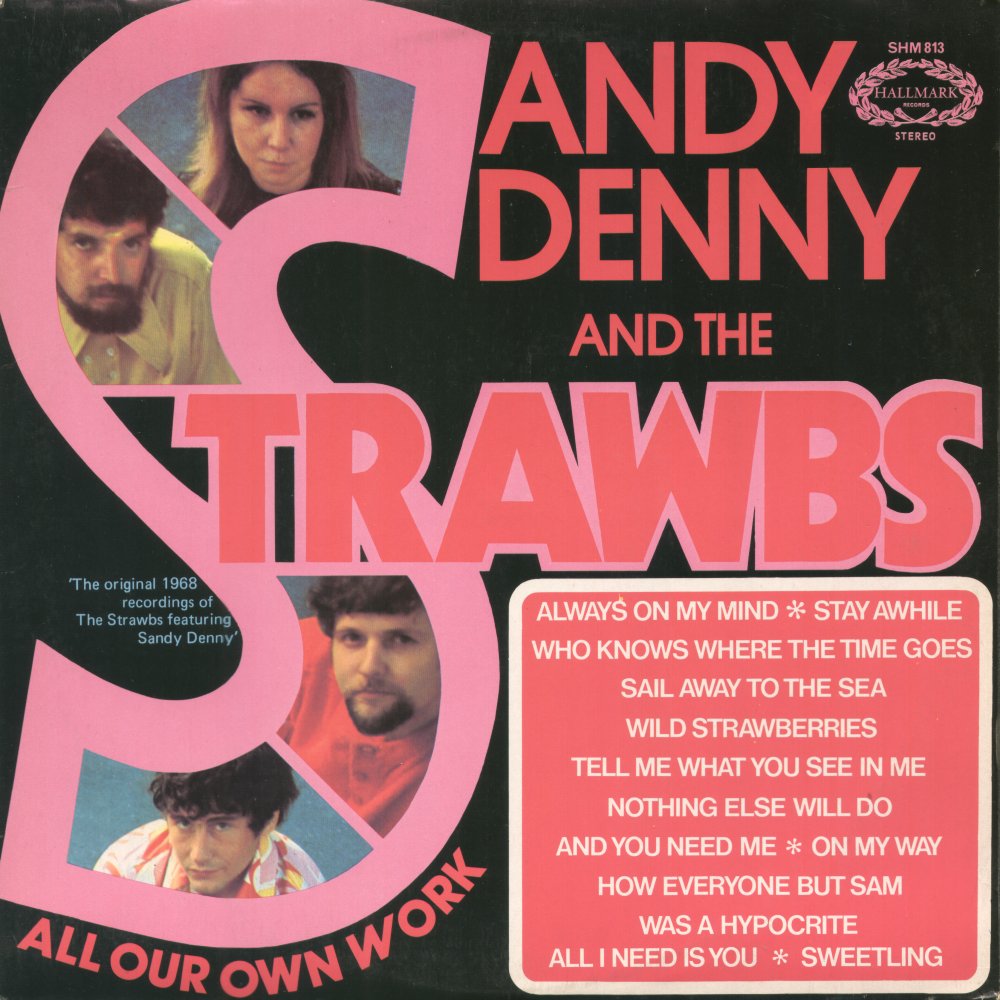 Release date: May 1973
As legend has it, Dave Cousins saw Sandy Denny at the Troubadour folk club in west London one night, and immediately invited her to join the band. He phoned Tony to let him know what he had done. Sandy rehearsed with the band for awhile and joined them on the cross-channel ferry on 20 July 1967, heading for Copenhagen, where they played the Vise-Vers Hus in Tivoli Gardens each night and, from 26 July recorded for Sonet's Karl Knudsen in a cinema. Back they came on 1 August, and Dave set about finding a label for them. Unfortunately by the time A&M showed interest, Sandy had moved on to join Fairport Convention.
The tapes made in Copenhagen with Sandy Denny first saw the light of day as a budget label Pickwick release, spurred on by the success of "Part Of The Union". They stood up very well indeed nonetheless - a valiant first recording effort for any band. Apparently the first song they cut was the first track "On My Way": it was resuscitated as a Stones-style rocker for the 2000 UK Tour, and has featured since as a "rocked-up acoustic number" in the acoustic repertoire: what goes around, comes around!
Joe Boyd later re-released a slightly different selection of the tapes on CD (designed to emphasise Sandy Denny's contribution, and with additional strings (recorded at the time, but not included in the mix used for All Our Own Work) as Sandy And The Strawbs on his Hannibal label.
The album has been bootlegged by a Spanish company Rockeria Estrella, based in Denia, near Alicante in Spain. See All Our Own Work bootleg. Bonus tracks come from Sandy And The Strawbs.
Sandy Denny & The Strawbs - All Our Own Work: The Complete Sessions (2010) came out legitimately on CD from Witchwood Media, with bonus tracks and unreleased material. In 2014 a vinyl 2LP version of the CD was released under licence by vinyl specialist Numerophon. Please see Complete Sessions page.
Musicians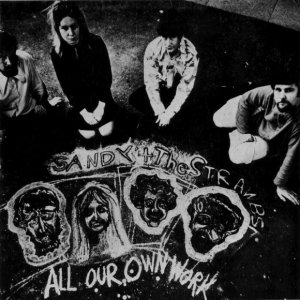 Dave Cousins (vcls, gtrs)
Tony Hooper (vcls, gtrs)
Ron Chesterman (dbl bs)
Sandy Denny (vcls, gtr)
Ken Gudmand (drms)
Cy Nicklin (sitar)

NOTE: a number of these tracks were recorded at different times - some of the above players played on the Copenhagen sessions, but may not have played on all tracks.


Track listing
On My Way (Cousins)
Who Knows Where The Time Goes (Denny)
Tell Me What You See In Me (Cousins)
Always On My Mind (Hooper)
Stay Awhile (Cousins)
Wild Strawberries (Cousins/Hooper)


All I Need Is You (Cousins)
How Everyone But Sam Was A Hypocrite (Cousins)
Sail Away To The Sea (Cousins)
Sweetling (Hooper)
Nothing Else Will Do (Cousins)
And You Need Me (Cousins)
Sleeve Notes
Produced by Gustav Winkler

Co-ordination Karl Emil Knudsen

Engineer Ivar Rosenberg

Recorded in Copenhagen, August 1968

Sleeve design

Caricatures Sandy Denny

Other information.

The sleeve includes a statement that "The original 1968 recordings of The Strawbs featuring Sandy Denny"

Dave Cousins recalls in 1973:-


If you like this is the missing link – the first recordings any of us ever made. We were playing in Tivoli for a couple of weeks that Summer – In Thoger Olesen's Visevers Hus".
"Would you like to make an LP?" asked the funny man with the beetle sun glasses and big bushy beard.
"Great!"
Sandy, I remember, slept on the couch that big Bill Broonzy had slept on; Ron fell backwards off the stage with a bottle of 'elephant' in his hand; I hit Tony under the ear with my banjo, but then he fancied Paul Bach's fifteen year old sister. Gustav smiled and got the best possible sounds out of the simplest of two track recording equipment. Karl said it all cost too much, and took far too long – but smiled in the end. In fact we all smiled! Ah, those were the days!
Charts
UK Chart: not placed
US Chart: not released