PART OF THE UNION
25th ANNIVERSARY FEATURE
---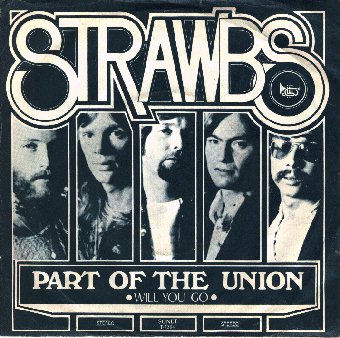 Released as a single on 4 January 1973, the A&ampM copywriters, still full of the Christmas spirit, produced this for the promotional blurb:
'"Part Of The Union" is the Strawbs' follow-up to their recent top-ten hit "Lay Down". Written by drummer Richard Hudson and bass player John Ford, it takes a light-hearted look at Britain's Trade Unions. Negotiations currently in progress at shop-floor level seem to indicate that this will be another huge hit."
"Part Of The Union", the Strawbs' biggest, though uncharacteristic, hit, had originally been recorded by Hudson, Ford, Weaver and Lambert, whilst Cousins was making his solo LP. John and Hud had intended to release it as "The Brothers"; in the end it was included on the album in a re-recorded version with a new honky-tonk piano break from Weaver. Apparently, according to Hud, came out quite a bit different from the original version. Hud explained:
'Dave Cousins went away to do his solo album and John and I had written this song a while before. We thought it was a strong song for a single and we recorded it ourselves. Dave Lambert and Blue helped us on the recording. Then Dave Lambert joined the band and things started happening with "Lay Down" and all of a sudden we needed to get an album out. Bursting At The Seams was in fact a very rushed album. The Strawbs were very short of material and it was suggested that "Part Of The Union" should go on the album. We didn't really mind, we hadn't considered it to be Strawbs material and I expect we would have put it out under a different name anyway.'
To some extent the song had been a send up of the then current union sitation in the UK, but it rebounded on the Strawbs by being taken seriously and causing ripples in British political life. John Ford commented:
'"Part of the Union" wasn't as serious as it was taken to be, but people picked up on it. It was just a sort of mickey-take on how big the unions have become. ... The next thing we knew Harold Soref [a right wing Conservative MP] was saying it was propaganda.... The only bloke who had the right idea was Jack Jones [the trade union leader, NOT the singer!], who said it should not be taken too seriously but it was a nice song anyway.'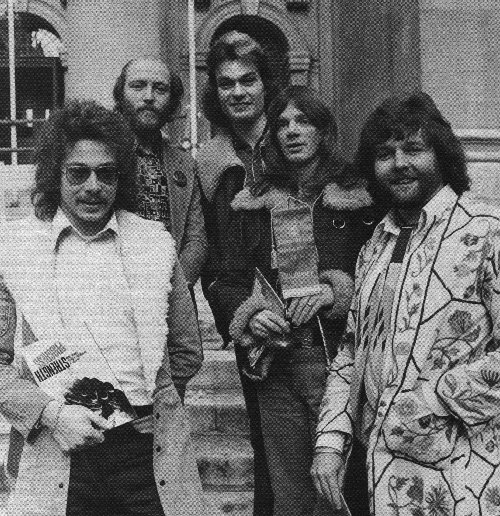 Click on picture to see full size version
Interviewed by Mike Ledgerwood for Disc, Blue revealed how "Part of the Union" came to be written by former factory employees Hud and John:
'They were both working in a factory folding boxes I think. The union rate was 10 boxes per hour- you didn't make more and you didn't make less. But they didn't know anything about piece-rate. And they soon found that folding boxes was easy and were fast turning out 20 boxes an hour then 30 - until a union man came over and warned them to stop. The rate was 10 an hour and you stuck to that.'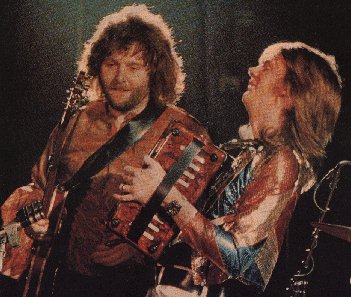 The B-side was the traditional song "Wild Mountain Thyme", here entitled "Will You Go". Over Blue Weaver's accordion playing, it was vintage folky Strawbs, and was wasted as a B-side, even coupled with such a big hit (it now appears on the UK version of Halcyon Days [and was included as a bonus track on the 1998 CD re-issue of Bursting At The Seams]). It became a Strawbs live favourite to close the set - a sort of "Goodnight Irene" song - and many of the live photos of the time feature various of the Strawbs, clustered around Weaver on the accordion, singing the raucous chorus. Stuart Douglas (folk-singer Alex Campbell's nephew) recalls:
'I heard them play "Will Ye Go" in Glasgow ... I had dinner with Alex that night and told him the band had played it. The song was apparently written for Alex by Francis McPeake. Alex apparently went on to popularize the song. I got the impression that Francis never got any credit for writing this great song and lived on the streets in Belfast.'
The song was credited on the single as (Trad. arr. Strawbs). It had originally been their intention to record a traditional song as the B-side, so that the band members would share royalties, but when they discovered their mistake, they paid up! The money however, according to "Folk Rock U.K.", by Dai Jeffries, went to English Folk Dance and Song Society to whom Francis McPeake had passed the rights (thanks to Steve Saunders for this info.).
"Part Of The Union" entered the UK charts on 27 January at number 19 and stayed in the charts for 11 weeks, rising to number 2 the following week and then peaking at number two for two weeks, held off the number 1 position by Sweet's "Blockbuster". By the time that Chinn-Chapman composition had run out of steam, to be replaced by Slade's "Cum On Feel The Noize", which came straight in at number one, the Strawbs were on the way down again. Nevertheless, the single was extremely successful for the band, with sales topping 350,000 copies.
On the Strawbs new found appeal to the singles market, Cousins added:
'Every single we've put out was intended to be a hit single ... one has to make a living, and you're cutting off one half of your potential earning capacity by not making singles because they're commercial. But other songs we've put out were intended to be hit singles: "Here It Comes" was .... "Oh How She Changed" was certainly intended to be a hit single; "The Man Who Called Himself Jesus" should have been a hit single, but unfortunately we had problems with the BBC....'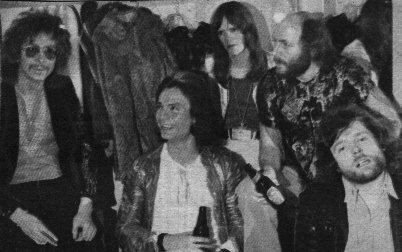 In January 1973, the Strawbs announced "one of the most exhaustive tours ever made by a major recording group", with 48 concerts over 40 days in 35 different venues, starting with two nights at the Wyvern Theatre in Swindon on 12 and 13 February, and closing at the Bristol Colston Hall on 30 March, allowing the band to be seen by an estimated 200,000 people.
Back to Bursting At The Seams - features index page