DEADLINES, 1978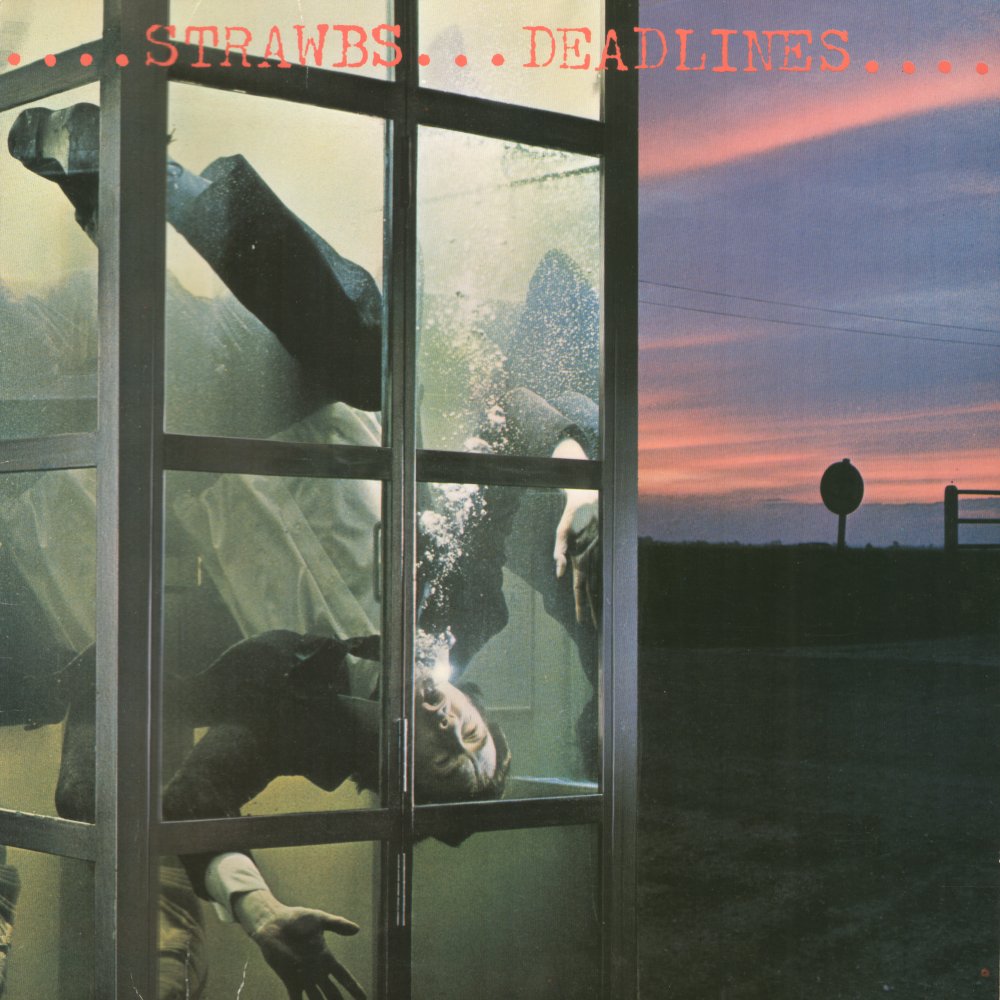 Release date: 3 Feb 1978
The last studio album the Strawbs released in the 70s had a chequered history. Recorded hot on the heels of Burning For You (less than six months between the two), it was their first (and as it turned out, their last) for Arista. Many of the songs were written on a week away for Cousins, Lambert and Cronk in the seaside town of Grange Over Sands, in the North of England. There was friction in the Dublin recording studio with producer Jeffrey Lesser, who continued to believe that Dave Lambert had a more "commercial" voice than Cousins.
However, many of the tracks had to be recorded again after the original master tapes were damaged in a freak studio accident in Air Studios where final overdubs took place. By now the Strawbs were pretty much a full-on rock band, with Tony Fernandez from Wakeman's English Rock Ensemble replacing the departing Rod Coombes.
Arista, fronted by Clive Davis, had great faith in the album, releasing several singles; there were quite a number of TV appearances to support the singles, on such pop shows as Noel Edmonds' "Multi Coloured Swap Shop". Arista also set up a US promotional tour for Cousins, but whilst undertaking those commitments, as recounted in "Ringing Down The Years", the news came through to Dave of Sandy Denny's death and he returned home.
Deadlines has been reissued on CD in recent years, latterly with bonus tracks from the aborted mixes and demos recorded before the recording sessions proper. In 2019 after the sale of the Witchwood Media catalogue to Cherry Red, Esoteric released a 2CD/1 DVD box containing the original album plus bons tracks, and a CD and DVD with the 1978 BBC Sight and Sound broadcast.
For extended editions by Witchwood Media and Air Miles (Japan), see Deadlines Witchwood Media release page.
For Esoteric CD/DVD box releaseDeadlines CD/DVD box page.
Musicians
Dave Cousins (vcls, ac gtrs)
Dave Lambert (vcls, el/ac gtrs)
Chas Cronk (bs, ac gtrs, vcls)
Robert Kirby (el pno, gr pno, Mell, org, autoharp)
John Mealing (polymoog, gr pno, minimoog, harpsichord)
Tony Fernandez (drms, tamb, tymp, bells)


Track listing
No Return (Cousins/Lambert)

Joey And Me (Cousins/Cronk/Lambert)

Sealed With A Traitor's Kiss (Cousins)

I Don't Want To Talk About It (Cousins/Cronk)

The Last Resort (Cousins/Cronk/Lambert)


Time And Life (Cousins/Cronk)

New Beginnings (Cousins/Lambert)

Deadly Nightshade (Cousins)

Words Of Wisdom (Cousins)


Sleeve Notes
Produced by Jeffrey Lesser for Via Sound Productions.
Recorded at Dublin Sound and Utopia Studios
Engineered by Jeffrey Lesser, Denny Bridges, Patrick Morley, Andrew Brook Jackson, Peter Wolsey and James Guthrie
Mixed by James Guthrie

"It took several months out of our lives between July and October 1977 and years off them."

Sleeve design
Design and photos by HIPGNOSIS

Other information
Lyrics reprinted by kind permission of Arnakata Music Ltd.
Personal Management Jim Dawson, Arnakata Ltd., 74/78 Seymour Place. London W1H 5DB
1978 Arista Records, 49 Upper Brook Street, London W1 a division of Columbia Pictures Corporation Ltd

The sleeve carries this quote from Dave Cousins
" Rob Harvey, looked after us and Jim Dawson provided much needed encouragement (and put his oar in from time to time). Sue Watkins got us together somehow, and Alan will do his best make sure that you hear it or else !

This album is dedicated to friends old and new.

God bless you all,
Dave Cousins November 1977"