DON'T SAY GOODBYE, 1987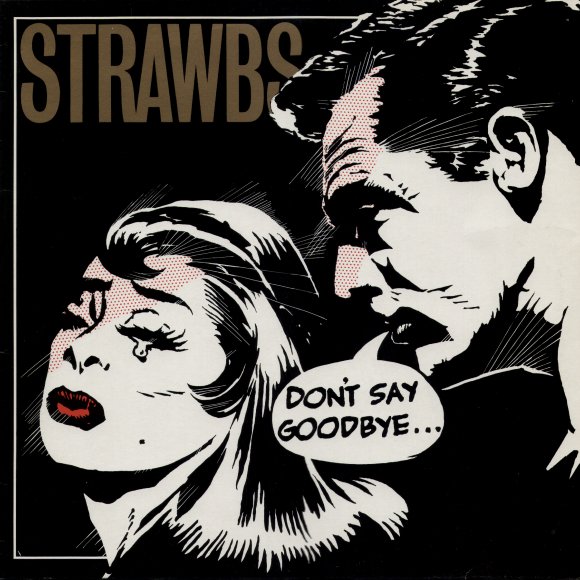 Release date: approx April/May 1987 (Strawbs Info Service) (Great Rock Discography lists as May 1987). See the unnumbered SIS mailout between issues 7 (Mar 1987) and 8 (May 1987) which first mentions the new album being available. The first of Strawbs' two latter-day studio albums, recorded in 1987 after the reformation brougt about for Rick Wakeman's Gas Tank show in 1983. Cousins, Hooper, Ford, Hudson and Weaver played on the show and went on to perform at the Cambridge Folk Festival later that year. The reformed line-up played a selection of gigs in the UK, the US and parts of Europe on an occasional basis for the previous three years, with Chris Parren moving to the keyboard slot and, after John Ford relocated to the US, Rod Demick joined on bass.
This album, recorded by that line-up, rescued a number of tracks from the unreleased Heartbreak Hill, which were re-recorded fairly faithfully by the current personnel. Of particular note, two tracks often overshadowed by the powerful "Something Or Nothing" (for many years a staple of the band's live act) are the lovely "Evergreen" with Tony Hooper taking the lead vocal and "Beat The Retreat" which has often served as an encore closer.
Musicians
Dave Cousins (vcls, ac/el gtrs, bnjo)
Tony Hooper (vcls, ac gtrs)
Richard Hudson (drms, ac gtr, vcls)
Brian Willoughby (gtrs)
Chris Parren (kybds)
Rod Demick (bs)


Track listing
A Boy And His Dog (Cousins/Parren)

Let It Rain (Cousins/Cronk/Richards)

We Can Make It Together (Cousins/Cronk)

Tina dei Fada (Hudson)

Big Brother (Hudson)


Something For Nothing (Cousins/Cronk)

Evergreen (Cousins)

That's When The Crying Starts (Cousins)

Beat The Retreat (Cousins)

Sleeve Notes
Produced by Strawbs. 1987 Strawberry Hill Productions
Recorded at E-Zee Studios , London. Southern Music Studios , London
Engineer Colin Legget
Assistant engineer Ian Remmer
Mastering George Peckham

Sleeve design
Design Stillings advertising , Exeter

Other information
Record sleeve quotes number of Toots 3

CD Information
Mastering Barry Grint at Trident
Digital Remastering Denis Blackham at Country Masters Surrey

Sleeve design
CD sleeve designed by Rod Green
Production, digital artwork, and illustrations Rod Green