DAVE COUSINS & BRIAN WILLOUGHBY: OLD SCHOOL SONGS, 1979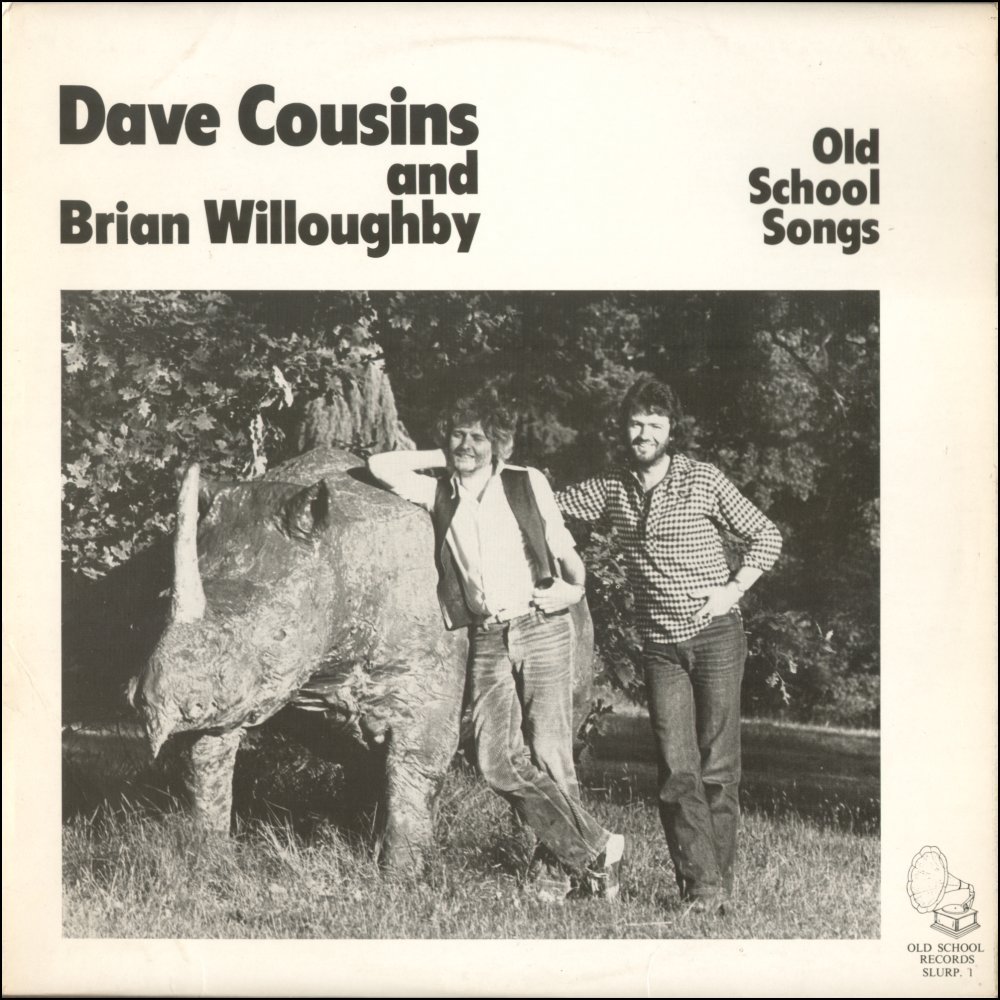 For large scans of the images, click on the images: you may need to use the zoom feature in your browser to see the full image
8-Track
Not released on 8-track
Back to main Old School Songs page

UK VINYL
UK release
Vinyl album UK: SLURP1 (Old School Records, 1979, privately pressed). Single white sleeve. Front cover of Dave & Brian with stuffed rhinoceros in the grounds of John Lennon's former house in Tittenhurst Park (at that time owned by fellow Beatle Ringo Starr, who let out the studio). (The single "The King" was recorded there).
Inside my copy I found copies of the promo picture used at University College London when Dave and Brian played their first major London gig at what is now called the Bloomsbury Theatre, and I introduced them on stage .... (Politically correct UCL Student Union had to have all posters vetted before display, hence the "approved" stamp.)
Front and back cover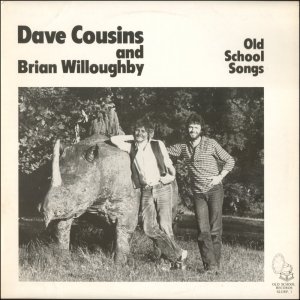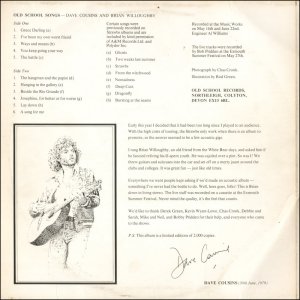 Labels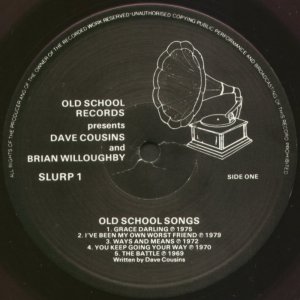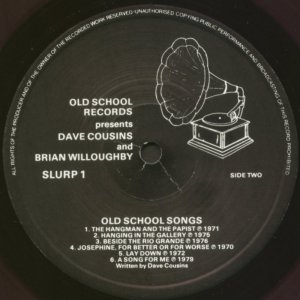 Promo pic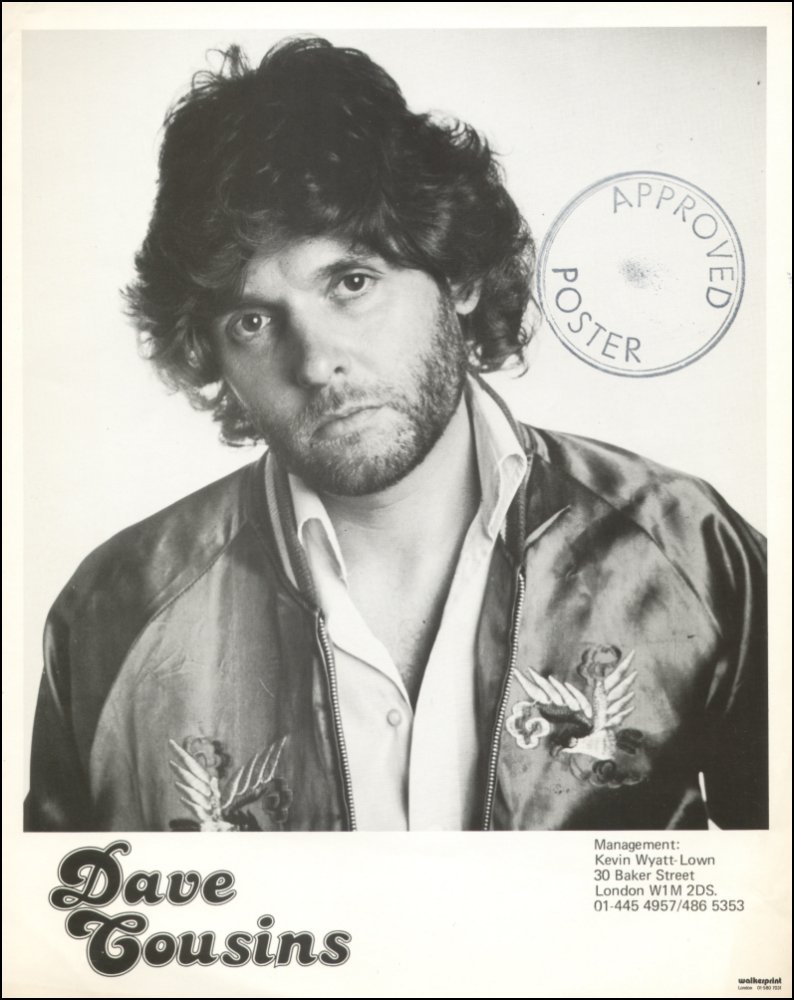 US VINYL
US PVC Records release
Vinyl album US: PVC8901 (PVC Records (part of Passport Records Group), 1980). Single sleeve, visually different to UK version, as it features the Dave Cousins/Ovation graphic on the front cover. Credited only to Dave Cousins on the front, but to both on the back cover.
Front and back cover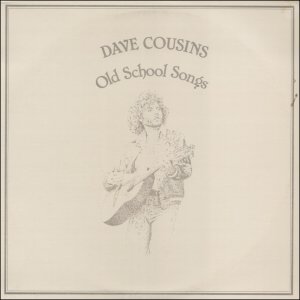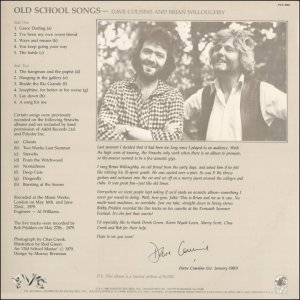 Labels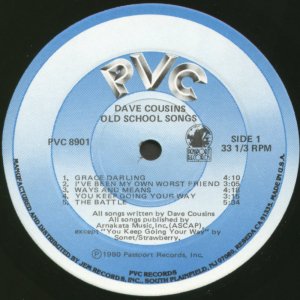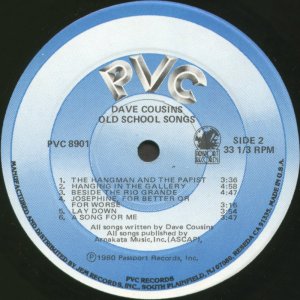 Promo stickers
Promo copies were stickered.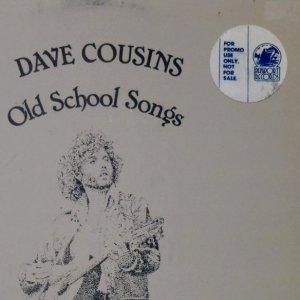 CANADA VINYL
Canadian release
Vinyl album Can: PB 2013 (Passport Records, 1980). Single sleeve, same design as the US sleeve, but some reason best known to themselves, rather than tasteful brown and sepia, the Canadians chose lurid yellow and green for a colour scheme.
Front and back cover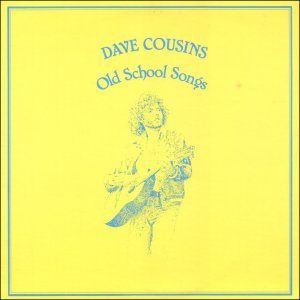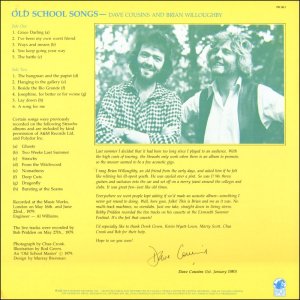 Labels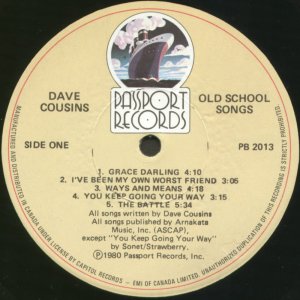 CASSETTE
Road Goes On Forever cassette release
cassette: RGF MC 004 (Road Goes On Forever, 1991).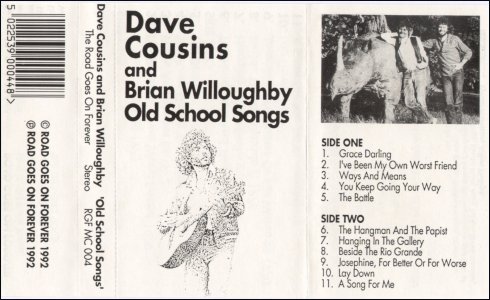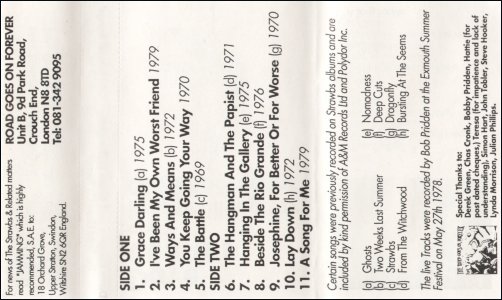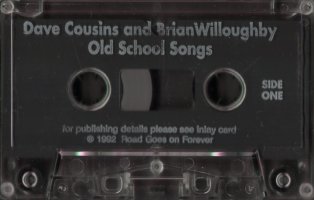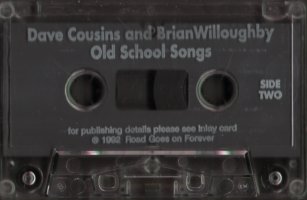 CD
Road Goes On Forever CD release
CD: RGF CD 004 (Road Goes On Forever, 1991). Reproduces all material from album sleeve including photos and graphic of Dave playing the Ovation. RGF's John Tobler interviewed Dave Cousins about the songs for the very informative sleeve notes.
Front (p1) and back (p8) of booklet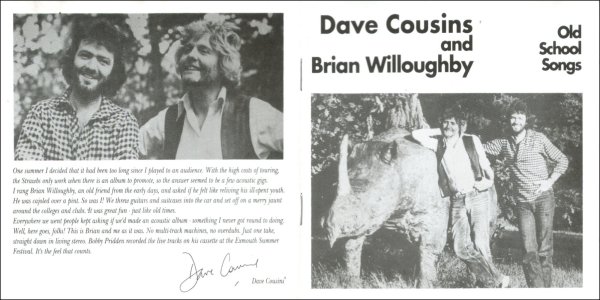 Booklet, pages 2 & 3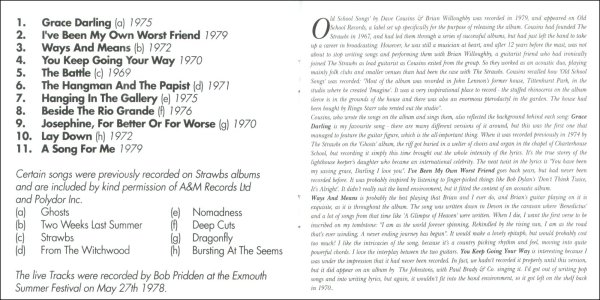 Booklet, pages 4 & 5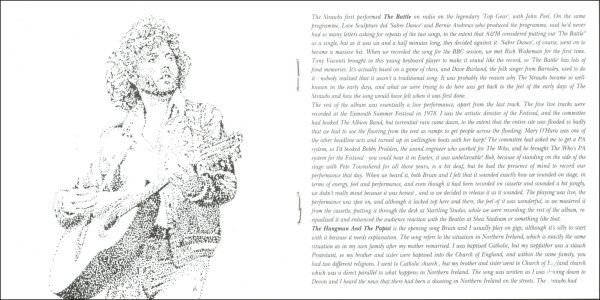 Booklet, pages 6 & 7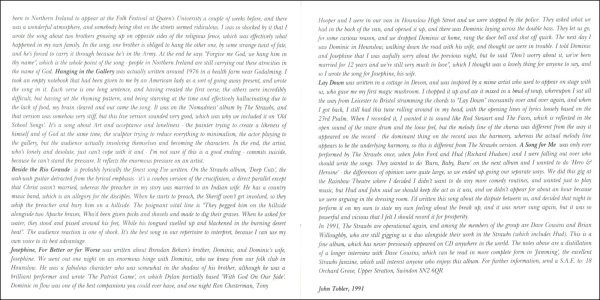 CD and tray back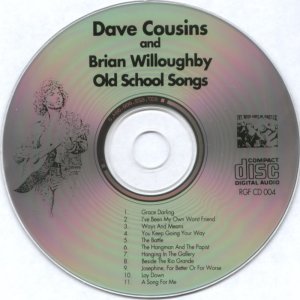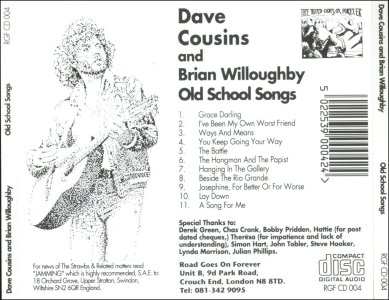 Japanese Muskrat facsimile card sleeve CD release (with bonus tracks)
CD: RATCD 4218 (Muskrat, 2003, Japanese facsimile re-issue). Beautiful limited edition facsimile re-issue in card sleeve, with obi. Though the original packaging doesn't refer to it, there are two bonus tracks - the two tracks missed off Blue Angel from the original release of The Bridge: "You Never Needed Water" and "Song For Alex". The CD comes in a protective fabric bag.
There's a 1-sided 2x2CD sized black and white insert, with track listing in English and Japanese and Japanese sleeve notes (dated 14 Nov 2003, but uncredited).
Insert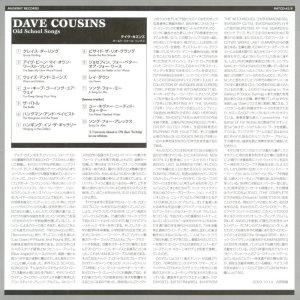 CD and Obi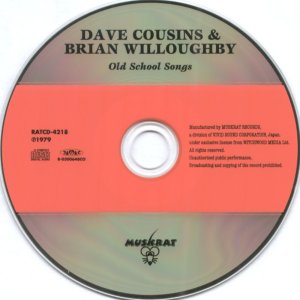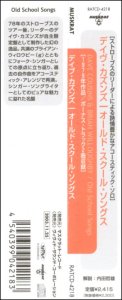 Japanese Media Arte facsimile card sleeve CD release (with bonus tracks)
p class="text">
CD: MA- 0032 (Media Arte, Japanese facsimile re-issue, Limited Edition 400 copies).
Nice packaging, lifted partially from Strawbsweb. The outer sleeve is identical to the original UK LP release, except for the statement "Licensed from Withwood media" on the back cover. There is an inner printed sleeve for the CD which is an exact copy of the UK LP sleeve. The outer packaging doesn't mention the bonus tracks which are the same as the Muskrat release: "You Never Needed Water" and "Song For Alex".
The Obi has some commentary in English (but gets the date of the album wrong, 1980 - the US release date - rather than 1979). Other titles advertised on the Obi include Andy Desmond's two albums and Strawbs' 1970s A&M labelmates Brainchild's album with the fantastic title "Healing Of The Lunatic Owl" and a great graphic to match.
There is a 2-sided 2CDx2CD sized black and white English language insert, with the track listing and some sleeve notes (from Strawbsweb). The rest of the insert has the lyrics for all the songs (which look like they came from the site as well). As you get to the bcak of the insert, you can see they could see they were running out of space and started running the lines of verses into big blocks of text ("Hangman", "Rio Grande").
Insert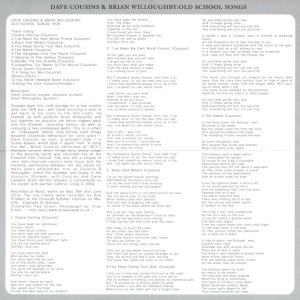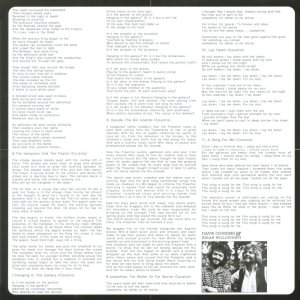 CD and Obi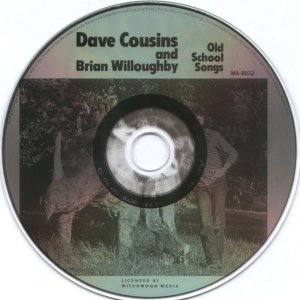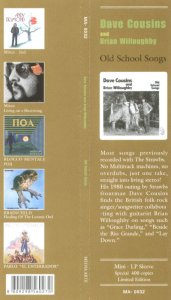 Witchwood Media CD release (with bonus tracks)
CD: WMCD 2051 (Witchwood Media, 2011).. 4 page booklet, with interesting clippings montage on the inner spread, taken most likely from Dave Cousins' extensive collection.
Front (p1) and back (p4) of booklet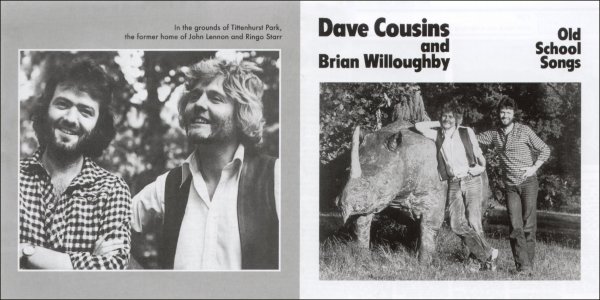 Booklet, pages 2 & 3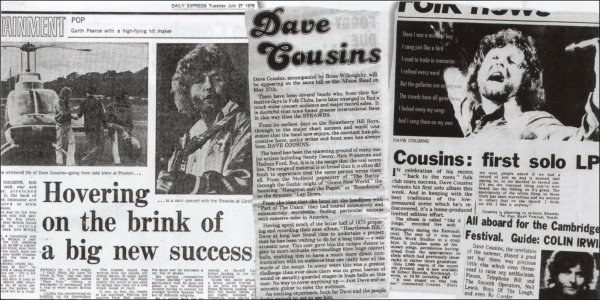 CD and tray back