ANGELS' DELIGHT
Interview with Cathryn Craig and Brian Willoughby by Lindsay Sorrell, May 2009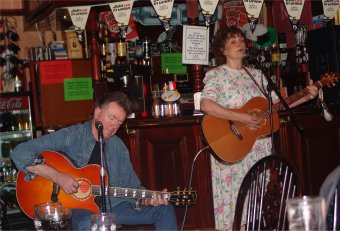 Brian Willoughby is well-known to Strawbs' fans, having joined the band as lead guitarist in 1979 following Dave Lambert's departure. He subsequently spent many years performing live and recording numerous CDs and DVDs with Strawbs and "spin off" bands The Monks, High Society and Turkey Leg Johnson, while also finding time to perform and record as one half of an acoustic duo with Dave Cousins.
Following Strawbs' 30th Anniversary Reunion Concert at Chiswick Park in 1998 however, Brian found himself playing lead guitar alongside Dave Lambert as the band's line-up expanded to become a six-piece outfit. Later, in 2000, an unfortunate incident involving a stepladder rendered Dave Cousins temporarily unable to play guitar as a result of a badly sprained wrist. This unhappy event lead to an embryonic "acoustic Strawbs" outing, as Dave Lambert joined the pair to add guitar and vocals at an historic gig at The Cabbage Patch, Twickenham.
In 2004 Brian decided the time was right for him to leave Strawbs to concentrate on his work with American singer/guitarist/songwriter Cathryn Craig; amidst his many commitments Brian and Cathryn had been playing as a duo to appreciative audiences on the UK folk club circuit. While Brian resided in the Twickenham area of West London, Cathryn hailed from Nashville where, as a session singer, she had recorded and worked with a wide diversity of artists including Mickey Newbury, Bobby Bare, Jorma Kaukonen, Shel Silverstein, Tom Paxton, Emmylou Harris, Josh White Jr. Bill Medley and Dennis Locorriere, not to mention singing on the soundtrack of Peter Bogdanovich's 1994 film "The Thing Called Love", and a television appearance with her great friend, the legendary Chet Atkins.
Cathryn's musical partnership with Brian began thanks to his chance meeting with singer and lyricist, Michael Snow. It was at Michael's suggestion that Cathryn was enlisted to supply vocals as a demo singer on a song Brian was writing; her vocal talents so impressed Brian that he subsequently invited Cathryn to assist in the recording of "Black & White", his first solo album, and so the Willoughby Craig partnership was born.
Following the release of several well-received albums, various radio and television appearances, and tireless performances to enthusiastic audiences the length and breadth of the UK and further afield, Brian and Cathryn recently recorded a long-awaited new album entitled "Calling All Angels". I managed to catch up with them both to ask a collection of questions, put together with the help of several members of Witchwood, the Strawbs' discussion group. As those who have had the pleasure of relaxing in Cathryn and Brian's company might expect, they graciously and willingly answered whatever was asked of them.

"Calling All Angels" is a terrific album with the recordings made in and across a number of different studios, which is perhaps the not the norm with most albums. What drove you in that direction?
Cathryn: Thank you for your comments! We worked in several different studios because of living on different continents. We recorded "Calling All Angels" first at Raunch, and then I was back in Nashville. I used a studio in Nashville (Silvertone) to suggest tempos and keys, and then sent it off to Brian, who would start the songs at Raunch.
We added Dennis Bryon to Two Hearts One Love from his studio in Nashville, but he was on the original version of Accanoe (at Dan Spomer's) both playing and singing. Mary Hopkin recorded in her daughter's studio in Cardiff (Jessie Morgan of Space Studios). We did have several changes in direction on some songs, which is part of the reason it took a while to record. We also had family commitments, the illnesses of both of our fathers in the last year, which took us away from the studio and kept us apart somewhat. Also, yes, we wanted it to sound as we heard it in our heads, so that took awhile, since we had two heads to deal with!!
Brian: As Cathryn mentioned, we both experienced parental health problems, which meant we had to spend time in separate countries. Fortunately, Dennis Bryon was able to record with Cathryn in America and Phil Rynhart and I co-ordinated the digital information sent to us here in London. Simon Allen at High Barn in Essex, was very helpful to Phil and myself.
The new CD seemed to take quite a while to complete. Was that because there were several changes of direction along the way, or was it more to satisfy the pursuit of perfection?
Brian: It was for the same reasons as above - we had very little time together in the same studio and Cathryn, Phil and I needed to be together to make decisions. We also had a setback in Phil's studio being burgled and his computer being stolen, complete with our finished artwork! We had to re-construct it from the various sources Phil had (wisely!!) backed up on another computer.
Many of the songs on "Calling All Angels" make it a very personal album. Was that always the intention?
Cathryn: I always write personal songs. Unless I am trying to write a "radio hit" type song, I find I can only really deliver songs that I completely relate to. I draw from those people and things that impact upon me, and it will always be that way with me.
Brian: Yes, we decided to dedicate this work to our families and friends.
Mary Hopkin makes a guest appearance on "The Rejected Lover." that must have been a real scoop. (not really a question, but maybe you'd like to elaborate?)
Cathryn: Only to say that we asked her to pick a song from our show that she would be willing to sing on, and she chose "The Rejected Lover". She has the best voice I have ever been in the same room with! Also, as a person, she is an angel and a great friend.
Brian: I always hoped Cathryn and Mary would sing together, as I knew the two voices would blend stunningly - I tried to organise it on "Black & White", but unfortunately it didn't happen. It was a thrill when Mary joined us for an appearance on Space Lounge's MySpace video.
Where did the attractive cover art for "Calling All Angels" come from?
Cathryn: A photo we saw that we both loved and, in fact, inspired the title to be changed to "Calling All Angels". Originally the title was going to be "Craig & Willoughby". I'm really pleased that you also like it!
At the recent BBC Club you were accompanied by Antonia Pagulatos, who also appeared on the CD. Is Antonia likely to become a regular feature at live shows?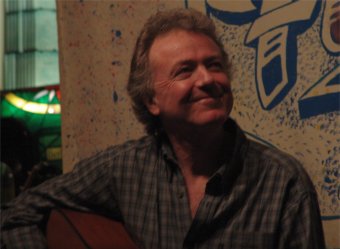 Brian: I love classical strings (I'm not a huge "fiddle" fan), and I really enjoy Antonia playing with us. I don't have to play as much, I can just sit back and listen to the violin! Antonia is a very gifted musician and is busy working with Damon Albarn, Mark Ronson, Madness, Tom Jones, etc., but we're hoping she'll be able to play with us more often.
Cathryn: We would like that, of course. We have several ideas brewing which would allow us to work together, but there is more to it than her just playing along with us. She is a wonderful, beautiful, talented lady and player, and it would be great to work with her more.
Do you and Brian have further plans for recording in the near future?
Cathryn: Yes, we are recording all the time! We are, in fact, recording some extra parts on "Calling All Angels" and "These Dreams", with a view to our next single off of the new CD.
How exactly did the pair of you meet, and when did you decide to team up?
Brian: We met in Nashville, when Michael Snow asked Cathryn to come into his studio, to sing "Hard Luck Café", which he and I had just written. When I decided to make "Black & White", I asked Cathryn to come and sing on it and the rest is history!
Cathryn: As Brian said, we met in Nashville when I sang a demo of Brian's song which he had written with Michael Snow. We performed it on a local indie radio, Radio 100 Lightnin'. We started to write together while Brian was working on "Black & White", and the duo was a natural result of that.
You played in Italy fairly recently. How did that go? Are you planning to play more outside the UK, and if so, where?
Cathryn: We love playing in Italy. The Italian audiences are special and wonderful. Our agent there is one that I worked with before Brian & I were working together, and Brian worked with him many times with Strawbs, so he is often after us to go to play there. We will go again when we can get the schedule together to do so. We also have worked in Holland, and will be going there again too. Later this year we'll also be playing in Spain. It goes back to the question of logistics...
What was your line (or lines) of work prior to your music career taking off? Did you grow up wanting to be a singer, a songwriter, or have any other burning ambitions?
Brian: I first started songwriting when I was about 18, and turned professional as a musician on my 22nd. birthday, fresh out of Regent St.Polytechnic and Holborn College of Law, Languages and Commerce, so I've never done anything else! I probably would have become a language teacher - I was about to go to Spain to teach Technical Translation when Mary Hopkin offered me a job.
Cathryn: I don't know that I dreamed of being anything while growing up. Childhood, for me, was extremely traumatic and I only wanted to grow up and leave! Other than my family, who are all very musical, I wasn't really exposed to a musical community, so I didn't consider a music career until after college. I have been a singer professionally since I graduated University. I did try to use my Uni degree and was a Juvenile Probation Officer and Marriage Counsellor for the court system in Virginia, for about a minute - I did not love it and hopefully I did not stay long enough to hurt the progress of any of my clients! I have written songs all of my life, but I really began to focus on that aspect when I moved to Nashville, as part of the Bill Medley recording project for RCA. I have written and co-written a lot of songs in Nashville,with some fantastic writers and some got cuts, but it was when I decided to come to perform in the UK that I left the "formula" style writing behind and began to see myself as a singer/songwriter.
Do either of you consider any artists, or songs, to have been particuarly inspirational for you?
Brian: Beatles, Stones, Jeff Beck, Cream, Jackson Browne, Eagles, Gordon Lightfoot, Jim Croce, Paul Simon, Joni Mitchell… Influential Songs...The Beatles' "I want to hold your hand", John Lennon's "Imagine", The Stones' "Come On", "The Last Time" and "I'm Just Sitting on a Fence", George Harrison's "Here Comes The Sun", Jackson Browne's "These Days", Chuck Berry's "Memphis Tennessee", The Shadows' "Wonderful Land", The Searchers' "Walk in the Room", The Springfields' "Island of Dreams", Cream's "Sunshine of your Love", The Yardbirds' "Over, Under, Sideways, Down", Status Quo's "Rockin' All Over The World", AC/DC's "Highway To Hell", Rainbow's "Since You've been Gone", Simon & Garfunkel's "Sound of Silence", Paul Simon's "Kodachrome" and Bert Jansch & John Renbourn's "Pork Pie Hat".
Cathryn: John Prine, Jimmy Webb, Loretta Lynn, Carole King, Townes Van Zant, Trent Rezner, Kris Kristofferson, Shel Silverstein, Barry Gibb, Stevie Nicks, Beth Chapman....almost all singer/songwriters inspire me. Great voices like Darlene Love, Connie Smith, Eddie Kendrick, Bill Medley, Sam Cooke, Mary Hopkin, Ann & Nanci Wilson (Heart), Beyonce, Charlotte Church, Leona Lewis also inspire. I love, love, love songwriters and am inspired by them, way too many to mention, mostly obscure.
Songs? Also too many to mention, but I will say that the song "Hurt" kills me, "The Ballad of Lucy Jordan" makes me weep, "Footloose" makes me dance. Old gospel songs in harmony (like "Swing Low Sweet Chariot") get me as well.
Brian occasionally plays with other musical outfits, such as The Three Must Get Beers. Do you work with any other musicians while in the USA?
Cathryn: I don't work regularly with anyone as a group. When I am in Nashville I still do studio work and write songs with friends, and I am invited to appear on some song writing nights. During Presidential campaigns I often will do a show in support of my candidate, with other singer/writers. Also, there is the "guitar-pull" which happens at every party in Nashville. It is amazing! When I am in Virginia, I usually am too busy to do music at all. Still when I am there, I am influenced and inspired by the atmosphere in that area. I wrote a lot of "Accanoe" (a track from the new album) while in Virginia. I walked in the pines near the site of Accanoe, where I imagined Pocahontas walked… I have talked with several lady friend/writer/singers both in the US and the UK about doing a "ladies-in-the-round" type show, but with my current schedule, it is just talk.
Have you ever considered coming to live over here?
Cathryn: I have thought of it, of course, but I don't see that in my immediate future. I have lots of family in Virginia and I have my wonderful home in Nashville, so there are deep roots in the USA that would be hard to pull at the moment. Logistically Brian and I find it difficult, but we have managed. Hopefully we will be able to continue to work it out...
Which aspects of your musical careers do each of you like and dislike the most?
Brian: I like writing, recording and performing, but organising and travelling are becoming less attractive by the day!
Cathryn: I love meeting people, I love performing, and a good show is the best thing in the world for me. Finishing a song that I love is fantastic, and then to have it connect with an audience is the best ever. I hate living in a suitcase though. I don't like the business of music, and am happy to leave it alone. Travel can be a drag, until you get there, then it is great. I don't like being asked to categorise my music!
What do you consider to have been the highlights of your careers to date?
Brian: Playing with Mary Hopkin, Tony Visconti, Danny Thompson and international string quartets / being asked to join the Cousins, Hooper, Hudson, Ford, Weaver line-up of Strawbs for The Cambridge Folk Festival; receiving a Gold Album for my work with The Monks; writing with Michael Snow; my partnership with Cathryn; being presented with a Custom Shop Stratocaster by Fender for writing an article on tunings in their Frontline Magazine; Gibson making 'Rosie' for me; accompanying Nanci Griffith with a 52-piece BBC Orchestra; getting Cathryn and Mary to sing together on "The Rejected Lover"; hearing our new version of "Alice's Song" played on Radio 2. Of course there are various artists I would love to play with: Jackson Browne, Gordon Lightfoot, Joni Mitchell, Rolling Stones, Status Quo, Jeff Beck, Paul McCartney, James Taylor, Paul Simon,The Eagles… I hope they all read this and invitations come flooding in!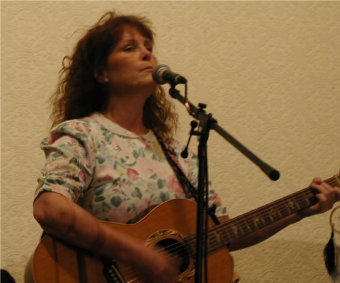 Cathryn: Singing with Bill Medley in a studio in LA with Lionel Ritchie producing; singing for 60,000 at a concert in Alabama; singing on a Dick Clark television "Rock & Roll Extravaganza" and meeting Little Richard, Phil Spector and the Beach Boys there. Also, singing and writing with Shel Silverstein, being in a "band" with Chet Atkins (he played violin, I played guitar(!) and EmmyLou Harris sang); John Travolta flying us to a show in Las Vegas on his private plane; singing and speaking on a commercial for McDonalds, and singing a song for the movie 'The Thing Called Love' (River Phoenix's last movie before he died outside the Viper Room in LA)
Brian - as a member of the Strawbs for 27 years, what was your most memorable concert?
Brian: 26 years, actually, but who's counting?! I really enjoyed the Edmonton Festival, which I consider my last Acoustic Strawbs appearance (the Knaresborough Festival was technically my last show, but it wasn't particularly enjoyable), and I also have fond memories of Trowbridge Festival, my last electric outing. It's a shame Edmonton and Trowbridge were not recorded, as Dave Lambert and I played so well together by then. Other memorable times were with the Cousins/Hudson/Ford/Parren/Hooper line-up in America and Canada, and with Rod Demick in Italy and Norway.
Which of the Python records did you play on?
Brian:I played on "The Contractual Album", but I was also in "Time Bandits" and I played on a lot of projects for Python's producer, Andre Jacquemin.
Do you get nervous? Do you have any special ways in which you like to prepare for a show?
Cathryn: I do get a little nervous, I try to pretend that it is excitement! I really like to be alone to focus, but it rarely happens. A beer also helps!
Brian: I get more nervous now that it's just the two of us than I ever did before. My right leg shakes uncontrollably for the first few songs! I prepare for a show by tuning, tuning, tuning...
Do you most enjoy writing alone, or as part of a team?
Brian: Both, really - I fiddle about with alternative guitar tunings by myself, and if I come up with a good melody I play it in "straight" tuning and present it to Cathryn, Michael Snow, Bill Loyd or a.n.other lyricist to see if it can become a song.
Who was the last artist you each went to watch, and what are the most recent CDs each of you bought or downloaded?
Brian: Jackson Browne was the last artist I saw, and the last record I bought was a classical concerto.
Cathryn: I just saw Chris While over the weekend - her voice blew me away! I don't buy CDs or download them, or even listen to them. I like to see artists live without the distraction of the production on a record. I know how things can be manipulated in the studio, and love to hear how things really are. Usually, when I meet someone, that's when I get interested in their music. I like to see my pals play their music.
Do either of you have any major hobbies unrelated to music?
Brian: Classic British motorcycles! None at the moment, but I have owned …1937 Ariel Red Hunter single-pot 500, 1960 Royal Enfield Crusader Sports 250 1963 Triumph 3TA 350, 1961 BSA A10 650, 1963 Royal Enfield Interceptor 750 Mk.1. My next will be a 60s Matchless G12 650, an AJS Model 21 650, or an early 70s Triumph 500 Daytona!
Cathryn: I love DIY. In Nashville, I am forever taking down a wall or adding a room. Also, I love dogs and would love to have a shelter to help out the unlucky ones.
Do you play any instruments apart from guitar? Have you ever? If so, is there any particular reason you concentrated on guitar?
Brian: I had violin and piano lessons, but then along came The Beatles and my total love for all things guitar!
Cathryn - is it still a challenge to make a Brit a cup of tea?
Cathryn: It's not as daunting as it once was! But I am seriously aware that Brits and Yanks are two different cultures (the joke's punch line….America has no culture). I try not to be the "ugly American", so I usually let Brian make the tea!
Brian - is it still a challenge to drink it?
Brian: I resemble that remark!

"Calling All Angels" is available now from Brian and Cathryn's website at www.craigandwilloughby.com. Incidentally, Brian and Cathryn have placed the following message on their website:
"Dear Friends, you may have noticed copies of "Calling All Angels" appearing on Amazon UK recently.
We are the sole distributors of the record and we do not know where these vendors are obtaining
copies. We ask you please to ignore them, while we try to discover the source of these albums.
Should you wish to buy a copy, please do so via our website, with PayPal, which is a secure route.

Thank you for your understanding, all the best, Cathryn & Brian."