LOOK EAST YOUNG MAN
Japan, Korea and Thailand's love affair with the Strawbs
The recent release of three beautifully produced card sleeve facsimile re-issues by Vivid prompts a look back at the releases that Strawbs have enjoyed over the years in the far east. From lavishly produced gems such as these to frankly awful bootleg 45s, the Strawbs have fascinated Japan, Korea and Thailand over the years and this feature looks back over the collectible CDs, albums and singles that have come out as a result.
Thanks, as often is the case, to Alison Brown for re-use of the scans of her huge Strawbs collection, which is making its way onto the web at http://homepage.ntlworld.com/borobrowns/index.htm.
Click on the pictures to see the full size image
PART 1
Contents
In Part 2 - to follow:
A&M CD facsimile re-issues
Korean CD re-issues
Japanese vinyl albums
Japanese samplers
---
VIVID CD FACSIMILE RE-ISSUES
Dave Cousins & Brian Willoughby:
Old School Songs
RATCD 4218, 2003

Strawbs:
Deep Cuts
RATCD 4219, 2003

Strawbs:
Burning For You
RATCD 4220, 2003
Vivid's Muskrat label has done a splendid job on these re-issues: each is a miniaturised exact copy of what came with the original packaging - Burning For you has a mini inner sleeve with a circular photo montage on one side and the lyrics on the other (as well as a soft cloth bag), Deep Cuts a two-sided lyric sheet. Old School Songs doesn't have anything, but then nor did the original, which was a limited run private pressing.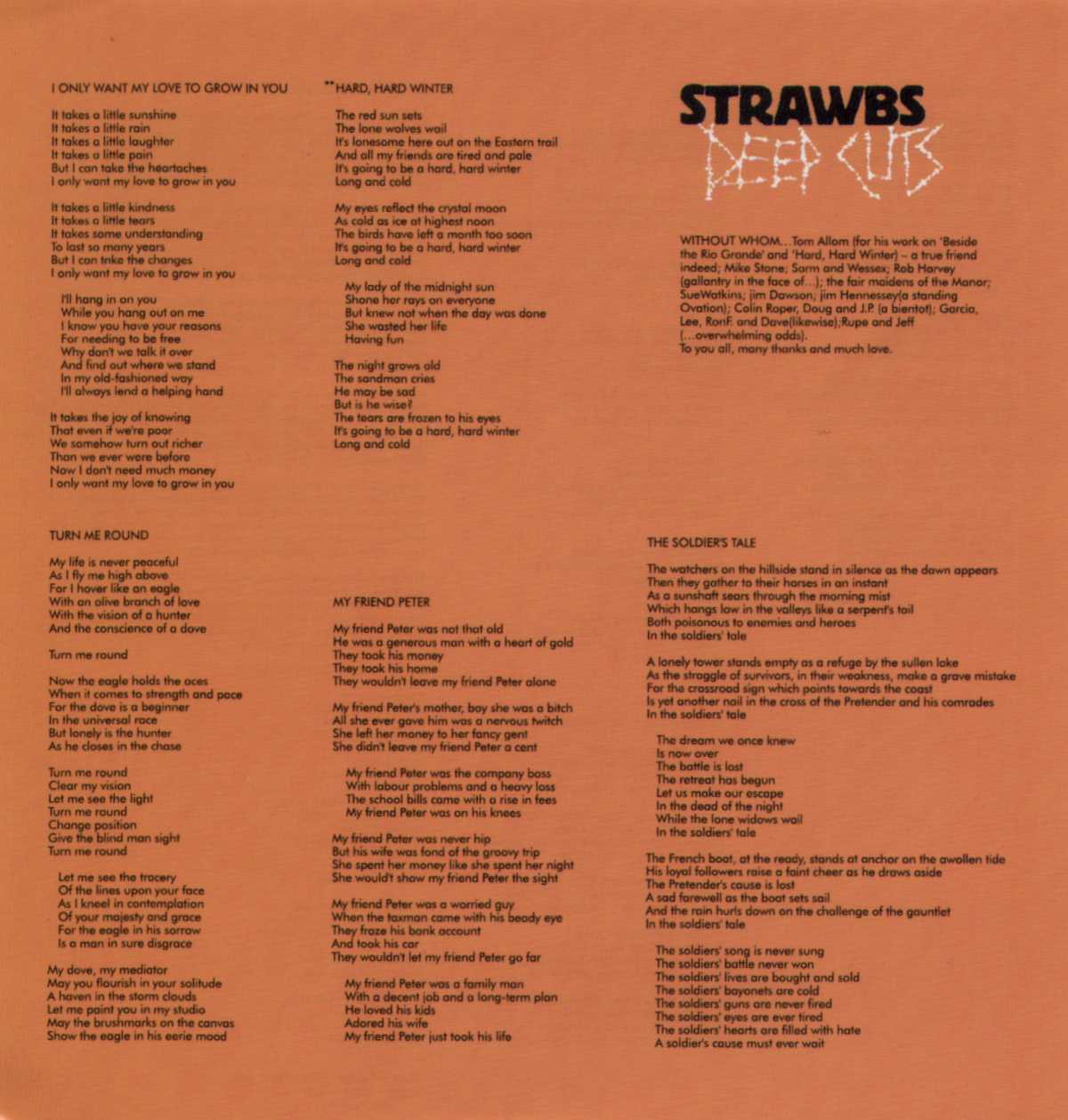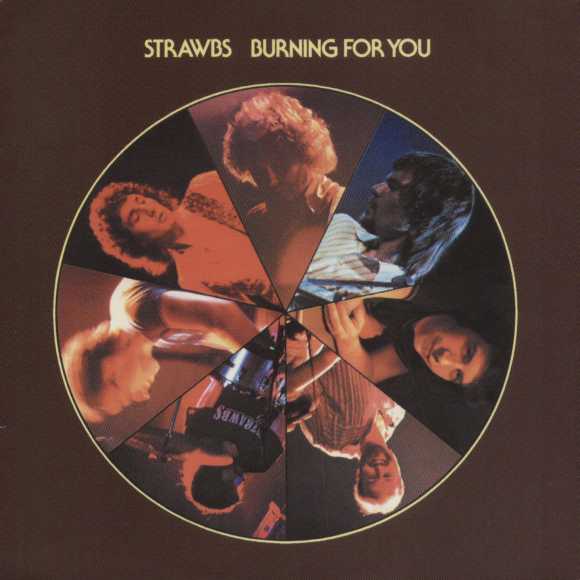 Each of the releases includes a Japanese-language insert, all different (which is nice), though not much use to those of us who don't speak Japanese. For those who do, click on the thumbnails for a larger version - if you feel like providing a translation, I'll post them here.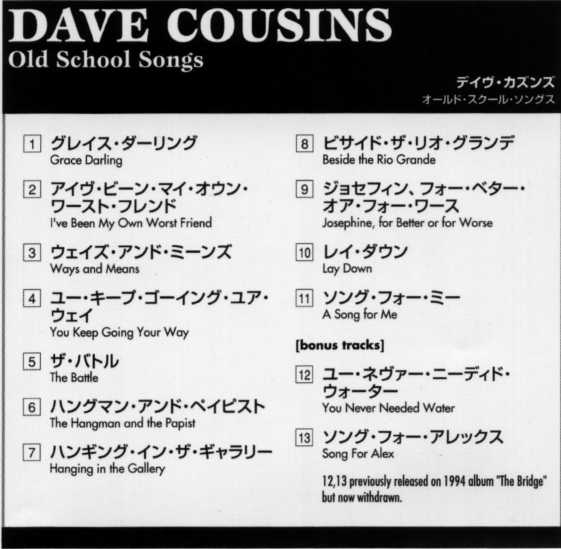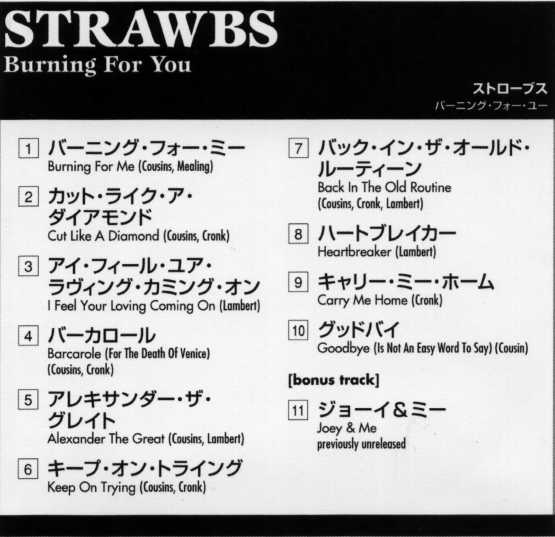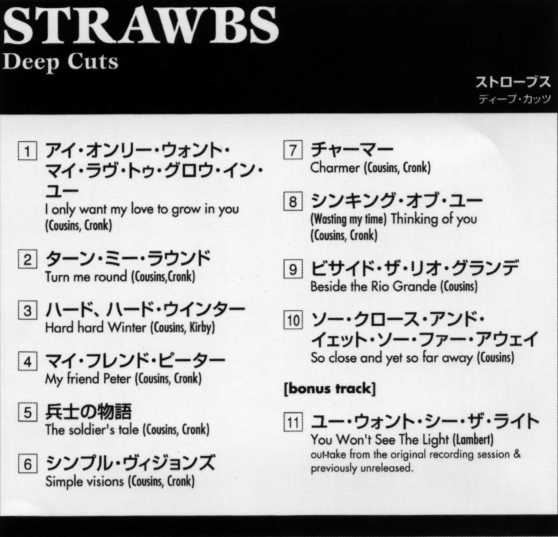 Whilst the sleeves, as exact copies of the originals, don't mention them, each CD has one or bonus tracks. Deep Cuts' unreleased gem "You Won't See The Light" is a slice of mid 70's funk written by and fronted by Lambert on vocals - a surprising style for the Strawbs - could have been a single, mind: certainly catchy enough. (Other possibilities from that time would have been an admittedly unfinished version of Blue Angel" which was recorded by Tom Allom before he handed over to Rupert Holmes and Jeffrey Lesser who produced most of Deep Cuts, or an electric band version of "Oh So Sleepy".
Burning For You's bonus track is an acoustic demo of "Joey And Me" by Dave, with an acoustic lead break which is almost certainly Brian Willoughby's. Difficult to work out when this dates from, probably the Old School Songs period when DC and BW set off on the first Dave and Brian tour in 1979, and might have fitted better on that album: but perhaps there just weren't any unused tracks from this album. And finally, Old School Songs has two tracks which will please completists who don't have a copy of 1994's Cousins & Willoughby album The Bridge - the tracks from The Bridge which weren't felt to fit on Blue Angel as being too acoustic - the opening track "You Never Needed Water" and the closing "Song For Alex".
JAPANESE 45s
###
| | | |
| --- | --- | --- |
| | | |
| Keep The Devil Outside | New World | Lay Down |
| | | |
| Part Of The Union | Shine On Silver Sun | Angel Wine |
THAI 45s
"Part Of The Union" got them interested, but "Hold On To Me" has been included on no less than 5 (found to date) Thai 4-track EPs, usually matched up with Neil Young or Bad Company, but also with plenty of other known and unknown artists. After that, they seem to have lost interest. Not clear whether these items were legit or not - sadly I suspect not.
Images to follow