KEYS TO SUCCESS - THE PROGRESSIVE WORLD OF OLIVER WAKEMAN
Interview by Lindsay Sorrell – 23rd May, 2009
Photos reproduced from www.oliverwakeman.co.uk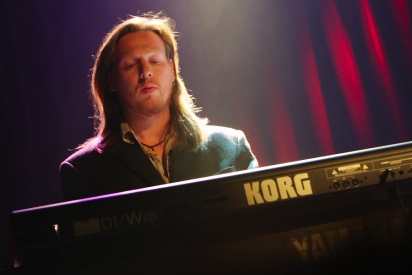 Oliver Wakeman is not a man to shy away from challenges. Yes fans on the US side of the pond recently discovered this when, like the proverbial duck to water, he seemingly effortlessly embraced the role of keyboard player for the "In the Present" tour alongside Benoît David (an impressive soundalike vocalist called upon to deputise for the incapacitated Jon Anderson), and iconic Yes-men Steve Howe, Chris Squire and Alan White. Despite being aware of the critical comparison he would inevitably receive while taking over his father's role (Rick was advised not to undertake the tour for health reasons, and suggested Oliver would prove a more-than-worthy replacement), Oliver's own keyboard craftsmanship soon dispelled any fears that he was not equal to the task. The tour was a great success, and Oliver will soon be taking his place in the Yes line-up for further tours this year.
Additional proof, if any were needed, of Oliver's versatility and willingness to undergo scrutiny followed shortly after the 'In the Present' tour, when he joined Strawbs (with whom Rick had been keyboardist at the time of his meteoric rise to fame). Oliver's baptism into the English prog rock 'electric' Strawbs (the band also performs as a three-piece acoustic outfit) came in March of this year, on a tour of Canada. He inherited the piano stool from John Hawken, Strawbs' much-loved keyboard player who had originally joined the band in 1973. John had recently decided to retire from arduous touring schedules, and again, inevitable comparisons and the reluctance of 'doubting Thomases' would surely have proved too much for some. Oliver, however, accepted the challenge on the chin, spurred on by his own respect for the band's music.
Apart from clearly being highly sought-after for his keyboard expertise (he hasn't won the Classic Rock Society's 'Keyboard Player of the Year' award three times in a row for nothing!), Oliver also has his own band, The Oliver Wakeman Band, who have many performances under their belts and recently recorded a live DVD in Poland entitled 'Coming to Town'. The DVD has recently been released in Europe and the US and a live CD taken from the same concert has been released and will be out this month in the US. Despite his busy schedule, however, Oliver willingly agreed to be interviewed shortly before he was due onstage for Strawbs' concert at The Cheese and Grain in Frome, mid-way through the band's May UK tour. The George Hotel, just minutes' walk from the venue, provided a pleasant setting for a relaxed chat, and Oliver patiently worked through a lengthy list of questions with me, several of which had been provided by members of Witchwood, Strawbs' Yahoo discussion group. The interview went something like this…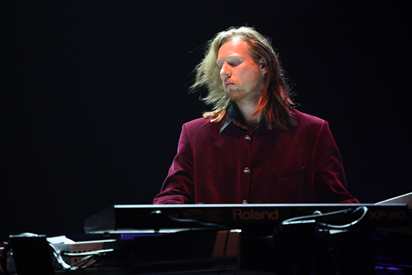 LS: Please tell me a little about your musical career to date.
OW: I started out with a band called Obsession when I was about 17. It was a band that played original material which was quite unusual on the Devon music scene at the time. I joined the band following a telephone call intended for Adam (Oliver's younger brother, and a fellow keyboard player); I told them he was busy with another band but I was available, and that's how I ended up getting the gig! My time with the band lasted for around three years and involved the recording of one album, 'Debut of Desire', which included one of my own compositions and a not-very-often seen promotional video.
College years followed, and I gained a diploma in graphic design, which has frequently proved useful. I worked part-time as a graphic designer for many years, and took various 9 – 5 corporate jobs. I've also used what I learned to design tour programmes and flyers for various musicians including Steve Hackett, Gordon Giltrap, Eric Norlander, my father and many others. I also design my own album sleeves, adverts and website. It's really satisfying to be able to design my own artwork so it turns out precisely as I'd like it. In tandem with the graphic design work, I continued playing live with Smokestack, a well-regarded blues band in the North Devon area which regularly played theatres, pubs, weddings and various other functions, although I finished playing with them back in 2003.
LS: Has growing up as part of such a musically-talented family led to sibling rivalry?
OW: Well, Adam and I are the greatest of friends, constantly in touch with each other. Although we both play keyboards our paths have usually gone in different directions and we've frequently ended up involved with quite different musical genres. Apart from working with dad, Adam has been involved with artists including Annie Lennox, Victoria Beckham and Atomic Kitten. Incidentally, I last saw dad a few weeks ago at his Hampton Court Palace performances of 'The Six Wives of Henry VIII' when Adam was also playing. Adam was adding more keyboards to the sound with The English Rock Ensemble.
LS: Is there any one style of music you most enjoy listening to?
OW: My mood dictates my choice of listening material. That includes a love of prog rock and classical music, and a wide diversity of artists which includes Yes, Strawbs, It Bites, Dan Reed Network, Harry Connick Jnr., Suzanne Vega and Tori Amos. I also have a fascination for music which I don't attempt to play, such as swing and jazz; rather than spending my time analysing what and how it is being played, I am able simply to sit back and just enjoy it. There are very few genres I don't like, but I suppose they would include most heavy rap and dance music, although I generally like to keep an open mind regarding music I hear.
LS: Do you have a particular formula for composing music?
OW: No, I have no particular formula; my writing styles have always been quite eclectic, including pieces for piano, rock opera, instrumentals, Celtic music... just as with my choice of listening, my mood influences my writing style. 'Picture of a Lady' from 'The Hound of the Baskervilles' album (written with Clive Nolan) took about twenty minutes flat. Sometimes my writing simply flows spontaneously, other times not. Also, sometimes I write the lyrics first, other times the music; I am comfortable writing any way it happens. I never discard anything I write however; it might take years to see the light of day, but eventually bits and pieces I have composed surface and make their way into my work. I also write the initial bass and guitar parts for the musicians in my own band. Of course they then amend, adapt or improve the parts as they wish.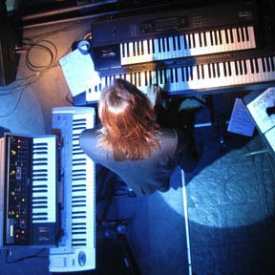 LS: Do you play any instruments aside from keyboards?
OW: I do play lead guitar and acoustic guitar, and in fact I have played guitar as a session musician in the past although this happened only on a few occasions and I'm not sure any of them saw the light of day. However, playing guitar puts pressure on certain muscles and makes it more difficult to play keyboards, so I wouldn't pick up a guitar for a while before any professional keyboard engagements. I also sing backing vocals with The Oliver Wakeman Band, and on various CD recordings.
LS: Are Yes and Strawbs very different bands to work with?
OW: Regarding playing, with Yes intense concentration is always required as the music is very technical. With Strawbs the music is still challenging, but there is a greater focus on the 'song' rather than the technical arrangement. Yes' songs are usually adapted and arranged in such a way as to utilise the instruments in a more technical way, whereas Strawbs' songs tend to build around a skeletal framework and the lyrics are generally more dominant. There are pros and cons to each way of working, although for me it is the best of both worlds as I get to experience and learn from both bands and the experience they have.
Yes is a big production which needs to be very regimented, with everything planned according to a tight schedule. For instance, soundchecks, rehearsals,'meet-and-greets', interviews and so on are all strictly timetabled. Yes is a five-piece band with a production crew of fourteen, whereas Strawbs has a crew of just two, and "spur of the moment" decisions are more possible. The members of both bands are all great people to play with, and basically I enjoy it all. It's really a "win/win" situation, which provides an excellent learning curve.
LS: Does it ever seem slightly bizarre to be working with both Strawbs and Yes?
OW: Possibly in some ways, but I've always had a great love for prog rock, and particularly enjoy the music of both bands. I first became aware of Strawbs' music at around the age of thirteen when my mother retrieved a collection of vinyl albums from the family loft. In amongst the albums was 'From the Witchwood', which now has a place in my top five albums, well definitely top ten anyway. I hope my understanding and genuine enjoyment of the band's music allows me to preserve passages which are essential, while simultaneously I like to add my own signature whenever possible. Incidentally, the other albums my mother brought down from the loft included 'Tales from the Topographic Oceans', 'The Six Wives of Henry VIII' and 'The Grand Illusion' by Styx (another of my top ten albums, and a band of which I've always been a big fan).
Of course, prior to my recent work with Yes and Strawbs I'd recorded ten albums and a DVD, and I've always considered it of paramount importance to believe in the music and have respect for the artists with whom I work. In the past I've turned down work with several artists because I haven't really felt I'd be able to add anything, a situation which I wouldn't find satisfying.
LS: Had you ever seen Strawbs play prior to joining them for the Canadian tour earlier this year?
OW: Yes, several times. I followed them around on a tour in about 1989. It was at a time when Don Airey was with the band on keyboards, along with Richard Hudson, Tony Hooper and the others. I saw them at The Queen's Theatre, Barnstaple, and I also remember seeing them play in Weston-super-Mare. Travelling around to see Strawbs actually involved me hitch-hiking around the West Country. I first hung out with Strawbs' lead vocalist Dave Cousins when he was working with Lantern Radio in Bideford, near where I was living in North Devon. That must have been around 1992.
Incidentally, I've never met John Hawken nor seen him play, but greatly appreciate his playing from having listened to Strawbs' albums. His style differs from my own and it has been very enjoyable playing his parts on stage.
LS: Would you like to tell me a bit about the making of Strawbs' forthcoming album, 'Dancing to the Devil's Beat'?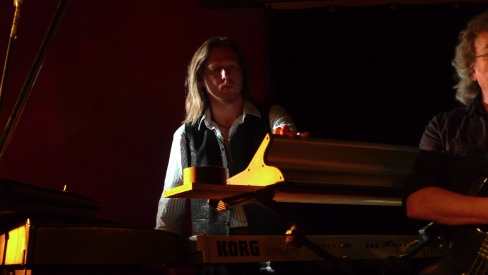 OW: Making the new album was a lot of fun and I was particularly pleased to be involved with a bit of writing for the album as well as being responsible for the orchestral parts and some of the arrangements. This made me feel like a real member of the band, adding creative input rather than just turning up and playing a few pads and solos.
When I work on something I really make sure it is something I feel very strongly about, and I can hand-on-heart say that I think this album is very strong, with good songs and performances. It's very fitting for Strawbs' 40th anniversary, and an album I am proud to have been a part of.
LS: What equipment are you using onstage on this tour?
OW: I use four different keyboards; a Korg 0I1W, a Korg Triton, a Moog Little Phatty and either a Yamaha P250 or a P200.
LS: What keyboards do you use for the Mellotron sounds, and what is the sample source for the tron sounds?
I use a multilayered sound on one of the Korg keyboards. I tried to use tron samples, but didn't find that worked as well without having reverb and outboard effects that weren't always available at every show. I much prefer the touch sensitivity of modern keyboards; for instance, in Strawbs' 'Down by the Sea' I hit a key hard with my left hand little finger to get the cymbal crash sound, whilst the other left hand fingers are putting together a low string chord with the right hand playing a top brass line. I'm giving all my secrets away now!
LS: It was great to read your Canadian blog [www.oliverwakeman.co.uk and select Stories/Strawbs Canadian tour/- DG]. Are you planning a repetition for this UK Strawbs' tour?
OW: Thanks to the person who liked my blog! Yes, I intend to write another following this tour. I shall be putting it together whilst on the Yes US tour; things have been a little hectic of late!
LS: Do you get nervous before playing, or have any particular ways to deal with pre-show nerves?
OW: No, not really. I like a few moments of quiet prior to a show if possible, to try and get focussed. Usually the first song is spent getting accustomed to everything going on, the levels of the different instruments and so on, and when the first song is over I generally start to relax.
LS: You have recorded several 'new age' type CDs; do you have a particular interest in new age culture?
OW: I developed an interest in alternative therapies when I had "hands on" healing for various aches and pains, which I found helped me. My son, Arthur, was actually born to an album called 'Chakras' which I wrote back in 2001. The album was a commissioned piece of work, part of a set of sixteen albums (I only wrote the one album for the set). Incidentally, my mum has studied aromatherapy, and basically I think anything which induces relaxation can be beneficial.
LS: 'Heaven's Isle' is a beautiful album. How did it come about?
OW: Thank you. I think of it as being a very "innocent" album; I don't mean that in a negative way, I'm proud of it. The music in the album relates to the beautiful and fascinating Isle of Lundy. 'Heaven's Isle' was produced in association with The Landmark Trust, who own the Island. It was also my first album, released in 1997! (It was re-released in 1999 with a couple of extra tracks. The album is available from Verglas.com if anyone is interested!)
LS: Do you remember any gig, with any band, which stands out as your most enjoyable?
OW: The Mohegan Sun Casino in Montville, Connecticut with Yes was terrific, and also the last show I did on the Canadian Strawbs' tour, in Hamilton, Canada. There was a Yamaha grand piano and the whole thing was fantastic. You'll know that if you read my blog on Myspace! Oh, and Strawbs at Huntingdon Hall in Worcester a few nights ago was amazing too. Actually, I enjoy all the gigs I play!
LS: What are your immediate plans after Strawbs' UK tour finishes?
OW: I shall spend two weeks learning Yes material, followed by six weeks' touring the USA with them. In August I shall be playing with Strawbs again, at the 'Memories of Woodstock' festival at The West Midlands Showground. After that I have three weeks off for a family holiday, and I also hope to buy a new house. Towards the end of the year I'll be touring with Yes again, and hopefully there will be some European gigs, including the UK. In September I shall also be playing at Strawbs' 40th Anniversary weekend at Twickenham Rugby Ground, as will dad.
I have a lot of solo material that I'd like to record too – four very different albums' worth. One will be a rock album, another Celtic rock, the third is a rock opera, and the fourth is made up of piano pieces. I really hope to start recording them before the end of the year. I like to use a studio in Virginia Water, Surrey, where I have a great relationship with the engineer Karl Groom. I produce my own recordings myself.
LS: Do you have time for any non-musical hobbies?
OW: Not really. I like to spend as much time as possible with my wife and my young son Arthur when I'm not working.

Following several prompts from others in my party who were attending the evening's show (and having told Oliver I didn't want to be responsible for making him late onstage!) we eventually concluded after about an hour's conversation. There was just time to make it round to the venue before Strawbs took to the stage, and an electrifying evening of prog rock followed, wildly applauded by a highly appreciative audience. It was sheer delight to watch Oliver and Dave Lambert (lead guitar) smiling broadly at each other as they wove their sounds intuitively around each other's playing, while Chas Cronk (bass) and Rod Coombes (drums) provided the most solid yet inspired rhythm section imaginable. Strawbs' founder, Dave Cousins, filled the air with his trademark impassioned vocals, and the band's encore, "Where Is This Dream Of Your Youth", showcased Oliver's blistering, dramatic keyboard skills. And no, Dave Cousins very definitely wasn't looking at his watch during Oliver's pièce de résistance, as Oliver had earlier jokingly enquired of me! It was obvious the entire band enjoyed Oliver's dramatic keyboard finale just as much as the delighted crowd.
Many thanks to Oliver for taking time out of his extremely busy schedule for this interview.