DAVE LAMBERT - LIVE REVIEWS

Contents
Dave Lambert Solo, Tunbridge Wells, 1 July 2003
Dave Lambert & Friends, The Royal Albert Hall, 19 Sep 2000
Dave Lambert & Friends, English Cricket Board Annual Awards, Royal Albert Hall, 18 Sep 2001
Dave Lambert - Mark Butcher Benefit Show - September 2005
Dave Lambert - Professional Cricketers Association Awards At The Albert Hall - 25 September 2006
Back to main Dave Lambert page

DAVE LAMBERT SOLO, TUNBRIDGE WELLS, 1 JULY 2003
HAVING A BLAST - Review and pictures by Dick Greener
A mad rush to get from where I was in Central London to leafy Tunbridge Wells was amply rewarded by an excellent solo performance by Dave Lambert, snugly fitted in between the end of the Acoustic Strawbs' June tour (last date 30 June, Colchester) and his departure back into Canadian custody (flight leaves early 2 July) ("Well that was a good idea", quipped Dave!)
The Forum, I'm reliably informed, was previously a public toilet and subsequently a brass rubbing centre. These days it's a music venue, catering to the young drink and dance crowd of a weekend, but spreading its wings to other genres during the week. Parking was none too easy (you don't usually need a car park for a public toilet) and the tables were round tops on top of beer barrels, but the beer wasn't too expensive and the sound emanating from the basic black painted stage wasn't bad.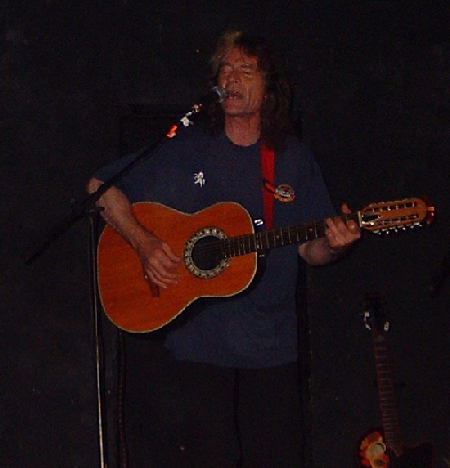 DL turned up on stage bearing two guitars, his trusty Black special and a 12-string Ovation (which to me looked remarkably familiar - I was right, DL confirmed after the gig it was DC's, on long term loan to DL now that DC has switched to his Gibson). First song, one Dave used to do on his last solo outings, over 30 years ago, I didn't recognise, but which he referred to as quite a naive lyric - a 12-string protest number for sure. Then, more familiar territory with "If The Lord Don't Get You" from the King Earl Boogie Band days, swiftly followed by Lambert's classic Strawbs number "The Winter And The Summer". In between songs, some chatter and merriment about how the songs were written - if as is supposed to be the case, Dave once felt inhibited about his ability to do on-stage chat, he certainly needs to worry no longer: he had the audience in the palm of his hand, as evidenced by the dead silence later on, when in talking about his first meeting with his old pal John Entwhistle, the emotion briefly got to much for him until he moved on to give an excellent rendition of "Boris The Spider".
Before that, though, we had the Fire single "Father's Name Is Dad", and an except from the B-side "Treacle Toffee World" - (what's that all about? - answers on a postcard as Dave still doesn't know!). Dave's crowd-pleaser "Bovver Blues", again from the King-Earl album, very well received also. First half finished with an unknown song ("Mama"?) and the title track from his solo album Framed.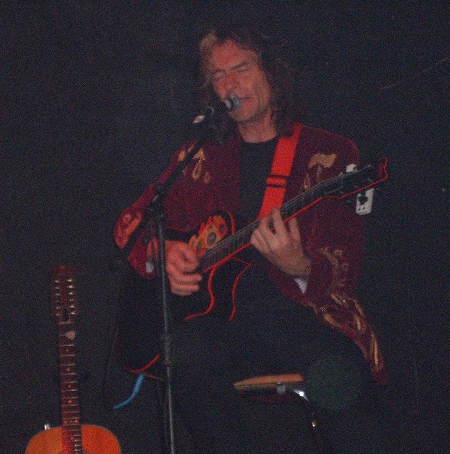 Second set saw Dave return to the stage in his '72 red plus jacket - "curtain material you know, made up for me by my manager: as a manager he was a great tailor, and it's not the first time I was stitched up by him!" Songs included the powerful "Live Inside Your Hell Tonight" which he'd soloed on previous electric Strawbs tours, a Beatles number and another track from Framed "Remember Me This Way". Strawbs fans got - to my delight - an excellent acoustic treatment of "Don't Try To Change Me" from Ghosts, and acoustic "Heartbreaker" and an excellent solo "Lay Down" where in some ways Dave's voice sounded gentler and more soulful even than our own Dave Cousins. There was another new song which I'll get details of from Dave, which sounded very promising too.
The set closed with a flashy blues number with lots of slide, and then the song banned in musical instrument shops everywhere, "Stairway To Heaven", which was a tour de force. For the inevitable encore, a medley of "Amazing Grace" leading into @@@@, then a quick classical interlude: "William Tell Overture" in Dave's own inimitable style.
There was lots of light and shade, from folk protest, through to rock-style histrionics; from delta blues through to 60s acid pop. By anyone's standards (leaving aside a few minor glitches maybe from time to time) an excellent rounded show, which promises well for future solos. Given how it's been shoe-horned into everything else going on, it was astonishingly good. For me, it was nice to see Dave fronting a show and enjoying a looser style of playing (which you can afford if you're not playing in unison with two other folks): his work with Strawbs is often more restrained and note perfect, though towards the end of tours he starts throwing in more improvisational moments; here, entirely the master of the show, he was able to let his two-tone hair down and have a blast.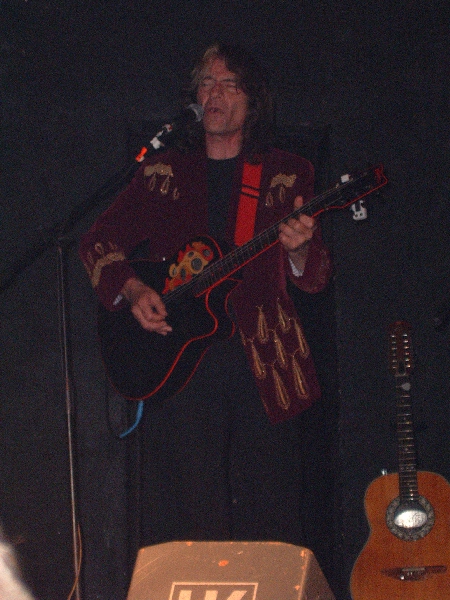 Wish list for the future ? We'll I know "Just Love" can be done acoustic, 'cause it has been on the Fire album Overground etc. "The Ten Commandments" is another one from previous Strawbs tours, which I'd like to hear, if it's feasible with only one guitar (sure it is for DL); and finally, a personal and idiosyncratic favourite from the King Earl album - "Take Me Back". There'll clearly be some new stuff on future occasions - DL mentioned he's finished a second solo album, which is hopefully for release before too long.

YOU HAD TO BE THERE! - Review by Sue Holton
It's 12.30am and Mike and I have just got home after seeing Dave Lambert give his first solo gig for 30 years. We spent the evening with Yvonne and Phil ...again...and Dick of course....in a very unusual venue to say the least, a converted public toilet!! It was certainly not the smartest of places! They are usually a standing only venue, but out of deference to all us "oldies" that were expected, they had hired a few chairs, and knocked up tables out of beer barrels. The place is usually full of 14 year olds, and this was apparently a bit of a first for the venue trying a different style of booking. I would imagine they were pleased with the result as there was a pretty good turnout to see Dave go it alone.
We really didn't know what he would play tonight, all I can say is we loved every minute of it. The songs ranged from quiet, with lyrics to make you think, through comic, early Fire, Strawbs numbers such as "Heartbreaker" and "Lay Down", to "Stairway to Heaven", finishing with "The William Tell Overture" played with his hands tapping out the tune on his puffed out cheeks ! You had to be there!
The most moving moment was as Dave introduced a song with the story of his first meeting with John Entwistle when he was about 11, for a moment or two Dave was unable to continue as he was overcome with emotion...I just wanted to jump up on stage and hug him. At the end of the night I did just that, and he told me that as he was telling the story he could see John standing in front of him, and certainly hadn't expected to be so affected by telling the tale.
The whole event was very well received by an enthusiastic audience, and Dave said he had enjoyed it 10 times more than he expected to himself. All I can say is Dave, why haven't you done this before ? The voice was amazing, the guitar work spot on, PLEASE do it again soon, and Mike and I will be in the front row cheering for more. Now we just have to wait for the autumn folks, as Dave told us there is an album almost ready for release...I've already got my name at the top of the order list !

DAVE LAMBERT - PROFESSIONAL CRICKETERS ASSOCIATION AWARDS AT THE ALBERT HALL - 25 SEPTEMBER 2006
Dave writes:
"The band is Mark Butcher with the Debbie Bonham band (without Debbie), and guests. Bernie Marsden Whitesnake), John Altman (Titanic, Life of Brian etc) on sax. The harmonica player is John, I can't remember his other name but I met him years ago when he had a band called The Bow Street Runners. They won a competition in the 60's called Ready Steady Win. Jerry Shirley was not on drums last night, sadly his brother died a few days previously.

The Hall was packed and a jolly good time was had by all."
Photographs by Keith Curtis - website http://www.keithcurtis.co.uk ; e-mail keith@keithcurtis.co.uk.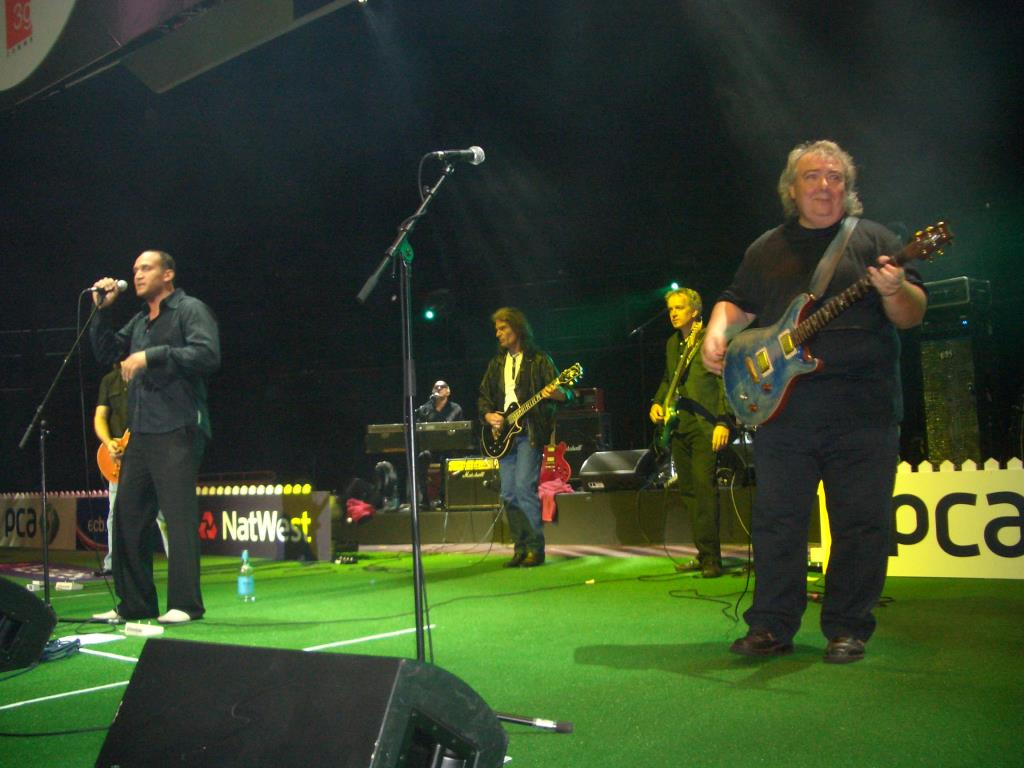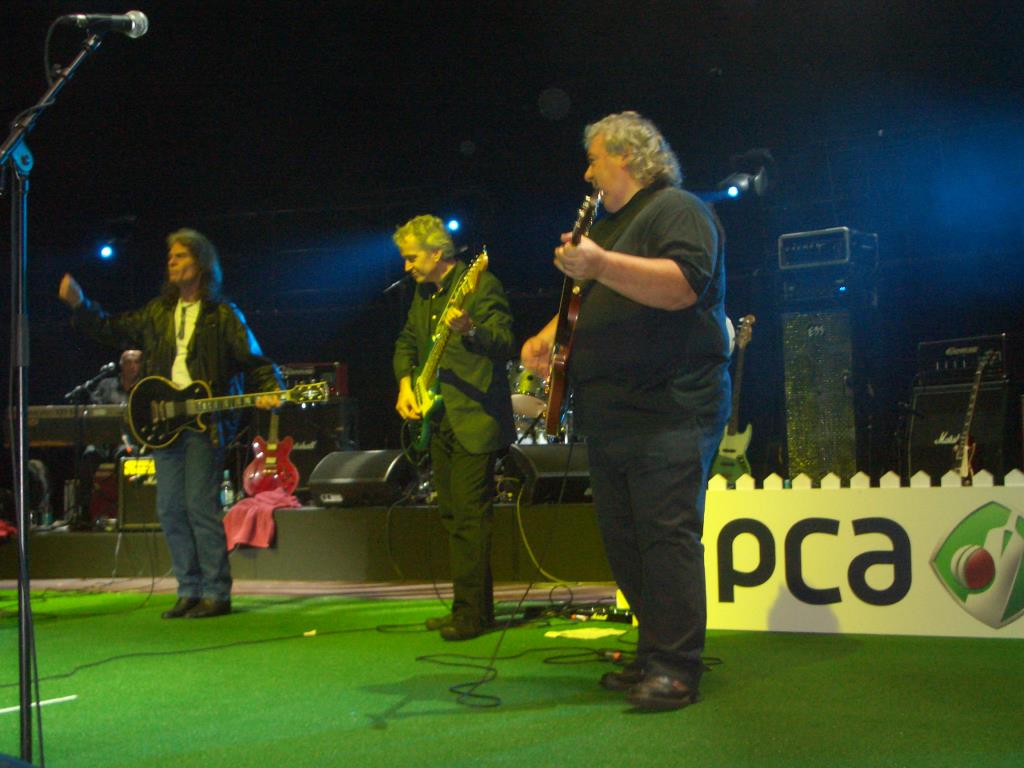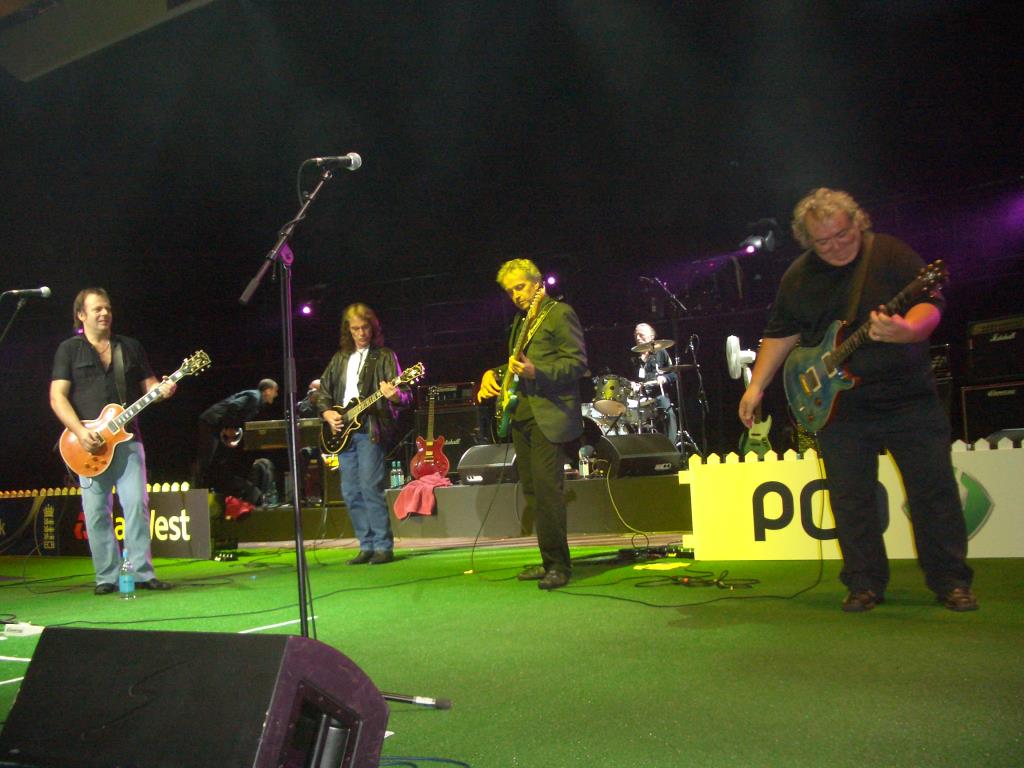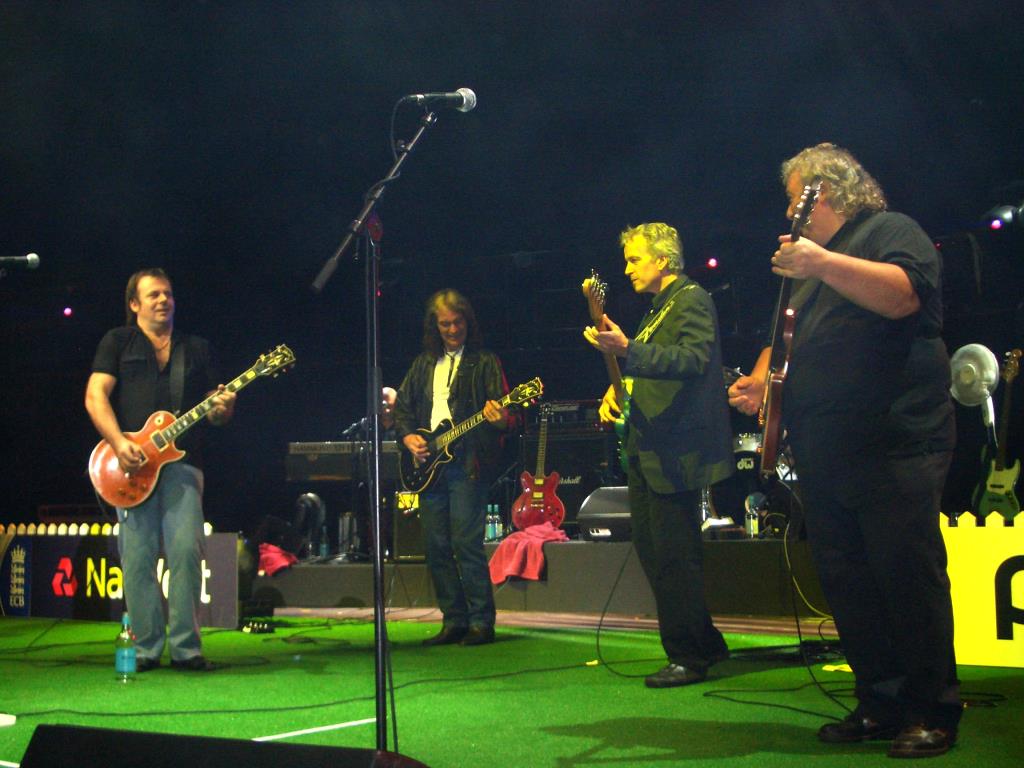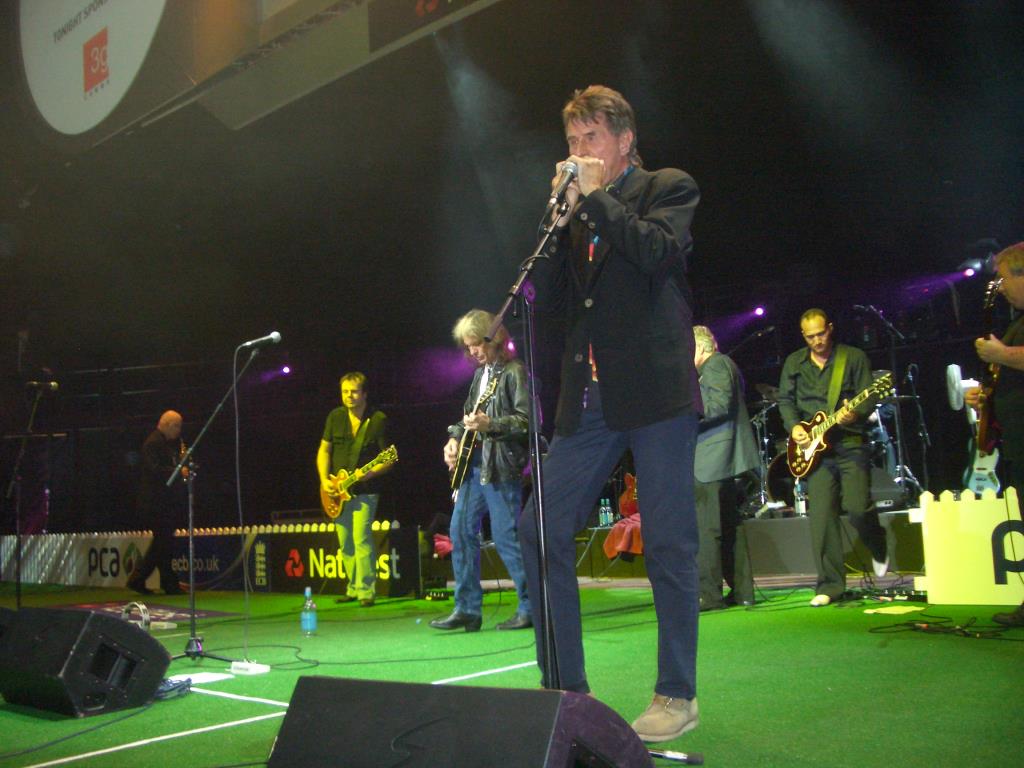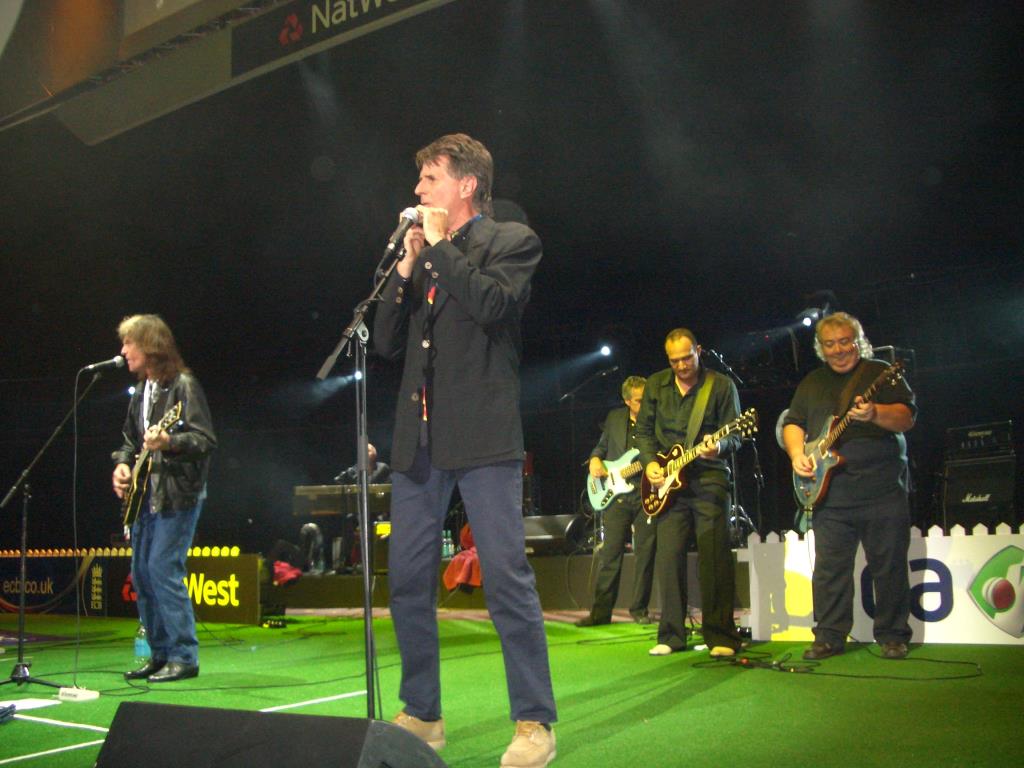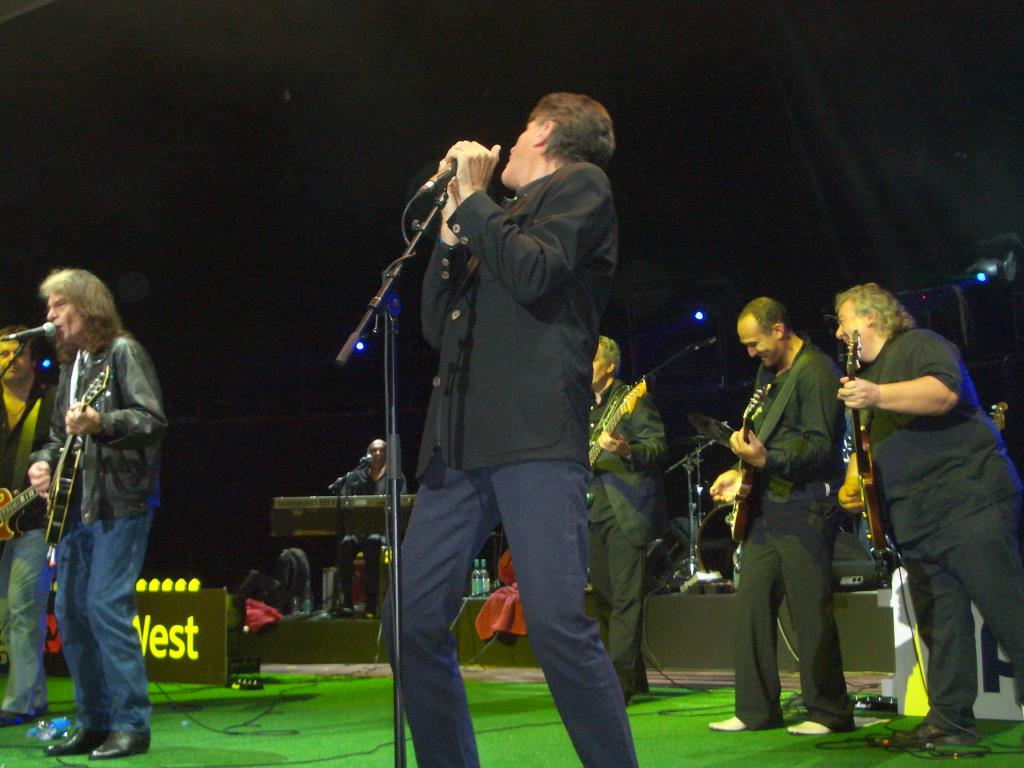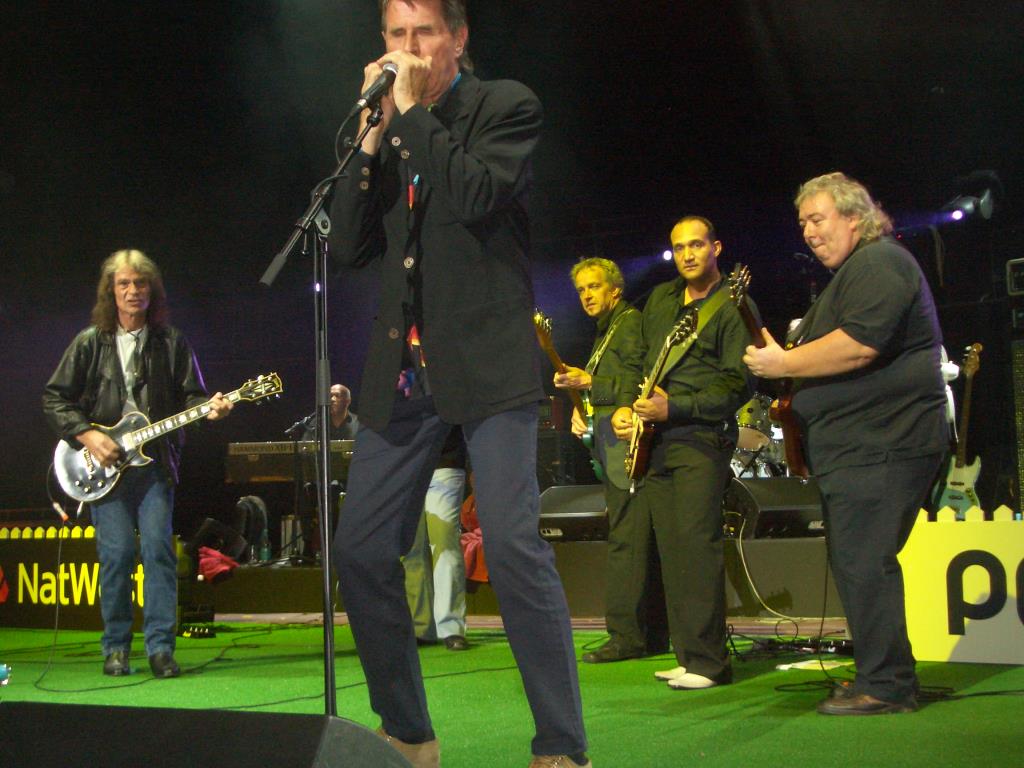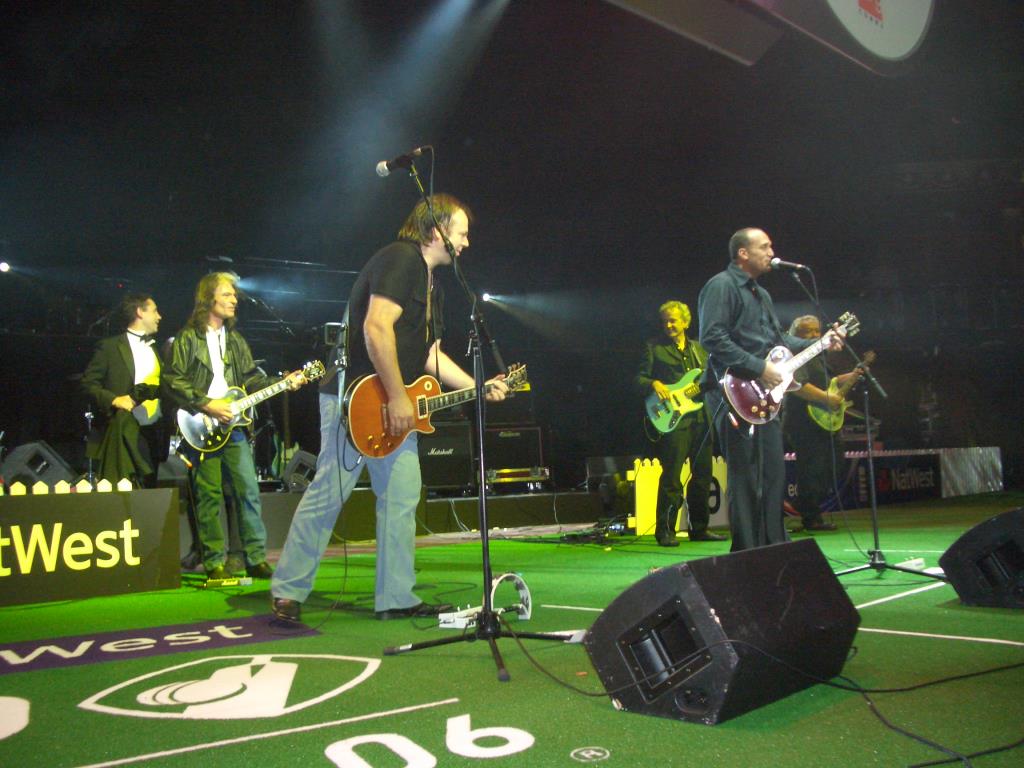 DAVE LAMBERT - MARK BUTCHER BENEFIT SHOW - SEPTEMBER 2005
Some photos from the Mark Butcher benefit concert which Dave Lambert did in September.
There was a match during the day between the Bunburys and the Mark Butcher Barmy Army X1 In the evening Mark's band (which is actually Debbie Bonham's band waylaid by Mark), played for a couple of hours. DL played five songs with them, and the Barmy Army provided suitable noises throughout the evening.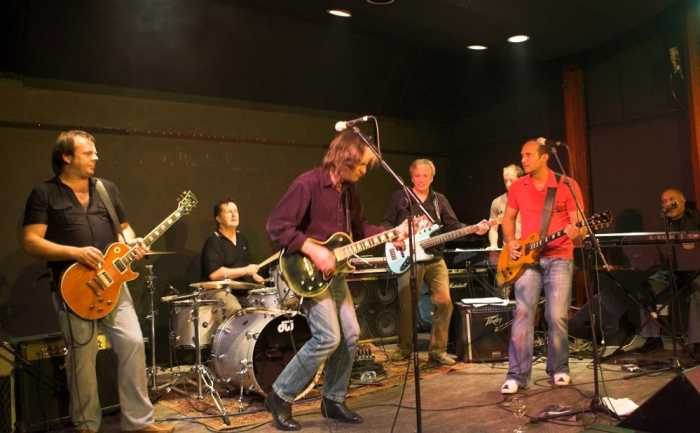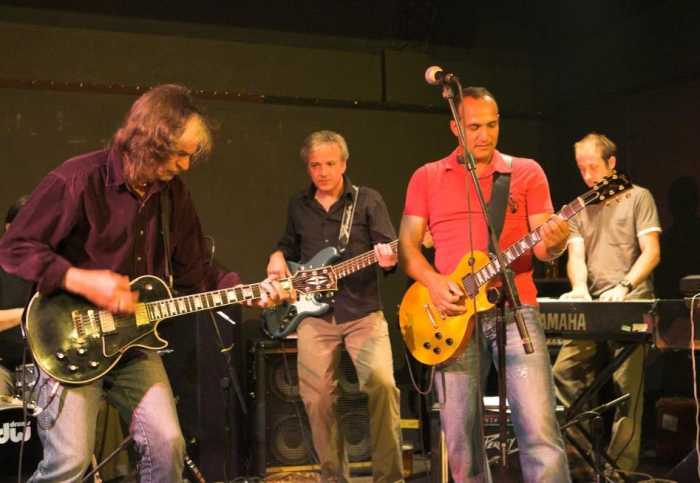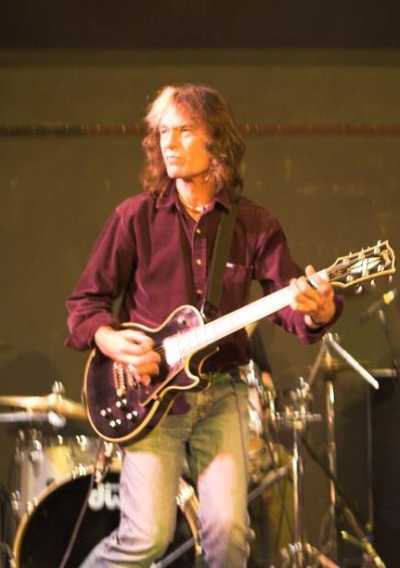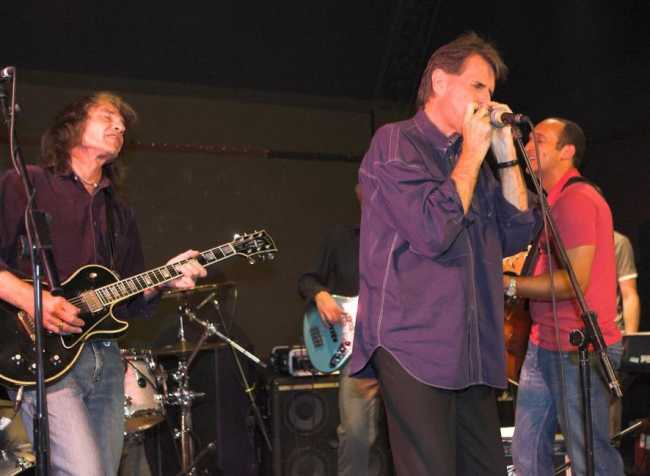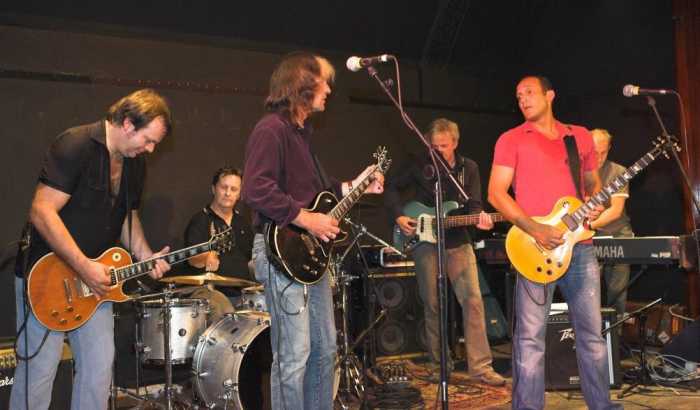 ###

DAVE LAMBERT, ENGLISH CRICKET BOARD ANNUAL AWARDS AT THE ROYAL ALBERT HALL, 18 SEP 2001
Photos by Mike Butcher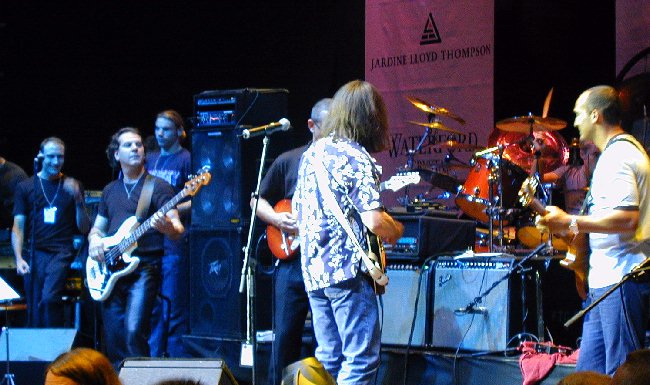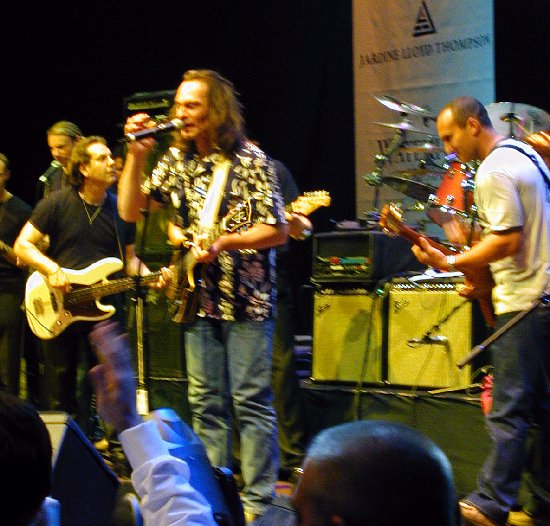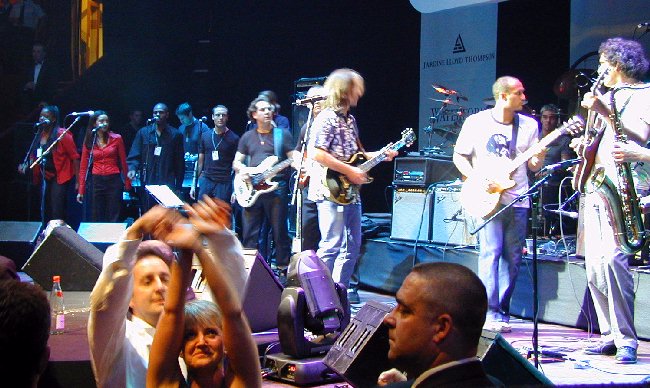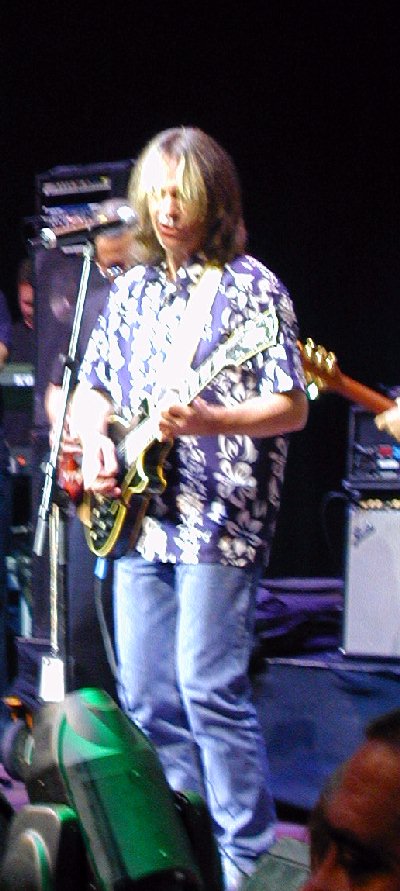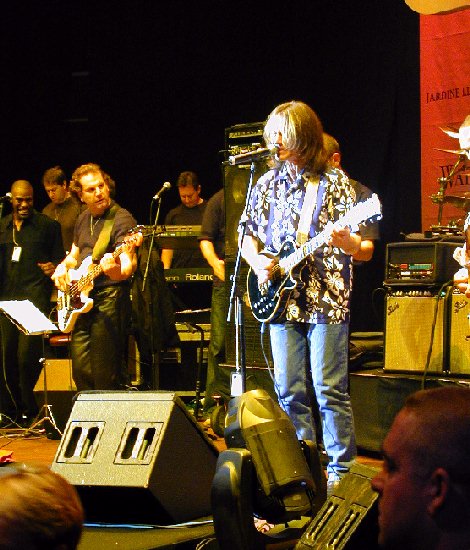 DAVE LAMBERT, ROYAL ALBERT HALL, 19 SEP 2000 - PHOTOS
Dave Lambert played at the Professional Cricketers Association annual awards dinner held at the Albert Hall on 19 Sep 2000 (not open to the public). The band comprised among others:
Mark Butcher (Surrey and England batsman) - guitar
Graham Fowler (Lancashire and England now Sky commentator) - drums
Henry Spinetti - drums
Ray Cooper - percussion
John Altman - hammond and sax
John Ethridge - guitar
Paul Carrack - vocals
Charles (from Charles and Eddie) - vocals
Dave's spot was twenty minutes of rock and roll with the band behind him, which he says:
"was a joy. I played "Part Of The Union" and the backing singers included Dermot Reeve, Alec Stewart, Mathew Fleming (all cricketers) and David English who organised the band get together."
Dave sent me some scanned photographs of the event, some of which appear below: