DAVE LAMBERT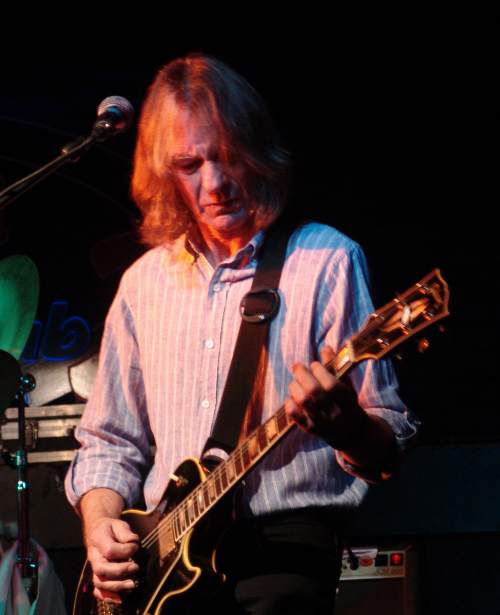 After fronting Fire, a period in the folk clubs, including two gigs duetting with Cousins, then joining the splinter group from Mungo Jerry, the King Earl Boogie Band in time for their first Dawn album Trouble At T' Mill, with Cousins brought in to Richard Branson's newly-opened Oxfordshire studio, The Manor, to sit in the producer's chair and contribute banjo to "Goin' To German". As "Lampoon", he contributed to Cousins' solo album Two Weeks Last Summer.
Joining the Strawbs on stage led to Cousins replaving long-time member Tony Hooper with Lambert in Sep 1972, and he remianed with the Strawbs until 1978. Framed was a debut solo outing for Dave Lambert, recorded in 1978. Sessions had just started for what would eventually be released as Heartbreak Hill, and these clashed with Lambert's solo album sessions. Dave took the decision to leave Strawbs after recording just one track ("Something Or Nothing") in order to complete his solo record.
The album did well in a number of major markets such as Canada. Eddie Money recorded "Take A Little Bit" as a single, quite a major release as he was quite important at that time. However Polydor declined to release it in the UK. Dave recalls:
"... it was very very strange. My friends were going over to France for the day and picking it up in record shops over there. I just thought it was so absurd that it was released everywhere but here. And that was the downer of it really. It was a great line up on that album, one of the best line ups you could have put together. John Entwhistle helped me on bass, Richard Bennett, who at the time was ... Neil Diamond's co-writer.... We had Denny Seiwell from Wings, ... we had was Lee Sklar, who plays with everybody I think .... We had Barbra Streisand's pianist, Tom, who was Neil Diamond's keyboard player, he did the synthesisers. It was a brilliant line-up, one of those where you couldn't wait to get to work in the morning. It was exciting every day."
Most of the album's songs are co-written by Lambert with either producer Spencer Proffer or Gary Benson, and offer a glimpse or two of classic Strawbs Lambert. Not perhaps as memorable as his Strawbs or Fire material, but enjoyable listening nonetheless. Highlights are "White Knight", "Take A Little Bit Of My Life", the title track and the rather striking "Dorian" where Dave impersonates the Devil himself. It never had a UK release, but has eventually appeared on CD.
In the early 80s, there were some recording sessions with Chas and others, which eventually saw the light of day as Lambert Cronk: Touch The Earth.
A lengthy period away from the Strawbs ended when he returned for the 30th anniversary celebrations at Chiswick, and the three electric tours which followed in 1999-2001. When Dave Cousins couldn't play a Cousins/Willoughby gig owing to a wrist injury in 1999, they asked Lambert to join them and worked up a slew of songs in three hander acoustic format, leading to the birth of the Acoustic Strawbs.
In early 2004, Dave released a solo CD on the Witchwood label Work In Progress, containing some newly recorded material as well as some rarities and outtakes spanning Dave's musical career. The album has been very well received by Dave's many fans, and deservedly so. As well as the rarities, there are three newly composed songs by Dave, and the three solo Lambert tracks from Chiswick - "The Winter And The Summer", "Framed" and "Bovver Blues", and "Live Inside Your Hell Tonight" from Baroque & Roll. The stunning opening track, "The Man I Saw Last Night" has Dave Cousins on backing vocals, and of course, "Starlight", the distinctive Lambert-written non-album King Earl Boogie Band single released at almost exactly the same moment Dave joined the Strawbs, was produced by Dave Cousins, and had not hitherto made it onto CD.
In 2007, Dave staged a pair of reunion gigs for Fire (see the Fire page, and Fire also resurfaced for the 40th aniversary celebrations in Twickenham. Dave briefly hooked up with Tom Leary, Graham Taylor and Jon Davie as Zeus, who made their live debut at Twickenham, with a studio album promised in 2010, but it never emerged.
See also Fire, King Earl Boogie Band, Lambert Cronk, Zeus
Back to main Related Bands and Artists page

Albums
Framed (Polydor, 1978)
Lambert Cronk: Touch The Earth (recorded 1981, released Witchwood Records, 2004)
Work In Progress (Witchwood Records, 2004)
Full album details and more album cover pictures on Album details page and Touch The Earth page.

Singles
Take A Little Bit Of My Life (Short Version)/Take A Little Bit Of My Life (Long Version) (Polydor PD 14554, 1979, promo 7")
Take A Little Bit Of My Life (Short Version)/Take A Little Bit Of My Life (Long Version) (Polydor PRO 085, 1979, promo 12")
Full singles details and pictures on Singles details page.