KING EARL BOOGIE BAND - TROUBLE AT MILL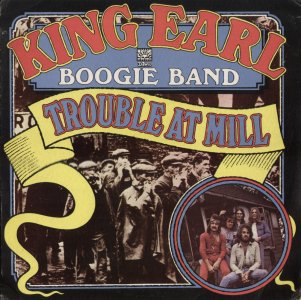 For large scans of the images, click on the images: you may need to use the zoom feature in your browser to see the full image.
Lambert had been playing folk gigs in 1971 with Cousins, at which one would play a song and then the other, who would have to work out a link between the two. When Lambert joined King Earl Boogie Band, the band formed out of Mungo Jerry after they split from Ray Dorset, Cousins was brought in to produce one of the first albums at Richard Branson's Manor studio (the next was Cousins' Two Weeks Last summer for which Lambert stayed around and not long after left King Earl and joined the Strawbs in late '72). Cousins plays banjo on "Going To German", but many of the tracks are Lambert-written, and well worth a listen for Strawbs fans. "Starlight" was a non-album single (later reissued on Lambert's Work In Progress CD, and a second single "Plastic Jesus" was, predictably, banned by the BBC.
The album includes Lambert's "Bovver Blues" which was included in gigs in the 1973 tour and reprised in Dave's solo set at Chiswick in 1998.
Back to main King Earl Boogie Band page
Back to main Dave Lambert albums page
Back to main Related Bands and Artists page

Tracks
Bad Storm Coming (Evans/O'Donnell/Collier)
Take Me Back (Lambert)
Live Your Own Life P. Mc. (Lambert)
Bovver Blues (Lambert)
Plastic Jesus (King)


If The Lord Don't Get You (Lambert)
Goin' To German (Trad. arr. King)
Keep Your Hands Off My Woman (Levy/Minter/Glover)
Go Down You Murderers (McColl)

Versions
UK vinyl
Europe vinyl
Asia Pacific vinyl
Cassette 8-track
CD

UK VINYL
UK release
DNLS 3040 (Dawn, 1972). Single sleeve with slight texturing, and some copies came with a great poster.
The band produced further albums in later years, but without Lambert's involvement.
Front and back cover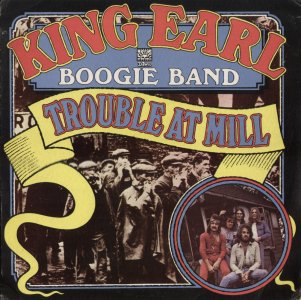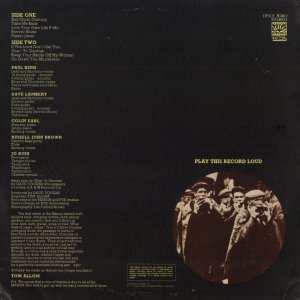 Labels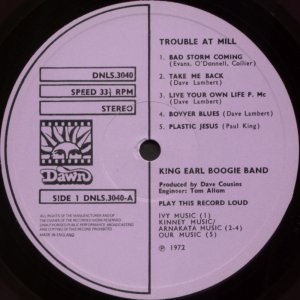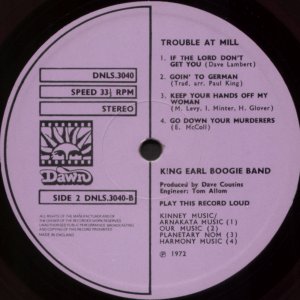 Poster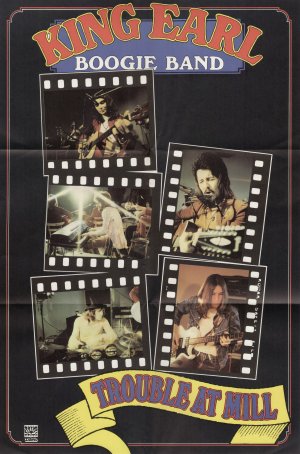 EUROPE VINYL
French release (*)
LDM 30.139 (Dawn, France, 1972). Also released in France. Anyone have one?

German release ??
Pye in Germany released "Starlight" with a picture sleeve - did they release the album?

ASIA PACIFIC VINYL
Australian release (*)
DNLS3040 (Astor, Australia, 1972). Was listed at www.mungojerry.nl/CollectionRoel.htm as being released in Australia (page appears to have gone as at Nov 2019, whilst owner rebuilds without Java). The single "Plastic Jesus " was released in Australia (Astor AP 1805). Anyone have one?

Japanese release (*)
Pye UPS-542-Y (Pye, Japan, 1972). Spotted on Ebay. Japan saw a single release "Bad Storm Coming"/"If The Lord Don't Get You". Anyone have a copy of the album?

CASSETTE/8-TRACK
UK cassette release
ZCDN 3040 (Dawn, 1972). Spotted online. Green cassette body, most likely produced on Dawn's behalf by Precision Tapes.
Cassette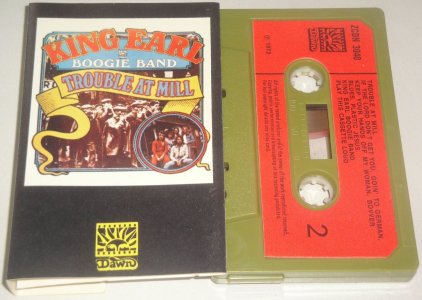 CD
CD reissue of Paul King album/Trouble at T'Mill
SEECD 429 (See For Miles,). CD insert is folded 4 times ie 10pp, 5 on each side. Great sleeve notes. Paul King's album was produced by Paul Brett (who also plays on several tracks), who had played with Velvet Opera and guested with Strawbs on Dragonfly. Lambert provides harmony vocals on "Sugarcane" anfd Bob Voice, Fire's drummer appears on several tracks.
Insert outer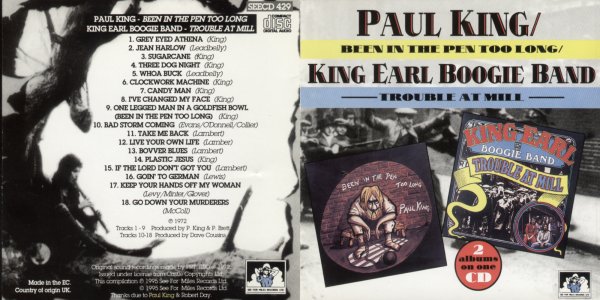 Insert inner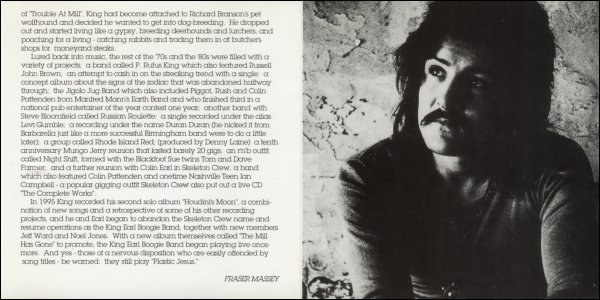 Tray back and CD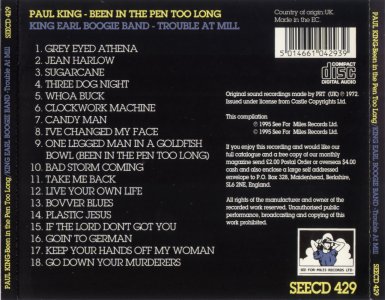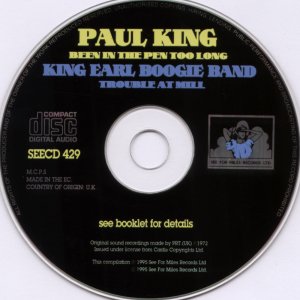 Back to main King Earl Boogie Band page
Back to main Dave Lambert albums page
Back to main Related Bands and Artists page