THE MONKS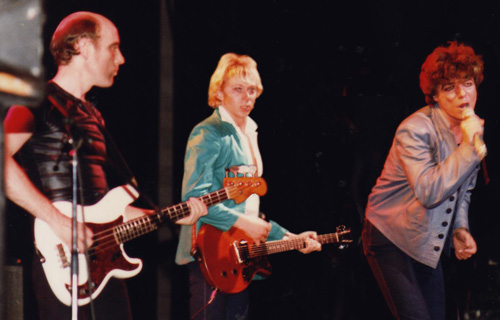 As punk wiped out many of the progressive acts of the early and mid 70s, Hudson, Ford and Terry Cassidy combined together with Clive Pearce on drums (Hud was then playing bass, leaving John free to play guitar) to produce 1979 album Bad Habits as The Monks. The album spawned a surprise no 19 hit with single "Nice Legs, Shame About The Face". They carried on the psuedo-punk format of the Monks for a follow up album which wasn't released in the UK, Suspended Animation with the addition of Brian Willoughby on guitar and Chris Parren on keyboards.
The band were huge in Canada, playing stadium gigs as big as the Strawbs ever achieved; Suspended Animation went Gold and Bad Habits went Platinum in Canada. They went on to dabble with 1930s style music as High Society.
The CD re-release of Suspended Animation by Cyberdisk (Hud and Terry's own label) includes 6 bonus tracks, recorded for a third album, but never before released, by Hudson, Ford and Cassidy - Huw Gower guests on one track on lead guitar. The album also had a CD reissue on Angel Air.
In 2023 Cherry Red are set to release No Shame - The Complete Recordings,, a 2CD compilation of the released albums including the Cyberdisk bonus tracks and a number of other previously unreleased tracks.
In 2012, Canadian musician Thomas D'Arcy organized The Monk's Bad Habits Tribute, a tribute concert to the band, at Toronto's Horseshoe Tavern. D'Arcy performed alongside a lineup of Canadian musicians, including Chris Colohan, John Kastner, Ian Blurton, Kurt Dahle, Ryan Dahle and Chris Murphy, performing tracks from Bad Habits; at this show, Ford was presented with his double platinum certification plaque for the album's Canadian sales. All of the musicians involved in the show, including Ford, also participated in the recording of a track-by-track tribute album, A Tribute to the Monks, which was distributed as a free download from D'Arcy's website.

There's a history of the Monks on Darcy's website at http://thomasdarcymusic.com/monkscovers/index.html.
See also: Hudson Ford, John Ford; High Society, Velvet Opera, Jaymes Fenda and the Vulcanes, Hud - The Actor, Hud's First Band!, The GBs, The Good Old Boys