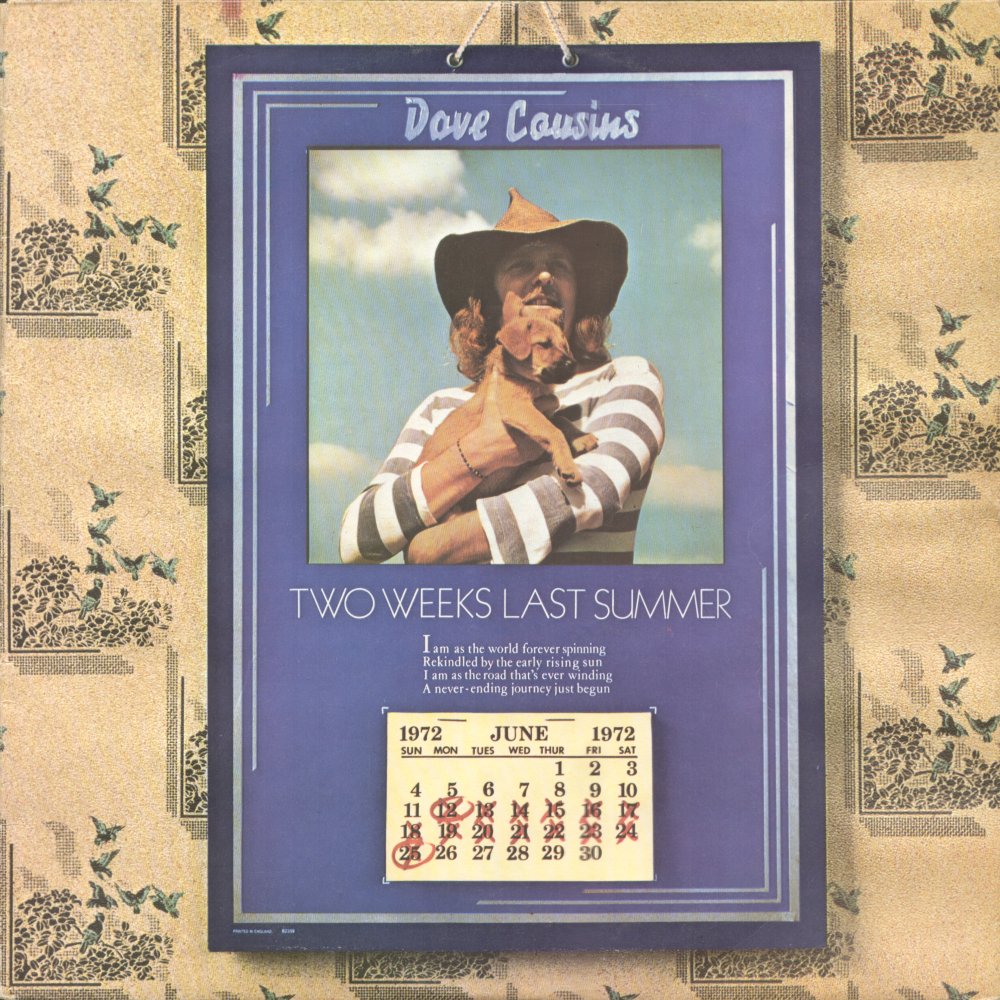 DAVE COUSINS: TWO WEEKS LAST SUMMER, 1972
UK release date: 6 Oct 1972
Between Grave New World and Bursting At The Seams, Dave slipped away to make his long promised solo album.
Surrounding himself with rock musicians, including Dave Lambert who would shortly join the band, and some really big names from the rock world such as Roger Glover from Deep Purple and Jon Hiseman from Colosseum, he made an album which easily stands alongside the pick of the Strawbs' releases.
Whilst the songs on the album are to some extent songs which never quite made it onto earlier albums, that was certainly not for reasons relating to their quality - some are Cousins classics: the title track, "October To May" and "We'll Meet Again Sometime". Other highlights are the superb "Blue Angel" suite, "The Actor" and "Ways And Means".
A sign of Cousins' increasingly rock-oriented aspirations, the out and out rocker "Going Home" was recorded intially with Dave Lambert's vocals, but Cousins replaced them with his own and released it as a single.
Two Weeks finally came out on CD in 2003. Since then there have been several Japanese CD releases.
Musicians
Dave Cousins (vcls, gtrs, pno, "tinklies")
Dave Lambert (gtrs, vcls)
Miller Anderson (ld gtrs, slide gtr)
Jon Hiseman (drms, perc)
Roger Glover (bs)
Tom Allom, Rick Wakeman (kybds)
Dave Lambert, Tom Allom, Tom Newman (bck vcls)


Track listing
Two Weeks Last Summer (Cousins)
October To May (Cousins)
Blue Angel (Cousins)
That's The Way It Ends (including The World) (Cousins)


The Actor (Cousins)
When You Were A Child (Cousins)
Ways And Means (Cousins)
We'll Meet Again Sometime (Cousins)
Going Home (Cousins)
Bonus tracks on Media Arte CD (2005), Airmail CD (2013)
The Actor (alternate mix) (Cousins)
See How They Run (Cousins/Lambert)
Bonus tracks on Esoteric 2019 extended edition release
The Actor (alternate mix) (Cousins)
Ways And Means (alternate take) (Cousins)
I've Been My Own Worst Friend (Cousins)
See How They Run (1972 demo with Dave Lambert) (Cousins/Lambert)
The Rip Off Blues (1972 demo) (Cousins)
Sleeve Notes
Produced by Dave Cousins and Tom Allom
Engineered by Tom Allom
Recorded Two weeks this summer at The Manor, Kidlington, Oxford – June 1972

Sleeve design
Art direction Mike Doud
Cover design Mike Doud and John Kosh

Other information
All works written and composed by Dave Cousins
October to May Is performed with the Kidlington Kossacs
The World and Are performed with Robert Kirby's Wind Septet
That's the way it ends

Miller Anderson appears by courtesy of Decca Records. Roger Glover appears by courtesy of Purple Records. Jon Hiseman appears by courtesy of Bronze Records

The front cover contains the following verse :

"I am as the world forever spinning
Rekindled by the early rising sun
I am as the road that's ever winding
A never-ending journey just begun"

A & M Records Ltd 1-2 St. George Street, London. W1R 9DG. Distributed by Pye Records (Sales) Ltd

(Information provided from 8 track stereo tape reference Y8AM 68118 and CD)

Produced by Dave Cousins and Tom Allom

Engineered by Tom Allom

Recorded at The Manor, Kidlington, Oxford – June 1972

Other information

All works written and composed by Dave Cousins

October to May Is performed with the Kidlington Kossacs

The World and Are performed with Robert Kirby's Wind Septet
That's the way it ends

Going Home acknowledges 'Lampoon'

All tracks on the 8 track stereo tape are published by Summerland songs
All tracks on the CD are published by Old School Songs / SGO music

Tape manufactured and distributed by Precision tapes Ltd. A.T.V.HouseGreat Cumberland Place, London W 1
Charts
UK Chart: not placed
US Chart: not released
---