GRAVE NEW WORLD, 1972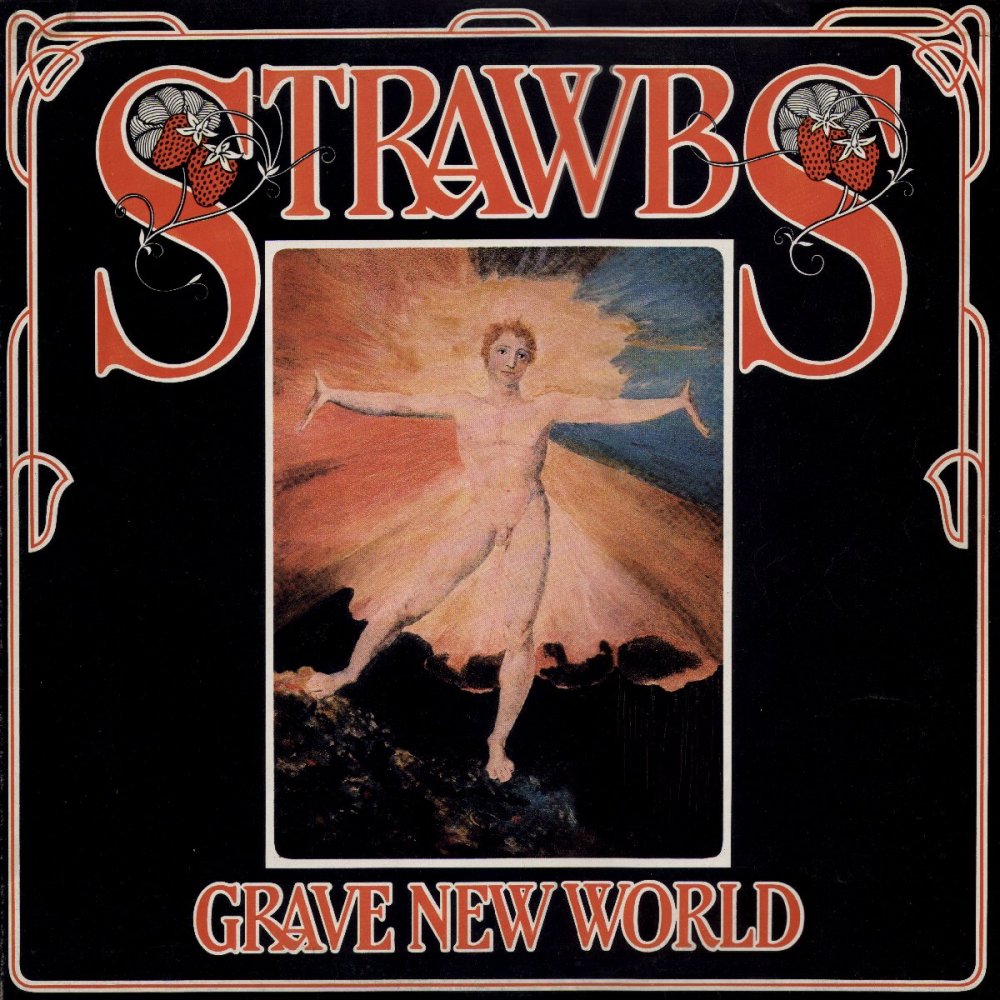 Release date: 4 Feb 1972
After Rick Wakeman's departure, the Strawbs regrouped, recruiting keyboard player Blue Weaver, previously featured in pop group Amen Corner, and latterly its progressive offshoot Fairweather (which had nevertheless landed a number 1 single with "Natural Sinner"). Blue was said to be more of a group player than a soloist, and the band set about rehearsing and roughing out new material.
There was increasing showmanship as well - the first major gig played by this line-up on 31 October 1971, at the Shaw Theatre in London's Euston Road, included ballet dancers and a mime artist Tony Crerar, giving the audience a multimedia experience. Most of the forthcoming album was played that night and guests were handed a printed poster/luyric sheet by way of a program. Support was Jonathan Kelly who would join them on the following Jan Feb tour.
Grave New World is the favourite album of many a Strawbs fan, a perfect mix of the band's folk-based heritage with Dave Cousins' growing interest in the rock world. A loosely conceptual album, it contains many of the Strawbs' best known songs: "New World", "Benedictus" and "Heavy Disguise", all of which were released as singles round the world. It was also Strawbs' biggest selling album in the UK (though not the highest chart position they ever achieved).
It was the first Strawbs album I ever bought - for £2.15 by mail order - I remember even now taking it out of the cardboard and enjoying the lavish packaging - surely this was what vinyl albums were all about ....
Musicians
Dave Cousins (vcls, ac/el gtrs, dulcimer, recorder)
Tony Hooper (vcls, ac gtrs, autoharp, tamb)
Richard Hudson (drms, sitar, tablas, vcls)
John Ford (bs, vcls, ac gtr)
Blue Weaver (org, pno, Mell, harm, clavioline)


Track listing
Benedictus (Cousins)
Hey Little Man ... Thursday's Child (Cousins)
Queen Of Dreams (Cousins)
Heavy Disguise (Ford)
New World (Cousins)
Hey Little Man ... Wednesday's Child (Cousins)


The Flower And The Young Man (Cousins)
Tomorrow (Strawbs)
On Growing Older (Cousins)
Ah Me, Ah My (Hooper)
Is It Today Lord (Hudson)
The Journey's End (Cousins)

Bonus tracks - Universal 1998 and 2018 re-issues

Here It Comes (Strawbs A-side, post GNW)
I'm Going Home (Dave Cousins solo A-side
From Two Weeks Last Summer (where it is listed as "Going Home"), but features Hud, John, Blue and Dave Lambert backing Cousins
Sleeve Notes
Produced by David Cousins, Richard Hudson, John Ford, Blue Weaver and Tony Hooper

Special thanks are due to :
Tom Allom For creative engineering
Martin Levan Assistant engineer with many good ideas
Bob Kirby for dotting perfect quavers
Sam Artis for musicians 'par excellence'
Gus Dudgeon for originally producing 'Ah me, ah my'
Frank Boulter for always getting us home safely
Dickie Bell for angle taping, equipment and tea
Tony Visconti who will surely be blessed for producing 'Benendictus', and for his musical vibrations, and hard work in the past.
And also Mike Dolan, Jim Dawson, Karl Emil Knudsen

Recorded mainly at Morgan Studios in November 1971, but also at Island Studios (engineer: Frank Owen) and Lansdowne Studios (engineer: John Mackswith)

Sleeve design
Sleeve The front cover 'Glad Day' William Blake (British Museum)
Inner sleeve illustrations/booklet design: Paper Tiger
Printed and made by MacNeill Press Ltd. London SE 1

Other information
A & M Records and tapes address is listed as 1/2 George Street London
The disc is contained in a 3 flap folding sleeve which carries the following texts:
"'AS A MAN OF DISCERNMENT STANDING ON A ROCKY EMINENCE, BEHOLDETH THOSE WHO ARE BELOW AND IN DISTRESS so doth the sage, who by his wakefulness hath put to flight his ignorance, look down upon suffering mankind from the Heights of Wisdom which he hath attained' - The Buddha"

"'THOU HAST HEARD WITH THINE EARS AND THOU HAST SEEN WITH THINE EYES. Millions of years have gone over the world; I cannot tell the number of them, through which thou hast passed. Thy heart hath decreed a day of happiness in thy name. Thou dost pass over and travellest through untold spaces of millions and hundreds of thousands of years; thou settest out in peace, and thou steerest thy way across the watery abyss to the place which thou lovest; this thou doest in one little moment of time, and thou dost sink down and makest an end of the hours' – Extract from 'A hymn of praise to Ra when he riseth in the Eastern part of Heaven.'"
Charts
UK Chart: 11
US Chart: ##
---