BENEDICTUS
A&M, 1971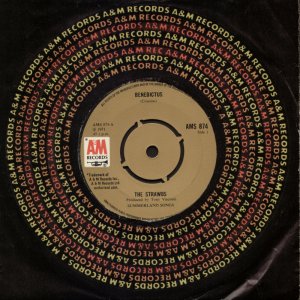 Release date: 19 Nov 1971 (UK)
UK vinyl
US/Canada vinyl
Asia Pacific
After Rick Wakeman's departure and his replacement by Blue Weaver, fresh from Amen Corner and (most recently) Andy Fairweather-Low's follow-up wannabe progressive outfit Fairweather (which nevertheless found itself with a number 1 hit single "Natural Sinner"), Strawbs hit the studio to produce a single. The story goes: Dave Cousins was getting into the I-Ching (influenced by Tony Visconti, who was the producer of this track, though not the rest of Grave New World), threw the dice to seek guidance as to what the band should do post-Wakeman and found the word of the chorus to the song (though he's never been able to find it again in the book).
"Benedictus" is one of the Strawbs' trademark songs, with the electric dulcimer through fuzzbox solo still a welcome part of the live set when it emerges (these days as a partly accapella dulcimer-free version).
Back to main 1968 to mid-1972 singles page

UK Release
"Benedictus"/"Keep The Devil Outside"
(AMS 874, A&M, 1971) UK release
The B-side was rescued from the withdrawn Witchwood single - but now mis-credited to (Hudson/Ford), when it fact it is a John Ford-written song.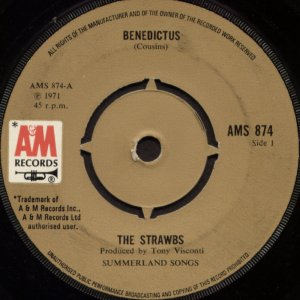 UK promo release ?
Not known whether there was ever a UK promo release for this, or the next UK single "Here It Comes". There was one for all four previous UK singles "Oh She Changed", "The Man Who Called Himself Jesus","Forever" and even the subsequently withdrawn "Witchwood", so it seems odd not to have one for this release. Anyone seen one?

US/Canada vinyl
US and Canada releases
The US release was initially posted here, but "Benedictus" is now thought to have been the B-side of both the Canadian & US release, which featured John Ford's "Heavy Disguise" as the A-side.

Asia Pacific vinyl
Japanese release
"Benedictus" also appeared as the B-side of the Japanese release of "New World".