OH HOW SHE CHANGED/OR AM I DREAMING
A&M, 1968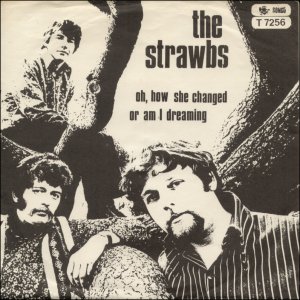 Release date: 18 Jun 1968 (US); 21 Jun 1968 (UK)
UK vinyl
US vinyl
Canada vinyl
Europe vinyl
Asia Pacific vinyl
NOTE: Whilst A&M UK and Sonet in Denmark had "Oh How She Changed" as the A-side, Canada, the US and Australia definitely flipped this to "Or Am I Dreaming". All these releases are listed on this page.
The A&M release sheet for the single noted that it was also to be released in "Australia, New Zealand, Japan, The Philippines, Scandinavia, Venezuela, Argentina, Brazil, Canada, USA, Spain, South Africa". This may have been a list of A&M key territories, rather than a "real" list of intended releases - certainly no sign so far has emerged of copies from New Zealand, The Philippines, Venezuela, Argentina (though "Jesus" was released there), Brazil, Spain or South Africa. But I'm vigilant ....
NB for a 1969 Japanese 45 "Oh How She Changed"/"The Man Who Called Himself Jesus", see here.
Background
"Oh How She Changed" was the Strawbs first single release. Dave Cousins had been trying to place the tapes that had been recorded with Sandy Denny in Copenhagen. At some point, Polydor agreed to release the tapes, and although this seemed a bit stupid to the band, now that Sandy was no longer with them, they agreed. However Polydor wanted a single with which to promote the album. The Strawbs went into the studio and cut "Oh How She Changed" and "Or Am I Dreaming" with Gus Dudgeon as the recording engineer. Cousins recalled:
"And living downstairs from Tony Hooper was Gus Dudgeon, and he was still an engineer at that time for Decca, and he'd just done his first production which was Ralph McTell's first album, and he's used Tony Visconti doing the arrangements, and we were very impressed with this and Tony said I think this is the ideal bloke for us. So we went to see him and played him the songs and he said I need another verse for 'Oh How She Changed', 'Or Am I Dreaming' was decided on as the other side. We recorded it and everybody went wild about it. They thought it sounded beautiful - it was totally original and sounded different. Listening to it the other day ... it was a very different sort of sound for its time."
However, somewhere along the way, Polydor decided against releasing the album or the single. Cousins continued to try to place the tapes without success, including sending to Chris Blackwell of Island.
However, meanwhile Karl sent copies of the tapes to Dave Hubert at A&M Records in Los Angeles. A&M liked the tapes and, despite having been turned away by Pye (the UK label which distributed A&M material at first), the Strawbs became the first UK act to be signed to A&M. Cousins recalled: "And then we got an offer from A&M of $15,000 which was a colossal sum in those days."
The band were actually signed to Sonet, and then had a licensing deal with A&M in the US. Cousins recalled that when they visited the Pye offices, everyone assumed that they were American!
"... the records were coming out on Pye and Pye in London thought we were an American group and they couldn't understand how we suddenly turned up on the doorstep, they said "But you're on the West Coast of America", and we said "No we're not, we're English". So the records were going from Denmark to America and then back to England which was a very peculiar way of releasing them."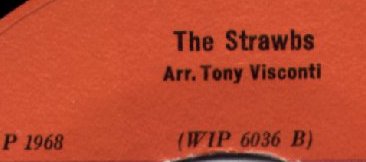 The label of the Sonet release includes an Island Records catalogue number WIP 6036: later single releases have included the relevant A&M label number - e.g. Lay Down, AMS 7035, so it seems reasonable to conclude that at the time Sonet put the first single out, they thought it would be on Island in the UK. It has been written that Chris Blackwell had agreed to release the record on Island Records, but when A&M offered a higher advance, stood back to let the Strawbs take the A&M money. However Cousins writes in his autobiography that in fact, though Pye was the distributor of A&M at that time, A&M were then undecided as to whether to release its own UK product, or move to Island, hence the Island number.
With a recording contract signed and sealed, the Strawbs were ready to go into the studio. First of all, however, the two tracks they recorded in order to get Polydor interested were released by A&M as a single. "Oh How She Changed" b/w "Or Am I Dreaming" was released as AMS 725 on June 21, 1968 according to the date on UK promo copies. A&M had not yet adopted the familiar (and attractive) black single sleeve with multi-coloured lettering, and promo copies of this item landed on journalists desk in a plain blue Pye Records sleeve. There wasn't much information on the UK promo, other than the writing credits.
The US promo, A&M 944, which was released a few days earlier on 18 June, got the writing credits wrong, ascribing "Oh How She Changed" to Cousins alone, but it did add the producer/arranger credits for Gus Dudgeon and Tony Visconti respectively. It may be the case, both with the US and Canadian releases, that "Or Am I Dreaming" became the a-side.
"Oh How She Changed" was essentially a pop song, an ideal first single, albeit influenced by the Young Tradition's harmonies, a band which Cousins and Hooper admired. The release of the single started to get the Strawbs noticed. According to 1977 promotional material, it was the success of the single which decided the band to turn professional, and they acquired a manager, Tony Hall, who, amongst other things suggested that they adopt shaggy hairstyles and wear the sheepskin coats in which they appear on the back cover of their first album.
The single was a minor hit in Australia, but "that was about the only place it sold", remarked Cousins wryly in a later interview. Back in the UK, the band played on a Southern TV show with Tony Blackburn, who at that time was a singer rather than a DJ and the single was David Symonds' record of the week.
Back to main 1968 to mid-1972 singles page

UK vinyl
"Oh How She Changed"/"Or Am I Dreaming"
(UK Emidisc acetate 1968) (*)
Spotted online.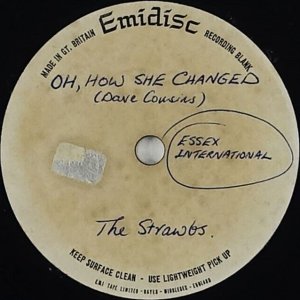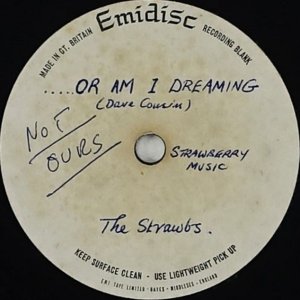 UK vinyl
"Oh How She Changed"/"Or Am I Dreaming"
(AMS 725, A&M, 1968)
UK release date: 21 Jun 1968
UK promo release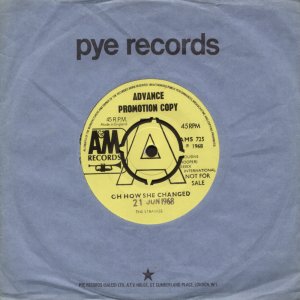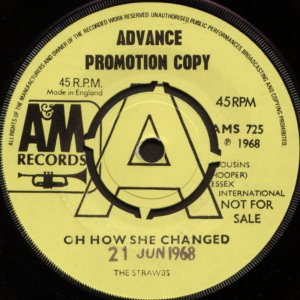 UK release
Received this Oct 2014 - interesting to see that the label printing is completely different (usually promos were just the same printing except on a white background). No idea what sort of sleeve this might have come in. The promo was in a Pye sleeve (Pye were A&M's distributors at that point), but it's possible (though not likely) that it might have come in an A&M white ring or black ring sleeve. Anybody out there know ?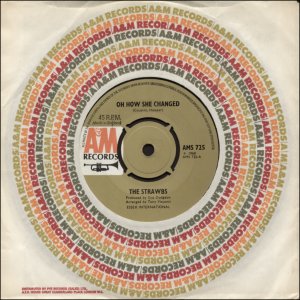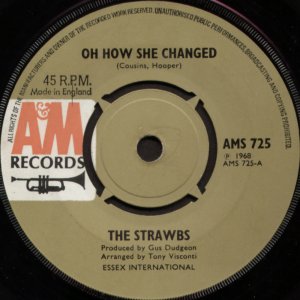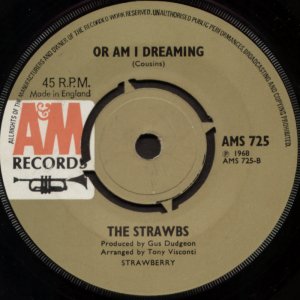 US vinyl
"Or Am I Dreaming"/"Oh How She Changed"
(AM 944, A&M)
US release date: 18 Jun 1968
US release
Variant release spotted online. Very subtle differences between the two labels - but looking closely, slightly different typography is used.
Variant 1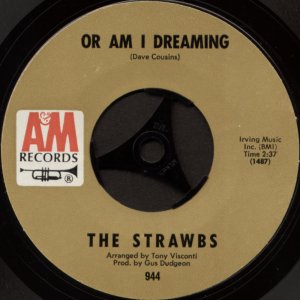 Variant 2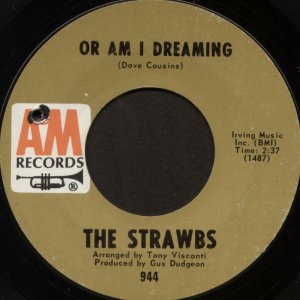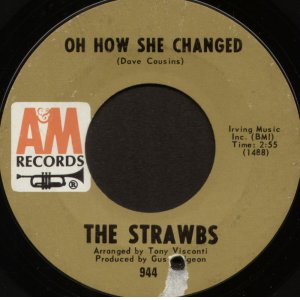 US Promo release
In the States, there was a promotional version of the single, most of which seem to have the date of release clearly stamped on them - June 18, 1968, a couple of days earlier than the UK issue. "Or Am I Dreaming" (1487 on the label) was picked as the A-side in the US rather than "Oh How She Changed" (1488). The lower number is the designated A-side.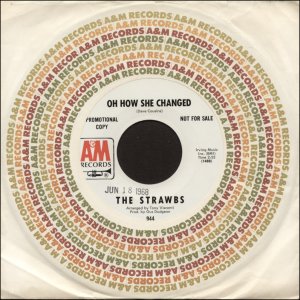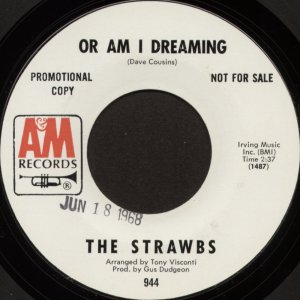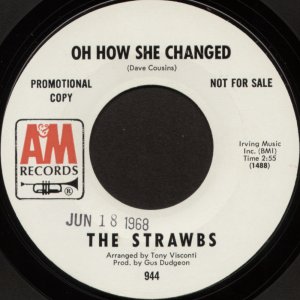 Just to dispel any doubt - found online, a pic of the promo with a sticker: "This side please".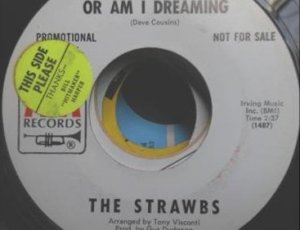 Canada vinyl
"Or Am I Dreaming"/"Oh How She Changed"
(A&M 944X, A&M/Quality, Canada)
Release date: 1968?
Canadian release
Brown A&M label release. Manufactured by Quality Records. Absolutely clear here that "Or Am I Dreaming" was Side 1 in Canada.
Wikipedia confirms: Quality Records was a Canadian entertainment company which released music albums in Canada on behalf of American record labels, and also released recordings by Canadian artists. The company operated between 1950 and 1985, and from 1990 to 1997.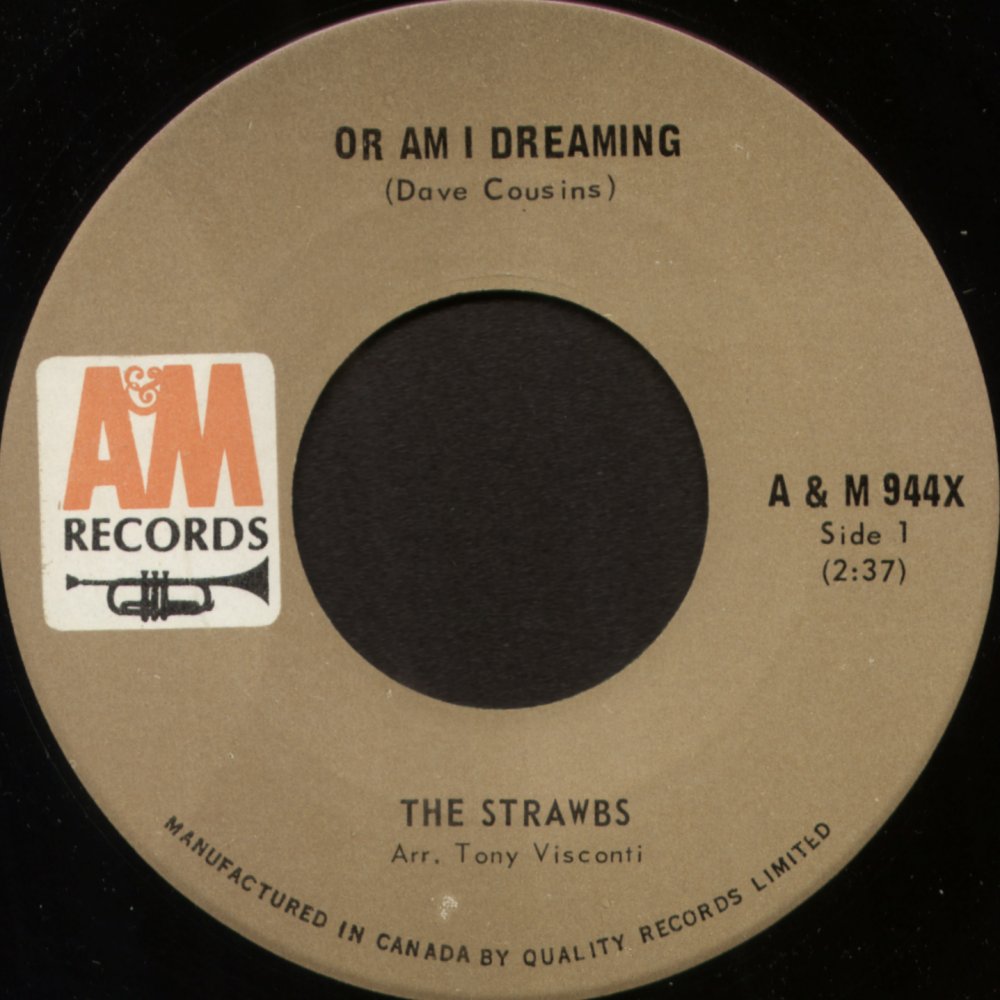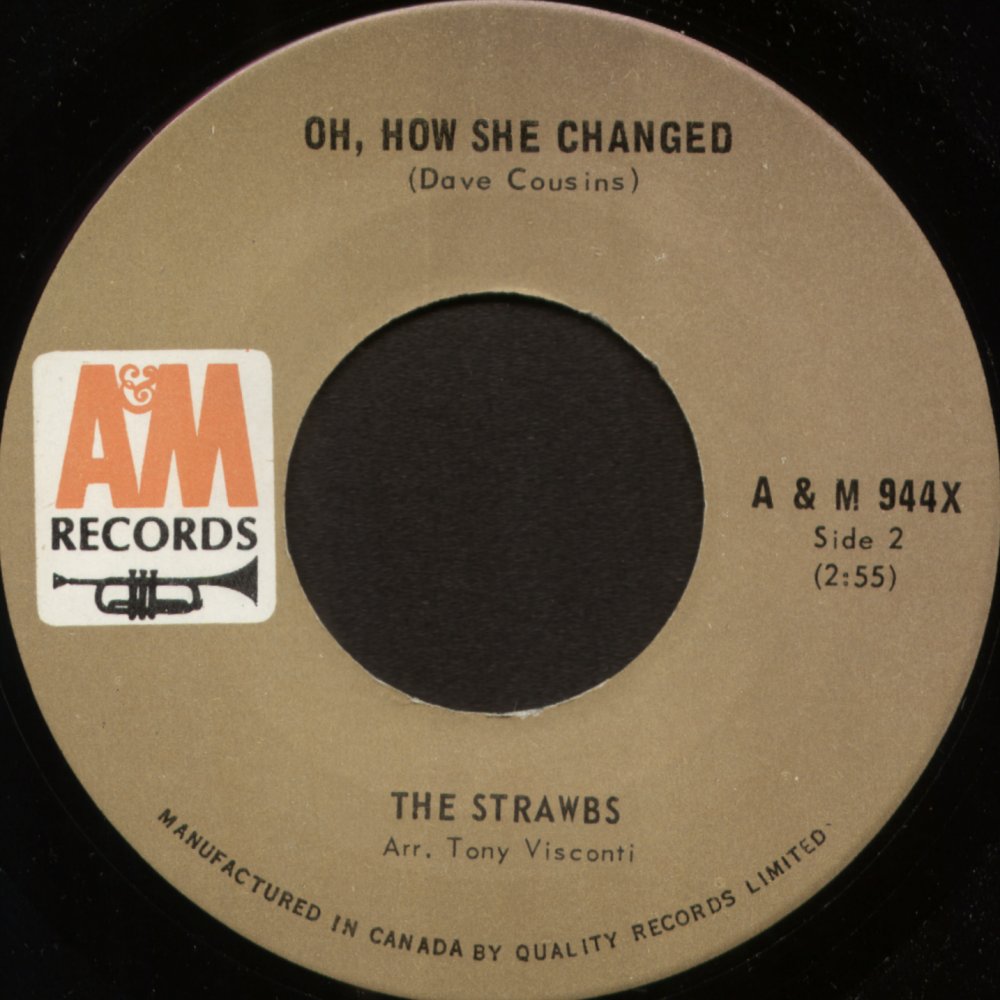 Europe vinyl
"Oh How She Changed"/"Or Am I Dreaming"
(T 7256, Sonet)
Release Date: 1968
Danish Sonet release
The Sonet release came in a nice wraparound paper sleeve, same picture on both sides.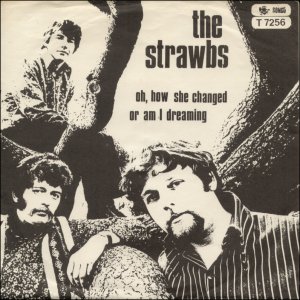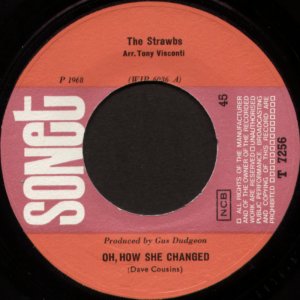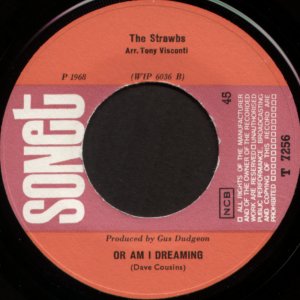 Asia Pacific vinyl
"Or Am I Dreaming"/"Oh How She Changed"
(A&M/Festival AMK-2401)
Release Date: 1968
Australian release (*)
The single was released in Australia and apparently became a minor hit there. ("Or Am I Dreaming" was the A-side (like the US version, the track number for "Or Am I Dreaming" (MX27557) is lower than "Oh How She Changed" (MX27558))
Details appear on the Festival Records discography at http://www.globaldogproductions.info/a/a-and-m-oz-main-festival-series.html.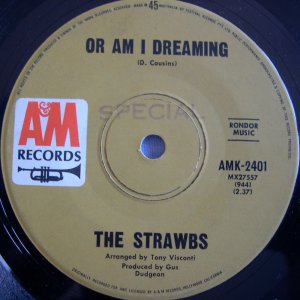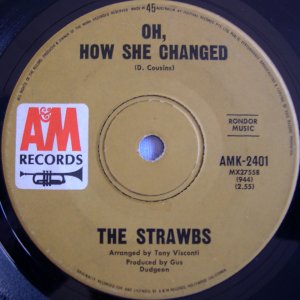 Australian promo release (*)
There was a simple promo sleeve and the stadard pressing has a sticker "sample record" applied.