JUST A COLLECTION OF ANTIQUES AND CURIOS, 1970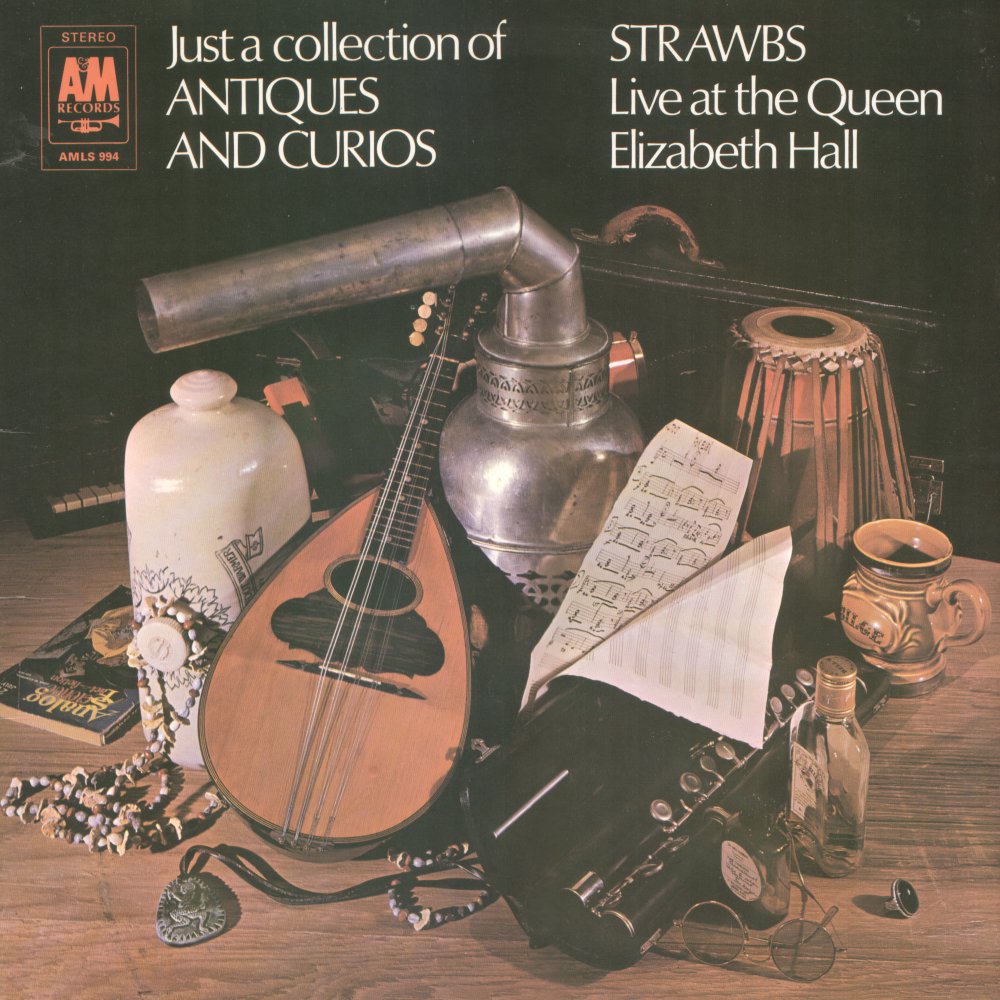 Release date: 23 Oct 1970
After Dragonfly failed to achieve commercial success, Cousins and Hooper were examining their options, which didn't really include a double bass. Ron Chesterman decided to leave, and Lyndsay Cooper who had initiallly joined to replace Claire Deniz on cello, switched briefly to string bass. Cousins and Hooper decided to go for broke. Recruiting Rick Wakeman, who had played on "The Vision Of The Lady Of The Lake" and who had also played some BBC sessions with them (notably "The Battle"), they took him to Paris (he spent his honeymoon there!) to play at the Rock'n'Roll Circus. That line-up played a Granada TV show. Not long after their return, the final piece of the jigsaw - the rhythm section of the Velvet Opera, John Ford and Richard Hudson, replaced Lyndsay Cooper. The group was now an electric outfit.
After a brief tour with Roy Harper to work in the new numbers, they were scheduled to headline a showcase concert at London's Queen Elizabeth Hall in July 1970. They also succeeded in electrifying the audience and the music press and Wakeman was acclaimed as a keyboard genius, with a headline on the front page of Melody Maker "Tomorrow's Superstar". The live concert was recorded for this release, the band's first release in North America, despite misgivings by A&M US about starting in America with a live album. It was also released in many other territories, and marked the Strawbs' arrival as a global concern.

Musicians
Dave Cousins (vcls, ac/el gtrs, dulcimer)
Tony Hooper (vcls, ac gtrs, tamb)
Rick Wakeman (org, pno, harpsichord, celeste)
Richard Hudson (congas, perc, sitar, vcls)
John Ford (bs, vcls)


Track listing
Martin Luther King's Dream (Cousins)
The antique Suite (Cousins)
Temperament of Mind (Wakeman)


Fingertips (Cousins)
Song Of A Sad Little Girl (Cousins)
Where Is This Dream Of Your Youth (Cousins)

Bonus tracks, Universal CD release, 1998, and Universal Japan 2019 SHM CD release

The Vision Of The Lady Of The Lake (live, hitherto unreleased)
We'll Meet Again Sometime (live, from B-side of withdrawn Witchwood single)
Forever (studio version, A-side of single, also included on "By Choice")
NB "Forever" appears on the Universal 1998 CD only - it was included on the 2008 CD reissue of Dragonfly, so it appears on the 2018 CD of that title instead.
Sleeve notes
Produced by Tony Visconti
Recorded by Bob Auger of Granada recordings
Mixed by Tony Visconti at Trident studios
Recorded Live at the Queen Elizabeth Hall London 11th July 1970

Sleeve design

Design Roger Saunders
Art direction Roger Saunders
Printed by MacNeil Press Limited
Photographs Ken Palmer

Other information
The sleeve carries a note of thanks to the audience.
Charts
UK Chart: 27
US Chart: not placed