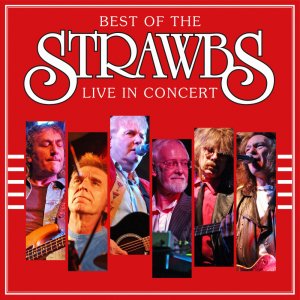 BEST OF THE STRAWBS LIVE IN CONCERT (CrestLP10, Oct 2020)
This is a selection from the recordings of the 2006 show at the Robin 2 in Bilston in 2006, which featured the classic electric Hero And Heroine/Ghostsline-up at a stellar show, with special guest John Ford who joined them for an acoustic show within a show and for the anthemic encore "Part Of The Union".
It's released on vinyl alongside a 2CD/1DVD reissue of the original release by Secret Records/Films in 2008. See: Best Of Live page and the original CD release page and the original DVD release page.
|
Musicians
David Cousins: vocals, guitar, banjo
Dave Lambert: lead guitar, vocals
John Hawken: keyboards
Chas Cronk: bass, vocals
Rod Coombes: drums
Special Guest: John Ford: vocals, guitar

Track listing
Lay Down
I Only Want My Love To Grow In You
Shine On Silver Sun
Ghosts
Round And Round
Just Love
Autumn
Hero And Heroine
Round And Round reprise
Part Of The Union
---