HERO AND HEROINE, 1974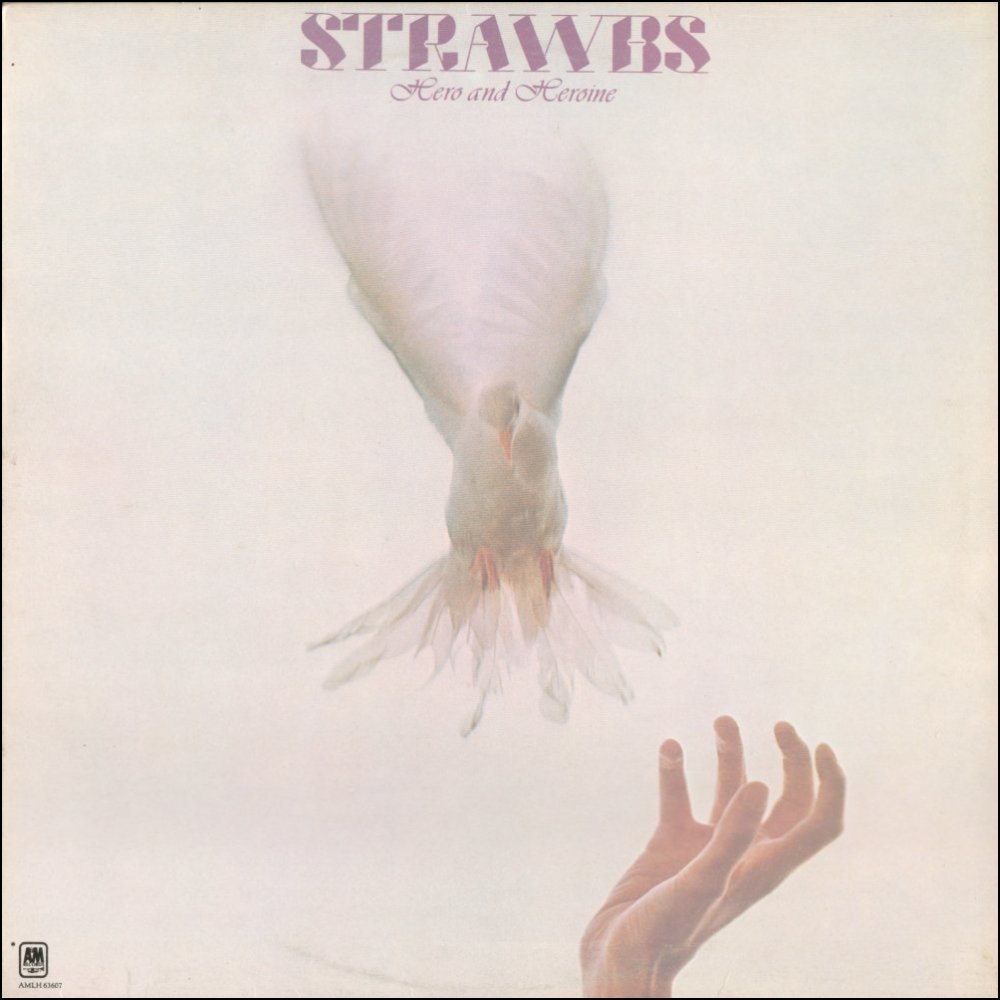 Release date: 5 Apr 1974
After the break up of the Bursting line-up, Dave Cousins and Dave Lambert recruited a new band around them, bringing in Rod Coombes from Stealers' Wheel and Chas Cronk from sessions work. John Hawken after leaving Renaissance had played with a number of bands including Spooky Tooth, Vinegar Joe, and Third World War. For more on the backgtound to the new line-up see the feature Strawbs - The New Crop".
They quickly released a taster single, "Shine On Silver Sun", but, despite a showing on Top Of The Pops, their UK singles chart spree was over; the following album, released in the UK in early 1974, shortly after its release in North America, was a blueprint for things to come - bleak, harsh lyrics reflecting Cousins' then-current state of mind, increasingly electronic/progressive instrumentation and a concentration on the North American/Canadian market, where it sold hugely well, rather than the UK homeland. UK live work too dropped away - the 1974 UK tour to promote the album didn't prove as popular as 1973's monster effort - pop fans recruited on the back of "Part Of The Union" were taken aback by Cousins' harder approach. The fickle UK music press also contributed. The result was that, apart from a few gigs in late 1975, the band would not tour in the UK again till late 1976. The focus was now on clearly on North America, with increasingly lengthy tours.
The album was one of the Strawbs' biggest selling albums worldwide and achieved gold album status in Canada. It was voted to be one of the Top 50 prog albums by Rolling Stone magazine.
Musicians
Dave Cousins (vcls, ac/el gtrs)
Dave Lambert (vcls, ac/el gtrs)
John Hawken (pno, el pno, org, Mell, synth)
Chas Cronk (bs, synth, vcls)
Rod Coombes (drms, perc, vcls)


Track listing
Autumn: Heroine's Theme; Deep Summer's Sleep; (Hold On To Me) The Winter Long (Hawken)/(Cousins)/(Cousins)
Sad Young Man (Coombes)
Just Love (Lambert)
Shine On Silver Sun (Cousins)


Hero And Heroine (Cousins)
Midnight Sun (Cronk/Cousins)
Out In The Cold (Cousins)
Round And Round (Cousins)
Lay A Little Light On Me (Cousins)
Hero's Theme (Lambert)


Bonus tracks, Universal CD 1998, Japanese 2002 CD releases
Still Small Voice (hitherto unreleased)
Lay A Little Light On Me (early version)
Bonus tracks, Universal Japan 2019 SHM CD release
Lay A Little Light On Me (early version)
Why And Wherefore
The 2008 CD release of Nomadness included "Still Small Voice", as was also the case for the 2019 Japanese SHM CD release, so to avoid duplication "Why And Wherefore" (which had only ever appeared on Halcyon Days UK Edition) was substituted here.
Sleeve Notes
Produced by Dave Cousins and Tom Allom
Engineering Tom Allom and Freddy Hansson
Recorded at Rosenberg Studios, Copenhagen in November 1973

Sleeve information
Sleeve printed and made in England by MacNeill Press Ltd London SE 1
Art Director Michael Doud (London)
Photography Tony Evans

Other sleeve information
A & M Records Ltd address quoted as A & M House, 136/138 New Kings Road, London SW6 4LZ

The sleeve carries the following verse :
While storm clouds gathered high above
The Heroine he grew to love
Turned slowly to a snow white dove
And spread her wings to fly
Crushed and broken in the end
Hero watched his soul ascend
Knowing that he was condemned
To sail all alone to die
Charts
UK Chart: 35
US Chart: 94