NOMADNESS, 1975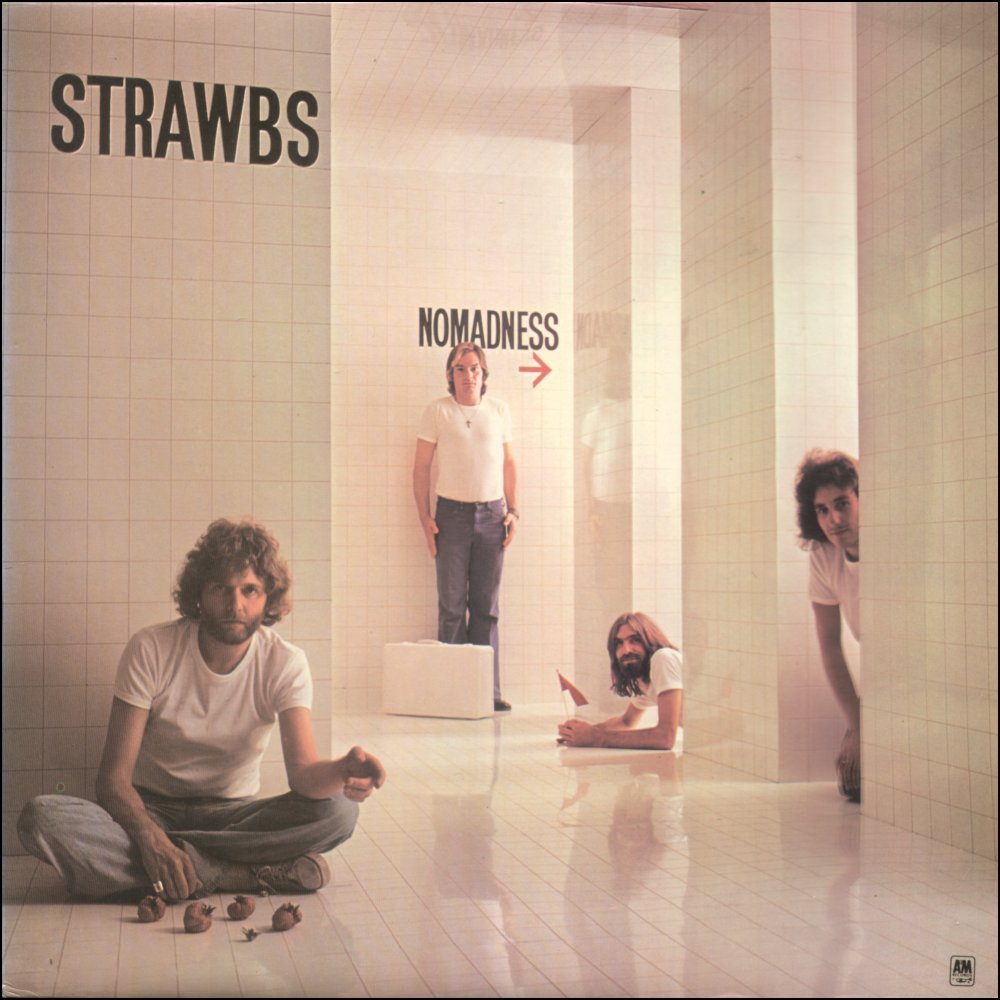 Release date: Sep 1975. (Strong's Great Rock Discography lists as Nov 1975.)
What was to be the Strawbs' last studio album for A&M Records saw them turn away from the big keyboard sound that had characterised the last few albums (they'd just lost John Hawken who was not replaced by a full-time keyboard player - Andy Richards - until 1978) and adopt a lighter touch. There's no focal point, no epic as with previous offerings. Nevertheless, although perhaps a little disjointed, Nomadness is full of different shades and textures - Cousins even picked up the dulcimer again for "The Golden Salamander" and there are a few classic Strawbs tracks which deserve more prominence - "Hanging In The Gallery" in particular.
Various keyboard players guested, including a returning Rick Wakeman, who played on "Tokyo Rosie" (in various stages of undress so we are told), and jazz pianist John Mealing who later became one of the two permanent session men with Robert Kirby for the Oyster period.
The album did far less well in the US than the previous two, possibly A&M losing interest owing to the band's imminent departure (there was no real attempt at a single - "Little Sleepy", a good Lambert rocker, was released in the US and Portugal).
The Universal re-issue of this (release date: 5 Aug 2008) contains two bonus tracks - see reviews page for more details.
Musicians
Dave Cousins (vcls, ac gtrs, dulc, bnjo)
Dave Lambert (vcls, el/ac gtrs)
Chas Cronk (bs, vcls)
Rod Coombes (drms, ac gtr, vcls)

With:
Rick Wakeman (el harpsichord)
John Mealing (org, el pno, pno)
Jack Emblow (accordian)
Tom Allom (cymbalum)
Tony Carr (congas)
Tommy Eyre (pno, clavinet, synth)
John Lumley-Savile (synth)


Track listing
To Be Free (Cousins)
Little Sleepy (Lambert)
The Golden Salamander (Cousins)
Absent Friend (How I Need You) (Cousins)
Back On The Farm (Cousins)


So Shall Our Love Die (Cousins)
Tokyo Rosie (Cousins)
A Mind Of My Own (Coombes)
Hanging In The Gallery (Cousins)
The Promised Land (Cronk)
Bonus tracks, Universal CD release 2008 and Universal Japan 2019 SHM CD release
Still Small Voice (Cousins)
It's Good To See The Sun (Cousins)
Recorded at Sound Techniques Studios, Chelsea in April 1975
Sleeve Notes
Producer Tom Allom
Engineer Vic Gamm
Recorded at Sound Techniques, Chelsea. June/July 1975

Sleeve design
Art Direction Fabio Nicoli
Design Nick Marshall
Photography Gered Mankowitz
Printed and made by MacNeill Press Limited , London

Other information
The lyrics are included on a single page insert.

The sleeve has the following acknowledgement:
"Nomadness" by David Cousins, Dave Lambert, Chas Cronk and Rod Coombes with insanitary contributions and indecent exposure from: Tony Carr, Jim Dowler,Jack Emblow, Tommy Eyre (Courtesy of Polydor records ), Rob Harvey, John Lumley-Saville, John Mealing and Rick Wakeman.
Charts
UK Chart: not placed
US Chart: not placed
---