GHOSTS, 1975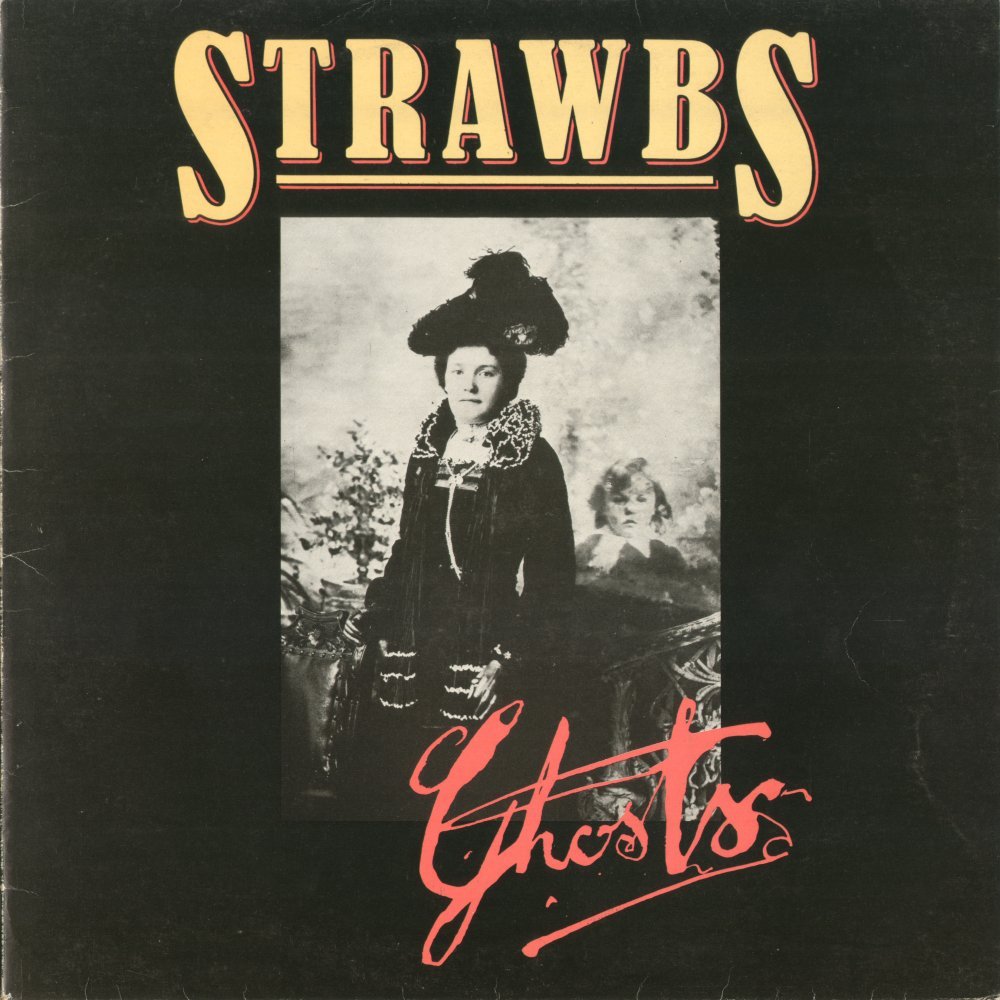 Release date: Feb 1975 Reviews and ads appeared in music papers dated 8 Feb 1975, possibly to tie in with the release of "Lemon Pie"). The album had been delayed from Nov 74 (where it was listed in Strong's Great Rock Discography) both by Cousins' collapse (reported in 21 Sep 1974) and later when the original album design, which featured a picture of Charterhouse School, was vetoed. A Cousins interview in NME 16 Nov 1974 confirmed that "we won't be hearing it till January" and Cousins said: "We had our picture taken in the cloisters of a chapel. The way it was taken you could see right through us, and we really looked like ghosts, but the chapel was built as a war memorial and there are still people alive who had relatives killed in that war - so the authoprities said it was all a bit too close for comfort and the sleeve had to go back."
Ghosts largely carried on from where Hero And Heroine left off, the big, mellotron-laden sound which found popularity particularly with North American audiences very much in evidence, though some slight lightening of mood. "Grace Darling", inspired both by the Northumbrian heroine of that name and Cousins' happier personal life, was released as a single in the UK - A&M Canada released a french translation of the song "Cherie Je T'Aime".
Recorded in the Manor, in Oxfordshore, where Cousins recorded Two Weeks Last Summer and, for the single "Grace Darling", the choir and organ in the chapel at Charterhouse were featured. Cousins fell ill during the recordings and spent some time in hospital, returning to the studio after a lumbar puncture to record his vocals lying on the studio floor.
The epic title track "Ghosts" stands out particularly, written on tour whilst Cousins was staying in a hotel opposite the Soldiers and Sailors monument in Indianapolis. It remains a staple of their live set, whether acoustic or electric. "The Life Auction" also proved to be well-received live.
The album sold hugely well in the US, staying 13 weeks in the charts, and probably sold over 250,000 copies. It was to be their highest-selling US album.
Musicians
Dave Cousins (vcls, ac/el gtrs, recorder)
Dave Lambert (vcls, el/ac gtrs)
John Hawken (pno, el pno, harpsichord, Mell, Moog synth, Hammond org, pipe org)
Chas Cronk (bs, ac gtr, vcls)
Rod Coombes (drms, congas, perc, vcls)

With:
Claire Deniz (cello)


Track listing
Ghosts: Sweet Dreams; Night Light; Guardian Angel; Night Light (Cousins)
Lemon Pie (Cousins)
Starshine/Angel Wine (Cronk)
Where Do You Go (When You Need A Hole To Crawl In) (Cousins)


The Life Auction: Impressions Of Southall From The Train; The Auction (Cousins/Hawken)/(Cousins/Lambert)
Don't Try To Change Me (Lambert)
Remembering/You And I (When We Were Young) (Hawken)/(Cousins)
Grace Darling (Cousins)

bonus track - Universal re-issues (1998 and 2018) only

Changes Arrange Us (B-side of Grace Darling, label mistakenly printed as "Changes Arranges")
Sleeve Notes
Production Tom Allom
Production co-ordination Dave Cousins
Musical arrangement Strawbs
Recorded at The Manor, Kidlington, Oxfordshire; Sound Techniques, London; TPA, London and in the chapel of Charterhouse School, Godalming, Surrey.
Between 16th July and 13th September 1974.
("Where Do You Go" was recorded at Island Studios, London on 30th July 1973)

Engineering by Tom Allom
With the help of Mike Glossop and the lads of the Manor mobile, Roger Mayer and Robin Freeman
Mixed at Trident studios, London by Tom Allom and Mike Stone

Sleeve
Art direction J. McGillicuddy
Design Bill Dare/Arty Types
Sleeve printed by Gothic Print Finishers, London SE9
Photographs by Dave Morse

Other sleeve information
The sleeve carries the following acknowledgement:
"Our special thanks to Claire Deniz (Cello) , Robert Kirby (choral arrangement) Mike Stone, the girls at the Manor, the gentlemen of the choir, and Alistair Ross, choirmaster and organist of West Wycombe Church."
Charts
UK Chart: not placed
US Chart: 47
---