DEEP CUTS, 1976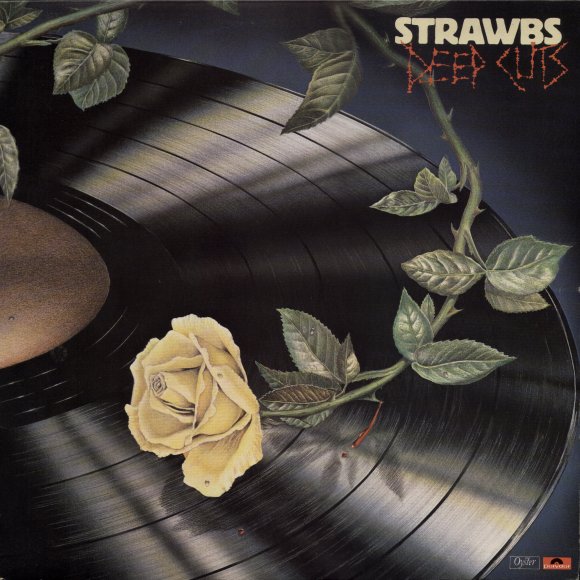 Release date: Sep 1976.
The first sessions for this album were with Tom Allom in the producers' chair again, but in the end they didn't get far. The initial tracks were felt to be a bit stale (though they included a fabulous version of "Blue Angel" which later appeared on the boxed set, A Taste Of Strawbs.; and later on the Esoteric extended edition, released in 2019.
To zing things up, Cousins took to writing as a team with Chas Cronk, and the duo attempted to find a new vein of quality pop/rock and commercial success (but for a breach in the rules about record returns, the single "I Only Want My Love To Grow In You" might well have marked the band's return to the UK charts). A&M plugger, Heavy Lennie was of the opinion that this could have been Strawbs' breakthrough album had they stayed with the label.
However, the album was released through the Strawbs' new record deal with Oyster Records and featured new producers and new sessions keyboard players, Robert Kirby and John Mealing, who would join the band as they resumed UK touring in 1976. It contains some classic tracks - as well as the single, the energy of "Simple Visions", "Beside The Rio Grande" and "Turn Me Round" contrasted with the production perfection of "Hard Hard Winter".
The striking image of the rose drawing blood from the record label was produced by cover artist Alun Hood, who mainly produced cover art for books - SF/Dr Who books, children's books. He was also responsible for a Budgie cover painting in their period with A&M - If I Were Britannia I'd Waive The Rules.
Deep Cuts has been released on CD over the years, usually with a single Dave Lambert out-take from the sessions "You Won't See The Light".
In 2019 Esoteric released an extended edition with all seven relevant outtake tracks including a spoken word version of "Beside The Rio Grande" recorded for Dave Cousins' now out of print lyrics collection Stories, Secrets And Songs". See extended edition page.
Musicians
Dave Cousins (vcls, ac gtrs)
Dave Lambert (vcls, el/ac gtrs)
Chas Cronk (bs, ac gtrs, vcls)
Rod Coombes (drms, perc, vcls)

With:
Robert Kirby (Mell, el pno, French horn, vcls)
John Mealing (org, el pno, pno, harpsichord, synth)
Rupert Holmes (pno, harpsichord, clavinet, clarinet)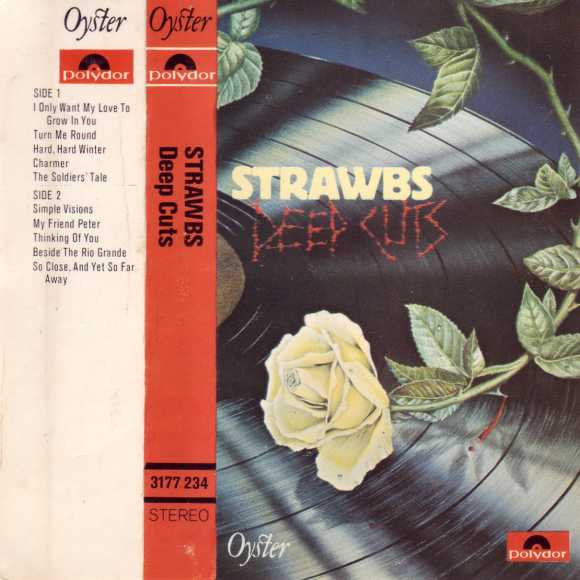 Track listing
I Only Want My Love To Grow In You (Cousins/Cronk)
Turn Me Round (Cousins/Cronk)
Hard Hard Winter (Cousins/Kirby)
My Friend Peter (Cousins/Cronk)
The Soldier's Tale (Cousins/Cronk)


Simple Visions (Cousins/Cronk)
Charmer (Cousins/Cronk)
Wasting My Time (Thinking Of You) (Cousins/Cronk)
Beside The Rio Grande (Cousins)
So Close And Yet So Far Away (Cousins)


Bonus track - CD re-issues before 2019
You Won't See The Light (Lambert)
Bonus tracks on Esoteric 2019 extended edition release
You Won't See The Light (Lambert)
Charmer (Single Mix) (Cousins/Cronk)
Wasting My Time (Edited Version) (Cousins/Cronk)
Blue Angel (Cousins)
Oh So Sleepy (Cousins)
The Merchant Adventurer (Cousins)
Beside The Rio Grande (Spoken Word Version) (Cousins)
Charts
UK Chart: not placed
US Chart: not placed
Sleeve Notes
Produced by Rupert Holmes and Jeffrey Lesser
Engineered and mixed by Jeffrey Lesser
Mastering engineer Tony Bridge (Master Room)
Recorded and mixed at The Manor, Kidlington, Oxford in the spring and early summer of '76
A Widescreen Production.

Sleeve design
Concept Paul May, Mike Doud
Design Paul May
Illustration Alun Hood
Printed and made in England by James Upton Ltd

Other information
The lyrics are contained on a single sheet insert and they also contain the following acknowledgement:
"Without whom …. Tom Allom (for his work on 'Beside the Rio Grande' and 'Hard Hard Winter' – a true friend indeed); Mike Stone; Sarm and Wessex; Rob Harvey (gallantry in the face of………); the fair maidens of the Manor; Sue Watkins; Jim Dawson; Jim Hennessy (a standing ovation); Colin Roper, Doug and J.P. (a bientot); Garcia, Lee, Ron F and Dave (likewise); Rupe and Jeff (…overwhelming odds).

To you all, many thanks and much love."
This sound recording was made by Strawbs Ltd., 35 Homer Street, London W1 and was first published in the UK, 1976
Record manufactured and distributed in the United Kingdom by Polydor Limited 17-19 Stratford Place, London W1N 0BL