STRAWBS: A TASTE OF STRAWBS, 2006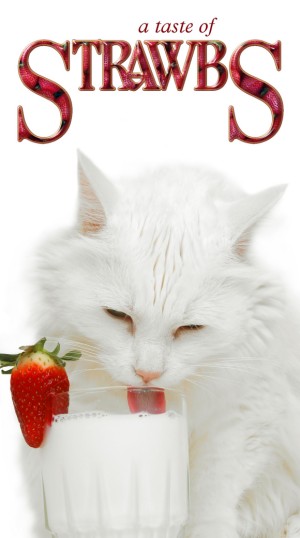 Release date: 13 Nov 2006
A Taste Of Strawbs was the long awaited boxed set from the Strawbs - a mammoth project for Dave Cousins, even with some assistance from me. The vision behind it was to include many of the classic Strawbs songs that ought to be in a Strawbs boxed set, but virtually none of the versions that even devout fans will currently have in their collection. Accordingly it was sourced from the Strawbs' own archives and other sources - unreleased songs, demo versions, alternate mixes, live material. It was an absolute joy to be involved in this process, and I'm truly delighted with the result.
Strictly speaking it's a 4CD boxed set, with an additional loose CD5 thrown in for early purchasers:
CD1: "Eyes Wide Open" (1966–1971): The Strawberry Hill Boys to Sandy Denny and the Strawbs. Then the Strawbs go electric as Rick Wakeman joins the band.
CD2: "Changing Places" (1972–1975) High flying singles and albums in the UK and North America.
CD3: "Inside Out" (1976–1988): Strawbs go their separate ways for a while, but Wakeman brings them back together. Success at the Cambridge Folk Festival spawns a network TV documentary and concert. Wakeman and Cousins appear together in concert.
CD4 "Further Down The Road" (1990–2006): 25th Anniversary tour - Don Airey on keyboards. The Chiswick House concert. Wakeman and Cousins record again. Strawbs Acoustic reinvent the band. Strawbs headline major festivals.
CD5 "Tastebuds" bonus CD: a selection of rare, live and demo recordings, outtakes and collaborations. Some copies were stickered "bonus 5th CD with first 1000 sold".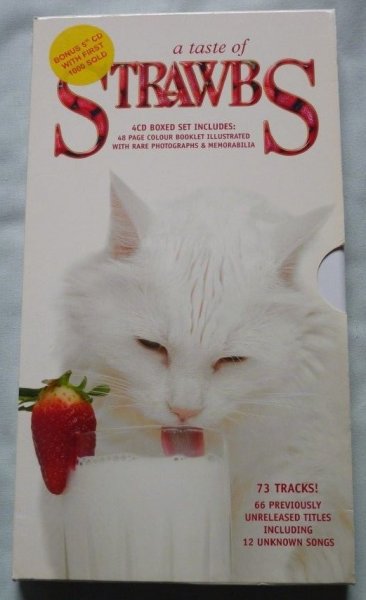 Musicians
Please see the Taste of Strawbs Booklet - track by track listing.
Track listing
CD1 - Eyes Wide Open (1966-1971)
Strawberry Hill Boys - The Grey Hawk - live recording (Trad. Arr. Cousins/Hooper)
Dave Cousins - The Cruel Wars (aka Higher Germanie)- Dave Cousins unreleased recording (Trad. Arr. Cousins)
Strawberry Hill Boys - You Don't Think About Me - demo (Trad. Arr. Cousins/Hooper)
Dave Cousins - Not All The Flowers Grow - demo (Cousins)
Strawberry Hill Boys - You Keep Going Your Way - demo (Cousins)
Sandy and the Strawbs - Sail Away To The Sea (Cousins)
Sandy and the Strawbs - Nothing Else Will Do (Cousins)
Strawbs - Oh How She Changed - remix 2005 (Cousins/Hooper)
Strawbs - Or Am I Dreaming - remix 2005 (Cousins)
Strawbs - All The Little Ladies - alternate mix with spoken word intro/outro (Cousins/Hooper)
Strawbs - Ah Me, Ah My - alternate mix (Hooper)
Strawbs - The Man Who Called Himself Jesus - alternative mix (Cousins)
Strawbs - The Battle - live (Cousins)
Fire - It's Just Love - unreleased Fire recording of Dave Lambert song (Lambert)
Strawbs - Another Day - live (Cousins)
Strawbs - Forever - Dragonfly out-take (Cousins)
Strawbs - Where Am I/I'll Show You Where To Sleep - 1970 live track (Cousins)
Strawbs - Canon Dale - 1971 live track (Hudson)
Strawbs - RMW - 1971 live instrumental track (Wakeman)
Strawbs - Sheep - 1971 live version (Cousins)
CD2 - Changing Places (1972-1975)
Strawbs - Tomorrow - 1972 live version (Cousins/Hooper/Weaver/Hudson/Ford)
Strawbs - New World - 1972 live version (Cousins)
Strawbs - Here It Comes - 1972 live version (Cousins)
Dave Cousins and Dave Lambert - See How They Run - Cousins and Lambert 1972 home demo (Cousins)
Dave Lambert - Going Home - alternative version with Dave Lambert vocal (Cousins)
Dave Cousins - The Actor - alternative mix (Cousins)
The Brothers - Part Of The Union - The Brothers original version (Ford/Hudson)
Dave Lambert - The Winter And The Summer - Dave Lambert home demo (Lambert)
Strawbs - Whichever Way The Wind Blows - previously unreleased version with Dave Cousins vocal (Cousins)
Strawbs - Betrayed/Shine On Silver Sun/Words of Wisdom - 1973 extended version with Cousins, Lambert, and members of Ten Years After (Cousins)
Dave Cousins - Out In The Cold/Round And Round - acoustic demos (Cousins)
Dave Cousins - The Writing On The Wall - acousticdemo of unreleased song (Cousins)
Strawbs - The Four Queens (Cousins/Lambert/Hawken/Cronk/Coombes)
Ghosts theme - church bells- field recording (Cousins)
Dave Cousins - Lemon Pie - acoustic demo (Cousins)
Dave Cousins Et StrawbsCherie Je T'aime - French version of "Grace Darling" (Cousins)
Dave Cousins - So Shall Our Love Die - acoustic demo (Cousins)
Dave Cousins - Still Small Voice - acoustic demo (Cousins)
Strawbs - How I Need You Now (aka Absent Friend) - live recording from Old Grey Whistle Test, with John Mealing (Cousins)
CD3 - Inside Out (1976-1988)
Dave Cousins - The Merchant Adventurer - acoustic demo of unreleased song (Cousins)
Strawbs - Blue Angel - out take from Deep Cuts sessions (Cousins)
Strawbs - Goodbye - alternate version from Burning For You (Cousins)
Dave Cousins - Deadly Nightshade - acoustic demo (Cousins)
Strawbs - Midnight - outtake from first Deadlines sessions (Cousins)
Strawbs - Sweet voices - outtake from first Deadlines sessions (Lambert/Cousins)
Dave Cousins - Bring Out Your Dead - acoustic demo (aka The Young Pretender) (Cousins)
Dave Cousins - Another Day Without You - demo version (Cousins)
Lambert and Cronk - Touch The Earth - studio recordings (Lambert/Cronk/Richards)
Strawbs and Juan Martin - Armada - 1981 studio recording (Martin)
Cousins and Willoughby - A Glimpse Of Heaven - live at Sidmouth Folk Fest.. (Cousins)
Strawbs - The Hangman And The Papist - Gastank (Cousins)
Strawbs - I'll Carry On Beside You - 1983 Cambridge Folk Fest (Cousins)
Strawbs - Heavy Disguise - 1984 rehearsal recording (Ford)
Strawbs - That's When The Crying Starts - 1984 live recording (Cousins)
Dave Cousins - Evergreen - home demo (Cousins)
Rick Wakeman and Dave Cousins - Song Of A Sad Little Girl - 1988 live recording (Cousins)
CD4 - Further Down The Road (1990-2006)
Strawbs - Ringing Down The Years - 1990 Strawbs live recording (Cousins)
Dave Cousins - Further Down The Road - acoustic demo (Cousins)
Strawbs - Heartbreak Hill - 1993 Silver Jubilee tour with Don Airey (Cousins/Cronk/Richards)
Don Airey - Extravaganza On A Theme Of Strawbs - Don Airey solo from 1993 Silver Jubilee tour (Airey)
Dave Cousins and Don Airey - File Of Facts - 1993 recording (Cousins/Airey)
Strawbs - Hero And Heroine - Chiswick recording with guest star Ric Sanders (Cousins)
Dave Lambert and Brian Willoughby - The Ten Commandments - from 2001 tour (Lambert)
Rick Wakeman and Dave Cousins - The King - Hummingbird outtake (Cousins)
Acoustic Strawbs - Alice's Song - 2003 live Acoustic Strawbs recording (Craig/Willoughby)
Acoustic Strawbs - McLean Street/Who Knows Where The Time Goes - 2004 live recording (Cousins/Lambert)
Acoustic Strawbs - We'll Meet Again Sometime - 2004 Acoustic Strawbs recording (Cousins)
Acoustic Strawbs - Sunday Morning - single mix (Cousins)
Acoustic Strawbs - On A Night Like This - acoustic version (Cousins/Lambert)
Acoustic Strawbs - Dragonfly - live 2005 version (Cousins)
Dave Cousins - Canada - brand new solo song (Cousins)
Strawbs - Here Today, Gone Tomorrow - live 2006 version (Cousins)
CD5 - Tastebuds - bonus CD
Strawberry Hill Boys - The Happiest Boy In Town – demo (Cousins)
Strawbs - Draught Raga – 1970 live sitar instrumental (Hudson/Ford)
Dave Cousins - Ways And Means – Two Weeks Last Summer outtake (Cousins)
Dave Cousins - Rip It Off Blues – Dave Cousins demo (Cousins)
Dave Cousins - Stay Awhile With Me – Dave Cousins version of Strawbs "Sampler" track (Cousins)
Strawbs - Oh So Sleepy – Deep Cuts out-take (Cousins)
Strawbs - Barcarole (instrumental) – Burning For You outtake (Cousins/Cronk)
Dave Cousins - Time And Life – Dave Cousins home demo (Cousins/Cronk)
Inter Galactic Touring Band - Heartbreaker – from Intergalactic Tour Band album, guest vocalist Dave Cousins (Malone)
Strawbs with Juan Martin Andalucian Express – 1980 recording (Martin)
Strawbs - Lay Down – Live 1984 version (Cousins)
Blue Weaver Over The Hill – Blue Weaver solo track (Weaver)
Dave Cousins and Brian Willoughby - You Never Needed Water – originally on The Bridge (Cousins)
Acoustic Strawbs - If – recorded by Jon Connolly (Cousins)
Acoustic Strawbs - Cold Steel – Folk Scene live recording (Lambert)
Strawbs - The River/Down By The Sea – Thalgau, 2006, live (H&H band) (Cousins)