LIVE AT GETTYSBURG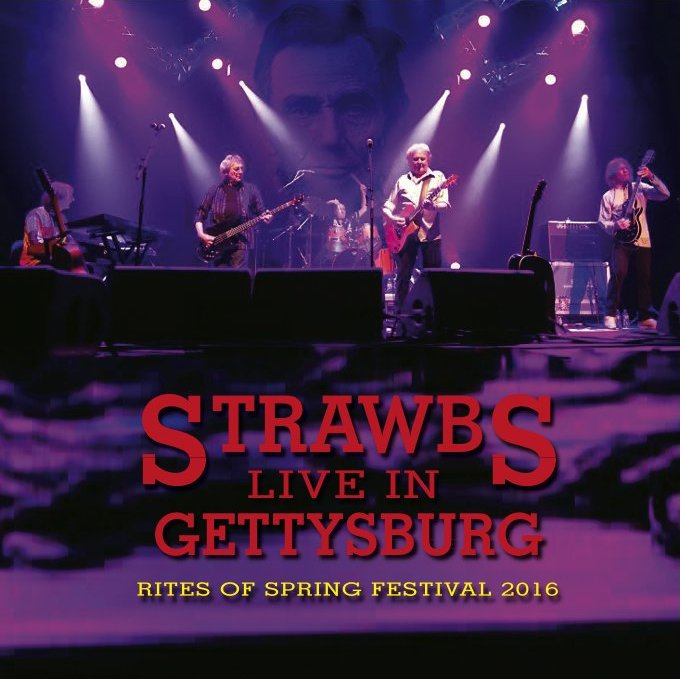 Release date: 24 Mar 2017
These recordings were made on 6 May 2016 at the Strawbs performance at ROSfest in Gettysburg PA, US, the first Strawbs recordings to be released featuring new keyboard player Dave Bainbridge. The package is a 2 disc DVD/CD release, with high quality film shot from 4 cameras during the show. The release is 5:1 surround sound, Region 0 and in NTSC format.
Musicians
Dave Cousins (vocals/ac gtr)
Dave Lambert (vocals/el gtr)
Chas Cronk (bass, pedals, 12-string, vocals)
Dave Bainbridge (keyboards)
Tony Fernandez (drums)
Track listing
Prologue (Cousins)
Autumn
Heroine's Theme (Hawken)
Deep Summer's Sleep (Cousins)
The Winter Long (Cousins)
Sad Young Man (Coombes)
Just Love (Lambert)
Without Your Song (Bainbridge)
Shine On Silver Sun (Cousins)
Hero And Heroine (Cousins)
Snow White Dove (Bainbridge)
Midnight Sun (Cousins/Cronk)
Her Open Arms (Bainbridge)
Out In The Cold/Round And Round (Cousins)
Angst (Bainbridge)
Lay A Little Light On Me/ (Cousins)
Hero's Theme/ (Lambert)
Round And Round (Reprise) (Cousins)
Thanks for the amazing response to the pre-ordering exercise, despite the difficulties with the e-mail form we provided - over 230 of you ordered.