COUSINS & CONRAD: HIGH SEAS - REVIEWS AND COMMENTS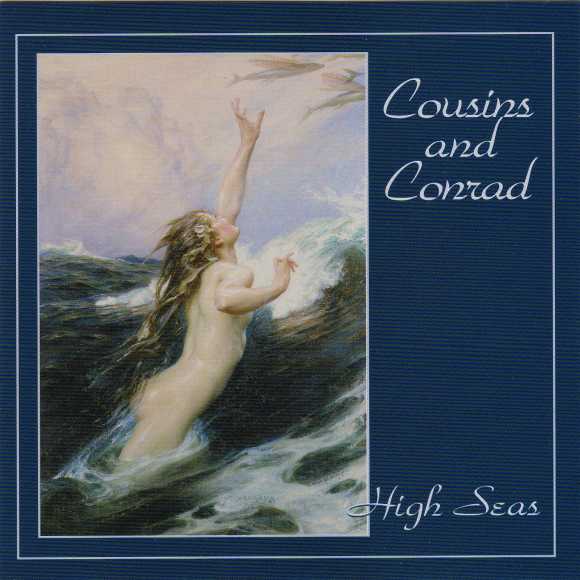 Contents

THE HEIGHT OF PLEASURE - preview by Dick Greener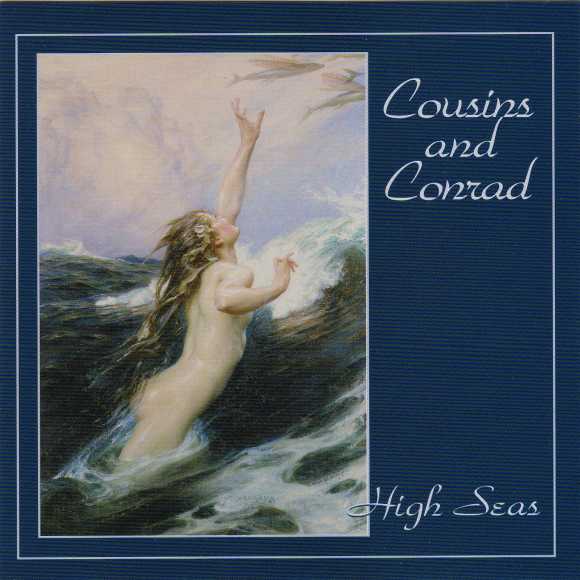 This has been constantly on the player since I got it and not much else has been able to get a look in. A very satisfying album indeed, with lots of strong songs including quite a few set to be Cousins classics ("Call To Action", "Deep In The Darkest Night" and "Just My Way Of Loving You" certainly). New tracks featuring banjo and dulcimer (first track with Dave on dulcimer since 1975's "Golden Salamander"). The instrumental backing from Conrad works well with Dave's powerful, emotive lyrics and adds a symphonic depth to the music which will delight Strawbs fans at the "prog" end of the spectrum.
The Call To Action (Cousins)
One of the standout tracks on the album, the intro starts with just strummed acoustic guitar building in volume, mellotron sound added next in background, swelling string sounds, roll of kettle drums and electric guitar power chords - very "Down By The Sea". When the song proper starts, it builds from acoustic over booming synth bass and drums (some nice little bass figures between phrases). The verse ascends nicely in pitch, with strings stabbing a little figure between lines. Towards the end, very powerful, Cousins nearly screaming the chorus "Will you heed the call". Electric guitar figure between verses. Extended wailing fuzz solo from Conrad, nice abrupt ending with a strings stab. Fantastic evocative lyrics, eg. "The silent march of muffled hooves, the gleam of glistening coal black eyes, the darkened blades and shrouded hoods, beyond the means of compromise." Very powerful opener, the lyrics will get the discussion group going, I think.
Deep Inside (Cousins/Conrad)
Synth pad opening, with ringing sitar sound overlaid. Cousins using his quieter soulful voice here over a wash of those two sounds with percussive synth bass and cymbals. Staccato string sounds in the verse, a string figure underlies the chorus to which Conrad adds backing vocals. Chorus repeats over and over again (possibly once or twice too many) to end the song, with a slow fade of strings over medium speed prog riffing, wailing fuzz guitar. A step down in energy from the first track but then anything would be!
The Rose (Cousins)
A slight feel of "The King" here (no bad thing). Dulcimer opens proceedings then Cousins takes the first verse over just dulcimer, joined for the second with the full ensemble, drums/cymbals and electric guitar. Some classic Cousins lyrics "The rose will sooth the savage breast, the rose will tame the beast". Multi-tracked vocals for the choruses, and some nice synth dynamics. A nice quiet dulcimer patch in the middle, followed by a tastefully short burst of soloing from Conrad over staccato programmed drums. A reprise of the chorus and then the final verse. Closes back in the quiet zone with just the dulcimer and Cousins vocal.
On The Horizon (Conrad)
Repeated from Conny's Generations album (the other track there - "Turn The Page" - featuring Dave hasn't been included, so still worth getting hold of for Strawbs fans). Rushing wind effects, brass fanfare opening, moving to an early Genesis mellotron sound (think "Watcher of the Skies"), joined by piano which picks up the melody. Cousins' voice takes the first verse, the chorus has Conrad's backing vocals. Second voice builds gently, the chorus adding some nice acoustic figures. Tympani roll, and an acoustic solo over bassline, before the third verse kicks in. Under a couple more choruses the instrumentation gets more and more symphonic with a spiralling synth line, and a finger-wibbling guitar solo. Back to the acoustic guitar alone, slowing down over more wind noises, a last repeat of the chorus line from Cousins.
Deep In The Darkest Night (Cousins)
One of the star tracks on the album, Cousins' song for (but not apparently about) his brother who died a while back. ("You were youngest, but you stepped out first, you were gifted, but the gift was cursed, you gave your good heart, 'til your good heart burst.") Piano opening, (listened to this on the car CD player, and thought gosh that sounds like Rick Wakeman, and so it is). Nice bassline here, keeping the song on track. Tasteful fuzz guitar picks up the anthemic melody between verses (replacing what in Strawbs terms might have had Chas and Dave L adding a vocal wash). Key change and repeat of the guitar figure. Zig- zagging strings sound cycles through the chord progressions over guitar riffing and soloing to take us to the close with more Wakeman piano which emerges to solo some staccato chordal playing and then the fading close, in more typical Wakeman arpeggio style.
This one just digs itself into your head and stays there, an infectious anthemic melody, which I've been humming constantly. I'd like to hear the Electric Strawbs have a go at this on tour - Hawken's piano would be nice on it too, Chas could dig out his bass pedals for the strings bits and it'd be even better with the powerful massed vocals of the Team Strawb frontline. Just a thought.
The Moon And Stars (Cousins/Conrad)
Quite understated but a grower. Synth with harpsichord, clarinet sound. Cousins' multi-tracked treated vocals on the chorus, but you'll need to listen hard to pick up all the vocals on verses over the instruments. Some tastefully mixed Lambertesque electric power chords under subsequent choruses. Strings used to good effect in a bridge leading to a howling electric solo from Conrad (which maybe could have been mixed up a bit). More choruses and ends abruptly leaving Cousins' voice out on its own.
My Oh My My (Cousins/Conrad)
Another excellent track, very Beatlesy in places. Brassy fanfare, clarinet sound, slightly fairground feel, with chordal piano backing using an interesting chord progression, which at first seems odd, but settles into your head without too much effort. A great singalong multi-tracked chorus. Some great wry lyrics - "Then there came deep cuts, troublesome hacks, dark misdemeanours, blood on the tracks, the game was done with, singing yeah, yeah, yeah". (A commentary on the band's treatment by the music press in the 70s, maybe ?) Electric solo, key change and more choruses. A Beatles-ish clarinet sound picks up the melody over piano chords to close.
It's Just My Way Of Loving You (Cousins)
Another star track, debuted at NPL Teddington with just Dave and his guitar to great effect. Acoustic guitar figure then the song kicks in with a solid piano base over restrained drums, with acoustic guitar embellishments. The song was started back in the 70s, and finished last year: some of Cousins' best lyrics on the album, e.g. "I've re-read all the letters, I never got to write" and "My moods can match the darkest shade, of any blackbird's wing." Cousins in excellent voice throughout. Some nice piano flourishes which could have been Wakeman (but weren't). Tinkly piano break with rising guitar figure. Hopefully destined to be another "If" played live and rightly so.
Not Another Day (Conrad)
Though written by Conrad, the lyrics include some very Cousins-esque phrases which may have crept in in translation as it were. Acoustic chordal strumming over keyboard/strings wash and drums. Low-register Cousins on the verse, higher register, multi-tracked, on the choruses. Well-constructed acoustic guitar string-bending solo from Conrad.
Haiku (Cousins)
Out comes the banjo, nicely echoed with a little ringing echo on the opening figure, adding a piano. Cousins speaks the a series of haiku over the backing. It's Cousins' low almost gruff voice and quite low in the mix, but it's very very effective indeed. Between verses the banjo duets with a lovely sweet flute sound. Great banjo playing to close which then segues into the final instrumental track. Not like anything else he's done a true original. Third Haiku mentions Witchwood: "Coven in witch wood, seeking refuge in colours, a rainfall of tears."
The Feng Shui Symphony (Conrad)
Instrumental - plucked harp string sounds over a synth strings and woodwind wash. A few classic synth sounds (including that one which sounds like someone blowing across the top of a bottle) coming in to pick up the melody. Electric guitar solo with some nice reverb, strings come in, some tympani, very orchestral, stately. Piccolo, and synth on their own, then fuzzed-up guitar closes out the album. Takes you down nicely after all this excitement.