NIGHTBIRD & COMPANY: COSMIC CONNECTIONS
1973-1974, US ARMY RESERVE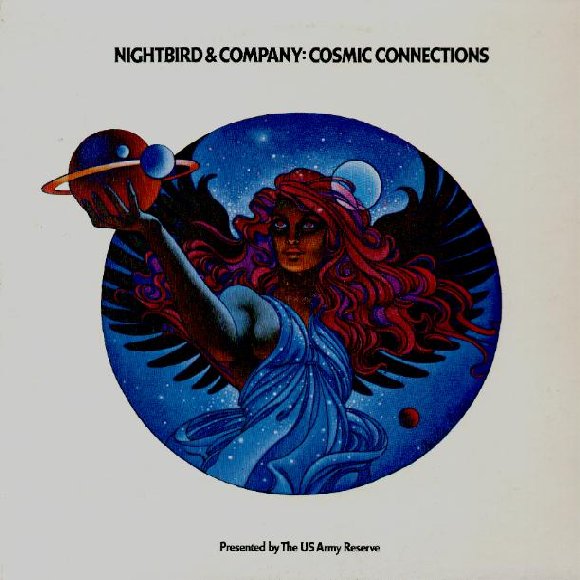 These albums were released to US radio stations as promotional items to stimulate activity in the US Army Reserve. Each one was a 2LP set, with each of the four sides devoted to an interview with a band together with tracks from their latest album, interspersed with jingles exhorting Reservists to go to meetings! (Some of the jingles are TRULY awful!)
Unfortunately, the interviewer, the self-styled Nightbird, Alison Steele, was pretty clueless, seemingly incapable of remembering simple details from one part of the programme to the next. Nonetheless, despite that handicap, the interviews go surprisingly well, with Dave Cousins and Dave Lambert talking at some length on the 1973 disc about the making of Bursting At The Seams, including a lengthy explanation of the writing of "Down By The Sea". On the 1974 disc, Chas Cronk and Dave Lambert do the honours for Hero And Heroine.
Cunningly designed for varying lengths, users have the following options:
For 10 minutes - Start at the top of the show and cue out after the short musical play-off 10:00 minutes in. Please close off the show locally
For 15 minutes Cue past the first 10 minutes of the record and start just after the playoff indicated at the spiral
For 25 minutes - Play the record as is: the 25 minute show is complete in itself
Cassette, 8-track and CD
Not released on cassette, 8-track or CD

VINYL
1973
Program 124, air date week of 16 Sep 1973 (2LP set, US Army Reserve 72145 & 72146). The 1973 set comes in a rather well produced box, with the two LPs separated from each other by thick protective inserts.
Sides
Program No. 121 - David Clayton Thomas
Program No. 122 - Black Oak Arkansas


Program No. 123 - Jonathan King
Program No. 124 - Strawbs
Front and back of box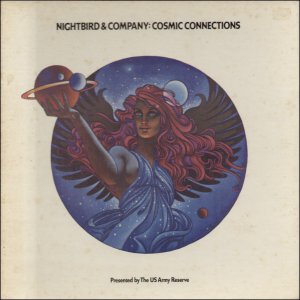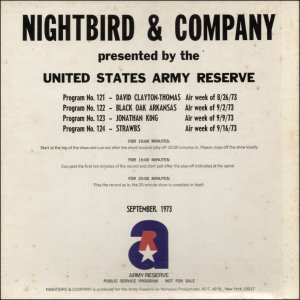 Back cover and label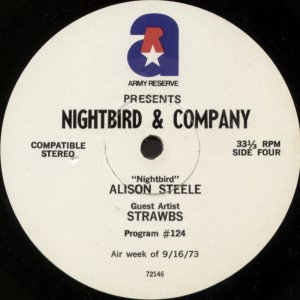 1974
Program No. 181, air date week of 20 Oct 1974 (2LP set, US Army Reserve 73259 & 73260). This comes in a sturdy gatefold cover, the front and back mirroring the 1973 box. Front cover is identical to 1973 release above. The inner spread shows the range of US Army Reserve Shows available.
Sides
Program No. 181 - Strawbs
Program No. 182 - Tracy Nelson


Program No. 183 - New Riders Of The Purple Sage
Program No. 184 - Henry Gross
Back cover and label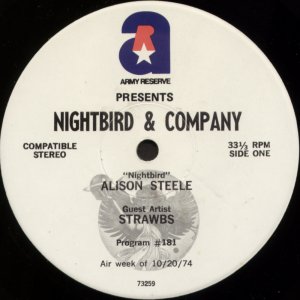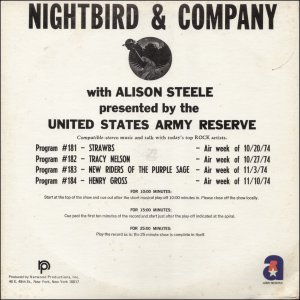 Inner spread