A CHOICE SELECTION OF STRAWBS - VERSIONS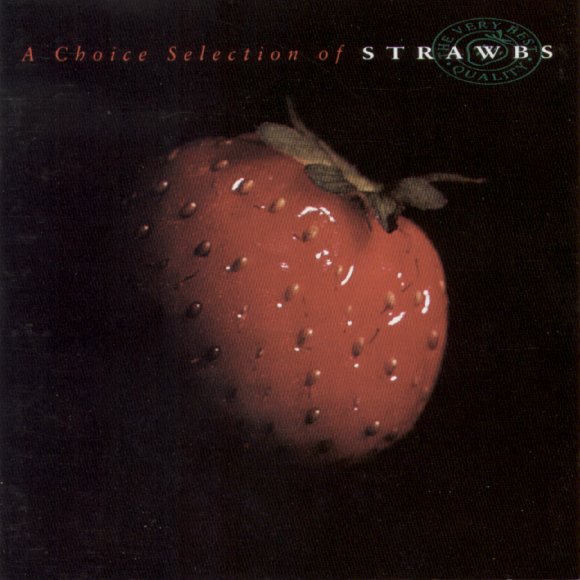 For large scans of the images, click on the images: you may need to use the zoom feature in your browser to see the full image
Other formats
Not released on vinyl or 8-track
Cassette
Back to main Choice Selection page

CASSETTE
UK cassette release
Cassette: CMID 173 (A&M, 1992).Excellent packaging for a cassette - inner folds out several times to give you the Tobler sleeve notes and the pictures, though very small size. Black printing on CD, UK manufacturing details.
Booklet


Cassette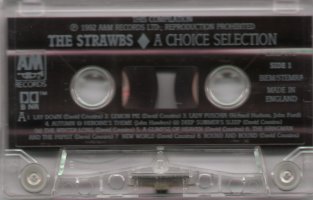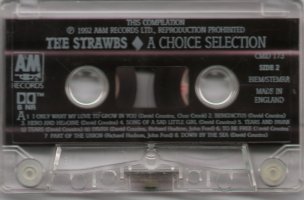 CD
UK CD release
CD: (UK) CDMID 173/(Intl) 540 014-2 (A&M, 1992). Insert includes various photos and sleeve notes by John Tobler. The insert appears to have been designed to be used for both the UK and European versions, with both catalogue numbers as well, and a statement "Country of manufacture as stated on label" (which works for the UK edition, but not for the European one which has manufacturing details on it).
Black printing on CD, made in England. Tray back and the CD itself both have details of a UK catalogue number (CDMID 173) and an international catalogue number 540 014-2.
Booklet


Tray back and CD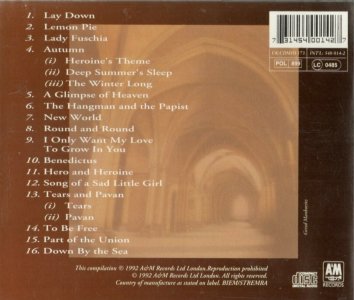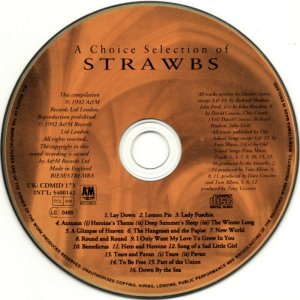 Canadian CD release
CD: 314 540 014-2 (A&M, 1992).Recently discovered that the copy I thought was a UK release is in fact Canadian. Tray back has Canadan manufacturing details, and CD printing is silver (very hard to read), with Canadian manufacturing statement. Insert is almost identical to the UK/Ger release, but with a different catalogue number on the insert and on the CD body (Canada have added a 314 prefix to the international number), but with no mention of Canada in the insert as far as I can see.
Tray back and CD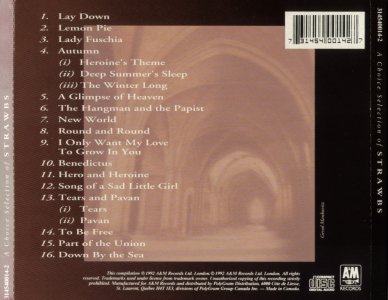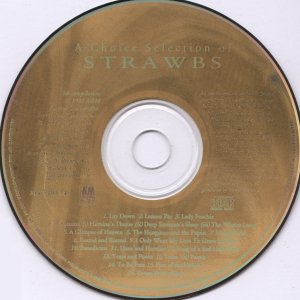 German CD release
CD: CDMID 173/(Intl) (A&M, Germany, 1992) (*). Spotted online. CD is missing "Made In England" wording, and tray back which seems otherwise identical to the UK version, has been stickered "Made In Germany".
Tray back and CD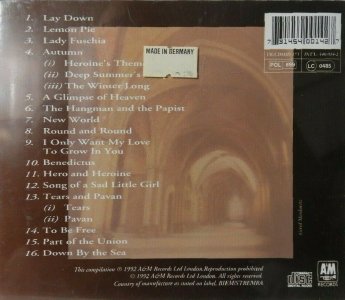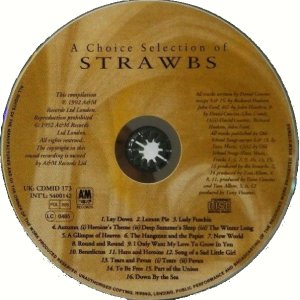 South African CD release
CD: MMTCS 2085 (A&M, South Africa, 1992). Inner booklet is the same except for SA catalogue number. Tray back has additional logos and SA catalogue number, and CD is plain silver.
Tray back and CD