KEEP THE DEVIL OUTSIDE
A&M, 1972 (Japan only)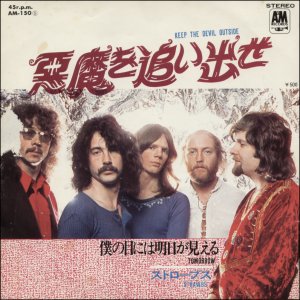 A strange decision by A&M Japan to release this rejected Witchwood sessions track as the A-side of a single, but nice presentation as always.
Back to main 1968 to mid-1972 singles page

Asia Pacific vinyl
"Keep The Devil Outside"/"Tomorrow"
(AM 150, A&M, 1972)
Japanese release
As usual, this Japanese release comes in a nice company sleeve with printed insert, the front of which is pictured above, and the back here (the words to "Tomorrow" are correct, but the lyrics for "Keep The Devil Outside" have a few "transcription" errors). The A-side is mis-credited to Hudson and Ford; it is in fact a John Ford song.