STRAWBS 40TH ANNIVERSARY CELEBRATION: VOL 2: RICK WAKEMAN & DAVE COUSINS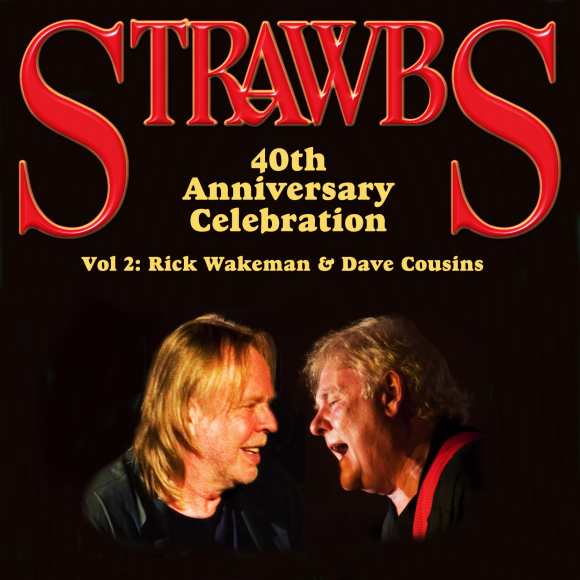 This is a CD + DVD package. See CD and DVD track lists below. The CD has the songs, but the DVD also has the banter, chat and anecdotes which made this performance such a delightful ending to the first day of the Twickenham weekend gig.
"Temperance Of Mind" harks back to Rick's splendid instrumental at the QEH in 1970 ("Temperament Of Mind"), which of course just reflected what Rick felt like playing at the time and was probably different every night!
Musicians
Rick Wakeman (kybds)
Dave Cousins (vcls, gtr, banjo)

* Evergreen
Dave Cousins
Dave Lambert
Chas Cronk
Royal Artillery Orchestra arranged/conducted by Robert Kirby
CD Track listing
The Hangman And The Papist
Witchwood
Martin Luther King's Dream
October To May
Temperance Of Mind
Can You Believe?
A Glimpse Of Heaven
The Shepherd's Song
DVD Track listing
Fred Wedlock - Introduction
The Hangman And The Papist
Spotted Dick - Story
October To May
Coretta King - Story
Martin Luther Kings Dream
Cooked hamster and Rick's second instrument – Story
Witchwood
Whatever comes into your head - Audience interaction
Temperance Of Mind
Different tunings – Story
Can You Believe?
The candles and the bucket - Story
A Glimpse Of Heaven
Every single pub - Story
The Shepherd's Song
Extras:
A few words from Rick Wakeman
A few words from Dave Cousins
* Preview - Evergreen - Strawbs with the Royal Artillery Orchestra