STRAWBS 40TH ANNIVERSARY CELEBRATION: VOL 1: STRAWBERRY FAYRE, 2009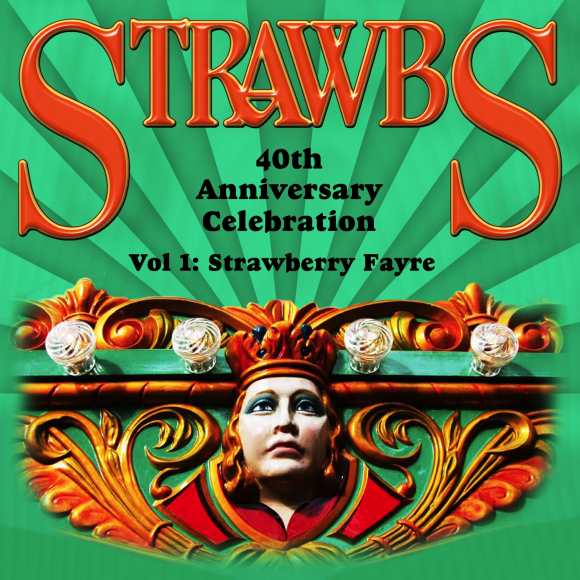 Release date: 5 Oct 2010
Strawberry Fayre Vol. 1 of the 40th celebrations is a 2CD set of highlights from the whole weekend, with a 16 page booklets with photographs and line-up details. The track listing is below.
Fans pre-ordering via Witchwood Records had their names included in the Strawberry Fayre booklet.
Heartbreak Hill MP3 extract from Strawberry Fayre
Click here to listen to an excerpt from their live version of "Heartbreak Hill" from the 40th anniversary, mixed and mastered by our very own Chas Cronk. Turn it up good and loud - it'll knock your socks off!
Musicians
Key to line-ups - see tracklist below
Strawbs: Current (2009) line-up
Dave Cousins (vcls, gtrs)
Dave Lambert (vcls, gtrs)
Chas Cronk (vcls, bass, 12-string)
Rod Coombes (drums, perc)
Oliver Wakeman (kybds)
Acoustic Strawbs with Sonja Kristina
Dave Cousins (vcls, gtrs)
Dave Lambert (vcls, gtrs)
Chas Cronk (vcls, bass, 12-string)
Sonja Kristina (vcls)
Strawbs: Heartbreak Hill line-up
Dave Cousins (vcls, gtrs)
Jo Partridge (gtrs)
Chas Cronk (vcls, bass)
Andy Richards (kybds)
Tony Fernandez (drums)
Strawbs: Blue Angel line-up
Dave Cousins (vcls, gtrs, dulcimer)
Cathryn Craig (vcls, perc)
Brian Willoughby (gtrs)
Blue Weaver (kbds)
Tony Fernandez (drums)
Acoustic Strawbs
Dave Cousins (vcls, gtrs)
Dave Lambert (vcls, gtrs)
Chas Cronk (vcls, bass, bass pedals, 12-string)
Zeus
Dave Lambert (vcls, gtrs)
Graeme Taylor (vcls, gtrs)
Tom Leary (fiddle)
Jon Davie (bass)
Fire
Dave Lambert (vcls, gtrs)
Dick Dufall (vcls, bass)
Bob Voice (vcls, drums, perc)
Cry No More
Chas Cronk (vcls, bass, bass pedals, 12-string)
Roy Hill (vcls, gtr)
Blue Angel Orchestra
Dave Cousins (vcls, gtrs)
Ian Cutler (fiddle)
Chas Cronk (bass)
Melvyn Duffy (steel, electric and hawaiian gtrs)
Chris Hunt (drums, perc)
Craig and Willoughby
Cathryn Craig (vcls, gtrs)
Brian Willoughby (gtrs)
John Ford
Johh Ford (vcls, gtrs)
Cousins and Cutler
Dave Cousins (vcls, gtrs)
Ian Cutler (fiddle)
Cousins and Wakeman
Dave Cousins (vcls, gtrs, chat)
Rick Wakeman (piano, chat)
Track listing
CD1
Heartbreak Hill – Strawbs (Heartbreak Hill line-up)
Starting Over – Strawbs (Heartbreak Hill line-up)
Landslide – Cry No More
Don't Leave Me Here – Cry No More
Skip To My Lou – Dave Cousins and Blue Angel Orchestra
Hellfire Blues – Dave Cousins and Blue Angel Orchestra
On My Way – Acoustic Strawbs with Sonja Kristina
All I Need Is You – Acoustic Strawbs with Sonja Kristina
Autumn – Strawbs (current line-up)
Lay Down – Strawbs (current line-up)
Angie – Zeus
True Love – Zeus
October To May – Rick Wakeman and Dave Cousins
Can You Believe – Rick Wakeman and Dave Cousins
CD2
Blue Angel – Strawbs (Blue Angel line-up)
Cry No More – Strawbs (Blue Angel line-up)
Alice's Song – Cathryn Craig and Brian Willoughby
That Ol' Guitar – Cathryn Craig and Brian Willoughby
Copenhagen – Acoustic Strawbs
Josephine – Acoustic Strawbs
Together Apart – John Ford
Floating In The Wind – John Ford
Song Of A Sad Little Girl – Dave Cousins and Ian Cutler
Grace Darling – Dave Cousins and Ian Cutler
Flies Like A Bird – Fire
Father's Name Is Dad – Fire
Evergreen - Acoustic Strawbs &The Royal Artillery Orchestra (conducted by Robert Kirby)
Where Silent Shadows Fall - Strawbs (current line-up) & RA Orchestra (conducted by Robert Kirby)