STRAWBS 40TH ANNIVERSARY CELEBRATION: VOL 1: STRAWBERRY FAYRE - REVIEWS AND COMMENTS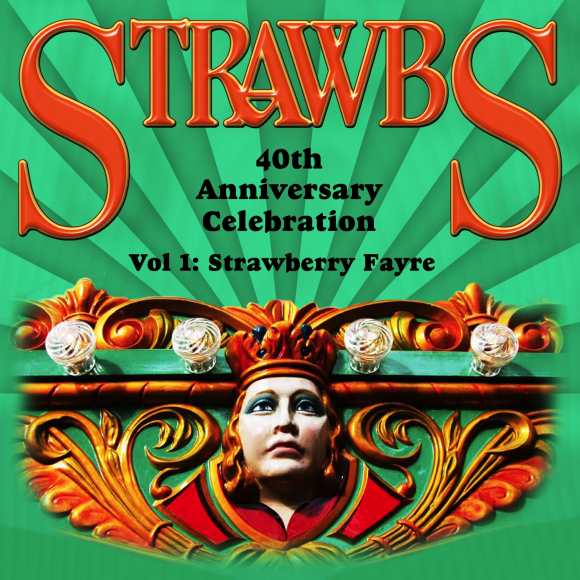 Contents
Back to main Strawberry Fayre page

UNBEATABLE, UNFORGETTABLE, UNREPEATABLE - Review by Dick Greener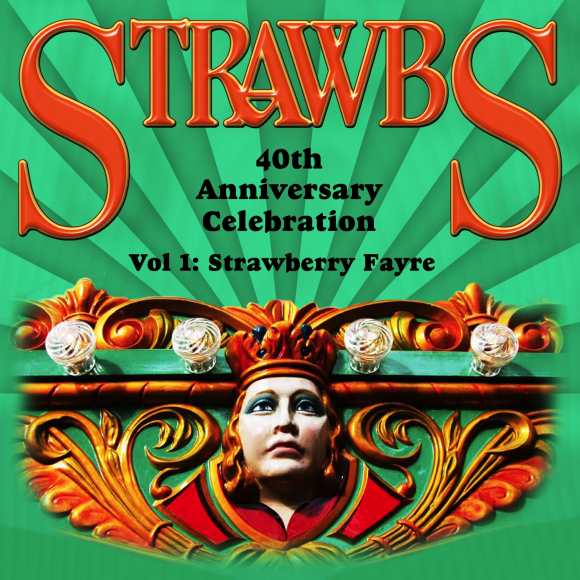 The first emanations from the stellar 40th anniversary show at Twickenham's Live Room last September are this 2CD set of highlights, and the CD/DVD package of the Rick Wakeman/Dave Cousins set. This really is a remarkable piece of work, capturing perfectly the energy and excitement of that unique live event, admirably mastered to perfection by our very own Chas Cronk. Those who weren't there will want to hear this to get a taste of what went on (and to bag a few new classic versions from the Strawbs repertoire); those who were, it'll be a trip in time, back to the thrills of those two days in September 2009, when so many of the Strawbs and their related crew got back together to celebrate this amazing milestone.
CD1
Heartbreak Hill Strawbs - Heartbreak Hill/Starting Over Massively powerful opening to the first CD – the Heartbreak Hill line-up, never before tested in a live environment – pulls out ALL the stops on that album's title track. Cousins is in particularly fine voice, soaring above the instrumentation. Partridge's guitar is fluid, Andy Richard's keyboards faultless, and throughout it all, underpinned by the rock steady bass/drums of Cronk and Fernandez. The intricate middle section starts quietly, note perfect, with splendid piano from Richards and exact cymbal work from Fernandez, building to a crescendo and back to the main theme of the song. As good if not better than the studio version, and astonishing for a live performance, thoroughly meriting the prolonged audience cheers. "Starting Over" is only marginally less stunning, with some particularly strong organ work, again featuring some fine piano/percussion. Another quiet middle section, with prominent bassline over a wash of keyboards, and tasteful guitar. A fabulous accapella section brings the main part of the song back onstream as the band cranks up behind it. The album is one of the Strawbs' underrated best, these two tracks - probably the best numbers on it - are performed sublimely here.
Cry No More – Landslide/Don't Leave Me Here. Taken from CNM's more serious repertoire: Roy can leave you laughing or crying and it's easy to see from these two songs the emotional depth that made Dave Cousins believe that Roy could have been a credible replacement for him in post-Heartbreak Strawbs. "Landslide", the improbable tale of a Eskimo and his underage girlfriend who get buries in and landslide, delivers a big big noise, courtesy of Chas's harmonies, 12 string and bass pedals. The latter, on the face of it, simpler and less busy, just Roy's guitar and Chas's melodic bass, but Roy ratchets up the intensity of his vocal performance to nearly unbearable levels. A lot of new converts to CNM from this performance alone, to say nothing of their impromptu "Stage 2" appearance later that evening.
Dave Cousins/Blue Angel Orchestra – Hellfire Blues/Skip To My Lou More of Chas's bass this time with Chris Hunt's effortless drumming in DC's other band outlet for his songs, which we've not heard from for too long. The driving beat of Dave's blitz blues song allows plenty of room for some splendid duetting between Ian Cutler's soaring fiddle and Melvyn Duffy on guitar. And then, one of the BAO's favourite crowd-pleasers – a pseudo folk romp pushed along by Cousins' acoustic guitar riff and Cutler's fiddle, over the BAO's tight accompaniment. Again, an eye-opener for those who'd not seen Cousins front this band before.
Acoustic Strawbs with Sonja Kristina – All I Need Is You/On My Way A quieter interlude, with an intricate interplay of guitars, bass and voices on two of the early Sandy Denny All Our Own Work songs. Sonja's phrasing does indeed recall the Denny performances, her voice is strong and works musically with the three male voices. "On My Way" has added bass pedal work from Chas, Lambert picking up the Tony Hooper section of the song's vocal as is usual with Acoustic Strawbs reinterpretations. Both songs attack the original vocal harmony arrangement really rather well – this section of the weekend for many attending was both hotly anticipated and a firm favourite.
Electric Strawbs – Sheep/Autumn Great to have captured Oliver's marvelous keyboard work on "Sheep", re-introduced to the set during 2009's electric touring, and one of the highlights of those shows. Cousins spits out the bitter lyrics, Lambert contributes some tasty guitar and there's superb organ soloing from Oliver. "Autumn" of course, a mainstay of the Strawbs set whatever the line-up, shows Oliver slipping seamlessly into John Hawken's shoes. A faultless performance, keyboard and lead guitar trading off each other in the instrumental intro, Cousins' acoustic guitar and strong vocal well to the fore in the middle section, and Oliver's pure-toned piano and Lambert's slide in the final section before the final choruses build to a crescendo for Lambert's electric guitar to pick up the melody, and then the closing power chords.
Zeus – Anji/True Love Guitar, bass and then second guitar set the tempo, joined by Tom Leary's fiddle on Davy Graham's 60s folk club acoustic guitar hero standard. A nice jazzy gypsy feel develops, the various instruments blending perfectly, fiddle and lead guitar duetting. Picking up a typical Lambert-style riff, with Graeme's guitar taking lead, Dave handles the lead vocals on the next self-penned number "True Love", other members joining in for the distinctive choruses. Their debut performance, as yet sadly unrepeated, left many fans looking forward to more from Zeus whether live or on record.
Rick Wakeman/Dave Cousins – October To May/Can You Believe The simplicity of Rick and Dave performing together (for the first time for over 20 years) is supremely effective – DC on characteristic acoustic strummed guitar, with Wakeman's effortless piano. The choice of songs is great – many of us have the Antiques/Witchwood period songs they play together, so it's great to hear some material instead from 2002's collaboration between the two, Hummingbird. The arrangement of "October To May" gives plenty of room for Rick to ornament his playing around Dave's soulful and gravelly vocal performance, which perfectly suits the bittersweet tone of the song, and there's a beautiful piano coda to finish. The second (one of my favourite songs from the album), a haunting song with beautiful words. One of Dave's breathy deliveries, built round Wakeman's piano arpeggiated figures and a gentle DC guitar tuning strum, building to a crescendo in the middle section. Really superb vocal performance from Dave.
CD2
Blue Angel Strawbs – Blue Angel/Cry No More Opening with the mellifuous flute sound of a real Mellotron, ably piloted by Blue Weaver, "Blue Angel" is an absolute tour de force with which to open the second disc - Dave is in fine voice and the song - one of Dave's best ever, IMHO - has lovely dynamics, with plenty of light and shade. Blue is featured heavily with tinkling piano throughout. Cathryn Craig's voice blends perfectly with Dave's on the repeated chorus. And a real treat, holding back until the end of the first section "Divided", the snarling electric guitar talents of Brian Willougby, back on the Strawbs stage after an absence of five years. After some crashing power chords, Brian picks up the insistent choppy backbeat power chords (almost as though you had one of Brian's chords as the tone on your alarm clock - now there's an idea!) for the second verse of "Half World's Apart". And then it's into the pastoral link to the dreamy "At Rest", with Cousins' comforting voice over piano, and in the final choruses some strident organ; some nice solos from Brian between verses. The second song from this line-up is Dave's rather beautiful song "Cry No More" (nothing to do with that Hill/Cronk bunch) which had its first outing on the rare and collectable Cousins/Willoughby album The Bridge and reappeared on 2003's Blue Angel. Originally featuring Mary Hopkin, it's a great vehicle for some splendid duo vocals for Craig and Cousins, a great choice to include.
Craig and Willoughby – Alice's Song/That Ol' Guitar Craig and Willoughby carry on now with two numbers from their solo set – their co-written anthem "Alice's Song" with Cathryn's soaring voice over a simple understated acoustic guitar figure (well Brian makes it look simple, but then he always does …), followed by the Shel Silverstein song they've made their own, "That Ol' Guitar", highly appropriate for a guitar enthusiast like Brian. Quiet and simple, a number of Strawbs fans who'd not encountered the Craig/Willoughby show before went away entranced.
Acoustic Strawbs – Copenhagen/Josephine For Better Or For Worse From the latest album Dancing To The Devil's Beat , "Copenhagen" is perfect for the Acoustic Strawbs treatment – three guitars playing different things which nevertheless weave together into a beautiful whole. Cousins' lyrics and vocals are bittersweet as he recalls their sojourn in the city with long-lost Sandy Denny. The second song (another track with Copenhagen links – it was recorded there for Dragonfly) is Dave's haunting tribute to Dominic Behan and his wife, again arranged to suit the Acoustics, with some characteristic Dave Lambert acoustic runs and solos, and some lovely bass from Chas, whose bass pedals fill out the sound emulating the cello of Clare Deniz. One of my favourites in the current Acoustic set.
John Ford – Together Apart/Floating In The Wind It's a testament to John's ability and the quality of his songs that he's able to get them over just with an acoustic and voice. John's thoughtful song about his son who died, is the first of two songs from a solo set which also featured a Hudson Ford hits medley. The Hudson Ford track chosen here though was "Floating In The Wind" (sporting a full Hudson Ford band treatment on record), which also works tremendously well here, building from the delicate guitar figure to crashing acoustic chord work. Even John's solo voice captures a flavor of those high tight harmonies that For and Hudson could produce. Even the instrumental outro works. Impressive. One day, I'll get to see a full John Ford gig ….
Dave Cousins and Ian Cutler – Song Of A Sad Little Girl/Grace Darling The first of the two songs here, normally a mainstay of the Wakeman/Cousins set, moves to Dave and Ian's set which opened the weekend (how many leaders of bands come on as their own opening act ?). In the same way that Dave seems to feel 100% comfortable working as a duo with Rick despite the passage of time, Ian Cutler's ability as an accompanist/melodic soloist is such that Dave looks as though he can feel just as comfortable with him. It's well worth catching one of their fairly rare duo gigs to see the pair bring a stripped back interpretation to a wide range of Strawbs/Cousins' repertoire. Cousins' intricate guitar on "Sad Little Girl" backed with Cutler's tuneful fiddle sets the scene for what's to follow, a perfect accompaniment. Glad to have the falsetto vocal at the end. "Grace Darling" is delivered with emotion and panache, one of Cousins' all-time classics, in many ways at its best when performed by Cousins alone, or in this sort of duo setting.
Fire – Flies Like A Bird/Father's Name Is Dad Three piece Fire take the stage – it's difficult to believe that two of them, Dufall and Voice, haven't been doing this much for the last 20 plus years, only getting back together for 2007's hugely successful reunion concerts. These two songs are tight and controlled, excellent vocals and powerful bass and drums, blending perfectly with Lambert who alternates between thrashy rhythm and lead breaks. The second track, their legendary first single, "Father's Name Is Dad", opening with that classic riff and those brilliant 60s psych lyrics. Again – quite a few new fans from this exposure to the Strawbs faithful.
Acoustic Strawbs with Royal Artillery Orchestra – Evergreen Opening with soft strings over Cousins delicate strumming, Cousins' voice betrays the inherent sadness of this gentle and poignant song. Robert Kirby's arrangement is of course beautiful, matching perfectly with the acoustic guitars. Deserved cheers, a real treat.
Electric Strawbs with Royal Artillery Orchestra – Where Silent Shadows Fall Again from the new album, Dave's sharply affecting war anthem. Just Dave's vocal to start, with a handful of acoustic guitar chords, until the rest of the band joins in for the powerful refrain (lovely echo on the last note of the chorus). The orchestra offers some soaring strings after the second chorus, but it is of course it really begins to make itself felt as the song builds to a close – some brass introduces the third chorus, and then picks up the theme over rhythmic strumming from Cousins and tight drumming from Coombes, soon joined by the strings. As on the album, the overall effect is powerful and emotional – at the end, huge sustained applause, from an audience with scarcely a dry eye in the house, the unbeatable finale to an unforgettable and unrepeatable weekend.