DAVE COUSINS AND BRIAN WILLOUGHBY: THE BRIDGE, 1994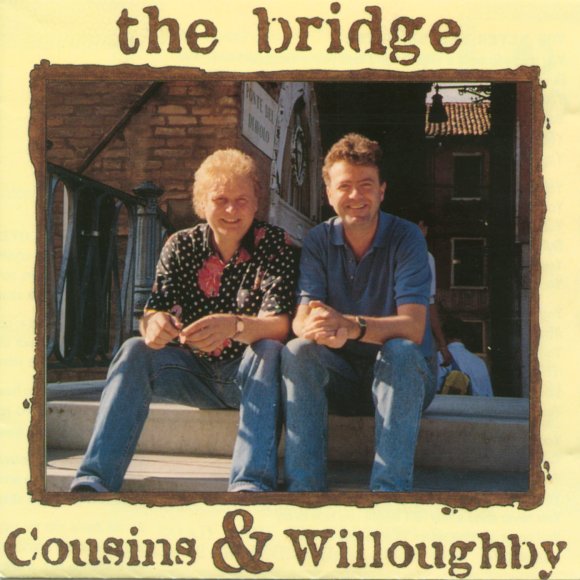 Though not strictly a Strawbs album, Dave and Brian's second duo album nonetheless features many past and present Strawbs (and Welsh chanteuse Mary Hopkin). The album was first released on cassette and sold at Cousins & Willoughby and Strawbs gigs, and through Strawbs Merchandising. It was issued as a CD by Road Goes On Forever in 1994, and is one of the rarest Strawbs-related releases, selling for silly money on Ebay whenever it appears.
A mixture of recent compositions (the live favourite "You Never Needed Water" and "Morning Glory") and songs rescued from earlier days ("Song For Alex" dating back to the Cambridge Folk Festival in 1968 and "Oh So Sleepy" recorded by the band at the Deep Cuts sessions).
Musicians
Dave Cousins (gtrs, vcls)
Brian Willoughby (gtrs)

With:
Chas Cronk (bs, drum program, bs pedals, vcls)
Rod Demick (bs, harmonica)
Blue Weaver (kybds)
Richard Hudson and Tony Fernandez (dms)
Mary Hopkin, Roy Hill, Tommy Lundy, Dana Heller (bck vcls)


Track listing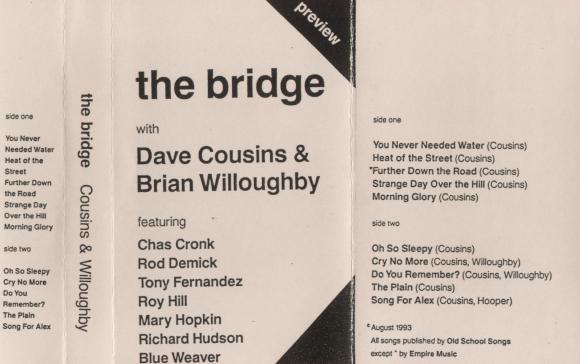 You Never Needed Water (Cousins)
Further Down The Road (Cousins)
Strange Day Over The Hill (Cousins)
Heat Of The Street (Cousins)
Morning Glory (Cousins)
Cry No More (Cousins/Willoughby)
Do You Remember (Cousins/Willoughby)
The Plain (Cousins)
Oh So Sleepy (Cousins)
Song For Alex (Cousins/Hooper)
Sleeve Notes
To follow