STRAWBS: THE MAGIC OF IT ALL, 2023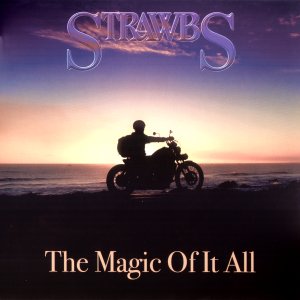 UK release date: 14 Jul 2023
11 new songs from Dave Cousins, reunited with Strawbs Blue Weaver and John Ford and a team of South Africam musicians in support. Recorded in Sept 2022 in Cape Town, with Blue producing, it was released on CD, vinyl and download on 14 Jul 2023.
Musicians
David Cousins (vocals, acoustic guitar, electric dulcimer)
Blue Weaver (piano, organ, mellotron, accordion)
John Ford (vocals)
Mauritz Lotz (electric and acoustic guitars)
Schalk Joubert (electric bass, double bass)
Kevin Gibson (drums and percussion)
Byron Abrahams (saxophones)
Jonno Sweetman (drums, Slack Jaw Alice, Wiser Now)
Marzia Barry (vocals)
Simangele Mashazi (vocals)
Luna Paige (vocals)
Cathryn Craig (vocals)
Nicola Tee (vocals)
Track listing (vinyl)
Ready (Are We Ready) (Cousins)
The Magic Of It All (Cousins)
All Along The Bay (Cousins/Weaver)
Everybody Means Something To Someone (Cousins)
Our World (Cousins/Ford)
The Time Has Come (For Giving Back) (Cousins)
Slack Jaw Alice (Cousins)
Paris Nights (Cousins)
Wiser Now (Cousins/Weaver)
CD only tracks
The Lady Of The Night (Cousins)
Christmas Ghosts (Cousins/Ford)
Sleeve Notes
Tracks recorded at the Academy of Sound Engineering, Cape Town, SA.
14-23 September 2022. Engineer: Peter Pearlson.
David Cousins' vocals recorded at The Joplin House, Stowting, Kent, UK.
27-29 October 2022. Engineer: Dan Lucas.
Produced by: Blue Weaver
Associate Producers: Natie Botes & Rob Abendanon
All songs published by Old School Songs/Sony Music Publishing.
CHERRY RED PRESS RELEASE - THE MAGIC OF IT ALL
"The new Strawbs studio album was recorded in Cape Town in 2022.
David Cousins, Blue Weaver, and John Ford from classic 1970s Strawbs
join with the some of the finest musicians and singers in South Africa.

Strawbs were high in the charts with Grave New World and Bursting at the Seams fifty years ago in the early 1970s. It coincided with a pivotal moment in the struggle for freedom in South Africa when students and workers launched a new wave of resistance against so-called "resettlement". The resistance in South Africa identified with Strawbs songs, especially "Part of the Union", "Lay Down", and "New World". Strawbs albums sold well and became highly prized.

Recognising this, South Africa documentary maker, Niel van Deventer, approached David Cousins with the idea of producing a documentary about Strawbs and the band's influence around the world. Niel wanted to film while new songs were being recorded in a Cape Town studio. David Cousins came up with a bunch of his finest songs, Blue Weaver flew over to produce the sessions and co-write some of the songs, while John Ford joined in with his contribution to the songs from New York.

The album is called The Magic Of It All - 11 brand-new songs recorded at the Academy of Sound Engineering in Cape Town in Sep 2022. Engineer Peter Pearlson worked with Paul Simon when he was recording South African musicians for the Graceland album. The South African musicians on this album include Mauritz Lotz, Schalk Joubert, Kevin Gibson, Byron Abrahams, Simangele Mashazi, Marzia Barry and Luna Paige. Cathryn Craig and Nicole Tee joined the singers from the UK.

David Cousins says: "The Academy of Sound Engineering is a college for training young audio engineers. We were surrounded by several students every day while we recorded, and they were involved in setting up the studio and lining up the desk. They learned a lot – and so did I. It was magic!"

Blue Weaver says: "It really was 'Magic' working in Cape Town especially having such great musicians and an engineer who made my job very easy. It was wonderful also to see how the students reacted to our ways of recording live in the studio and to answer their questions. I'm looking forward to seeing the documentary especially the "fly on the wall" video recordings that were made during the sessions."

The Magic Of It All was released simultaneously on vinyl, CD and download by Cherry Red on 14 Jul. The documentary "The Magic Of It All" will be released later this year."

You can order the album from Cherry Red from the Cherry Red website. Purchasers will get signed postcards whilst stocks last. It's also available on Amazon, Ebay and elsewhere (without the postcards ...)
There's a review on Strawbsweb by Dick Greener on the Magic reviews page - feel free to send any reviews comments to Dick Greener
Singles
Two singles have been released as downloads - you can listen to them online at the Cherry Red website via various streaming services (including Spotify and YouTube Music):
Interviews
Video clips
And there are still videos online of Dave's solo living room performance of two of the new songs on the album, intended to promote the 2022 Chiswick show

Video 1 - The Magic Of It All
Video 2 - The Time Has Come For Giving Back