SETTLEMENT - REVIEWS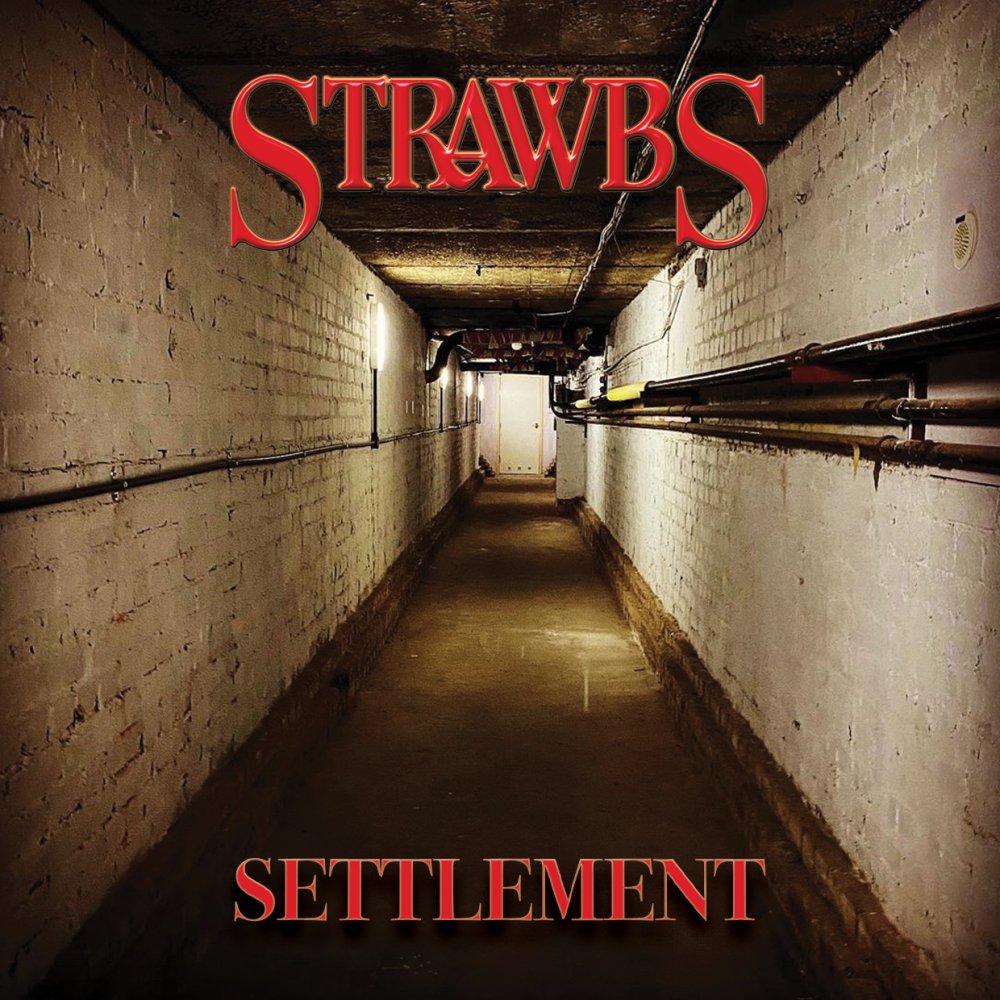 Updated: 1 Mar 2021
On Strawbsweb
Off Strawbsweb

STURM UND DRANG INDEED! - Preview by Dick Greener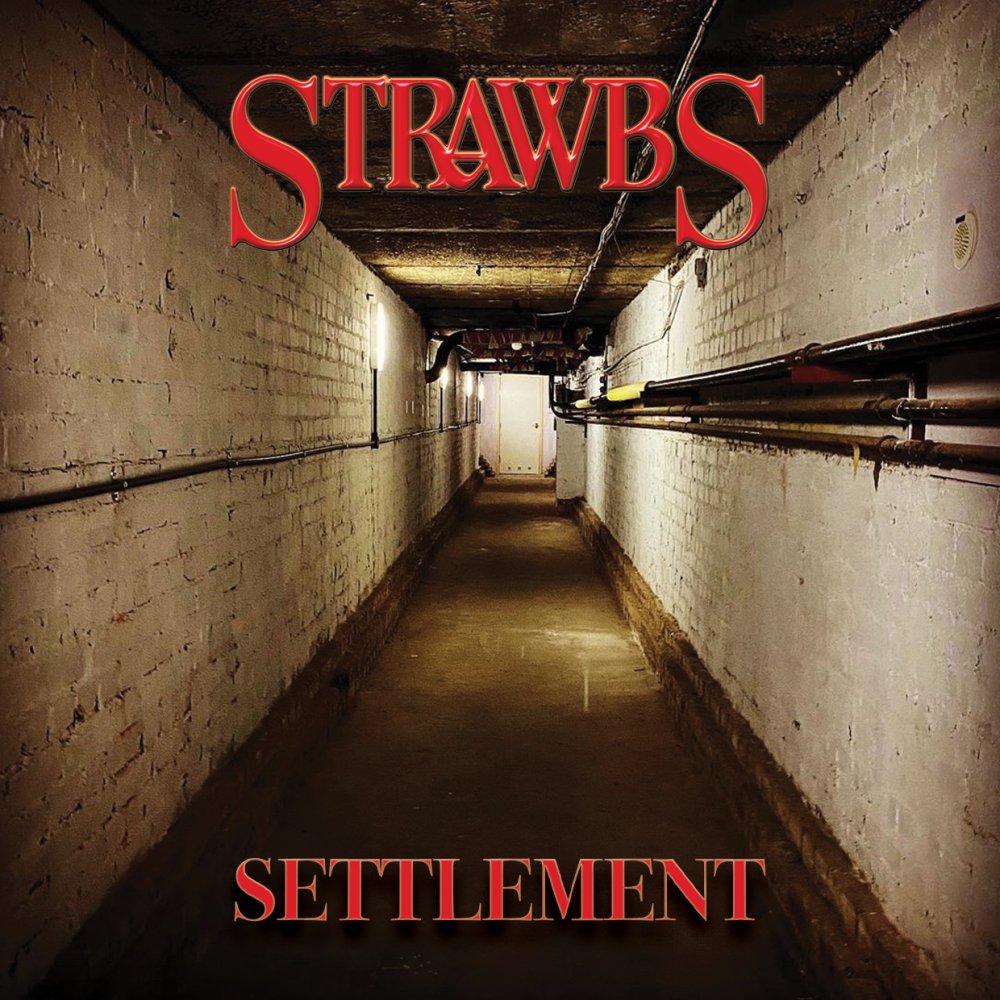 Ah, the joys of a new Strawbs album, this one recorded under exceptional lockdown conditions, with Blue Weaver at the production helm from his mountain castle in Germany. Production is excellent – the Saturday Night Weaver has done a really fine job – all the vocals are clear and sit well above the music. Overall, I'm struck by the amazing range of Cousins' voice across these tracks, and just how well it hangs together despite having been recorded in isolated conditions. The Strawbs line-up which recorded the splendid The Ferryman's Curse is still current, though with special guests adding to the experience – Shalk Joubert on bass, Cathryn Craig on vocals and John Ford returning to the fold for a co-write with Cousins and a lead vocal.
Blue has recorded a video about the making of one track "Strange Times" (at one point the title track of the album) - check it out on the the Settlement videos page.
Track by track
Settlement - Starting with a slightly atonal acoustic riff, with building mellotron strings between verses, and some power chords before drums and bass come in for the chorus. Snarling lyrics, "we're nobody's fools", "all they're selling you is Sturm und Drang". Some fabulous organ as the tracks nears its closing chorus, and some more lead. This is vintage, angry Cousins, laying it on the line!
Strange Times – A more gentle, reflective acoustic approach, insistent plucked guitar riff resolving to a ringing chord. When gigs are back on, this would be a cert for the Acoustics' setlist. Cousins' guitar backing, his softer vocal style, with some strings behind. Piano interlude over the guitar strumming, with soaring strings adding depth. Acoustic guitar figure running through a range of chords to finish with a last splayed chord. Gentle and poignant, may be my favourite track.
Judgment Day – A complex mixture of time signatures – 5/4 rhythm, but 4/4 vocals. Schalk Joubert (who Dave met on his South African jaunt back in 2020) has done an enthralling video showing how the a slightly techno feel of the track came about, with three different basslines added to Dave's original percussion loop - see the the Settlement videos page. Starts with the bass and the loop, with some gentle organ behind. The verses keep the percussion and bass, with gently strummed jangling chords behind the vocals. The song was previously recorded (very differtly) as a demo back in the day, as a rather wordy Dylan-esque acoustic guitar number (Witchwood Media gave MP3 copies away as a pre-ordering reward - I forget for what!). But this version has had the lyrics stripped back to the minimal, a much more modern treatment. Some nice understated guitar work going on between vocal lines, emerging to the forefront at the end of the song, as does Schalk's bass line before the fade.
Each Manner Of Man – ringing acoustic guitar echoed chords, and John Ford's unmistakeable voice. One of the very few Cousins/Ford collaborations, Ford's tune, Cousins' lyrics, in Strawbs history. Again some nice swelling organ between verses and some electric harpsichord (?) under the next verse. Guitar solo (possibly duet, there are two in there) before the song resumes. The close ringing chords across the stereo spectrum and "nothing more, nothing less" to fade. Check out John's video on .
The Visit - a Dave Lambert track, originally released on his 2004 album Work In Progress, reworked to have the feel of an old Irish folk song, destined to go down very well in the clubs, I'd have thought. Some fancy Cousins banjo picking in there (a new tunning he is rather pleased with), taking up the lead line of the tune, but from the videos we've seen of Dave ironing his dulcimer, there's clearly some of that in there as well. The choruses "stay away from your window and lock all your doors" are pure folk club "all together now" and the massed Strawbs chorus vocals are uplifting and strong and the overall feeling takes us back to another time.
Flying Free – included in "The Visit" on Work In Progress. A short lively Lambert instrumental - a staccato intro on acoustic guitar with an interweaving banjo figure, joined by bass and percussion and Bainbridge's strummed bouzouki, then some mandolin on top.
Quicksilver Days/We Are Everyone/Chorale – although these tracks are listed separately, to my mind they are a suite or Strawbs epic in the making, as they segue together effortlessly. Starting with ominous acoustic chords and Cousins' soft voice, tinkling, slightly atonal, piano joins in. Mellotron flute underlying a piano solo. The first section is quite short, moving to the second with a chord based guitar strum rising intro, with restrained electric guitar power chords adding to the atmosphere. Cousins' vocals evoke desperation, joined harmoniously by Cathryn Craig. Electric guitar fills, a second verse when Dave and Cathryn swap lead and backing vocal. Booming bass chords and strings under the insistent chorus. The line "we are everyone" repeated till the end of the song, but it segues itself into Chas's closing piece. Acoustic guitar chords in the style of "Simple Visions" with some nice bubbling synth playing and electric guitar. As the track moves to the end, it's dominated by some churchy chordy organ (think "Grace Darling") and closes with keyboard chorus aahs.
Bonus tracks
Champion Jack – a very new sound for Strawbs – bouzouki and harmonium carry the tune with Cousins' heartfelt vocal. A bouzouki riff becomes more apparent after the second verse. Sparse percussion. The backing becomes anthemic and choral after we hear of Jack's demise, with soaring electric guitar, over Strawbs chorus vocals. Dave's step father Jack Cousins never spoke much about his wartime experiences as a prisoner of war in the Far East, and died of leukemia some years after his return from the war. A deeply personal, biographical addition to the Strawbs canon.
Better Days – if the Strawbs' first album as presented to A&M contained a marimba-style number as a tribute to the label's founder Herb Alpert, this would sit perfectly beside it and there's an echo of "Where Do You Go", and Nomadness's "Back On The Farm". Descriptive verses (slightly reminds me of "Wish You Were Here" on Boy In A Sailor Suit). Very upbeat chorus "better days, we have all seen better days" with trumpet (?) emphasising the jaunty tune. Later verse and chorus switches to a minor key, before the instrumental guitar takes us back to the major key for some more carefree chorusing. (NB, both Jon Connolly and I independently used the word "jaunty", which it is!)
Liberty – a Chas Cronk song with Chas's lead vocals. Thumping bass drum over guitar, building with organ. Between verses electric guitar riff and more 60s style organ fills, duetting with other and Fernandez gets to bash the skins, the track closing with swirling keyboard chords.
A splendid album, showing no signs of the circumstances in which it was recorded, a wholly worthy successor to 2017's The Ferryman's Curse, and I'm looking forward (and hoping) to see a few of these slot into the electric and acoustic sets, once "Better Days" really do come along....


MASTERWORK - TEN OUT OF TEN - Preview by Jon Connolly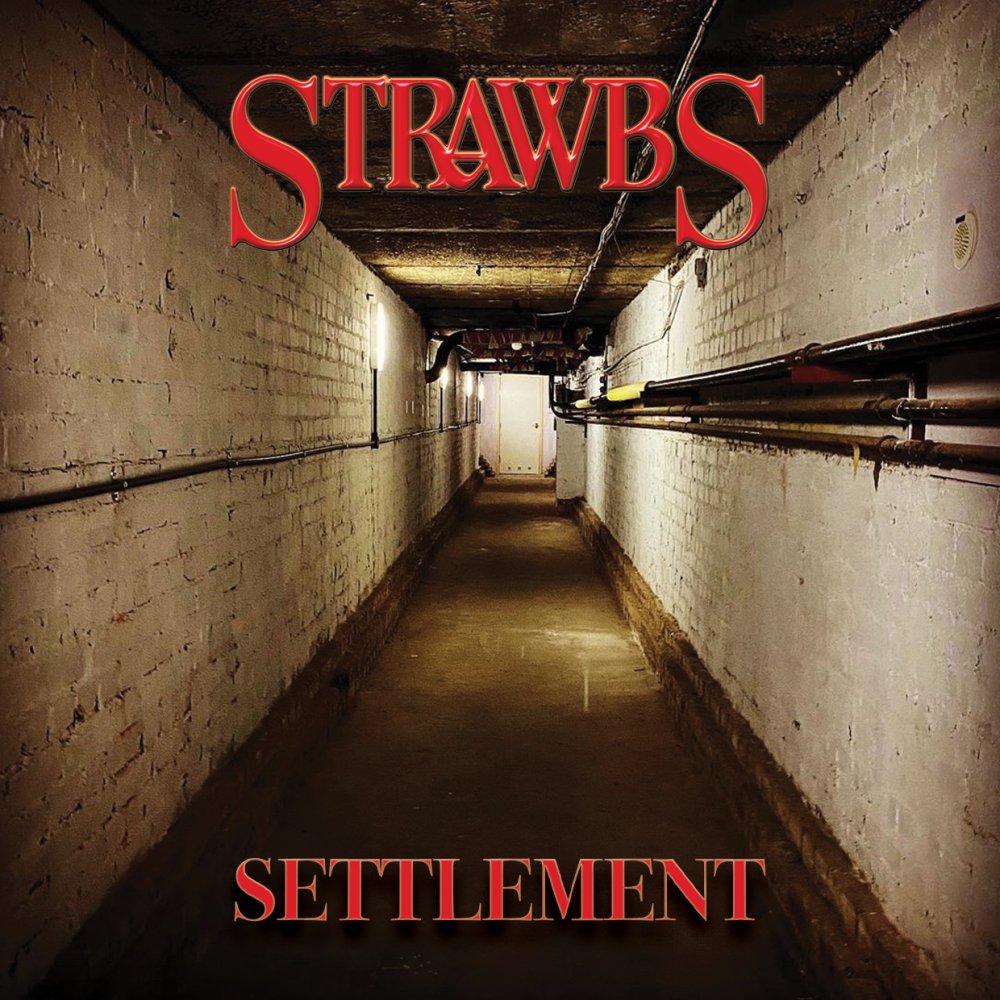 I have been listening to the new Strawbs release Settlement for about a week now, and am very impressed with this new masterwork. I have been a fan of the band since the late sixties, and have bought and devoured everything they have ever released. I was quite excited about the new release, there has been several preview samples, but listening to the new release on the cell phone or computer is no rival for playing it on a good sound system.
Track by track
Settlement – opens the album, a slithering swampy protest song. Dave Bainbridge provides mellotron like backings, and sheep like keyboard playing. All in all a good opening.
Strange Times – this has quickly become a personal favourite. like "The Ferrymans Curse". This album employs delightful musical "Strawbisms" that decorate the songs, and immediately identifies the Strawbs' signature sounds: "Strange Times" opens with a recognizable textured sound, then reveals a delicate Dave Cousins melody. This is followed up with sweet and gentle orchestrations. A characteristic of this cut, and the album in general, is just how unrushed and well assembled this all sounds. In a strange way the pandemic has been good for the band's muse. Dave Cousins' new guitar sounds heavenly.
Judgement Day – Tony Fernandez sets the solid beat to this tune (one of the best drummers in the band's history), and Dave Cousins carries the tune and verses in a relaxed tone, that works well with the subject. While this is one of the least ornate cuts on the album, this tune stays in your head.
Each Manner Of Man – I was more than interested in John Ford's contribution. His contributions to past Strawbs classics (Witchwood, Bursting At The Seams, Grave New World) were fantastic, but his following work with Hudson Ford and then his solo albums had left me in the cold, a little lightweight for my taste. He has totally redeemed himself for me with this cut, obviously the influence of Dave Cousins' lyrics inspired John into doing something more substantial. A well paced acoustic guitar driven number, with inspired electric guitar phrases and harpsichord touches. It is also amazing to note just how little John's voice has changed over the years.
The Visit – a totally reworked and more solid version of a song Dave Lambert released previously on his solo work in progress. Dave's contributions are always refreshing to the overall construction of the album, just like a palette cleanser between courses. The song has been called an Irish ghost story. It is an odd tale of a lass that shows up at Dave's door looking for a lost love. There is a hint of menace in the verse, but not in the story.
Flying Free – a clever lively instrumental where Dave Lambert interplays himself playing several acoustic guitars.
Quicksilver Days – another fantastic cut, mysterious in a belladonna kind of way, symphonic keyboards and piano roll this song along.
We Are Everyone – follows Quicksilver Days like an on organic extension of the same song, a different tune, like a part two of a typical Strawbs epic song. Parts of this piece remind me a little of David Bowie, or Peter Gabriel. The menacing opening, the ghostly backup singers, transform this song into something different for the band, solid guitar and keyboard orchestrations also elevate this cut to something else.
Chorale
Bonus tracks
These nine songs represent the vinyl LP version of Settlement, and is deserving of a ten out of ten. Rivalling any of the Strawbs' past classics, an amazing accomplishment for a band that recently celebrated 50 years.
The CD's 3 extra tracks are collectively called "off the beaten track."
Champion Jack - a very strong Dave Cousins and Dave Bainbridge epic composition, featuring Cousins' distinctive banjo, and some exquisite orchestrations from Bainbridge.
Better Days - is a jaunty tune from Dave Cousins, similar in style to "On A Night Like This" (Deja Fou), or "Tokyo Rose" (Nomadness). The tune is ok, well arranged, but the weakest cut on a very strong album.
Liberty - a terrific Chas Cronk contribution that is really quite epic in its construction. It starts with a basic thumping beat, and quickly develops in surprising style, first after the mentioned opening comes a slight psychedelic quality, then a driving rock rhythm takes over with Chas singing smoothly along with it, then organ and electric guitar rock along, and the track closes with sweeping orchestrations. Chas has co-composed some very significant tunes for the Strawbs over the years, but this composition has to be his very best solo effort.
So in closing, I have found myself playing this album over and over, not just picking out particular favourites which is my normal habit, but playing it again in full. This is one of those great albums that does not reveal all the treasures inside very quickly, but are delightfully rediscovered on repeat listening.
A shoutout has to be given to Blue Weaver for the excellent mastering and production, Dave Bainbridge for his keyboard mastery and creativity, which in many ways rivals the contributions that Rick Wakeman brought to the band, and in several ways has exceeded them.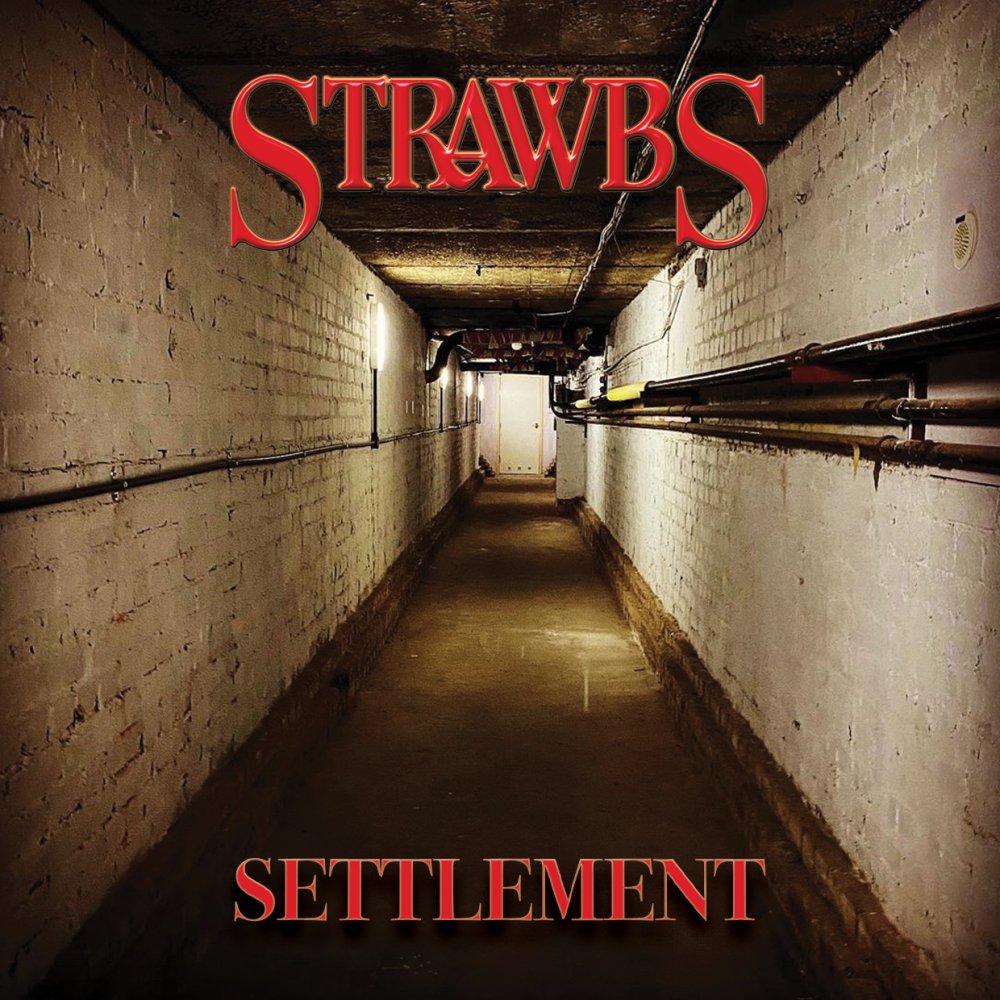 NOTHING SHORT OF ASTONISHING - Review by Richard Brennan
It's baffling how a band can just get better and better as time rolls slowly onwards. Strawbs are that enigma and, when everything is considered with regards to circumstances in creating this masterpiece, it is nothing short of astonishing.
"The Ferryman's Curse" took some matching but the band have done it and room to spare with "Settlement".
The title track is a moody rumbling opener, bringing early confirmation that the Cousins vocal is still very much intact. A great overall arrangement on this one that includes some tasty what I would refer to as 70's keyboards finished off by a trademark guitar solo.
"Strange Times" is a typical Cousins delivered ballad. A nostalgic feel, with once again some delightful tampering of the keys.
"Judgement Day" picks up the pace slightly. Exceeding the seven minute barrier I had inwardly challenged whether it would work; but it actually does on all levels. Once again keyboards feature heavily.
The album is picking up a head of steam at this point with an early contender for track of the album following next is "Each Manner Of Man". Somewhat of a medieval folk feel to this one with a great vocal.
"The Visit" has also a strong folkie feel tagged with a light commercial touch. For me it is a banker for the "let's all sing along with the tag line" at the live gigs when they finally return. An instrumental "Flying Free" breaks seamlessly out of "The Visit". The two could easily be classified as joined from the hip; they so compliment each other.
Though "Quicksilver Days" is familiar quality Strawbs territory with a layered haunting arrangement, the true highlight of the album for me follows it in "We Are Everyone". The track captures just about everything that is synonymous with the Strawbs song structure. If I can use the term, probably their one true proggy contribution to the album. Once again an instrumental track is spawned from the track closure in 'Chorale'. I understand this track is the final number on the vinyl release. Captures very much the mood of mid 70's Strawbs. A charming finale of sorts that had me hankering to dig out past band releases from the collection.
Every Strawbs album should have a decent slice of Cousins storytelling and in "Champion Jack" they do not disappoint. A clever arrangement throughout, with the keyboard contribution quite sumptuous as the track concludes. Later, a fine guitar solo, not to mention teeing in great vocal harmonies, and you have a cracker.
"Better Days" is the break out number for the band taking us all on a musical journey to Rio with that Brazilian feel. A great track with a clever down tempo middle before returning to the fun swagger. The catchy infectious track from the collection and easily the most "off the wall". Lots of fun had here!
The closing track "Liberty" reminds me of a late 60's concept number. Not quite Beatlesque, but along those lines. A throwback feel in a most complimentary way.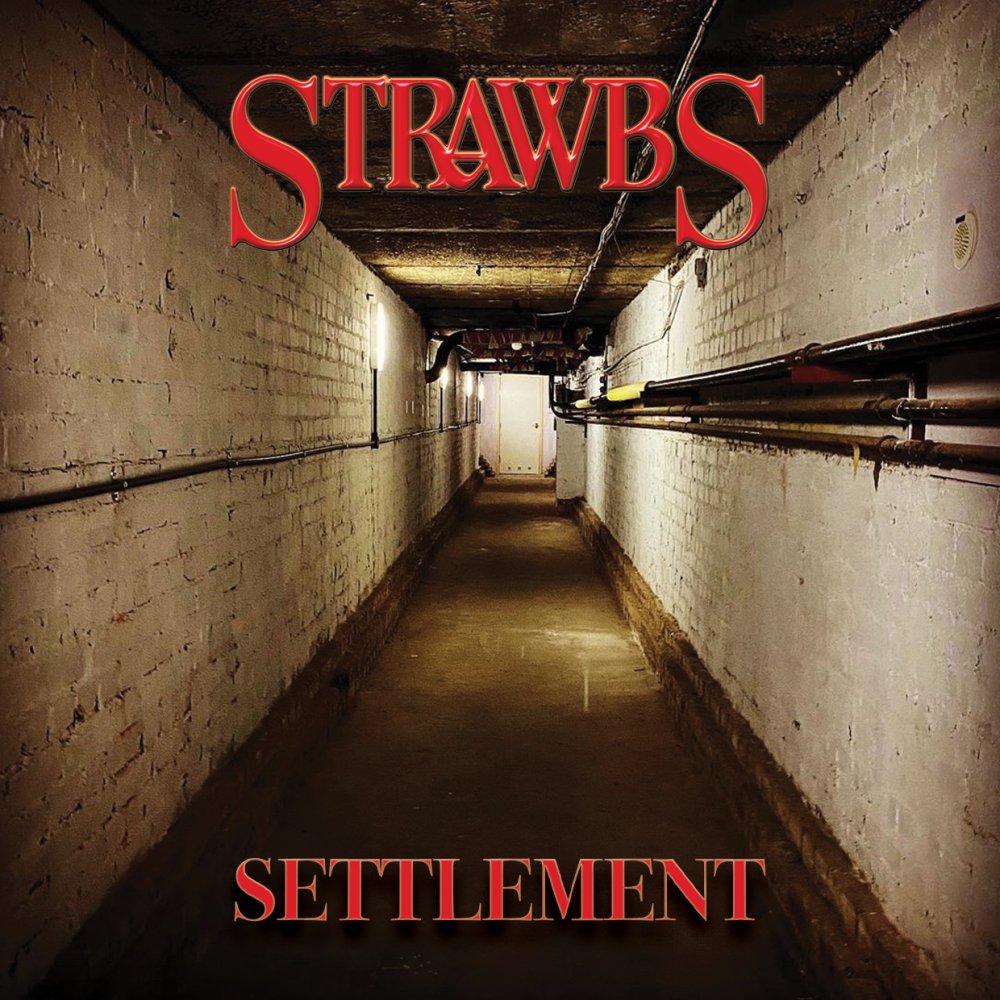 COMMENTS
Nigel Holden
Just played this album. Wow! It takes me all the way back to Ghosts, Bursting and Hero. In my opinion it's probably their best work for a while. Dave C's lyrical dexterity is way out ahead of many of his contemporaries. One of the best songwriters the country has produced.
Love the keyboards. Dave Bainbridge adds another dimension to the songs. Dave L's guitar work is superb as is his usual standard and his song contribution is the best I've heard from him. John Ford's voice is prominent and brings back memories of Grave New World. It's nice to see Chas's work credited. He doesn't always get the acknowledgment he deserves.
The band should be very proud of this. Yes, I'm biased. I've followed them for longer than I care to remember but this is every bit as good as the stuff they put out in their 70's heyday. It's even more impressive considering it was put together during Covid.