PART 6: ACOUSTIC ODYSSEY
Acoustic Strawbs
When Dave Cousins and Brian Willoughby were booked to do an increasingly rare due gig in Twickenham in late 2000; it looked as though it would be cancelled as Dave had damaged his wrist in an accident. However, Dave Lambert was drafted in to save the day. It was apparent that the three-hander format was a winner, so, after working up more of the repertoire in an acoustic format, Cousins Willoughby and Lambert rechristened themselves "Acoustic Strawbs" and went into the studio to put some of them down on tape. Baroque & Roll is the resulting CD out on Witchwood Records, launched at a very special gig indeed - a return on 16 Aug 2001 to the White Bear in Hounslow - just before the trio's three night stand in August 2001 at the Assembly Rooms in Edinburgh as part of the Edinburgh Festival Fringe. A single "Alice's Song", featuring Dave's newly bought banjo, was released in 2002, with the support of the National Autistic Society.
Acoustic Strawbs took to the boards in a big way during the course of 2002 to play no less than 50 UK dates in Jan/Feb, June and September along with a few festivals and a few dates in Italy.
2002 also saw the release on DVD of The Complete Strawbs - Dave's privately shot video film of the Chiswick '98 concert, showcasing four different line-ups of the band. A private screening of the film at Pinewood, on the same soundstage used to mix the Bond film music, underlined the power and energy of the electric band for the invited audience, which included a number of fans who had provide additional footage.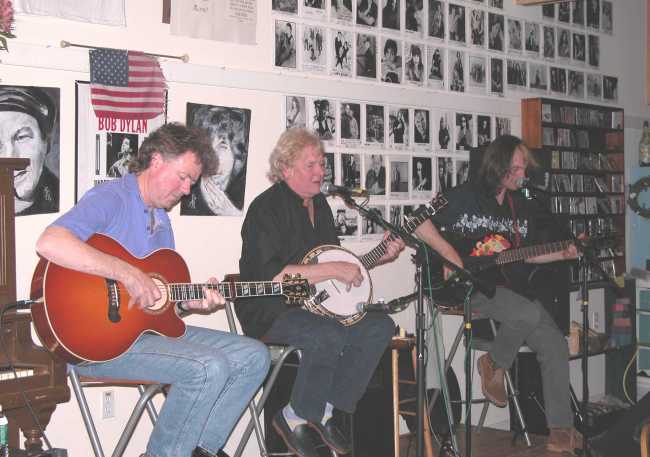 Photo, Warren Linhart
Dave Cousins took a nasty fall towards the end of 2002, injuring his leg and pelvis, and a UK acoustic tour had to be cancelled as a result, with the dates being rescheduled to later in the year. As well as setting up US distribution for Wtchwood Records with Morada Music, in April 2003, Dave and the boys did however make it across the pond for the first tour for over 15 years in Canada and the United States, the opening of which unfortunately co-incided with the SARS outbreak in Toronto. Undaunted, the boys carried on, opening the tour with a rapturously received 3 night stint in Toronto, carrying on into the US for the rest of May. Whilst on tour Brian and Lambert bought electric tuners, which onstage you can see attached to the head of their guitars; Cousins bought a beautiful mandolin - later employed to great effect.
Two acoustic tour of the UK took place in June and September 2003, with another in Jan/Feb 2004. The boys returned to Canada for some festivals in July 2003, and to the States for a 6-week tour in November/December 2003. Whilst in Toronto, at Hugh's Room, an Acoustic Strawbs live DVD was recorded, which was released in 2004.
And finally, on 1 July 2003, literally between the end of the UK tour and the beginning of the trip to Canada, Dave Lambert played his first solo gig for over 30 years !! A solo album - only his second ever - was set for release early in 2004.
Meanwhile ...
Hud and Terry Cassidy continued to work on reviving High Society, recruiting Simon Bishop and Nigel Portman-Smith on guitar and bass respectively and notching up a few showcase gigs in 2002/3. John Ford released a third album, Natural High, and secured a new recording and management deal. Establishing a Cry No More website , Chas Cronk and Roy Hill doubled the number of Cry No More gigs they put on a year, by adding a summer special, then went the whole hog by going out on tour to support old mates Marillion in the UK and Europe. And Brian Willoughby, in the few moments when Acoustic Strawbs weren't on the road, carried on relentlessly touring with Cathryn Craig, a classy duo act that continues to draw excellent reviews.
Dave Cousins and Rick Wakeman went into the studio to record a duo album Hummingbird, which featured some new songs - the excellent "The Young Pretender", the haunting "Hummingbird" and the soulful "Can You Believe" - a stunning interpretation of "Higher Germanie" with clever studio trickery and also revisited a few Strawbs classics - including "So Shall Our Love Die", "October To May" and "Forever Ocean Blue".
Re-issues and new material
2003 also saw the first album with new Strawbs material for over a decade - Blue Angel, on Witchwood Records, which reunited Lambert and Coombes on a couple of tracks. Blue Angel came out at the same time as a re-issue of the long-awaited Two Weeks Last Summer. Later in 2003, the Strawbs Live In Tokyo 1975 DVD which also included the Grave New World movie along with some enticing bonus features.
A plethora of compilations have emerged from Universal over 2002 and 2003 - some might say too much of a good thing! The Strawbs Collection came first, followed by a volume in Universal's excellent "Introduction to ... " series, Tears And Pavan and finally a US release 20th Century Masters - The Millenium Collection.
In the pipeline CD-wise, Witchwood hopes to get the rights to re-issue various of the back catalogue, ideally with bonus tracks and outtakes - Dave (with help from yours truly) is working through the treasury of tapes and memorabilia he's built up over the years. The first fruits of this exercise were the three Japanese re-issues from Vivid - Deep Cuts , Burning For You, Old School Songs - released in late 2003, each with bonus tracks.