NEW BEGINNINGS
Arista, 1978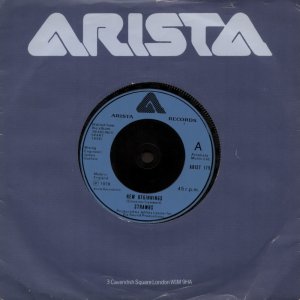 Release date: Mar 1978 (UK)
UK vinyl
Producer Jeffrey Lesser was convinced that Lambert's voice was more likely than Cousins' to produce hits for the Strawbs; hence a concentration on Lambert both on the album and in the choice of single releases, this one written by Cousins and Lambert (not their strongest composition in my view). The strategy in any case was probably doomed, unable to withstand the major changes affecting pop music as the punk tidal wave swept away the so-called dinosaurs of rock.
An earlier version of the song with different lyrics, entitled "Sweet Voices" emerged in the trawl for material for the boxed set and appeared on Disc 3 of A Taste Of Strawbs.
In 2010 Witchwood Media released an extended edition, which included outtakes and mixes from the earlier sessions (including "Sweet Voices"), which also appeared on a href="/albtrack/deades/deades.asp" target="_top">Esoteric's 2019 extended edition.
Back to main 1976-1980 singles page

UK vinyl
"New Beginnings"
Acetates
Two different acetates in Alison Brown's collection. The first has a Utopia label. The second, with a Pyral sleeve, is white label, including the Arista catalogue number and is dated 17 March (presumably 1978).
I have now acquired a copy, which comes in a Pyral sleeve but also with an Utopia label, also dated 17 March.
All three copies seem to have been hand lettered by the same person and were presumably produced around the time of the single's release in 1978.
DG copy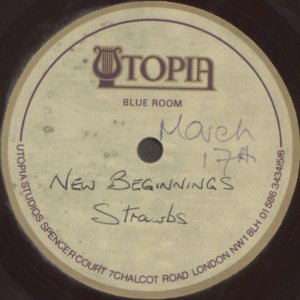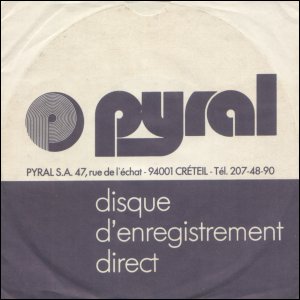 AB copies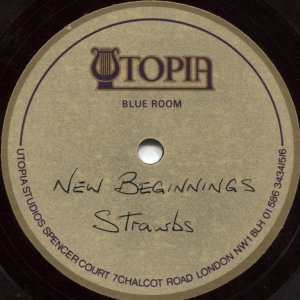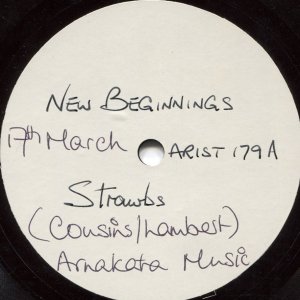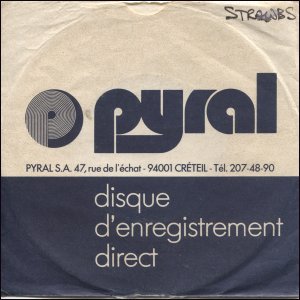 "New Beginnings"/"Words Of Wisdom"
(ARIST 179, Arista, Mar 1978)
UK release
A simple Arista company sleeve.