WHERE IS THIS DREAM OF YOUR YOUTH
A&M, 1970 (not UK)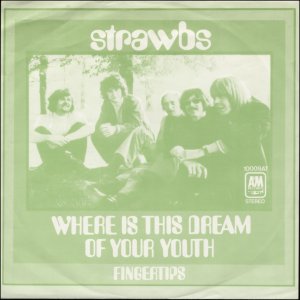 US vinyl
Europe vinyl
"Where Is This Dream Of Your Youth" first appeared on Strawbs' first album, but the version which appears on most compilations and the two European single releases was the Rick Wakeman keyboard workout which closed Strawbs set at the QEH in July 1970, the concert which brought Rick to national prominence as the next great keyboard wizard, and which appears on the album released from the concert, Just A Collection Of Antiques and Curios.
The 1978 US test pressing has its own page.
Back to main 1968 to mid-1972 singles page

US vinyl
"Where Is This Dream Of Your Youth"
(1242, A&M, 1971)
US release? (*)
The website On A&M Records lists this with no B-side (so either a Part 1/Part 2 release like the German release below, or a mono/stereo promo), a US release catalogue number and a 1971 release date. Never seen one so it may not have made it out the door.
MC Strong's Great Rock Discography lists a US single "Where Is This Dream Of Your Youth live" in Jan 1971.

Europe vinyl
"Where Is This Dream Of Your Youth"/"Fingertips"
(10009AT, A&M, no date)
Dutch release
The cover, pictured above, is a wraparound, like the old Sonet releases. Though no date is mentioned on the single itself, the text on the cover makes it clear that this was released after the album Antiques And Curios and probably in 1971.
Although there's nothing to tell us that this is the case, the single is an edited version of the track, fading out in the middle.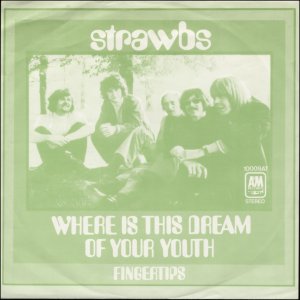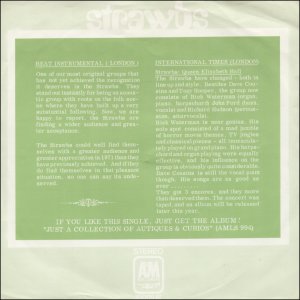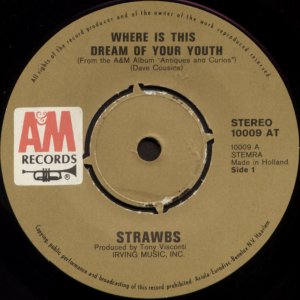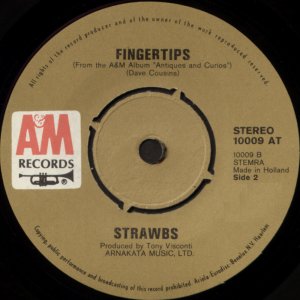 "Where Is This Dream Of Your Youth part 1"/"Where Is This Dream Of Your Youth part 2"
(10037AT, A&M, no date)
German promo
No clues at all as to date other than the label number which is later than the Dutch version above (later parallel single releases by A&M in different European countries often had the same or similar label numbers). Probably 1971.
Having seen this listed on ebay as a promo, I looked more closely at the wording on the label "Unverkauffliches Muster Sonder auflag nur fur Horfunk und Fernsehen" - which Google transolates as "Unsaleable sample Special edition only for radio and television". Releasing this as two sides of a single is hardly very satisfactory even for a radio promo, with the edit coming in the middle, so it was very unlikely to get played.